Mon Oct 11, 2021, 03:54 PM
Budi (10,570 posts)
Austria's corrupt gvt caught conspiring w/RU to change the election outcome, by *owning the media"
Link to tweet
Must-read: it's about how Austria's corrupt right-wing government got caught conspiring with who they thought was a Russian oligarch's niece to let Russia change the election outcome by *owning the media.*

It's almost like the media can be bought...

Link to tweet
did any Austrian bribes ever pass through banks in the Southern District of New York? Just curious...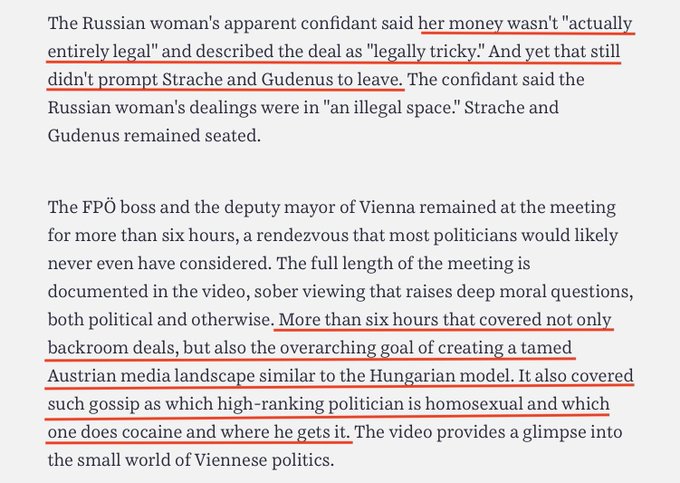 The proposed plan:
1. Russians buy the media outlet.
2. Fire any good journalists. Hire hacks.
3. Win the election.
(4. Russia owns the new government through compromise)

Think we should have a look at foreign capital and private equity owning so many news outlets?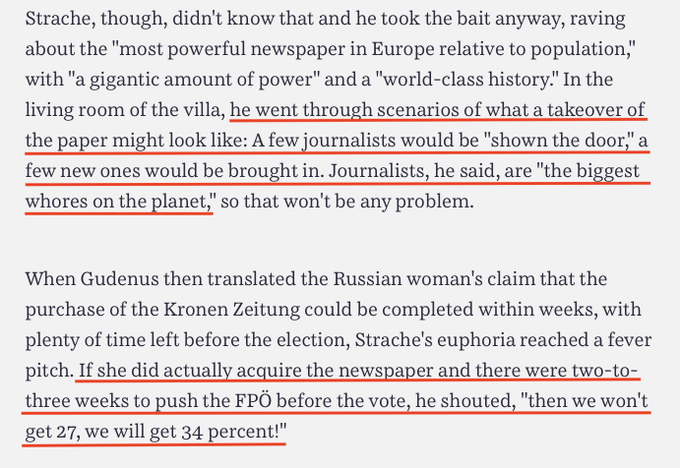 ------
*From the article
https://projekte.sueddeutsche.de/artikel/politik/caught-in-the-trap-e675751/?autologin=true
I'll snip a few paragraphs since it's a foreign press site & asks for cookie acceptance.
It is a fascinating read with similarities to the US Press.
--------
Deutsche Version
Caught in the Trap
Heinz-Christian Strache, the head of Austria's right-wing populist FPÖ party, met with a purported Russian multimillionaire on Ibiza in July 2017. She offered him campaign support in exchange for public contracts. What he didn't know was that the entire exchange was being recorded by hidden cameras.
By Leila Al-Serori, Oliver Das Gupta, Peter Münch, Frederik Obermaier und Bastian Obermayer
It's an incredible video. It was created at the end of July 2017, three months before Austria's general election that October. Following the election, Heinz-Christian Strache would rise to become the country's vice-chancellor.

The video shows Strache, leader of the right-wing populist Freedom Party of Austria (FPÖ), and fellow party member Johann Gudenus, deputy mayor of Vienna at the time, meeting with a woman in a luxurious holiday villa on the Spanish island of Ibiza
. The elegant, svelte woman with long hair and dressed in a black designer dress and high heels was introduced to them as Alyona Makarova, the purported niece of Igor Makarov, a Russian oligarch close to President Vladimir Putin. Extremely rich, of course, and able to conduct business practically anywhere she wanted because she was also in possession of an EU passport from Latvia.
Editor's note: The decoy herself cannot be seen in any of the videos shown here. Recognizable in the video are Heinz-Christian Strache (with glasses), Johann Gudenus (in a blue T-shirt) as well as his wife Tajana.
Heinz-Christian Strache
enjoyed a meal of sea bass carpaccio, tuna tartare and sushi, accompanied by top shelf vodka and can-after-can of Red Bull, which Strache is known to like – after which
the purported Russian then made him an extremely dubious offer. She said she wanted to invest a few hundred million euros in Austria – and she wanted to know whether they could work together on the matter. Whether she, the purported niece of a Russian oligarch
, and the FPÖ could both benefit from the collaboration.
The supposed investor already had a plan: She proposed acquiring a 50-percent stake in the Kronen Zeitung, a highly influential Austrian tabloid, and to use the newspaper as a mouthpiece backing Strache and his FPÖ party in the election campaign. Strache, dressed casually in a slightly ratty T-shirt and jeans, seemed enthusiastic – mostly about the proposal, but also about the woman herself. "Are you kidding? She's hot," he said, with a Viennese lilt.

Strache spoke for more than six hours with the woman, alternately whispering and roaring, lecturing and gesticulating
. He smoked one cigarette after the other and chewed his nails nervously. Perhaps because he could hardly believe his luck? Or perhaps because he had a suspicion that his luck couldn't be trusted?
Ultimately, a deal took shape in that room in the Ibiza villa on that July day in 2017: Russian money of uncertain provenance would help boost the FPÖ's election results. And it goes without saying that the woman purporting to be Alyona Makarova would also get something out of it.

That night, switching between Russian and English, she repeatedly asked what she would get in return after the election if, as planned, Strache were to become part of the government...
MORE..
0 replies, 418 views