Sat Sep 25, 2021, 04:58 PM
Uncle Joe (51,732 posts)
House Budget Committee votes to pass the $3.5 trillion spending bill
CNN)The House Budget Committee voted Saturday to pass the $3.5 trillion spending bill out of committee and send it to the House floor.
The vote was 20 to 17 with Democratic Rep. Scott Peters of California joining Republicans to vote against the bill. It came as a necessary step for the bill to reach the full House floor, where it can be amended.
Democrats have been struggling to pass President Joe Biden's economic agenda, including the massive tax and spending bill that would expand education, health care and childcare support, address the climate crisis and make further investments in infrastructure.
The bill has raised concerns among moderates who worry some of the measures, including on drug pricing and climate, go too far, as progressives say they've already compromised enough. Republicans are united in their opposition to it.
(snip)
https://www.cnn.com/2021/09/25/politics/house-budget-committee-biden-economic-agenda/index.html
P.S. CNN still hasn't gotten around to mentioning that 17 American winners of the Nobel Prize in economics came out in support of the full 3.5 trillion dollar reconciliation bill.
Seventeen recipients of the Nobel Prize in economics signed a letter in support of President Joe Biden's $3.5 trillion Build Back Better package on Monday. They refuted arguments made by Republicans and moderate Democrats that the massive "human infrastructure" bill—which would provide funding to expand education, health care, child care, and climate efforts—is far too expensive.
The economists also came out in support of a proposed $2.9 trillion increase in taxes to pay for the program. The new rates, which would mostly impact the wealthiest Americans and large, multinational corporations, would represent the largest tax increase in decades.
"While we all have different views on the particulars of various economic policies, we believe that key components of this broader agenda are critical—including tax reforms that make our tax system more equitable and that enable our system to raise the additional funds required to facilitate necessary public investments and achieve our collective goals," the economists wrote. "Because this agenda invests in long-term economic capacity and will enhance the ability of more Americans to participate productively in the economy, it will ease longer-term inflationary pressures."
The signees, who are all currently employed as professors at the nation's top universities, include Treasury Secretary Janet Yellen's husband George Akerlof, Sir Angus Deaton, Peter Diamond, Robert Engle, Oliver Hart, Daniel Kahneman, Eric S. Maskin, Daniel McFadden, Paul Milgrom, Roger Myerson, Edmund S. Phelps, Paul Romer, William Sharpe, Robert Shiller, Christopher Sims, Robert Solow, and Joseph Stiglitz.
https://fortune.com/2021/09/21/nobel-prize-winning-economists-back-joe-biden-build-back-better-plan/
If anyone has a logical explanation as to why the corporate media conglomerates haven't reported on the Nobel Prize winners in economics supporting the full 3.5 trillion please share it.
10 replies, 536 views
Replies to this discussion thread
| | | | |
| --- | --- | --- | --- |
| 10 replies | Author | Time | Post |
| House Budget Committee votes to pass the $3.5 trillion spending bill (Original post) | Uncle Joe | Sep 25 | OP |
| | msongs | Sep 25 | #1 |
| | Chin music | Sep 25 | #2 |
| | msongs | Sep 25 | #4 |
| | Uncle Joe | Sep 25 | #5 |
| | msongs | Sep 25 | #7 |
| | Uncle Joe | Sep 25 | #8 |
| | msongs | Sep 25 | #9 |
| | Uncle Joe | Sep 25 | #3 |
| | brush | Sep 25 | #6 |
| | Celerity | Sep 25 | #10 |
---
Response to Uncle Joe (Original post)
Sat Sep 25, 2021, 05:01 PM
msongs (62,364 posts)
1. tantrums from people who threaten to kill everything if they don't get what they want nt
---
---
Response to Chin music (Reply #2)
Sat Sep 25, 2021, 05:07 PM
msongs (62,364 posts)
4. sometimes personal selfish needs must be sacrificed for the greater good aka
if I don't get my way nobody gets anything
---
Response to msongs (Reply #4)
Sat Sep 25, 2021, 05:14 PM
Uncle Joe (51,732 posts)
5. Do you believe the 17 American winners in economics were considering the greater good?
Do you believe the corporate media is considering the greater good by not reporting or covering that story?
---
Response to Uncle Joe (Reply #5)
Sat Sep 25, 2021, 05:23 PM
msongs (62,364 posts)
7. they are not democratic members of congress nt
---
Response to msongs (Reply #7)
Sat Sep 25, 2021, 05:44 PM
Uncle Joe (51,732 posts)
8. apparently you don't believe the greater good is anything else. n/t
---
Response to Uncle Joe (Reply #8)
Sat Sep 25, 2021, 06:00 PM
msongs (62,364 posts)
9. the comments are about democratic congresspersons who will not support the biden agenda nt
---
Response to msongs (Reply #1)
Sat Sep 25, 2021, 05:05 PM
Uncle Joe (51,732 posts)
3. What does "what anyone want" have to do with the corporate media
misleading the American People by omitting critical information regarding the issue of economics; which affects all our lives so profoundly?




---
Response to Uncle Joe (Original post)
Sat Sep 25, 2021, 05:16 PM
brush (38,527 posts)
6. Ok. We're rolling. That means it's on track to get to the floor next week.
The bipartisan bill I believe will be voted on and pass on Monday. I just hope with its passing, moderate Dems don't lose interest in passing the larger bill later in the week.
---
Response to Uncle Joe (Original post)
Sat Sep 25, 2021, 08:30 PM
Celerity (23,921 posts)
10. Scott Peters is one of the 11 renegade Problem Solver conservadems who oppose large parts of Biden's
agenda within the reconciliation bill.
Josh Gottheimer of New Jersey
Carolyn Bourdeaux of Georgia
Filemon Vela of Texas
Jared Golden of Maine
Henry Cuellar of Texas
Vicente Gonzalez of Texas
Ed Case of Hawaii
Jim Costa of California
Scott Peters of California
Kurt Schrader of Oregon
Stephanie Murphy of Florida
https://problemsolverscaucus.house.gov/members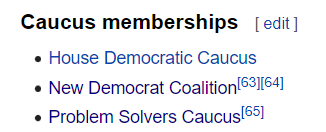 He also is part of a trio of House Democrats in the Energy committee that oppose allowing Medicare to negotiate drug prices.
Pharma CEOs, lobbyists showered Democrat with cash after his attempt to torpedo Pelosi's drug pricing bill
https://www.statnews.com/2021/07/20/pharma-peters-cash-after-torpedo-pelosi-bill/
Has Big Pharma Bought Enough Democrats to Derail Biden's Plan?
If Democrats allow the party's Manchinema wing to derail prescription drug pricing reforms, they could lose their ability to govern.
https://www.thenation.com/article/politics/pharma-democrats-bribery/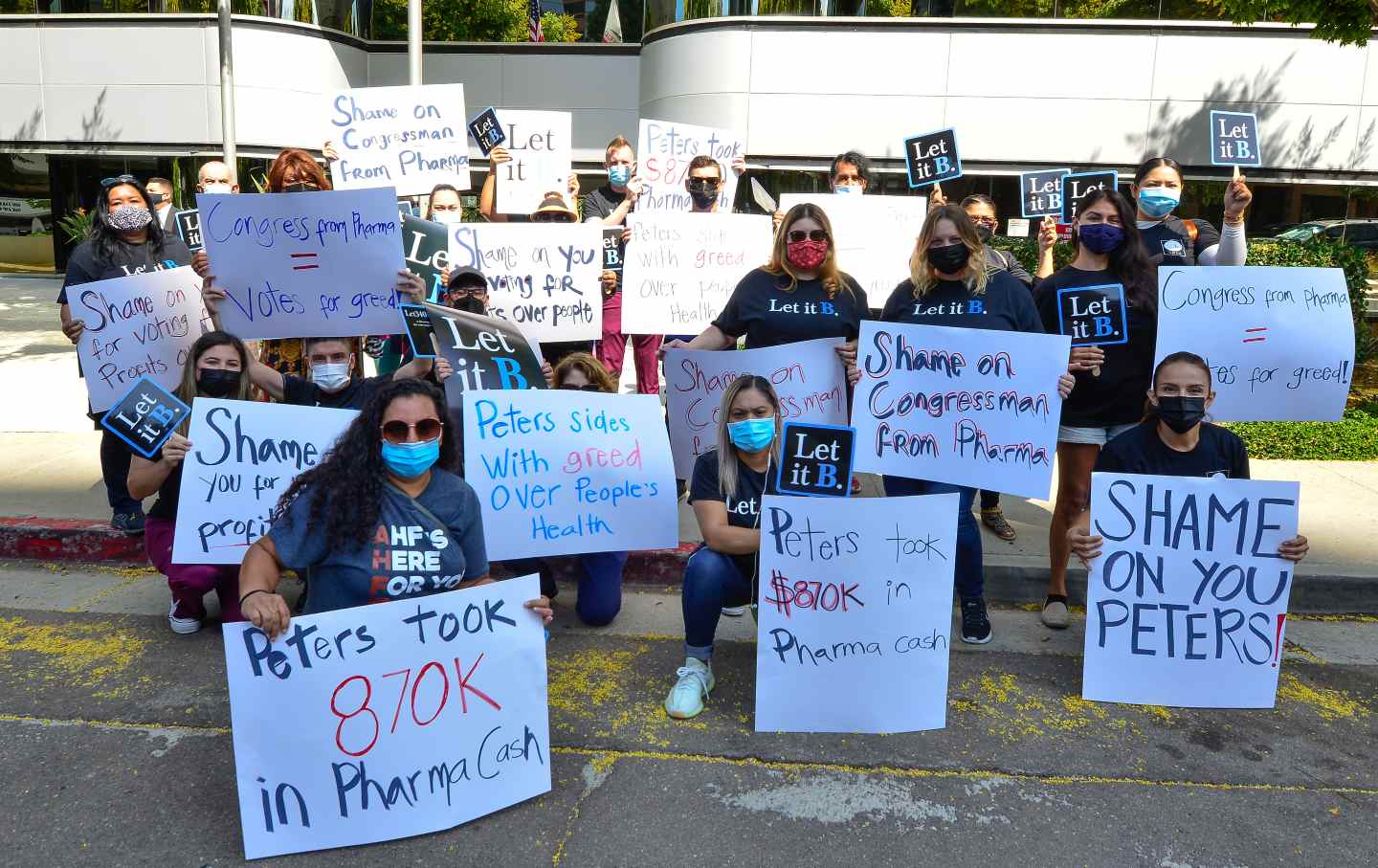 Polling tells us that when it comes to health care issues,
the top priority
of Americans is lowering prescription drug prices. While this remains a divided country on many issues, there is absolute unity on the question of how to achieve this particular goal. Eighty-eight percent of all Americans surveyed in May by the
KFF Health Tracking Poll
expressed support for a Democratic plan to allow the federal government to negotiate lower prices on medications. Seventy-seven percent of Republicans, 89 percent of independents, and 96 percent of Democrats favor the plan.
A
West Health/Gallup survey
in June put the level of Democratic support for the proposal at 97 percent, and announced that "nearly all Democrats…support empowering the federal government to negotiate lower prices of brand-name prescription drugs covered by Medicare." Since polls have margins of error, it's reasonable to speculate about whether any grassroots Democrats oppose using the power of government to cut drug prices.
Unfortunately, a handful of congressional Democrats do oppose acting on the issue. Because Democrats control the House and Senate by narrow margins, this opposition threatens necessary reforms. If that threat becomes a reality, it could doom Democratic prospects for retaining control of Congress in 2022. President Biden acknowledged as much in his inaugural address, saying, "This is certain, I promise you: We will be judged, you and I, by how we resolve these cascading crises of our era." That judgment will be harsh if Democrats fail to deliver on an issue so broadly popular as lowering drug prices.
Yet, when the House Energy and Commerce Committee reviewed a proposal for government negotiations to lower drug prices,
three Democrats
—Kathleen Rice of New York, Scott Peters of California, and Kurt Schrader of Oregon—voted "no." Their votes, in combination with Republican "no" votes, created a tie that blocked approval of the reform by the key committee. While things may get sorted out in the House, circumstances in the Senate took a turn for the worse on September 15, when Arizona Democrat Kyrsten Sinema reportedly informed Biden that
she's opposed to the drug-price reform proposals
that Democrats ran and won on in 2020. Sinema's resistance to the drug reform component of the Senate budget reconciliation bill, in combination with the more generalized rejection of the measure by West Virginia Democrat Joe Manchin, has inspired speculation about whether
Biden might be forced to accept a deep cut in the $3.5 trillion proposal—which, as outlined by Senate Budget Committee chair Bernie Sanders, relies on funds saved by negotiating lower drug prices to pay for Medicare expansion.
snip
These people are complaining about 'Omg, how is it going to be paid for?' (which it is, that is a false-frame by them) BUT THEN turning around and killing off huge parts of the very measures THAT FUND IT.