Sun Sep 12, 2021, 11:48 AM
Nevilledog (29,886 posts)
Trump Spent 9/11 Teaching The Moonies A Thing Or Two About Brainwashing
Link to tweet
https://www.wonkette.com/trump-spent-9-11-teaching-the-moonies-a-thing-or-two-about-brainwashing
Most of us, probably, did not do anything too fabulously important yesterday. Me, I watched the Lularich documentary (everything else aside, I honestly don't understand how people can't see that those clothes are hideous.), but I am not a former US President. Donald Trump — who is, unfortunately, a former US president — decided to commemorate 9/11 in part by giving a speech to the Moonies and making an appearance at some kind of MMA thing.
The speech occurred during the Unification Church's latest "Rally of Hope" event, and involved Trump praising the Church itself, current leader Hak Ja Han and her deceased husband, the notorious Reverend Sun Myung Moon. He praised Moon in particular for "founding The Washington Times, an organization for which I have tremendous respect and admiration."
Trump had nothing but praise for the church, stating
What they have achieved on the Peninsula is just amazing. In a few decades, the inspiration they have caused for the entire planet is unbelievable, and I congratulate you again and again. In less than one lifetime they took a war-torn land and turned it into one of the great nations and great democracies of the world, while standing as America's friend and ally. Their example reminds all of us who strive for peace and a better future, that we should never give up and never, ever lose hope.
He's not the first Republican to speak at one of these shindigs. He's not even the first person from his own administration. That honor belongs to Mike Pence, who appeared at their Rally of Hope last year.
*snip*
5 replies, 526 views
Replies to this discussion thread
| | | | |
| --- | --- | --- | --- |
| 5 replies | Author | Time | Post |
| Trump Spent 9/11 Teaching The Moonies A Thing Or Two About Brainwashing (Original post) | Nevilledog | Sep 12 | OP |
| | Blue Owl | Sep 12 | #1 |
| | keithbvadu2 | Sep 12 | #2 |
| | soryang | Sep 12 | #3 |
| | Champp | Sep 12 | #4 |
| | LetMyPeopleVote | Sep 12 | #5 |
---
Response to Nevilledog (Original post)
Sun Sep 12, 2021, 12:42 PM
Blue Owl (37,280 posts)
1. The Rally of Dope
And its namesake speaker...
---
Response to Nevilledog (Original post)
Sun Sep 12, 2021, 12:44 PM
keithbvadu2 (22,807 posts)
2. Is he talking about SK or up north in his lover Kim's paradise?
Is he talking about SK or up north in his lover Kim's paradise?
---
Response to Nevilledog (Original post)
Sun Sep 12, 2021, 01:14 PM
soryang (2,976 posts)
3. Influence of Christian fundamentalist cults in South Korea adversely impacted by covid
I think this was a popular post. It concerns how the Christian cults in South Korea promoted the spread of covid.
South Korea: Corona virus welcoming party, Season 2 (Aug 16, 2020)
만평-코로나대환장파티시즌2
(Source- 열린공감TV August 15) Lee Man-hui, Sincheonji cult leader, and Jeon Kwang-hun, Chrisian Council of Korea, use covid-19 as a political weapon. The image below them indicates the addition of the judiciary to the conservative prosecution-press cartel applauding the religious fanatics' covid attacks on the democratic administration in South Korea.
Lee Man-hui was arrested and jailed earlier this year, his cult was responsible for the spread of covid-19 in the southern provinces in South Korea around Taegu. At one point, health authorities confirmed his cult was responsible for 60 percent of confirmed cases in South Korea. He has passed the covid 19 torch to Jeon Kwang-hun.
https://civilizationdiscontents.blogspot.com/2020/08/south-korea-corona-virus-welcoming.html
The Sincheonji cult is very similar to the Moon cult. Another religious cult leader, Chae Tae-min, played an important role in the Park Chung-hee dictatorship. That cult leader's daughter, Choi Soon-sil, was basically running the administration of the impeached president Park Geun-hye, the dictator's daughter who fell from power in 2017. (Both now in prison for corruption). The Moon cult was alleged to have ties to the Korean National Intelligence Service. The fundamentalist cults are typically tied to the most extreme right wing groups. They tend to support the worst authoritarian inclinations of the so called " corrupt special interests" in South Korea.
Lee Man-hui's Sincheonji cult had members "preaching" in Wuhan, this was suspected to be the source of the main cluster breaking out in their church in Daegu.* Jeon Kwang-hun another cult like figure, continues to promote public assemblies in Seoul to demonstrate against the Moon administration in spite of the threat to public health. Fortunately, the turnout at these right wing demos has fallen off dramatically. The most recent demonstration was planned for the Liberation Day holiday on Aug 15, but I don't think many people showed up. I couldn't find any reports on it. In prior demonstrations, it wasn't unusual to see a former National Intelligence Service chief or retired military officers at these assemblies. The right wing paramilitary extremists like the Taeguki group typically show up as well. The current mayor of Seoul appeared at one in Oct 2019.
*
https://civilizationdiscontents.blogspot.com/2020/02/shincheonji-cult-and-explosion-of-covid.html
Trump fits right in with these cult leaders.
---
Response to Nevilledog (Original post)
Sun Sep 12, 2021, 01:53 PM
Champp (1,836 posts)
4. Moonies are essentially ChristoFascists, as I understand them
So it bodes ill that the Supreme & Adored Casino Hustler of White Power Brand Christofascism, is bumping uglies with yet another Brand of good old fugly Christofascism.
Me no like.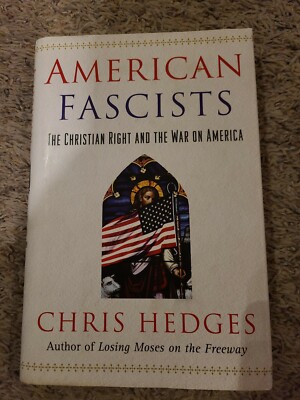 ---
Response to Nevilledog (Original post)
Sun Sep 12, 2021, 03:31 PM
LetMyPeopleVote (101,684 posts)
5. TFG likes cults
Cults and TFG go together