Tue Jun 8, 2021, 03:06 PM
Kid Berwyn (6,274 posts)
Putin pulls QAnon's strings.
Last edited Tue Jun 8, 2021, 04:17 PM - Edit history (1)
Through Rudy and the Deranged Orange Puppet.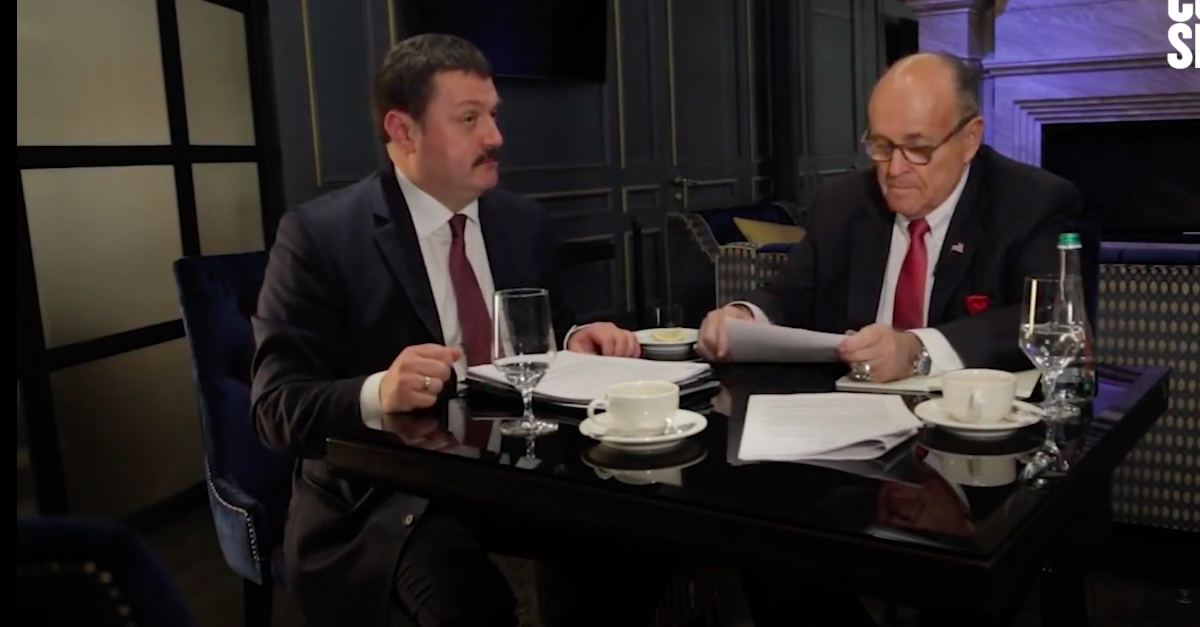 How Russia Used An Overt Agent To Attack Joe Biden In The 2020 Election

Time correspondent Simon Shuster says that Andriy Derkach, a seven-term member of the Ukrainian parliament, gave misleading information to Rudy Giuliani to discredit Biden during the 2020 campaign.
June 3, 20211:56 PM ET
Heard on Fresh Air with Terry Gross
Excerpt...
GROSS: Do you think the conspiracy theories that Derkach has been spreading, including, you know, the false information that Biden worked to further his son Hunter's financial interests in Ukraine, do you think all this still has legs? I mean, so much of this information was brought out during the impeachment hearings in the House, and Trump was impeached in the House.
SHUSTER: Yeah, I think it does very much still have legs. I think it's still a very influential narrative. And the reason I say that is, you know, there's a large - former President Trump still has a very large base of supporters. And, you know, among the news media and the online forums that his really devoted supporters use, this narrative that Derkach promoted and fueled is basically part of reality. It has been thoroughly incorporated into the perceptions of Joe Biden within Trump's base.
And I think one of the most interesting things I learned while reporting the story is how much QAnon, the online conspiracy theory kind of cult-like movement of Trump devotees, how much they promoted the Derkach material.
It was a remarkable thing. You can go back and read all of the statements from Q, the kind of anonymous (prophet) of this movement. And, you know, at a very crucial moment in this movement - this movement is quite obsessed with numerology and, you know, the meaning of numbers and all that - dates, numbers. And there's - a lot of the people in that movement were expecting, what is Q going to post - post No. 4,500 because in kind of numerological thinking, 4,500, the 45th president, right? This should be an important post from Q.
And what did Q post in No. 4,500? A link to a YouTube video, 1 1/2 hours long, of Andrii Derkach. And he says, worth reading, listening. So the promotion on the QAnon forums. To me, is very clear indication that, yes, the things that Derkach is pushing and promoting has made it very deep into the bloodstream of a large portion of former President Trump's base. And it's going to continue to be part of the lore of that group of American voters, which is very large.
Continues (link to radio interview, too)...
https://www.npr.org/2021/06/03/1002858655/how-russia-used-an-overt-agent-to-attack-joe-biden-in-the-2020-election
4 replies, 557 views
Replies to this discussion thread
| | | | |
| --- | --- | --- | --- |
| 4 replies | Author | Time | Post |
| Putin pulls QAnon's strings. (Original post) | Kid Berwyn | Tuesday | OP |
| | Kid Berwyn | Tuesday | #1 |
| | Kid Berwyn | Wednesday | #2 |
| | UCmeNdc | Wednesday | #3 |
| | dalton99a | Wednesday | #4 |
---
Response to Kid Berwyn (Original post)
Tue Jun 8, 2021, 04:46 PM
Kid Berwyn (6,274 posts)
1. Simon Shuster wrote a great piece on this treason for TIME
Exclusive: How an Accused Russian Agent Worked With Rudy Giuliani in a Plot Against the 2020 Election
By Simon Shuster in Kyiv
TIME, June 3, 2021
Excerpt...
In the run-up to the election, the FBI and CIA both warned the Trump Administration that Derkach was advancing a Russian disinformation campaign. Trump and his allies nonetheless continued to amplify the narrative, initially on Twitter, Facebook and cable news and then, roughly a month before Election Day, from the stage of the first presidential debate. The online forums of QAnon, the cult-like movement of Trump obsessives, also promoted the Derkach material; at one point it appeared in posts from Q, their anonymous prophet.
The plot served multiple interests. Derkach could not have gotten through to American voters without help from Trump and Giuliani, while the Trump campaign's attacks against the Biden family relied in large part on the ammunition Derkach provided. Whatever the truth of the U.S. allegations against Derkach, Russia benefited from his efforts.
Yury Shvets, who served undercover as a KGB spy in Washington throughout the 1980s, says he was awed by the events as they played out. "They got inside the Americans' heads," Shvets, who studied the operation closely, told me by phone from his home outside D.C. Derkach's actions, he says, bear the hallmarks of Soviet and Russian tradecraft, and succeeded in ways that most disinformation campaigns could only aspire to. "They would have been popping champagne over this back in Moscow," says Shvets.
Snip...
In the early 1970s, as that weapon underwent its final tests, Derkach's father went back to school. He gained admission to the Soviet Union's premier academy for spies, the Dzerzhinsky Higher School of the KGB in Moscow. A generation later, his son followed in his footsteps. After finishing his military service at a strategic missile base, where nuclear rockets were deployed in underground silos, the younger Derkach enrolled in 1990 at the KGB academy in Moscow. (The degree he received was a doctorate in law, though his studies suggest interests beyond jurisprudence. The subject of one thesis paper, he told me, was how to organize meetings with secret agents.)
Continues...
https://time.com/6052302/andriy-derkach-profile/
---
Response to Kid Berwyn (Original post)
Wed Jun 9, 2021, 12:41 PM
Kid Berwyn (6,274 posts)
2. QAnon is a NAZI propaganda weapon meant to divide and conquer.
QAnon is a Nazi Cult, Rebranded
Gregory Stanton
Just Security, Sept. 9, 2020
Excerpt...
I have studied and worked to prevent genocide for forty years. Genocide Watch and the Alliance Against Genocide, the first international anti-genocide coalition, see such hate-filled conspiracy theories as early warning signs of deadly genocidal violence.
The plot, described above, was the conspiracy "revealed" in the most influential anti-Jewish pamphlet of all time. It was called
The Protocols of the Elders of Zion.
It was written by Russian anti-Jewish propagandists around 1902. It collected myths about a Jewish plot to take over the world that had existed for hundreds of years. Central to its mythology was the Blood Libel, which claimed that Jews kidnapped and slaughtered Christian children and drained their blood to mix in the dough for matzos consumed on Jewish holidays.
The Nazis published a children's book of the Protocols that they required in the curriculum of every primary school in Germany. The Nazi newspaper,
Der Stürmer
(derived from the German word for "Storm") spread the Blood Libel. Hitler's
Mein Kampf,
his narcissistic autobiography and manifesto for his battle against the Jewish plot to rule the world, copied his conspiracy theories from the Protocols.
The Nazis worshiped Adolf Hitler as the Leader who would rescue the white race from this secret Jewish plot. Nazi "storm troopers" ("storm detachment" –
Sturmabteilung
) helped bring Hitler to power. Nazi Germany went on to conquer Europe and murder six million Jews and millions of Roma, Slavs, LGBTQ and other people.
America had its own dark side. Henry Ford echoed Nazi hatred of Jews and had 500,000 copies of the Protocols printed and distributed in the U.S. Father Coughlin preached the
Protocols
on national radio. The Ku Klux Klan combined its white supremacist racism with hatred of Jews.
QAnon's conspiracy theory is a rebranded version of the
Protocols of the Elders of Zion.
Continues...
https://www.justsecurity.org/72339/qanon-is-a-nazi-cult-rebranded/
---
Response to Kid Berwyn (Original post)
Wed Jun 9, 2021, 12:44 PM
UCmeNdc (8,433 posts)
3. It is all right there in front of you!
---
Response to Kid Berwyn (Original post)
Wed Jun 9, 2021, 12:44 PM
dalton99a (61,855 posts)
4. Kick