Fri Jun 4, 2021, 07:18 AM
abqtommy (10,656 posts)
4 replies, 568 views
Replies to this discussion thread
| | | | |
| --- | --- | --- | --- |
| 4 replies | Author | Time | Post |
| From The BBC: Your pictures of Scotland 28 May - 4 June (2021) (Original post) | abqtommy | Jun 4 | OP |
| | IcyPeas | Jun 4 | #1 |
| | abqtommy | Jun 4 | #2 |
| | hunter | Jun 4 | #3 |
| | abqtommy | Jun 4 | #4 |
---
Response to abqtommy (Original post)
Fri Jun 4, 2021, 03:05 PM
IcyPeas (14,391 posts)
1. the Cross of Lorraine at Greenock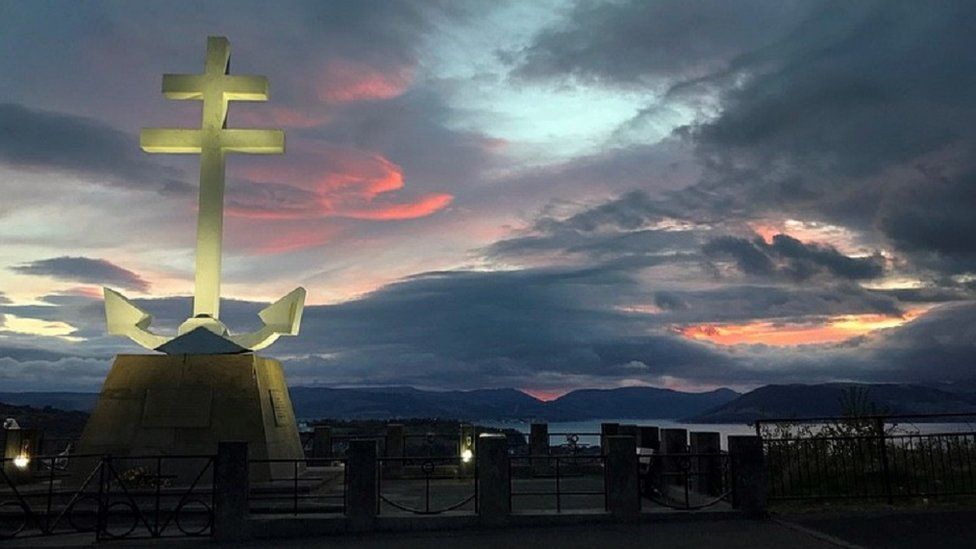 During World War II, France was under Nazi occupation. However, several French troops were evacuated from the country and wanted to still contribute to the war effort. These troops were known as the Free French Forces and continued to fight against the Axis powers after the fall of France. During the war, there was a large Free French Naval Forces base located at Greenock.
https://www.atlasobscura.com/places/free-french-memorial-cross
---
Response to IcyPeas (Reply #1)
Fri Jun 4, 2021, 05:07 PM
abqtommy (10,656 posts)
2. Thanks for your input. I see that this photo has also appeared on The BBC. The role of the
Free French Forces during WWII, and similar groups is well-documented and worthy of a separate
op which I hope to post soon. Unless you want to write it first.

I personally don't post photos here at DU. I spend plenty of time here as it is so thank you.
---
Response to abqtommy (Original post)
Fri Jun 4, 2021, 05:35 PM
hunter (33,356 posts)
3. My ornery Scots ancestors were sent away on boats to Canada...
... because they were much less valuable than sheep.
From there they migrated to Ohio and then Montana.
19th century Montana? Seriously,
guys.
My great grandparents were all Wild West.
My wife's Irish and Scots Catholic ancestors were a more cursed and cussed lot than mine. They escaped to the Americas, U.S.A. and Mexico, just ahead of the English hangmen nipping at their heals. My wife's Native American and Catholic ancestors were forced into Mexico by the U.S. Army and later returned as "immigrants."
My wife's dad was born in a farm worker's camp very near a small dirt poor California farm my parents used to own. I used to run with our family dogs there. My wife and I didn't know any of this history until we became a serious couple. We met teaching science in the city.
---
Response to hunter (Reply #3)
Fri Jun 4, 2021, 05:50 PM
abqtommy (10,656 posts)
4. Both sets of my grandparents on my Mother's side came from Canada to settle in Montana
in the 1800s. My Dad's paternal grandparents came straight from Sussex in England to Seattle in
the 1800s while my paternal grandmother came from an ethnic Dutch community long established in
Detroit Lakes, Minnestoa. So that all makes us kinda related, doesn't it?