Fri May 14, 2021, 07:17 PM
NJCher (26,359 posts)
Unarmed Black Man gets...De-escalation
After getting drunk and dancing on top of a police car.
A couple days ago a local story appeared telling how this person was dancing on top of a police car. Several people saw him and called in reports.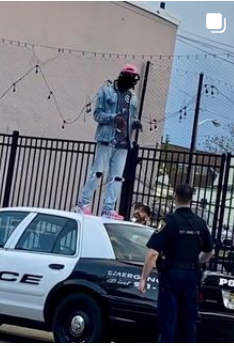 Long story short, the police employed de-escalation techniques and found out he had a history of mental problems. He was taken to a local hospital for psychological and medical evaluation.
He's gonna' get a ticket for criminal mischief.
So what's my point?
Maybe these stories about shootings are having an effect?
I hope this isn't the only story like this out there.
And a p.s.: the mayor and town council issued positive comments about the way it was handled.
6 replies, 1984 views
Replies to this discussion thread
| | | | |
| --- | --- | --- | --- |
| 6 replies | Author | Time | Post |
| Unarmed Black Man gets...De-escalation (Original post) | NJCher | May 14 | OP |
| | Cracklin Charlie | May 14 | #1 |
| | CaliforniaPeggy | May 14 | #2 |
| | Biophilic | May 14 | #3 |
| | budkin | May 14 | #4 |
| | Ocelot II | May 14 | #5 |
| | Mary in S. Carolina | May 14 | #6 |
---
Response to NJCher (Original post)
Fri May 14, 2021, 07:23 PM
Cracklin Charlie (9,816 posts)
1. Thank you for posting this.
I want to see more stories like it.
---
Response to NJCher (Original post)
Fri May 14, 2021, 07:25 PM
CaliforniaPeggy (137,514 posts)
2. I really hope that this is just the start of better community policing!
Cases like this one need to be handled in the same way.
What a breath of fresh air!
---
Response to NJCher (Original post)
Fri May 14, 2021, 07:26 PM
Biophilic (1,102 posts)
3. Yes, positive reinforcement is even better than criticism. We do need more stories
like this for both us and the police.
---
Response to NJCher (Original post)
Fri May 14, 2021, 07:28 PM
budkin (5,190 posts)
4. These police should be celebrated.
---
Response to NJCher (Original post)
Fri May 14, 2021, 07:31 PM
Ocelot II (94,279 posts)
5. Not so far, it would seem.
In the weeks after George Floyd was murdered by a Minneapolis police officer last May, the insistence that his death would be—must be—the last such killing at the hands of law enforcement became a popular refrain. "I think what's happened here is one of those great inflection points in American history, for real, in terms of civil liberties, civil rights, and just treating people with dignity," Joe Biden, then still a candidate for the presidency, told CBS News. Republican pollster Frank Luntz declared, "We are a different country today than just 30 days ago."

The numbers paint a far different story. Since June 2020, police in the U.S. have killed people across different backgrounds at virtually the same rate that they have for the past five years, according to several surveys, despite a pandemic that kept many people at home. As of April 30, there had only been six days this year on which police did not kill a civilian while on duty, according to Mapping Police Violence. Many promised reforms have stalled at the state level—including in the Minnesota legislature—as well as in Washington, with the George Floyd Justice in Policing Act of 2020 dying in the Senate. (An updated version passed the House in March but faces a similar uphill Senate battle.)

"Simply put, you're not seeing a reduction when you look at the data on killings by police," says Samuel Sinyangwe, the co-founder of Campaign Zero and Mapping Police Violence.

The brunt of this violence is still directed disproportionately at Black people. According to Mapping Police Violence, Black people were 28% of those killed by police in 2020 despite being only 13% of the population; they were three times more likely to be killed by police than white people, more likely to be unarmed and less likely to be threatening someone when killed. "Many people might think that they have a grasp on how widespread racial disparities in policing are," Sinyangwe says. "But when you look at the numbers, it is mind boggling."
The rest:
https://time.com/6046645/police-killings-2021/
---
Response to NJCher (Original post)
Fri May 14, 2021, 08:29 PM
Mary in S. Carolina (191 posts)
6. Awesome Story!!