Thu May 13, 2021, 08:26 PM
Celerity (19,870 posts)
'Sweden will get much tougher on immigration': Sweden Democrat leader on end of pariah status
Sweden is set to follow the course set by its neighbour Denmark and see a marked shift in public rhetoric and ever-stricter policies on migration and refugees, now that the populist Sweden Democrat party has shaken off its pariah status, the party's leader Jimmie Åkesson has told The Local in an interview.
https://www.thelocal.se/20210513/sweden-will-get-as-tough-as-denmark-on-immigration-sweden-democrat-leader-on-end-of-pariah-status/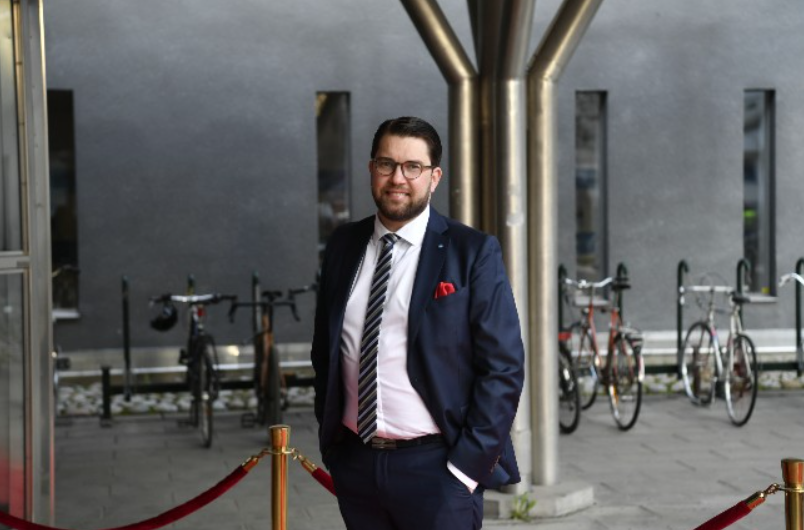 "Denmark was the same way as Sweden, and then it just changed overnight, and that will happen in Sweden too," Jimmie Åkesson said, saying that his party would push for an even harsher regime than that of Sweden's neighbour, which has drawn criticism from the United Nations, European Union and human rights groups for its decision to rule much of Syria 'safe', and then strip Syrians of residency rights. "We actually in Sweden need a stricter policy than Denmark, because we have much bigger problems. I don't think it's possible to just decrease immigration to Danish levels anymore," Åkesson said. "We need to take it further."
The members of the Liberal Party voted at the end of March in favour of joining a minority government formed with the support of the Sweden Democrats. This means that three out of the four centre-right parties that together ruled Sweden up until 2014 have now dropped their opposition to working with the Sweden Democrats, which has long been tainted by the neo-Nazi backgrounds of some early members. "Our goal is to be a part of the government," Åkesson said of the negotiations coming after next year's election. "But we also realise that maybe that's not possible this time. Maybe we have to show that we are a party that wants to take responsibility for real."
When the Danish People's Party twenty years ago gained a similar kingmaker position over the centre-Right Liberal party, it used its leverage to drive through what it boasted was Europe's strictest immigration policy. Public opinion in Denmark has since shifted so dramatically that even the left-wing Social Democrat government frequently takes positions on immigration to the right of those taken by right-wing governments in other Western European countries.
It is seeking, for instance, to send Syrian refugees back into the hands of the brutal regime of President Bashar al-Assad, and to house refugees in an African or Middle Eastern country while their cases are processed. "The Danish example is a very good example because they showed that they could have really great influence, even though they were not in the government," Åkesson said. "I'm sure we will go that far. We have had public opinion in our favour, and that's been the case for decades. The problem has been that the old parties haven't followed that opinion."
snip
Jimmie Åkesson interview: 'If you don't want to be part of Sweden, then you cannot live here'
The so-called cordon sanitaire that long barred the anti-immigration Sweden Democrats from real political influence is now well and truly gone. The Local spoke to the party's leader Jimmie Åkesson about how he thinks he can now change Swedish politics and policies around migration.
https://www.thelocal.se/20210513/jimmie-akesson-interview-if-you-dont-want-to-be-part-of-sweden-then-you-cannot-live-here/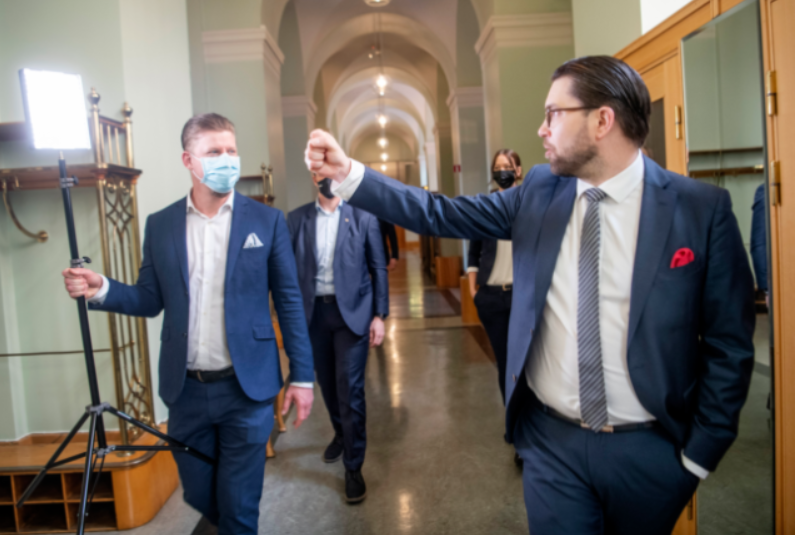 In early May, the former pariah party teamed up with the right-wing Moderate, Liberal, and Christian Democrat parties to
propose a joint proposal on migration
, once a topic where any coordination with the Sweden Democrats would have been off-limits for any party. The membership of the centrist Liberal Party in March voted for a new policy position, under which the party would be willing to join a government backed by the Sweden Democrats. And less than four years after
Anna Kinberg Batra was ousted as leader of the Moderates
for daring to suggest even talking with the Sweden Democrats, her successor Ulf Kristersson argues that on subjects such as immigration and crime, the two parties think alike. The former centre-right "Alliance" of the Moderates, Liberals, Christian Democrats and the Centre Party had already crumbled after the 2018 election over disagreement on whether or not to rely on the tacit support of the Sweden Democrats – a populist party with roots in neo-Nazi groups in the 1980s – to clear the way for a centre-right government. Now all but the Centre Party has decided that they are now willing to do so, the way is open to Kristersson becoming prime minister in Sweden with the backing of the Sweden Democrats, following next year's election. But that would almost certainly give the anti-immigration party the power to fell the government at will. In an interview with The Local's contributor Richard Orange, carried out over Skype from his home in Sölvesborg, southern Sweden, Åkesson said that he planned to use this power responsibly.
You and three of the former Alliance parties recently presented a new migration policy. What is the significance of that?
I think that was a very important signal to the governing parties that we now have the four opposition parties that are able to negotiate and to make proposals in common. I think it shows that there is an alternative in the next election, and while we don't have the same views on everything, we can negotiate and are able to make common proposals. That's the most important thing, I think, even though this will probably not pass. I don't think this is a very good proposal. Actually, I want to take it much further. But this was what was possible. The big value here is the signal that we are able to negotiate and make common proposals. But of course, if I win the election, I have my policies that are much better, I think.
Before the last election, populist parties were on the rise everywhere, and there's an argument that now the pandemic has made people want safe, centrist, dependable leaders, the Angela Merkels of the world, and that parties like yours will struggle. Do you think that's true?

We have managed quite well, even though we have lost some votes to the Social Democrats. But I was actually a bit afraid at the beginning of the pandemic that we would lose a lot. Of course, it has strengthened the Social Democrats very much, and I think you're right that people are seeking experienced leaders, but I think we still have a good starting point. There will be no problems for us to go into the next election and win back at least some of those who left us for the Social Democrats, because in the election campaign there will be a lot of debates about migration policy and how to push back crime. We haven't really had that debate during the pandemic, but I'm sure it will come back, because that's the reality for many voters, so they will demand that we discuss it during the campaign.
I've been in Sweden about 10 years, and in that time, the attitude to migration has changed significantly. It's only three years ago that Anna Kinberg Batra had to resign just because she said she wanted to hold some discussions with your party. What's changed?

Maybe sh
e was before her time, or maybe she did it in the wrong way. Ulf Kristersson has managed to say almost the same things and take it further, and he also got his party with him, which Anna Kinberg Batra didn't. She was quite a weak leader in that party actually, and I think a big part of the party wanted to get rid of her, and they took advantage of that opportunity. I think after Kinberg Batra resigned, the Moderates got a lot of people working for them that have a different view on us and on the most important issues. Ulf Kristersson has different advisors. It's that simple. But I think it would have happened anyway, because the Moderate Party realises that if they want to be in government again, they need to either negotiate with us, or with the Social Democrats. That's the alternative.
snip
Link to tweet
Link to tweet
Link to tweet
1 replies, 503 views
Replies to this discussion thread
| | | | |
| --- | --- | --- | --- |
| 1 replies | Author | Time | Post |
| 'Sweden will get much tougher on immigration': Sweden Democrat leader on end of pariah status (Original post) | Celerity | May 13 | OP |
| | JohnSJ | May 13 | #1 |
---
Response to Celerity (Original post)
Thu May 13, 2021, 08:47 PM
JohnSJ (78,285 posts)
1. Not just Sweden. I saw this resentment against immigrants building in
Europe twenty years ago, and of course in the U.S. trump legitimized bigotry against immigrants.

Just really sad, and worrisome