Wed Feb 17, 2021, 05:00 PM
Top 10 Idiots (364 posts)
Top 10 Conservative Idiots #10-4: It's Always Sunny In Philly-Delphia Edition


Hey! I'm just going to rile up my armed followers to enter the Capitol to stop an election that was already decided based on deranged conspiracies being floated about by my most loyal fans! How's anyone gonna get hurt?






You know last week when we started planning this week's edition. And it really looked like there was actually a slight possibility that Trump could get acquitted! And the keyword there is "slight". Yeah I know that there's no way in hell he would have actually been convicted for the Capitol Riots, but a man can dream can't he? And I will admit that I had a totally different idea planned for this entry but then the trial went out and fizzled out on its' own and we're left with a "not guilty" verdict. And yeah don't worry, Mitch, we haven't forgot about you, you coward! And for god sakes people! Let's get a grip here, Trump may have been acquitted! But he'll never be pardoned!






Dude, seriously, Trump could have Charlie as his attorney and he'd still probably get the same outcome of that trial! But hey, at least the guy who did serve as Trump's attorney, provided some comic relief from the proceedings. I'm sure everyone was as nervous as I was, but hey we kind of expected this going into the trial. But that said, it's always sunny in Philly-Delphia! Seriously, where are Frank, Mac, Dennis, and Charlie when you need them?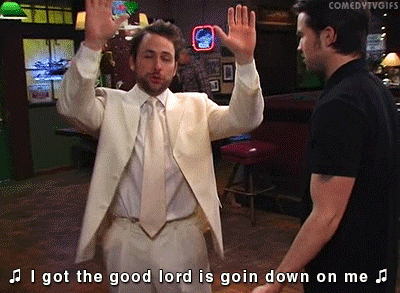 Poor choice of words there, Charlie. Though I think Trump might be into that sort of thing. Yeah it's a really shitty situation and you could say that the Dems were walking into a trap, and I might say that you're right. But the truth is that Trump needs to be punished for what happened on Jan. 6th, it's not like we can pretend it didn't happen. But the good news is that his defeat in 2020 has exposed new light on the circular firing squad that is the GOP.





Well it could always pan out that way! But when you're the head of a mob, don't be surprised when you get compared to other mobsters. Yeah I wanted to bring highlights from the trial, but since there really wasn't a trial, I can bring you this. at least Trump is being compared to being the mob boss that he is, rather than previous presidents. John Gotti may have earned the nickname "Teflon Don" but I think Trump could easily secure that title!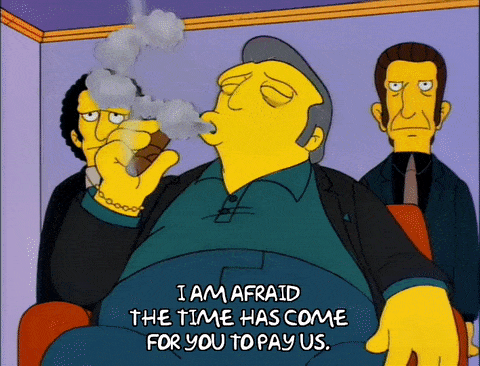 [div style="padding: 20px; background-color: #ffffff; border-radius: 10px; box-shadow: 0px 2px 4px 1px #aaa;"][div style="font-family: arial, helvetica; font-weight: bold; border-bottom: 1px dotted #999; padding-bottom: 8px;"]
[font size="8"]Q Anon Shaman

[br] [/font] [br]

OK so you know how many of us usually have that stream of conscious that when you do something that is really fucked up, it causes you to rethink your life choices? For many who were involved in the horrific events of January 6th, that decision was when they decided to enter the Capitol. And now many of them regret following the pied piper that is our former president. Donald J. Trump. These people are such died in the wool Trump fans that if he instructed his followers to go jump off a cliff, they'd be fighting each other over who would be first in line. Damn I've been to concerts where the headliner didn't have that kind of fanfare. Remember those? Yeah. Well for our friend the Q Anon Shaman, aka Jacob Chansley, is certainly showing signs of regret.






Oh sure it's all fun and games until your man crush commences a violent insurrection that gets 5 people killed and cops beaten to death with their own flag. But hey, you do you! I mean come on, don't squeeze the Shaman! Hey that's a double reference too! I mean seriously? Peaceful? Who is he kidding? You don't bring pipe bombs, zip lines, AR-15s, and hand axes to a rally unless you're looking to start some shit. But here's the kind of scrutiny this guy is facing – well none because he's apparently getting special treatment in prison. Yeah fuck this bullshit.






Yeah maybe healthy eating is at least a good thing? So what kind of charges is our good friend, Mr. Shaman facing? Well besides inciting a riot, there's new evidence that our good friend was spotted at the Capitol screaming about how Trump is still the president. I mean my god how stupid and insane can these people get? This is what happens when you court gullible people into becoming even more gullible is that they believe this shit!






Wait – he really thought Trump was going to pardon him for this? He must be smoking some bad covfefe there! Did Mr. Shaman hire Lin Wood as his attorney? It seems like these guys are all connected somehow, that's what happens when you join a cult. But at least he's showing regret for these actions, that's a start, I guess? The thing is it's going to take out years and maybe even decades to sort out what went down on January 6th, but if enough people turn, we might get some results before then!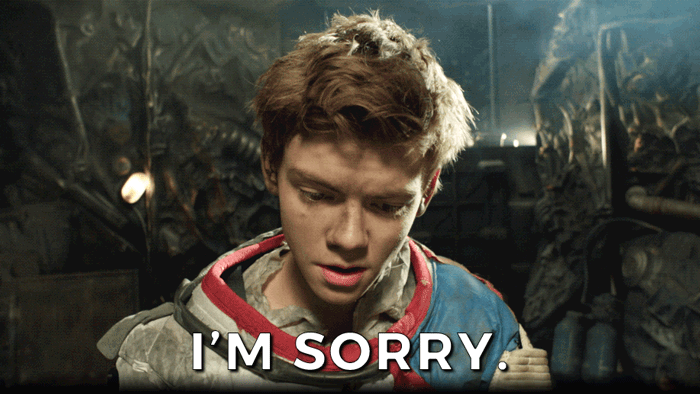 [div style="padding: 20px; background-color: #ffffff; border-radius: 10px; box-shadow: 0px 2px 4px 1px #aaa;"][div style="font-family: arial, helvetica; font-weight: bold; border-bottom: 1px dotted #999; padding-bottom: 8px;"]
[font size="8"]India Farmer's Revolt


[br] [/font] [br]




Our continuing policy here at the Top 10 Conservative Idiots is that we recognize that conservative idiocy isn't just limited to being a state, local, or even uniquely American problem anymore. It's a global problem with conservative idiocy now reaching most of the world. With that said we're going to take a look at the world's largest subcontinent with the world's largest population, India. Since the election of Narajendra Modi in 2019, the people of India are growing increasingly concerned that he's ruling with an autocratic iron fist, similar to what we experienced here with Donald Trump. So here's why the farmers are revolting. It's another example of "Do as I say, not do as I do". Because Modi is saying one thing but the truth… is far more horrifying.






Yeah so that's just the Art Of The Deal. See we give Trump a lot of shit but really he's just another piece of the fascist global puzzle that's being put together. See? People don't want a fair and free democratic ruler who cares about people! They want the opposite of that, they want what Loki attempted to accomplish in the Avengers! Ah if only Loki knew what people were talking about on Facebook, he could easily exploit that!






Sorry, Loki, not doing that today! Where is Captain America when you need him? But sure it's all fun and games until the riot police are called! So why don't we hear from the man himself? Where does Modi stand on this whole situation? Well if you guessed that he's blaming the farmers for their own revolt, you might be right! Hey the guy who robbed that bank was actually a bank employee! That might have worked in the Dark Knight but it doesn't work in real life!






Yeah that's a great idea! Why don't we just ask Texas how well that's going! What? Too soon! Oh don't worry we will cover that next week. And you know what, India? Take it from us! We had to put up with 4 years of Trump. If we can handle him, you can handle Modi! But just like the Trump administration, the more this pans out, the weirder and stranger it gets. We'll keep an eye on this situation for future editions. But let's just say for now, shit is getting real!






[div style="padding: 20px; background-color: #ffffff; border-radius: 10px; box-shadow: 0px 2px 4px 1px #aaa;"][div style="font-family: arial, helvetica; font-weight: bold; border-bottom: 1px dotted #999; padding-bottom: 8px;"]
[font size="8"]Q Anon

[br] [/font] [br]

Q Anon. You know it's that thing that makes you never want to speak to the conservatives you know ever again. They are getting nuttier and crazier. Let's go over things that Q Anon loves. They love talking about a global ring of Satanic pedophiles who practice cannibalism. They also love to talk about Donald Trump taking down that global ring of Satanic pedophiles who practice cannibalism. And the people who are on that list are well, just about everyone who has a D next to their name. But you can imagine, just as with that Q Anon Shaman, since the election of Joe Biden, prominent members of the Q Anon cult are rethinking their life choices. But not Ali Alexander – he's doubling down and going certifiably batshit fucking crazy. Maybe going for a VP slot in that 2024 Trump campaign that will probably never happen?





He wants to build his own city? I wouldn't trust him to build a Sim City! Oh and if you think that Alexander and his "Stop The Steal" rallies are going away any time soon, I've got a used car loan at 27% interest to sell you! He really is equal parts used car salesman and televangelist preacher, isn't he? And if that's not enough, Q Anon is now floating a batshit crazy new theory that Biden's inauguration didn't happen on January 20th. Instead the real inauguration is happening on March 4th – when it used to happen 140 years ago! Can you imagine if we had to wait until March 4th under that administration? Yeah me either!







Yeah probably! Now you might be wondering just how crazy Q Anon gets! And don't worry – we'll get to Rep Adam Kinzinger in a minute. But first let's talk about how ordinary lives are being turned upside down by how far people go down the Q Anon rabbit hole and got duped. And I'm not even going to point out the irony of their love of references for the 1999 movie "The Matrix". We could do a whole entry on that, maybe a future Conspiracy Corner!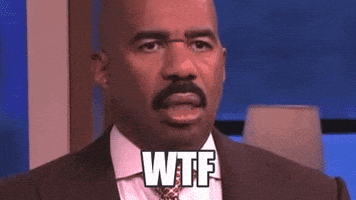 Now that's how ordinary people get duped into following a fairy tale. They get enticed, then they follow blindly. And it's easy to see how people who ordinarily don't care about politics get roped into believing truly warped bullshit created by crackpots. If you want to see it in its' full blown spectacle, look no further than Illinois Rep. Adam Kinzinger – one of the few GOP reps who voted to convict Trump. This letter is completely insane and really shows how depraved Trump supporters really are.







[div style="padding: 20px; background-color: #ffffff; border-radius: 10px; box-shadow: 0px 2px 4px 1px #aaa;"][div style="font-family: arial, helvetica; font-weight: bold; border-bottom: 1px dotted #999; padding-bottom: 8px;"]
[font size="8"]Top 10 Investigates: Toxic Baby Food

[br] [/font] [br]

It's time to investigate beyond the headlines! This is Top 10 Investigates!



Last week, we brought you the story of Subway's tuna might not actually be what it seems to be underneath. This week, there's another type of mislabeled food out there. Is the food your infant is consuming toxic? An alarming joint investigation between Congress and the US Food And Drug Administration is sounding the alarm that there could be poison in your infants' food. And it's not just limited to one brand either. That it might be a supply chain problem. Because any brand that uses this particular supply chain might be toxic. Before you buy that food for your baby you might want to read the warnings beforehand.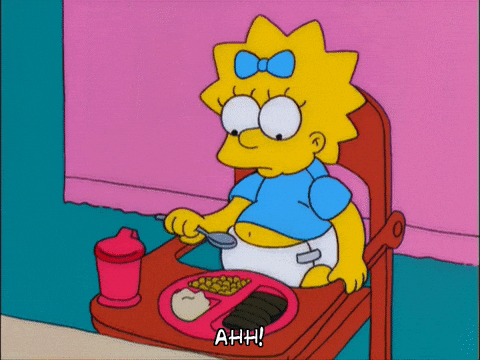 But it isn't just that they sold toxic baby food. It's that the manufacturers knew that their products allegedly contained poison and they sold it anyways! That would be like if someone knew their products were going to catch on fire but they were approved for sale. Hey! Why did the Firematic 9000 burn my house down? It only said so on the label! But what will be done? That is the question.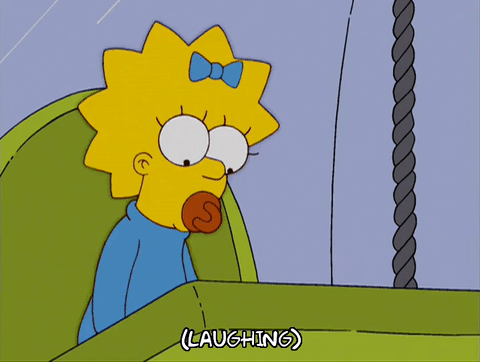 There's nothing funny about this young baby. So what can be done? Do you blame the companies that sold this or do you blame the supply chain? Well it's a combination of both. So what do parents need to know about the toxins? And what can they do for their babies if they come across these foods? You can't just say "don't purchase them" because if you don't do the research beforehand, how would you know which is which?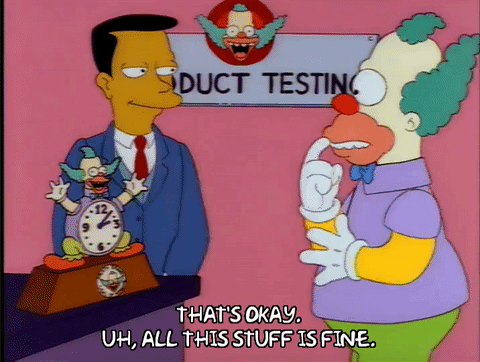 Now what's the FDA response you might ask? Well the targeting against these companies is continuing and it's not going to be resolved overnight. But you can rest assured that they are dealing with it, because that is what they are supposed to do. Anyways until these products are recalled and replaced with the non-toxic varieties, this is what parents can expect when they purchase food for their infants.






That's it this week for Top 10 Investigates! Good day!




[div style="padding: 20px; background-color: #ffffff; border-radius: 10px; box-shadow: 0px 2px 4px 1px #aaa;"][div style="font-family: arial, helvetica; font-weight: bold; border-bottom: 1px dotted #999; padding-bottom: 8px;"]
[font size="8"]Holy Shit

[br] [/font] [br]

Gather around my fair brothers and sisters! It's time to take a seat in the virtual pew make an online donation in the LAWRD's virtual collection plate, for the Holy Church Of The Top 10 has convened and it's time to remind you that the holiest among us are the most full of:




My fair virtual congregation! You know it is so nice not to be run by the crazy, domineering, and EVIL cult of the former President Of The United States. The unholy, ungodly Dark One, a man so disgusting and dishonorable that his name dare not be mentioned in my church whether it's real or virtual! Now, we are still in a time of a great plague. But we have rid ourselves of at least one virus! Now we just got to rid ourselves of the other! But the sad thing is we won't be rid of either in the foreseeable future. But after watching my brothers and sisters on the right last week, does everything need to be a sign from GAWD that the Unholy Dark One is still going to be president? I mean seriously guys, lighten up! Not everything is a sign! No! Just no!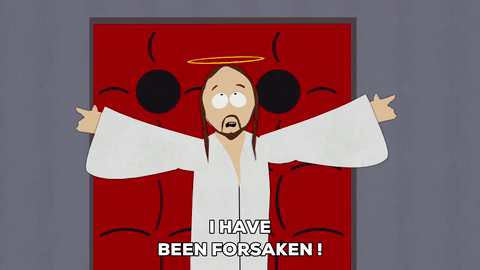 I'm pretty sure that even the good LAWRD JAYSUS is shaking his head at this one! Really, I'm a man of GAWD and I see signs that the LAWRD is everywhere! But I am also holy enough to see that the man who they worship is the DAYMON spawn of SAYTAN himself! That is why his name dare not be spoken in my church! But these people are certifiably insane!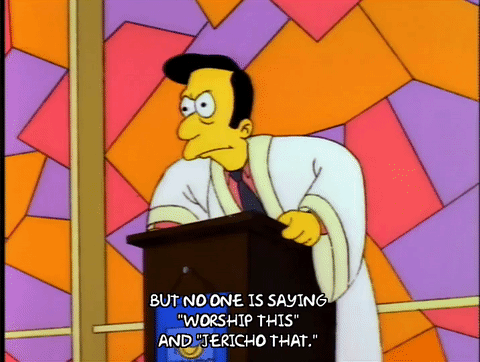 President Dark One is president? I mean that's sound logic there! Ooh man, I will sleep much easier at night knowing these raving maniacs are in charge! And no this isn't anything that GAWD does! I've read the Bible, I should know, I am a pastor. But really this is what a cult does. And the fact that they are invoking their insane lust for the military and military order. But there's nothing about that in the Bible is there? At least not my Bible!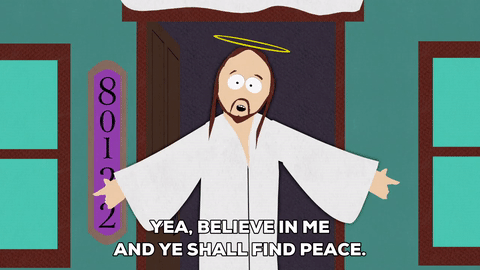 Except with these kooks, believe in them and they want WAR! They are out for blood and fire and brimstone, because they are that crazy! But this might be the worst thing to come out of the last few weeks. You know those Proud Boys that keep getting arrested because they've done stupid things in the name of the Dark One? Well apparently their LAWRD is helping them! Seriously this is insane.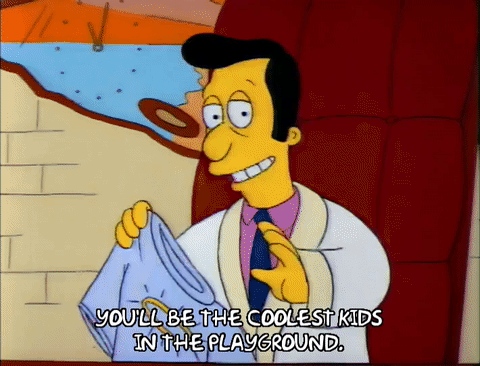 Sigh… you're the ones who did this guys! You can't blame anyone but yourselves. I mean holy shit! Hey that's the name of this segment! Virtual mass has ended, may you go in peace! That's it this week for:





[div style="padding: 20px; background-color: #ffffff; border-radius: 10px; box-shadow: 0px 2px 4px 1px #aaa;"][div style="font-family: arial, helvetica; font-weight: bold; border-bottom: 1px dotted #999; padding-bottom: 8px;"]
[font size="8"]Is It Racist

[br] [/font] [br]

Hey everyone it's time to play the hot new game that's sweeping the nation!




And we always say that if you have to ask, it's probably racist! And there's been a lot of racism in the news lately but this week I want to examine the cause and effect of two very similar stories. Behind door #1 is Gina Carano, the Mandalorian "star" who got axed from Lucasfilm for comparing GOP celebrities and politicians getting banned from social media to the holocaust. And what's behind door #2 you might ask? Why it's country star Morgan Wallen! Who got caught on tape using the N word! Now here's where it gets fucked up. In the pre-Trump days if you pulled this said and did this kind of shit, you'd get fired from your job and blacklisted from whatever profession you happen to be in. And I'll explain the kind of shit conservatives have pulled after we answer the question – my fake audience – "IS IT RACIST?".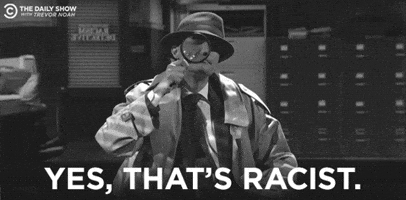 First, let me ask the question – IS IT RACIST??? Well yeah it's fucking racist. Second – oh fuck off, Gina, seriously! Here's the thing, in the conservative Trump fantasy crazy world, you're not fired for being a racist douchebag who makes stupid Hitler comparisons. Instead, you're "cancelled by the out of control media". And rather than these dipshits get the punishment they deserve they get rewarded. Never mind that Hasbro cancelled Gina's Mandalorian action figure too. Instead this happens!






Seriously? I mean who the fuck actually wants to watch a movie made by the Daily Wire? No thanks, I will just sit here and keep waiting for No Time To Die to be released. Next up – country music! As a rock music fan, I will admit that the Stagecoach and Coachella crowd don't mix, even though they're both owned by the same conglomerate. But even the country world has to admit that even the N word is off limits in this day and age – or any day and age. So what happens when you get caught using it?






So my virtual audience – IS IT RACIST??? Oh extremely! And here's the thing – if you don't want to get "cancelled", how about don't be a fucking racist? If you were more outraged about someone being canceled then about why they were canceled, then guess what? You're part of the problem! Oh and also, fuck off with this self-victimization bullshit. I've been drunk a lot of times in my life but never not once used the kind of language Wallen did!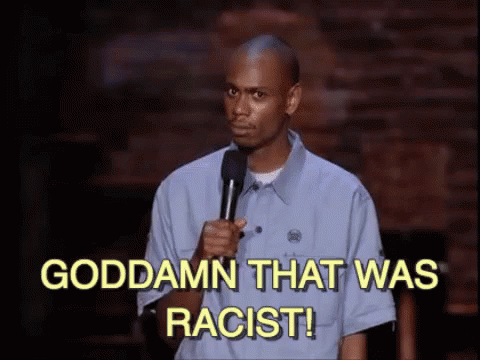 [div style="padding: 20px; background-color: #ffffff; border-radius: 10px; box-shadow: 0px 2px 4px 1px #aaa;"][div style="font-family: arial, helvetica; font-weight: bold; border-bottom: 1px dotted #999; padding-bottom: 8px;"]
[font size="8"]This Fucking Guy: Dave Ramsey

[br] [/font] [br]




This week's This Fucking Guy is Dave Ramsey. If you've never heard the name, that's probably because you're not a frequent Fox News viewer. And if you're here, I would assume that you're not a regular Fox News viewer! Which means that you're not a part of the Fox / Q / Trump / evangelical mega cult. Last time I talked about Dave Ramsey, his business was under fire for holding a massive Christmas party in the middle of COVID (see: Top 10 #9-19 ). This week, he's under fire for saying ridiculously cold-hearted shit about Joe Biden's planned COVID relief. But here is the thing – of course people like this are going to say stupid shit! But Dave is among the worst of the worst! I can already here you booing.






Yes BOOOOOOOOOOOOOOOOOOOOOO!!!! OK let's give you a little background on Mr. Ramsey – he runs a company called Ramsey Solutions. And it employs 800 people who claim it's the best company to work for in America. Oh yeah, they also have a cult like atmosphere with their own radio empire, a fake university, and workshops that charge anywhere from $3K to $10K, and his own plan ironically to get people out of debt!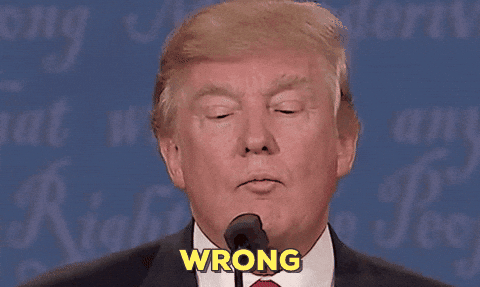 That's right! Bet you didn't think I was going to compare him to this guy, didn't you? And you think you're so smart! Let's refer to Mr. Ramsey as "Trump Light", or "Mini Trump". Well you got to be smarter than the people who fork over $10K for a "leadership" seminar! See this is why credit lenders exist! But we should never speak ill of the program or our undying love and support of Mr. Ramsey! And remember having Dave's undying loyalty? Here's what happens when you have an independent thought!






Oh and by the way you want to know what Ramsey is really like behind the scenes? Picture Kevin Spacey's cringe-worthy performance as Comnidyne president Dave Harken in "Horrible Bosses" – just like Trump, Ramsey does not like people to question their undying loyalty to him. And if you question or double cross him, they will reject you faster than you get outcasted from Scientology. What? Too soon?





That's Dave Ramsey – a guy who's equal parts Donald Trump, Zapp Brannagin, and Keith Raniere, this week's:





[div style="padding: 20px; background-color: #ffffff; border-radius: 10px; box-shadow: 0px 2px 4px 1px #aaa;"][div style="font-family: arial, helvetica; font-weight: bold; border-bottom: 1px dotted #999; padding-bottom: 8px;"]
[font size="8"]I Need A Drink: Gorilla Glue Girl

[br] [/font] [br]

Hey everyone, I don't know about you, but I could really use a drink!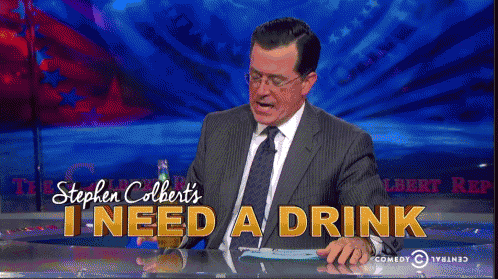 So of course you know by now that the purpose of this segment is that we have some drinks and while we are drinking we talk about anything in the news as long as it doesn't relate to politics or COVID because there's some really dark shit out there right now. Man I miss having a real bartender and a real audience for this one! So tell me virtual bartender, what's a good drink that goes with a story about Gorilla Glue? A banana daquiri? I think you're taking this gorilla thing a bit too literally here, don't you think? So I'm sure those of you who listen to podcasts right now know the bizarre plight of Gorilla Glue Girl – also known as Tessica Brown – and the journey to get here. it's one of the more bizarre stories of this year and we're only two months in!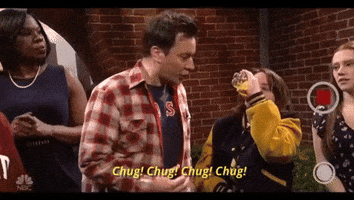 Oh come on really? This woman has a manager now??? We here at the Top 10 are represented by PJ Foodstuff's Fantastic Talent Agency and Great American Steakery! Which is why we have that coveted Wednesday at 2:00 PM slot! But here's the thing – like all horrible things, you know that art begats art, and the Gorilla Glue Girl has certainly inspired her fair share of imitators. Like this guy who stuck a cup to his face to prove this wasn't real. Come on people, we're in the middle of a raging pandemic, don't invent ways to send yourself to the hospital, please!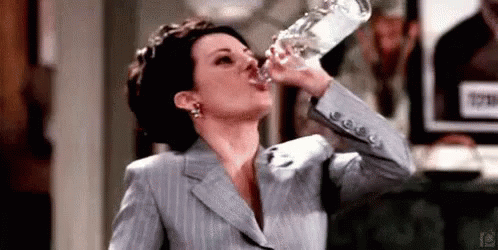 Ah don't hog all the vodka! Save some for me! But here's the thing – we've covered every viral "internet" challenge going all the way back to Tide Pods. Remember when that was the worst way to spend a night in the ER? I miss those times! And like all internet "challenges" – they have their strengths and weaknesses. And they also have their share of experts who weigh in on the medical and legal ramifications should you attempt such a challenge. This is my favorite part!






Man I miss drinking in front of a live audience! But seriously I would love to be in a room full of lawyers who are all arguing about the legal ramifications of using toxic glue as hair spray. I bet they have some pretty interesting conversations and Google searches! But instead let's as an actual hair stylist what they think of this insane situation. Moral of the story: don't use a toxic spray glue as a substitute for hair spray. Just don't!







[div style="padding: 20px; background-color: #ffffff; border-radius: 10px; box-shadow: 0px 2px 4px 1px #aaa;"][div style="font-family: arial, helvetica; font-weight: bold; border-bottom: 1px dotted #999; padding-bottom: 8px;"]
[font size="8"]Road To The White House

[br] [/font] [br]




Welcome back to our coverage of the 2020 election to end all elections in… *CUE REVERB* THE ROAD TO THE WHITE HOUSE! Ooh that was some good reverb there! So last week we talked about Biden's embrace of Black History Month – and not just in a ceremonial tweet. This week we're going to educate the Trump fans about what a real president does. See – Biden actually gets up before noon and doesn't spend 8 hours in bed hate watching 15 different channels on 6 monitors while gorging himself stupid on fast food. No, that was the last guy who did that. But you see kids? This is how a real president is supposed to act!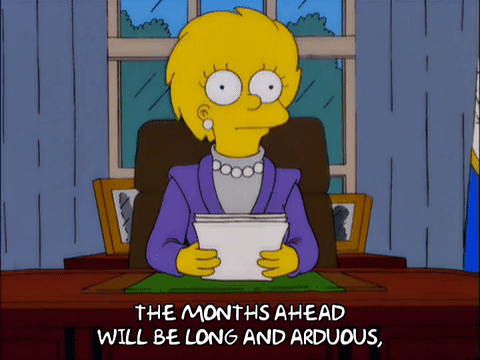 Yes, see? This is what a real president does! Signing executive orders does not require a celebration and a thousand people with cameras photographing you holding up the order as if you were holding up the Lombardi Trophy like you won the Super Bowl! Tom Brady does that, an d nearly throws it in the ocean while wasted, Biden does not. And here's an example of an executive order that actually does something good!






Yes, daaaaaaaaaaaamn indeed! So why is Biden doing this? Well let's think of the last guy who we had in charge and how his policies got us into the current mess we're in. Think of it like Homer and the drinking bird from the Simpsons. You can only push the "Y" button on your keyboard so many times before a catastrophic disaster happens and you have to go back and find out where it went wrong. Don't worry, we will get to that next week!




Yeah so unlike Trump, we're not going to leave a toy bird in charge to do all the work for him while he goes and watches TV and stuffs his face. Oh my god… I just realized something! Trump is the Homer Simpson of presidents! And it only took me 200+ editions and 5 years of doing this thing! At least we have someone who actually reads these things before signing them, and I never since I started doing this thought I would say it, but I think things are going to be OK!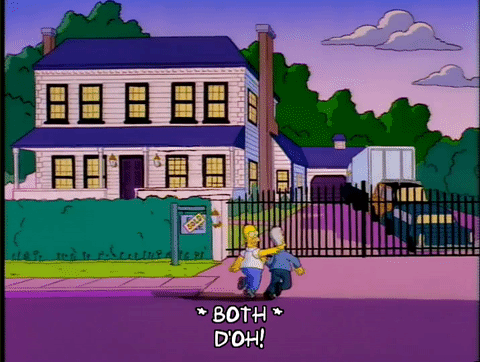 See you next week!


Credits

Host: Initech
Top 10 Conservative Idiots Recorded At: Flappers Comedy Club, Burbank, CA
Images: All images copyright belongs to respective copyright holders.
Videos: All videos copyright belongs to respective copyright holders
Articles: All article content copyright belongs to respective copyright holders
Writing: Top 10 Writing Department
Graphics: Top 10 Graphics Department
Research: Top 10 Research Department
Lighting & Stage Props: Top 10 Lighting Department
Legal: Top 10 Legal Department
Advertising: Top 10 Advertising Department
HR: Top 10 Human Resources Department
Initech's Wardrobe Provided By: JAB Inc.
Wheel Of Corruption By: Studio 1 Stage Props, Burbank, CA
Management: Initech Productions, CCC Management
Follow The Top 10 On Twitter at: @10Idiots
New! Follow The Holy Church Of The Top 10 On Twitter: @churchoftop10
Questions? Comments? Complaints? Hate mail? E-mail The Top 10 at: Top10ConIdiots@gmail.com



Initech Productions: Yes, We Got The Memo



3 replies, 415 views
Replies to this discussion thread
| | | | |
| --- | --- | --- | --- |
| 3 replies | Author | Time | Post |
| Top 10 Conservative Idiots #10-4: It's Always Sunny In Philly-Delphia Edition (Original post) | Top 10 Idiots | Feb 17 | OP |
| | underpants | Feb 17 | #1 |
| | Top 10 Idiots | Feb 17 | #2 |
| | underpants | Feb 17 | #3 |
---
Response to Top 10 Idiots (Original post)
Wed Feb 17, 2021, 05:42 PM
underpants (160,447 posts)
1. What's up with India? 😆😆😆😆
---
Response to underpants (Reply #1)
Wed Feb 17, 2021, 07:54 PM
Top 10 Idiots (364 posts)
2. I know all about the law and various other lawyerings!
---
Response to Top 10 Idiots (Reply #2)
Wed Feb 17, 2021, 08:33 PM
underpants (160,447 posts)
3. God I love Charlie