Fri Feb 5, 2021, 03:07 PM
Celerity (19,870 posts)
Fox News And The American Republic Can't Coexist
Fox News prime time is the centerpiece of everything thatís toxic about our politics.
https://thebanter.substack.com/p/fox-news-and-the-american-republic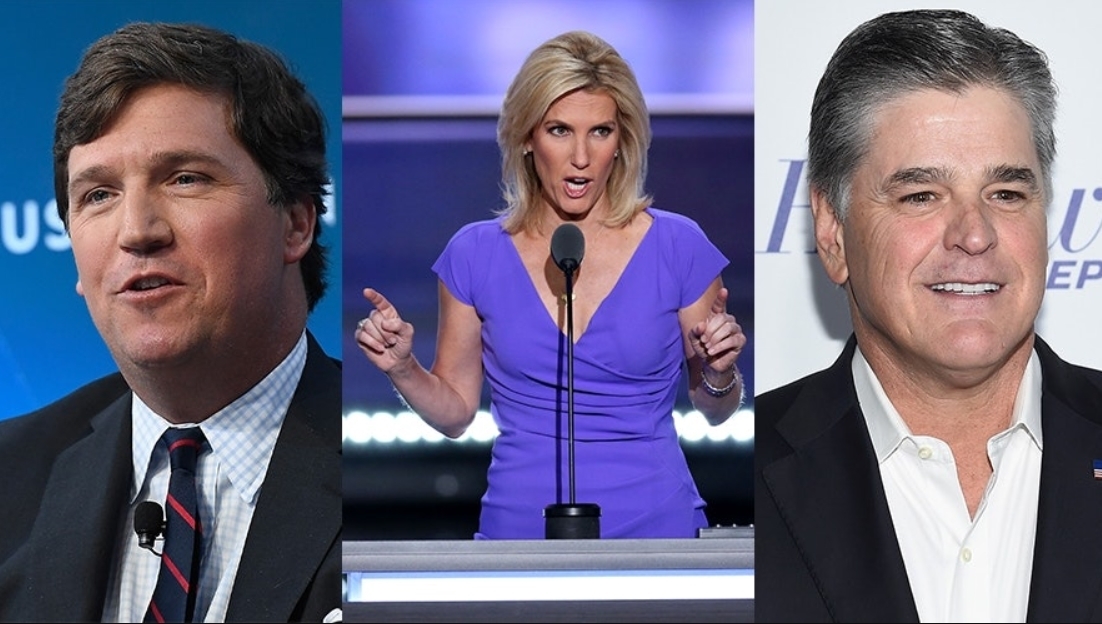 WASHINGTON, DC -- In the midst of yet another dark chapter in our nationís history, Officer Brian Sicknick died defending the Article I powers enshrined in the Constitution. He died defending what the framers of our republic considered to be the most important one-third of the federal government. He died in defense of Congress, but he was killed because too many Americans have been badly deceived by the most successful scam in American history. The scam and the chief scammer are one and the same: Donald Trump. But he wasnít the sole villain in all of this. Weíll circle back to that point momentarily. Even after five years of Trump, it continues to confound reason how 74 million Americans were suckered into believing that not only is Trump capable of being a national leader but that heís a deity worthy of Olympus. To the brainwashed Red Hats, heís a god. A savior. An all screeching, all farting Pied Piper leading them to the promised land where Black people, trans people, anyone whoís not white people simply donít exist. At some point, we as a nation need to come to terms with the fact that so many of our fellow citizens have completely snapped the tether to reality -- that so many of us, including some friends and family, could be so profoundly tricked by such an obvious con.
Itís like weíre all at a carnival enjoying ourselves, yet half of us canít stop shoveling our cash into the hands of the sideshow geek who insists heís got a half-yak woman inside the tent. We simply canít continue to successfully function as a republic when half of us are soon easily duped. Brian Sicknick was murdered by the disciples of a sideshow geek. It was this sideshow geek, Trump, who ordered those deluded suckers to storm the Capitol but only after
they gifted him with $175 million in donations
-- despite the fact that almost none of it was spent to dispute the election results. And now, hundreds of the insurrectionists could be going to prison because of terrorism they committed in the name of Donald Trump -- Donald Trump, the weirdo who sold steaks in Sharper Image stores. His dutiful fanboys killed Brian Sicknick to illegally install him -- their messianic sideshow geek -- back in the White House. And they had considerable help from the Fox News prime time line-up. Tuesday night, Sicknick was memorialized inside the Capitol Rotunda before being buried at Arlington National Cemetery. It was yet another devastating bit of closure to a devastating event. As I watched the ceremony, I wondered what the various cable news networks were covering so I flipped around to find out.
MSNBC and CNN covered the memorial live, oftentimes airing just the ambient sound of the Rotunda without any commentary. But on Fox News channel, it didnít surprise me to discover Laura Ingraham, at the time, bitching about Dr. Fauci. Apparently, Fox News didnít broadcast any of the event, and it should come as no surprise. Why? Fox News is one of the reasons why Sicknick died in the first place. It was the Fox News prime time line-up ó the garbage-mouthed trifecta of preening hyenas thatís partly responsible for Sicknickís murder and the desecration of the Capitol. Sean Hannity did it. Tucker Carlson did it. Laura Ingraham did it. Their rogueís gallery of paid guests did it, too. They helped instigate it and they shouldnít be on TV anymore. Iím not just talking about the election either. For four years, Fox News prime time was Trumpís home away from home, when he appeared via telephone for seemingly endless psychotic rants or when the hosts, Hannity, Ingraham, and Carlson, lovingly fluffed the ex-presidentís fragile ego, echoing all of his vendettas by rote. When it was time for America to unite against the threat of a rampant pandemic, Fox News made sure we didnít. When Trump called for the so-called liberating of Michigan and Virginia, Fox News prime time rode that wave of bullshit all the way, helping to incite the proto-insurrectionists to occupy the lobbies of state capitols, culminating in the attempted assassination of Gov. Gretchen Whitmer.
Fox News prime time is the centerpiece of everything thatís toxic about our politics. In fact, it wasnít Trump who made Fox News, it was Fox News that made Trump. He co-opted the networkís dogma and stole it for himself, completing a human-animal hybrid of disinformation -- an ouroboros of insanity, with Trump taking Fox News themes for his own and Fox News repeating Trumpís deformed knockoff of what Roger Ailes originally manufactured. And now, the Murdochs have to fire all three hosts. They all have to go. Iím not exactly sure how the prime time line-up managed to avoid the chopping block in the days after the Capitol insurrection, but they canít be allowed to walk away without accountability for what theyíve done, whether itís their COVID denialism or whether itís their role in helping to incite the chaos. The craziest thing about Fox News is they know theyíre full of shit. They know theyíre making it all up. They know the insurrection had a lot to do with the crapola theyíre routinely pooping out of their Play-Doh Agitprop Factory. What the Murdochs fail to understand, though, is that Fox News and the American republic can not coexist. Itís either Fox News or itís our democratic republic. Either the disinformation ends or the republic ends. Weíve witnessed what happens when too many Americans take them way too seriously, and the only way to reverse some of the damage is to excise the tumour. If we donít, Brian Sicknick wonít be the first defender of democracy to be buried in this increasingly hot civil war.
snip
9 replies, 725 views
Replies to this discussion thread
| | | | |
| --- | --- | --- | --- |
| 9 replies | Author | Time | Post |
| Fox News And The American Republic Can't Coexist (Original post) | Celerity | Feb 2021 | OP |
| | roamer65 | Feb 2021 | #1 |
| | BComplex | Feb 2021 | #2 |
| | Nitram | Feb 2021 | #6 |
| | Laelth | Feb 2021 | #3 |
| | Celerity | Feb 2021 | #4 |
| | Kid Berwyn | Feb 2021 | #5 |
| | BComplex | Feb 2021 | #7 |
| | moondust | Feb 2021 | #8 |
| | Leith | Feb 2021 | #9 |
---
Response to Celerity (Original post)
Fri Feb 5, 2021, 03:20 PM
roamer65 (26,956 posts)
1. Time for a Fairness in Media Act.
---
Response to Celerity (Original post)
Fri Feb 5, 2021, 03:23 PM
BComplex (5,693 posts)
2. I don't know if this country can UN-do the damage fox propaganda has done.
It's deep, and it's dirty, and it should have been banned a long time ago.
---
Response to BComplex (Reply #2)
Fri Feb 5, 2021, 04:03 PM
Nitram (17,000 posts)
6. It may not be possible to undo the damage already done, but it would save millions from similar
damage. And I believe we might find the once the stream of lies, misinformation, and vile sliming is cut off, the truth might start seeping beck into the minds of the brainwashed masses. Too late to save my parents...
---
Response to Celerity (Original post)
Fri Feb 5, 2021, 03:25 PM
Laelth (32,009 posts)
3. Yes, but ... our First Amendment.
Itís OK to LIE, here in the United States, particularly about politics, our most highly-prized and highly-protected form of speech. The government can neither ban nor control Fox News without running afoul of the First Amendment.
Given the choice, I would gladly choose the republic over Fox News, but I see no mechanism that would allow government to abolish (or even moderate) Fox News.
-Laelth
---
Response to Laelth (Reply #3)
Fri Feb 5, 2021, 03:31 PM
Celerity (19,870 posts)
4. This is true, and over the longwave of history, it might be part of the weaknesses in the
US Constitution that mutate and fester into a national suicide pact.

We need creative, outside-of-the-box thinking to combat the cancer.
---
Response to Laelth (Reply #3)
Fri Feb 5, 2021, 03:34 PM
Kid Berwyn (6,306 posts)
5. Don't allow Fox to pass off "opinion" as "news."
And when they do offer their wretched opinion, require they give equal time to opposing views.


---
Response to Laelth (Reply #3)
Fri Feb 5, 2021, 04:08 PM
BComplex (5,693 posts)
7. Several western european countries, and now, Australia have banned fox.
It is NOT "news". If regulations can block child pornography and snuff films from being shown, they can certainly block propaganda designed to destroy our country.

Framers of the constitution did the right thing in allowing free speech. But if these assholes want to write a book, or stand out on the street corner and press their lies, they should be able to have at it. But using a mass viewing stage to spew seditious bullshit should be regulated.
---
Response to Laelth (Reply #3)
Fri Feb 5, 2021, 04:37 PM
moondust (17,085 posts)
8. Truth in Advertising
When the Federal Trade Commission finds a case of fraud perpetrated on consumers, the agency files actions in federal district court for immediate and permanent orders to stop scams; prevent fraudsters from perpetrating scams in the future; freeze their assets; and get compensation for victims.When consumers see or hear
an advertisement, whether itís on the Internet, radio or television, or anywhere else, federal law says that ad must be truthful, not misleading, and, when appropriate, backed by scientific evidence
. The FTC enforces these truth-in-advertising laws, and it applies the same standards no matter where an ad appears Ė in newspapers and magazines, online, in the mail, or on billboards or buses. The FTC looks especially closely at advertising claims that can affect consumersí health or their pocketbooks Ė claims about food, over-the-counter drugs, dietary supplements, alcohol, and tobacco and on conduct related to high-tech products and the Internet. The FTC also monitors and writes reports about ad industry practices regarding the marketing of alcohol and tobacco. During the recent coronavirus (COVID-19) pandemic, the FTC has been sending warning letters to companies that may be violating the FTC Act, to warn them that their conduct is likely unlawful and that they can face serious legal consequences, such as a federal lawsuit, if they do not immediately stop.
https://www.ftc.gov/news-events/media-resources/truth-advertising
Maybe this could be expanded beyond simply commercial advertising to include media outlets that knowingly mislead people. After all, aren't false political narratives/propaganda another form of advertising that someone is trying to "sell" to the public?
---
Response to Celerity (Original post)
Fri Feb 5, 2021, 05:11 PM
Leith (6,870 posts)
9. Don't let hate radio off the hook
That's even worse than Faux Noise in terms of lies and hate. And they are under sterner laws than cable channels.