Thu Jan 14, 2021, 12:41 AM
IcyPeas (12,789 posts)
4 replies, 1492 views
Replies to this discussion thread
| | | | |
| --- | --- | --- | --- |
| 4 replies | Author | Time | Post |
| Boebert's restaurant YELP page. As expected. (Original post) | IcyPeas | Jan 14 | OP |
| | Grokenstein | Jan 14 | #1 |
| | Cha | Jan 14 | #2 |
| | SunSeeker | Jan 14 | #3 |
| | Celerity | Jan 14 | #4 |
---
Response to IcyPeas (Original post)
Thu Jan 14, 2021, 12:51 AM
Grokenstein (3,414 posts)
1. The reviews are hilarious--the serious ones more so than the trolls!
"Our server Jenna was nice and fast and even let me take a photo with her wearing her holstered 9mm pistol outside of the restaurant after our meal. Please promote Jenna and give her a raise!"

Like another review says, "If you have a gun fetish, this is the place for you. If you're concerned about food borne illness and criminal owners, this is not the place for you."
---
Response to IcyPeas (Original post)
Thu Jan 14, 2021, 01:00 AM
Cha (269,127 posts)
2. White Buns, hamberder, Russian dressing,
& a small pickle.
I stole that from a tweet today.
& there's this..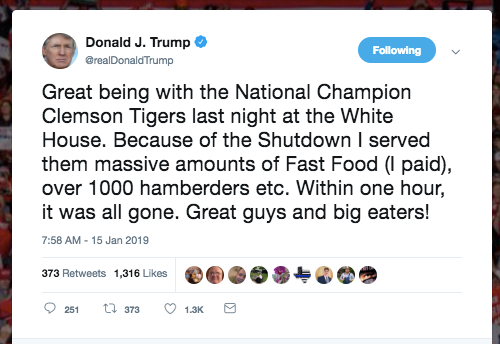 ---
Response to IcyPeas (Original post)
Thu Jan 14, 2021, 01:01 AM
SunSeeker (44,045 posts)
3. Damn. Yelp temporarily blocked the ability to leave reviews.
This message box pops up:
Unusual Activity Alert

This business recently received increased public attention, which often means people come to this page to post their views on the news. While we don't take a stand one way or the other when it comes to this incident, we've temporarily disabled the posting of content to this page as we work to investigate the content you see here reflects actual consumer experiences rather than the recent events. Please note that we apply this same policy regardless of the business and regardless of the topic at issue. Read more on Yelp Support.

If you're here to leave a review based on a first-hand experience with the business, please check back at a later date.
Obviously her restaurant was getting shelled with bad reviews.
---
Response to IcyPeas (Original post)
Thu Jan 14, 2021, 01:05 AM
Celerity (17,356 posts)
4. Cowards that think they're tough because they bought a pistol and walk around with it on their hip.
It's like a biker bar, if you take away all the things that make an actual biker bar cool.