Wed Jan 13, 2021, 12:28 PM
Donkees (23,002 posts)
20,000 National Guard troops expected to be in Washington for inauguration
From CNN's Alison Main, Nicky Robertson and Barbara Starr
DC Police Chief Robert Contee said on Wednesday that more than 20,000 National Guard members could be expected in the District for President-elect Joe Biden's inauguration, though he noted the final numbers will be provided by the United States Secret Service.
Multiple defense officials tell CNN that the total request for National Guard is close to 30,000 guardsmen to support US Capitol Police, Park Police and Washington Metropolitan Police Department but officials believe that the actual number needed is closer to 20,000. The officials added that there is no concern that there will be any shortage of Guard forces to meet requirements from the 50 States and the District of Columbia.
Asked if he's ever seen this much law enforcement reinforcement coming to the District, the newly-installed Chief Contee, who is a veteran of the Metropolitan Police Department and lifelong DC resident, answered, "not at this level, no."
Contee told reporters he remains concerned amid a "major security threat" ahead of the inauguration and planned demonstrations in the District this weekend.
"I've been concerned before today and will be through this weekend, and beyond," Contee said on Wednesday, while praising DC Mayor Muriel Bowser's security posture, including discouraging people from coming to DC for the inauguration. "There's a major security threat, and we are working to mitigate those threats," he added.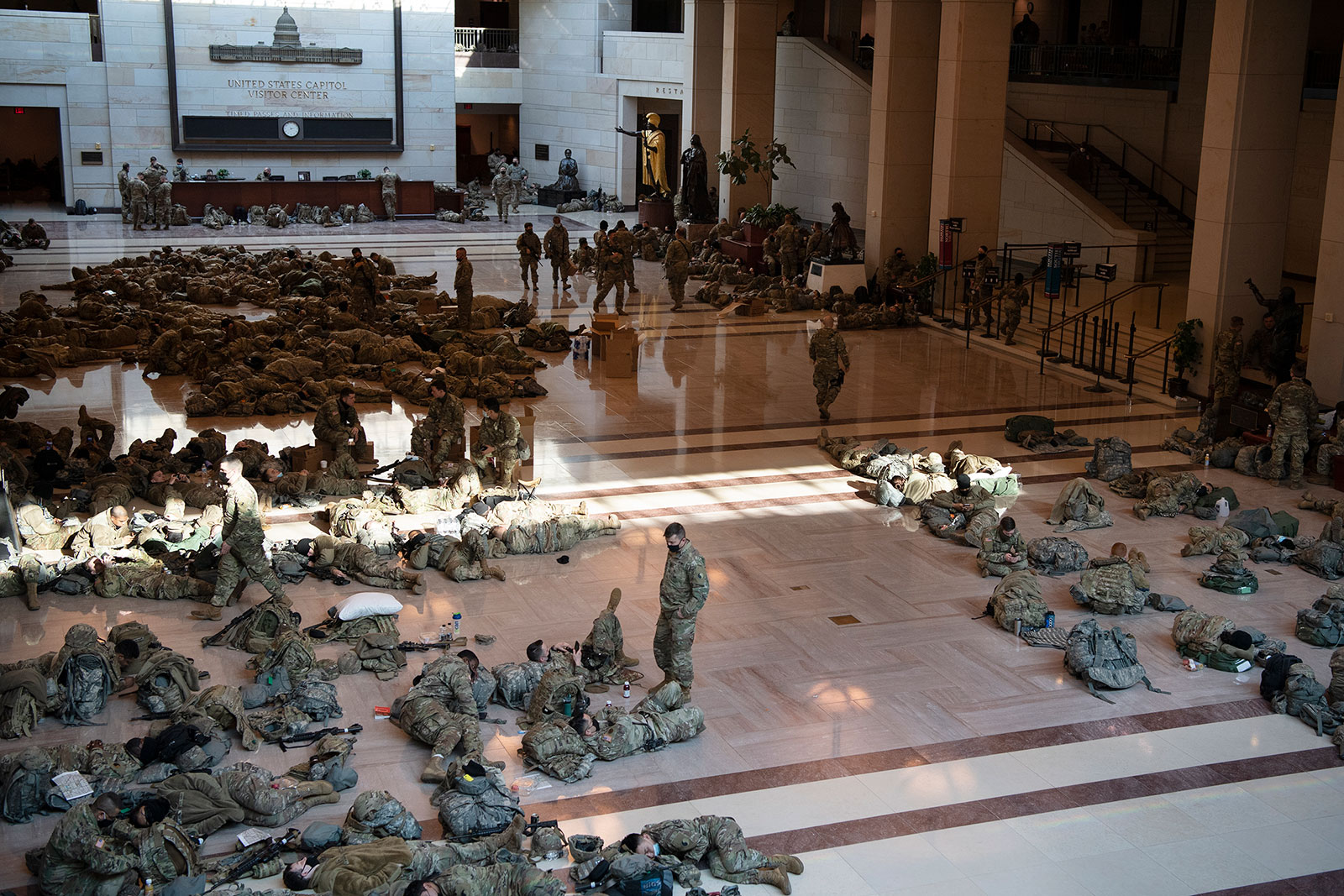 Members of the National Guard rest in the Capitol Visitor Center on January 13. Caroline Brehman/CQ-Roll Call/Getty Images
https://www.cnn.com/politics/live-news/house-trump-impeachment-vote-01-13-21/index.html
4 replies, 290 views
Replies to this discussion thread
| | | | |
| --- | --- | --- | --- |
| 4 replies | Author | Time | Post |
| 20,000 National Guard troops expected to be in Washington for inauguration (Original post) | Donkees | Jan 13 | OP |
| | Fiendish Thingy | Jan 13 | #1 |
| | dalton99a | Jan 13 | #2 |
| | superpatriotman | Jan 13 | #3 |
| | cally | Jan 13 | #4 |
---
Response to Donkees (Original post)
Wed Jan 13, 2021, 12:46 PM
Fiendish Thingy (6,144 posts)
1. I think this means only the craziest hard core cultists will show, "tourist terrorists" will stay
At home. Theyíve seen hundreds of their co-insurrectionists get arrested, lose jobs and suffer other consequences- I think most of them arenít willing to sacrifice that much for Trump.

If any of the crazies who do show up even look like they are going to get violent, I predict the streets will run red with their blood. Iím guessing the serious, trained seditionists will wait until after the inauguration, when we will likely see some individual acts of domestic terrorism.

Hopefully, the FBI and other agencies will thwart these efforts.

Feeling relieved that the Capitol will be secure.


---
Response to Donkees (Original post)
Wed Jan 13, 2021, 12:47 PM
dalton99a (58,254 posts)
2. Kick
---
Response to Donkees (Original post)
Wed Jan 13, 2021, 12:53 PM
superpatriotman (5,379 posts)
3. Ask Anwar Sadat how safe he felt.
https://en.wikipedia.org/wiki/Assassination_of_Anwar_Sadat
On 6 October 1981, a victory parade was held in Cairo to commemorate the eighth anniversary of Egypt's crossing of the Suez Canal.[1] Sadat was protected by four layers of security and eight bodyguards, and the army parade should have been safe due to ammunition-seizure rules. As Egyptian Air Force Mirage jets flew overhead, distracting the crowd, Egyptian Army soldiers and troop trucks towing artillery paraded by. One truck contained the assassination squad, led by Lieutenant Khalid Islambouli. As it passed the tribune, Islambouli forced the driver at gunpoint to stop. From there, the assassins dismounted and Islambouli approached Sadat with three hand grenades concealed under his helmet. Sadat stood to receive his salute; Anwar's nephew Talaat El Sadat later said, "The president thought the killers were part of the show when they approached the stands firing, so he stood saluting them",[14] whereupon Islambouli threw all his grenades at Sadat, only one of which exploded (but fell short), and additional assassins rose from the truck, indiscriminately firing AK-47 assault rifles into the stands until they had exhausted their ammunition, and then attempted to flee. After Sadat was hit and had fallen to the ground, people threw chairs around him to shield him from the hail of bullets.

The attack lasted about two minutes. Sadat and ten others were killed outright or suffered fatal wounds, including Major General Hassan Allam, Khalfan Nasser Mohammed (a general from the Omani delegation), Eng. Samir Helmy Ibrahim, Al Anba' Samuel, Mohammed Yousuf Rashwan (the presidential photographer), Saeed Abdel Raouf Bakr, Chinese engineer Zhang Baoyu [zh],[15] as well as the Cuban ambassador to Egypt, and a Coptic Orthodox bishop, Anba Samuel of Social and Ecumenical Services.
---
Response to Donkees (Original post)
Wed Jan 13, 2021, 12:55 PM
cally (21,151 posts)
4. Every day increases number of troops
Iím most worried right now about insiders like Congress members or secret service