Sat Oct 6, 2012, 09:41 AM
littlemissmartypants (8,105 posts)
GHF-Funded Filmmaker Calls on International Community to Save Mes Aynak
October 02, 2012
In 2009, MCC gave archaeologists three years to excavate the site, despite experts' estimates that a proper job would take 30 years. Today, the Afghan archaeologists who do the majority of the excavations don't have access to computers or digital cameras and have been sleeping on the floor in a wooden shack on site. Meanwhile, three teams of international archaeologists, led by a French delegation, are rushing to relocate as many objects as possible, not bothering with anything that can't be moved.
Despite arguments that mineral extraction would be good for Afghanistan's economy, Huffman argues that corruption in the country's government prevents any possible benefit for the majority of citizens. He also describes the "environmental devastation" that would ensue if the site is mined, with toxic pollution making the site permanently unsafe for visitors, and toxins traveling via rivers, contaminating other areas in the process.
"My fear is that in the future Afghanistan will consist of hundreds of these gaping toxic craters and the resources the country needs for its own development will be lost. Afghans will see no benefit. They will suffer from irreversible environmental devastation and the permanent loss of invaluable cultural heritage."
One of the many archaeological excavation areas at Mes Aynak. Photo: Brent Huffman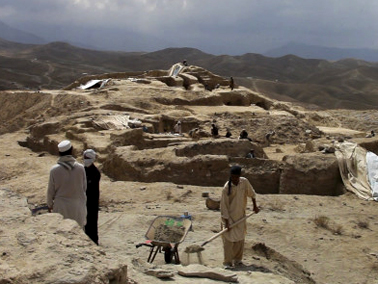 http://www.change.org/petitions/president-hamid-karzai-prevent-destruction-of-ancient-site-of-mes-aynak-the-environmental-damage-3
http://ghn.globalheritagefund.org/explore.php?id=1338
http://globalheritagefund.org/onthewire/blog/mes_aynak1
1 replies, 592 views
Replies to this discussion thread
| | | | |
| --- | --- | --- | --- |
| 1 replies | Author | Time | Post |
| GHF-Funded Filmmaker Calls on International Community to Save Mes Aynak (Original post) | littlemissmartypants | Oct 2012 | OP |
| | Octafish | Oct 2012 | #1 |
---
Response to littlemissmartypants (Original post)
Sat Oct 6, 2012, 10:14 AM
Octafish (55,745 posts)
1. If Afghanistan didn't want this, they shouldn't have attacked us on 9-11.
Oh, that's right: Afghanistan didn't attack us on 9-11.
http://www.guardian.co.uk/world/2001/oct/14/afghanistan.terrorism5
The trillions in mineral resources won't go to help the people of Afghanistan, either. The money will line the pocket of the Chinese and Western elites who "bankroll" the extraction of resources.
The cultural treasures lost at Aynak are priceless.