Sun Oct 18, 2020, 12:07 PM
Dial H For Hero (497 posts)
French premier joins nationwide tributes to beheaded teache
https://apnews.com/article/lyon-toulouse-lille-paris-france-e19a06d2f534302992aca77e4c75f6ea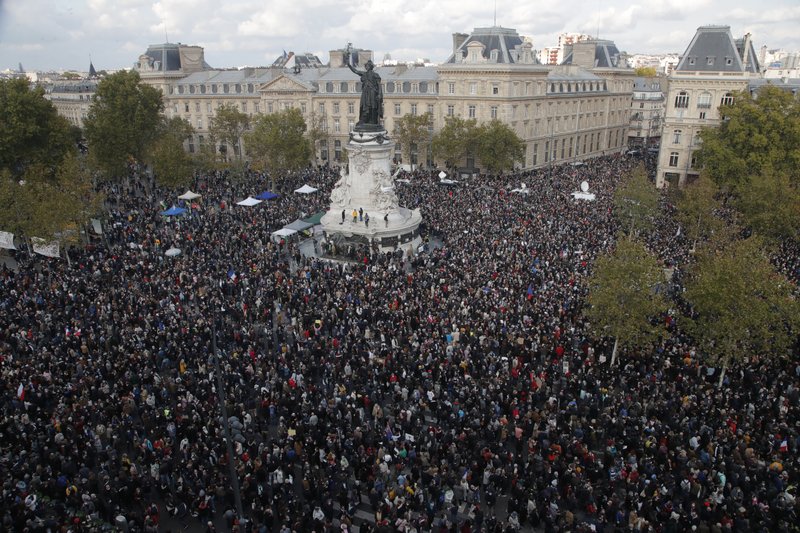 PARIS (AP) — France's prime minister joined demonstrators on Sunday who rallied together across the country in tribute to a history teacher who was beheaded near Paris after discussing caricatures of Islam's Prophet Muhammad with his class.
The demonstrations came hours after U.S. President Donald Trump sent France a message of solidarity in the wake of the attack.
Samuel Paty was beheaded on Friday in Conflans-Sainte-Honorine by a 18-year-old Moscow-born Chechen refugee who was shot dead by police.
French Prime Minister Jean Castex stood with citizens, associations and unions demonstrating Sunday on the Place de la Republique in Paris in support of freedom of speech and in memory of the 47-year-old slain teacher.
Some held placards reading "I am Samuel" that echoed the "I am Charlie" rallying cry after the 2015 attack on the satirical newspaper Charlie Hebdo, which published caricatures of the Prophet Muhammad. A moment's silence was observed across the square, broken by applause and a rousing rendition of La Marseillaise, the French national anthem.
(excerpt)
3 replies, 364 views
Replies to this discussion thread
| | | | |
| --- | --- | --- | --- |
| 3 replies | Author | Time | Post |
| French premier joins nationwide tributes to beheaded teache (Original post) | Dial H For Hero | Oct 18 | OP |
| | crickets | Oct 18 | #1 |
| | DarthDem | Oct 18 | #2 |
| | malaise | Oct 18 | #3 |
---
Response to Dial H For Hero (Original post)
Sun Oct 18, 2020, 12:57 PM
crickets (15,091 posts)
1. How awful.
Thanks for posting this, Hero - the photos are amazing. The demonstrations are a beautiful rebuke, but the reason for them is horrifying. It's not explained how the perpetrator came to be shot rather than arrested in this article, so I found something at BBC which explains a lot of the background leading up to the murder, including the Charlie Hebdo controversy.
While it is a good thing trump bothered to respond, his reaction is reported as remarks made at a rally. They are predictably eloquent, of course. *sigh*
https://www.bbc.com/news/world-europe-54581827
Speaking at the scene hours after the incident, President Macron stressed national unity. "They will not prevail, they will not divide us," he said.

Charlie Hebdo on Friday tweeted: "Intolerance just reached a new threshold and seems to stop at nothing to impose terror in our country."

Education Minister Jean-Michel Blanquer, who met leaders from teaching unions on Saturday, said in a recorded statement that Mr Paty had been killed by the "enemies of freedom" and France would "never back down when confronted by terror, intimidation".

Muslim leaders in France also condemned the attack. "A civilisation does not kill an innocent person, barbarism does," Tareq Oubrou, imam of a mosque in Bordeaux, told France Inter.
I'm not very eloquent myself, but sincere *hugs* from the US. Vive la France.
---
Response to Dial H For Hero (Original post)
Sun Oct 18, 2020, 02:22 PM
DarthDem (4,743 posts)
2. Awful story.
Touching and beautiful demonstrations to remember M. Paty.
---
Response to Dial H For Hero (Original post)
Sun Oct 18, 2020, 02:24 PM
malaise (219,835 posts)
3. Madness - religious zealots are lunatics