Wed Oct 14, 2020, 01:28 AM
Budi (3,488 posts)
ESSAY by Hillary Clinton, 25 yrs after her speech to the UN 4th World Conference on Women's Rights
Link to tweet
"
When Trump's elected, things are really going to explode!"
~sarandon 2016
-----------------------------------------------------------------------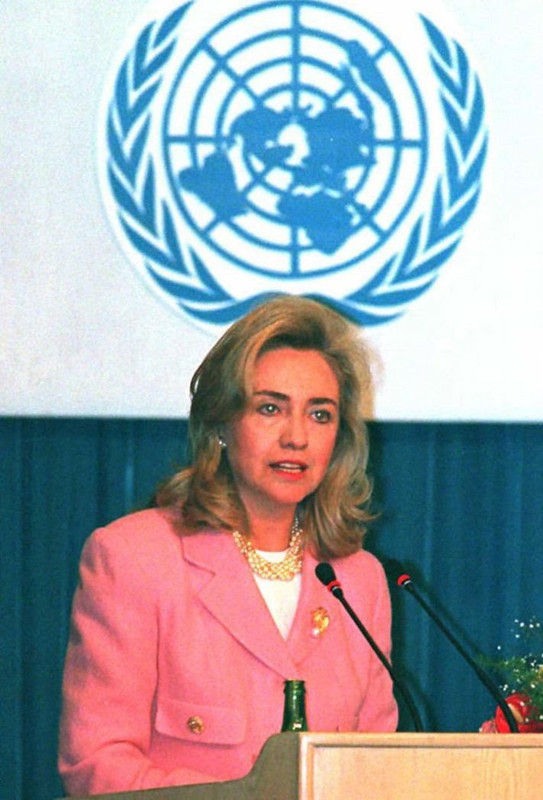 Essay by Hillary Clinton, 25 years following her speech to the United Nations Fourth World Conference on Women.
Sept 1995
In a recent essay published in
The Atlantic,
Hillary Clinton recounts the moments leading to her speech in front of the 1,500 women delegates in Beijing, where she said for the first time the now-famous sentence "
women's rights are human rights.'' Almost exactly 25 years later,
the Covid-19 pandemic has delayed the UN's celebrations of the Beijing declaration and related conferences. The pandemic has also brought uncertainty on whether a gathering will even be possible.
From The Atlantic
Power Shortage
Women's rights are human rights. But rights are nothing without the power to claim them.
OCTOBER 2020 ISSUE
Hillary Rodham Clinton
Former senator and 67th U.S. secretary of state
https://www.theatlantic.com/magazine/archive/2020/10/hillary-clinton-womens-rights/615463/
SNIP
..Before me were
1,500 delegates, mainly women, of every race and ethnicity, who had traveled to Beijing for the United Nations Fourth World Conference on Women. What they all had in common in that moment was a daunting impassivity.


It was September 5, 1995.
I had spent weeks writing and rewriting my speech. I wanted it to be bold, accessible, and unambiguous. I also thought hard about getting the delivery right.
Women are often criticized if we show too much emotion in public,
and I wanted to make sure my tone didn't obscure the message. Hence, the nerves.
I started talking.
As I spoke, each line was translated in real time into dozens of languages,
creating a gap between me and the audience. Hundreds of delegates stared back blankly.
This was my chance to change the way the world thought about women
.
SNIP
Madeleine Albright, the U.S. ambassador to the United Nations, had asked me a simple question: "What do you want to accomplish with this speech?" My answer had been equally simple: "I want to push the envelope as far as I can on behalf of women and girls."[/i]

"I have long believed that relegating women's health, education, and economic participation to the margins of foreign and domestic policy is ruinous not just for women, but for entire nations."

The Beijing conference represented a rare opportunity to focus the world's attention on the status of women and girls. I wanted to break the silence about atrocities being committed in specific regions of the world, as well as injustices and abuses that are universal, including in developed democracies such as my own.

Most of all, I wanted to argue that it was no longer acceptable to talk about human rights and women's rights as separate topics. They were one and the same, and I was determined to make people hear this.
MORE....

Read HRC's Speech

Read Hillary Rodham Clinton's 'Women's Rights' Speech From 1995
"Now it is time to act on behalf of women everywhere."
https://www.google.com/amp/s/amp.theatlantic.com/amp/article/615733/

Listen:



0 replies, 238 views