Sat Sep 5, 2020, 08:12 AM
catbyte (20,786 posts)
How a sketchy nonprofit linked to the Trump campaign tried to orchestrate a massive trade deal
How a sketchy nonprofit linked to the Trump campaign tried to orchestrate a massive trade deal with Turkey
September 5, 2020
By Roger Sollenberger, Salon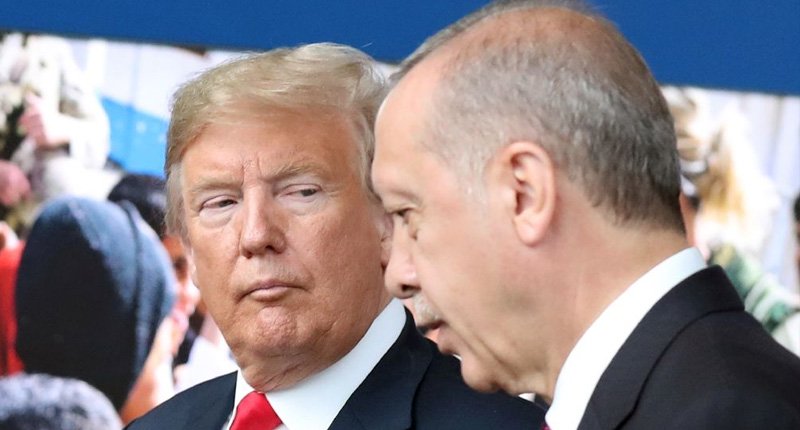 US President Donald Trump and Turkish counterpart Recep Tayyip Erdogan are at odds over the fate of an American pastor detained in Turkey (AFP Photo/Tatyana ZENKOVICH)
In the first article in this series, Salon explored how officials with a controversial pro-Trump nonprofit called the Urban Revitalization Coalition (URC) — which recently lost its tax-exempt charity status and made headlines early in 2020 with suspicious cash giveaways to Black voters — facilitated an off-the-books 2018 foreign influence campaign on behalf of powerful interests in Turkey. The principal figures in this strange tale are Darrell Scott and Kareem Lanier, both prominent Trump surrogates in the Black community, who apparently used URC as a vehicle to, among other things, "solicit donations" from wealthy Turkish nationals. Some of these came by way of former MAGA-world star Rabia Kazan, a Turkish citizen living in the U.S. who was brought on board strictly for that purpose.
This foreign influence campaign was apparently aimed at shaping U.S. policy in anticipation of an overarching trade deal with Turkey and also, perhaps, to be a lucrative endeavor in itself.
This enterprise intersected with Turkey's widely publicized release of Andrew Brunson, an American evangelical pastor whom the government of President Recep Tayyip Erdogan had been holding as a political prisoner. President Trump has repeatedly taken credit for Brunson's release, most recently in an awkward video segment aired during the Republican National Convention in which the president praised Erdogan — the autocratic leader who had held Brunson in captivity.
Imaginary "opportunity zones"
The URC's tax status as a 501(c)(3) charitable organization allowed it to accept money without disclosing the source, including from foreign nationals. As a charity, however, no interested party or relative was legally allowed to benefit personally from its activities, and the URC was barred from conducting significant lobbying activity.
Multiple people familiar with the workings of the URC told Salon that it was clear that Scott and Lanier established the organization to do what they had frequently told Rabia Kazan they were prevented from doing within Michael Cohen's politically-focused predecessor organization, the National Diversity Coalition, which was effectively an arm of the Trump campaign. That is, to make money.
snip
https://www.rawstory.com/2020/09/how-a-sketchy-nonprofit-linked-to-the-trump-campaign-tried-to-orchestrate-a-massive-trade-deal-with-turkey/
Links included in article:
https://www.salon.com/2020/09/04/exclusive-how-a-pro-trump-black-group-became-an-off-the-books-turkish-lobbying-campaign/
https://www.cnn.com/2020/08/28/politics/urban-revitalization-coalition-irs-tax-exempt-status/index.html
https://www.politico.com/news/2020/01/29/trump-black-voters-cash-giveaways-108072
https://www.buzzfeednews.com/article/rogersollenberger/she-shunned-islam-and-was-embraced-by-trump-world-now-shes
https://www.dailysabah.com/economy/2018/12/25/turkish-american-bilateral-trade-expected-to-soar-next-year
https://www.irs.gov/charities-non-profits/lobbying
0 replies, 461 views