Sat Aug 8, 2020, 09:53 AM
CousinIT (5,457 posts)
FEC Commissioner: "devastating failure to protect our democracy in a moment of historic need."
ORIGINAL twitter thread:
Link to tweet
UNROLLED twitter thread:
https://threadreaderapp.com/thread/1291790094949588992.html
I can't be more blunt about this: Mr. President, Members of Congress, should you fail to provide the funds America needs for its elections, you will be derelict in your duty to your country. It would be a devastating failure to protect our democracy in a moment of historic need.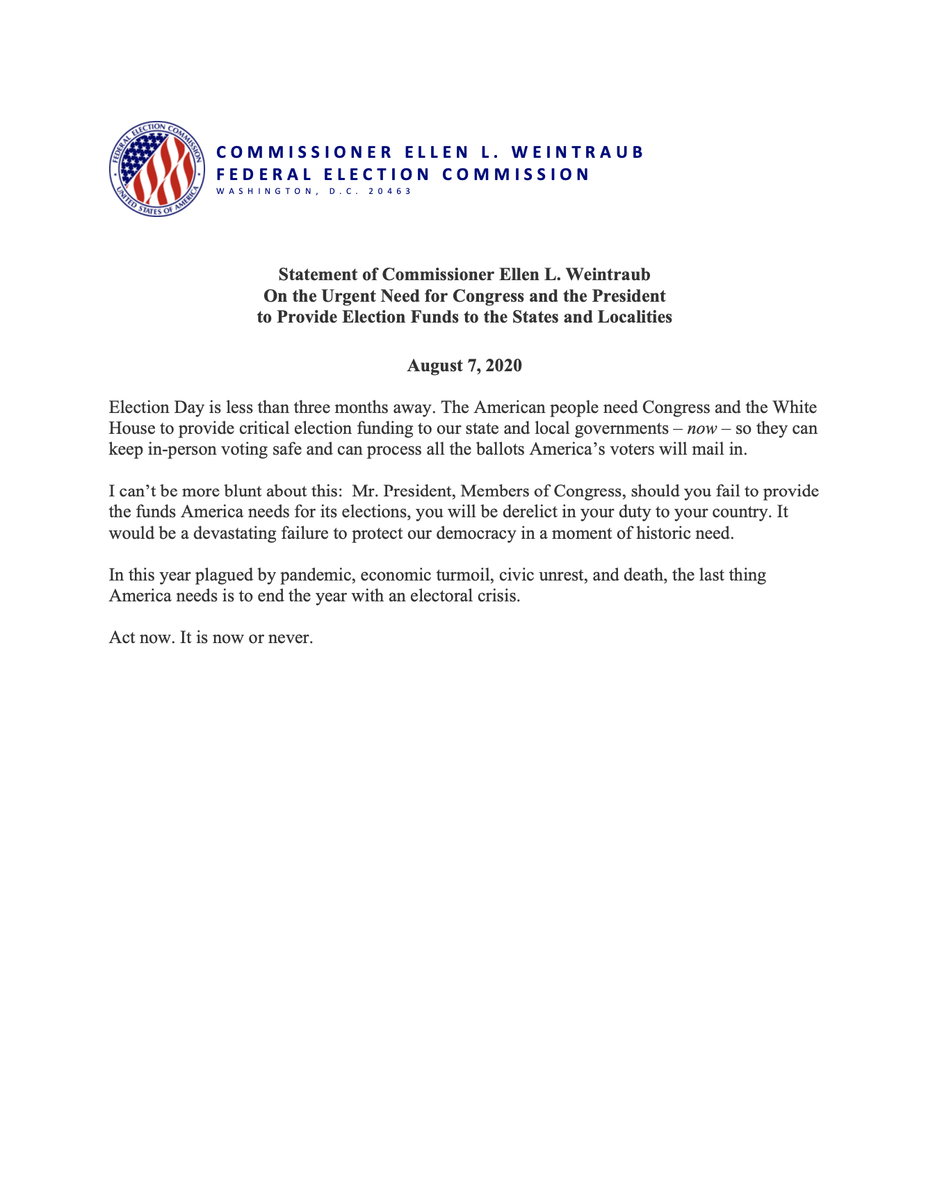 It's been estimated that this election will cost an additional $4 billion due to the coronavirus. $400 million has been allocated already; another $3.6 billion is needed. /2
https://www.brennancenter.org/events/saving-vote-2020-elections-and-coronavirus
Election administrators warn of 'epic failure' if the federal government fails to provide funding. /3
https://www.reuters.com/article/us-usa-election-budgets-insight/epic-failure-u-s-election-officials-warn-of-november-chaos-due-to-budget-crunch-idUSKBN24B17U
A bipartisan group of national-security leaders & experts have expressed alarm that underfunding the elections puts the nation at risk from "hostile foreign actors like China, Iran and Russia"¯ who "seek to cast doubt on the integrity of our electoral system…" /4
And: "Failing to make sure that all citizens can vote safely and securely will only give them material to further erode faith in our democratic system."¯ /5
https://www.brennancenter.org/our-work/research-reports/national-security-leaders-urge-congress-provide-election-officials
This is not a partisan matter. Federal funds would go to red states and blue states and be administered by Republican, Democratic, and nonpartisan election officials. /6
GOP election officials took to Politico to plead: "[W]e run the risk of delayed or contested election results, long lines and crowding that threaten the safety of voters and poll workers, and limited voting access to rural voters, seniors & veterans." /7
https://www.politico.com/news/agenda/2020/07/30/were-worried-republican-election-officials-387055
Dozens of former members of Congress, from both parties, wrote to their former colleagues to urge immediate action. /8
https://www.issueone.org/issue-ones-reformers-caucus-urges-senate-to-include-money-for-safe-and-secure-elections-in-next-coronavirus-relief-bill/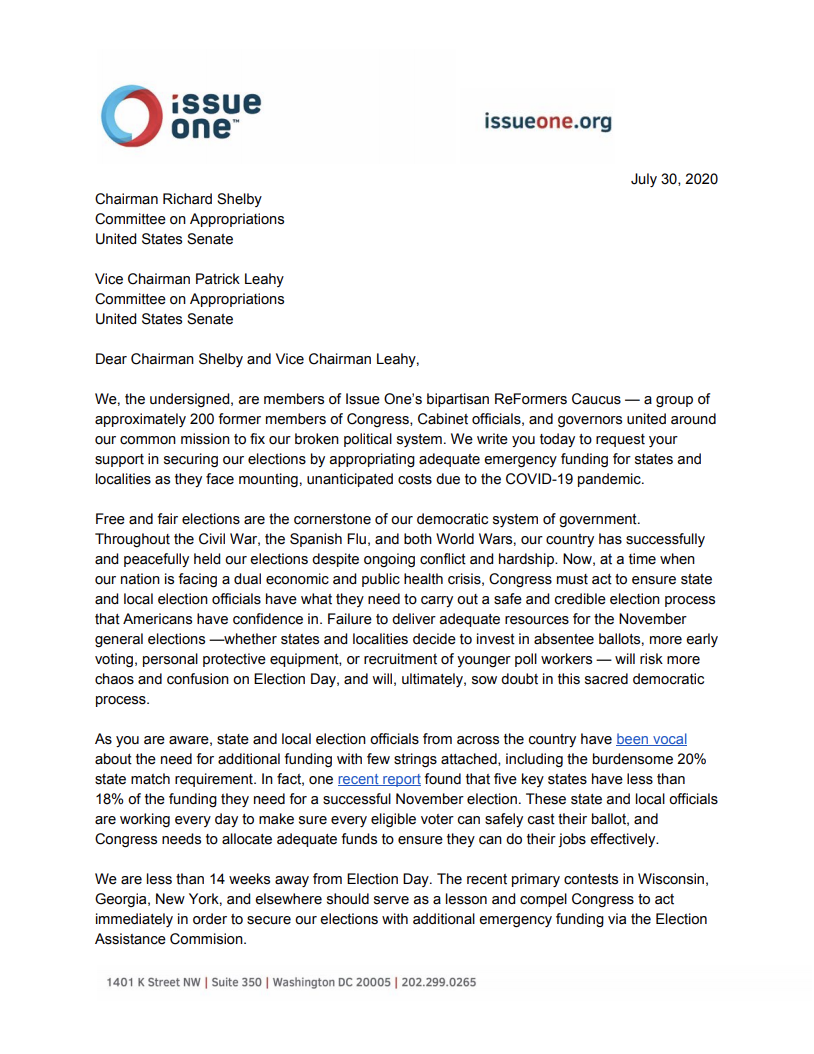 Throughout this virus-plagued primary season, the American people, in red states and blue, have made it overwhelmingly clear that they want to shift to voting from home. This is not the result of top-down policy decisions. The people are showing the way. /9
Take Kentucky. Ordinarily, fewer than 2% of voters mail in absentee ballots. In this year's June primary elections, more than 70% did. /10
https://www.courier-journal.com/story/news/politics/elections/kentucky/2020/07/28/kentucky-secretary-state-weighs-mail-voting-general-election/5528285002/
An elections administrator in Maryland estimated that complying with just one element of the Center for Disease Control's guidance for polling places – providing plexiglass barriers – could cost his county alone $1 million. /11
https://www.washingtonpost.com/local/md-politics/hogan-voting-plan-backlash/2020/07/31/0628b7ee-d271-11ea-9038-af089b63ac21_story.html
Time is of the essence. Stanford Law professor Nate Persily, a leading nonpartisan expert on elections, told NBC News for an Aug. 4 story, "I think we have two weeks to make the critical decisions that are necessary to pull off this election."¯ /12
https://www.nbcnews.com/politics/2020-election/expert-says-u-s-has-two-weeks-get-its-act-n1235805
We've had postal service ever since Benjamin Franklin was appointed Postmaster General in 1775. That's a pretty good streak.
Congress, Mr. President, do you want to be the ones who let @USPS collapse on your watch, when our democracy needs it more than ever? /13
3 replies, 531 views
Replies to this discussion thread
| | | | |
| --- | --- | --- | --- |
| 3 replies | Author | Time | Post |
| FEC Commissioner: "devastating failure to protect our democracy in a moment of historic need." (Original post) | CousinIT | Aug 8 | OP |
| | Mike 03 | Aug 8 | #1 |
| | Squinch | Aug 8 | #2 |
| | crickets | Aug 8 | #3 |
---
Response to CousinIT (Original post)
Sat Aug 8, 2020, 10:00 AM
Mike 03 (13,409 posts)
1. Write to your elected officials even if you despise them.
Point out that they, too, are hurt by the erosion of the USPS. I also made a plea to my asshole senator McSally (R) that many of us are in voluntary lockdown and are dependent on the postal service (to try to bring in a nonpartisan issue). I told her we are a very red district (we are) and we practically all vote by mail (true).

Just, anything you can think of.

Later I'll write to Paul Gosar, even though I can't even stand to type his name on DU.
---
Response to CousinIT (Original post)
Sat Aug 8, 2020, 10:26 AM
Squinch (33,663 posts)
2. Problem is, if Congress gives them the money now, it will be misused by the toadies Donny Bodybags
has installed at the top. This is past fixing now. We can fix the post office once Joe gets elected. This is not a battle we can win right now.

The only remedy is to vote in person. We go to the grocery store. This is more important. Suit up and make your vote count. Vote early if you can. Do whatever you have to do to make yourself safe (i.e. get face shields and an N95 mask for the day and even a hazmat suit if you think you need it) but get that vote into the machine.

There's STILL no guarantee that this will make your vote cheat-proof, but it's the best we can do now.
---
Response to CousinIT (Original post)
Sat Aug 8, 2020, 04:31 PM
crickets (12,888 posts)
3. K&R for visibility.