Wed Jul 22, 2020, 05:21 PM
Kid Berwyn (8,625 posts)
Why Trump wishes Ghislaine well.
"I've known Jeff for 15 years. Terrific guy. He's a lot of fun to be with. It is even said that he likes beautiful women as much as I do, and many of them are on the younger side."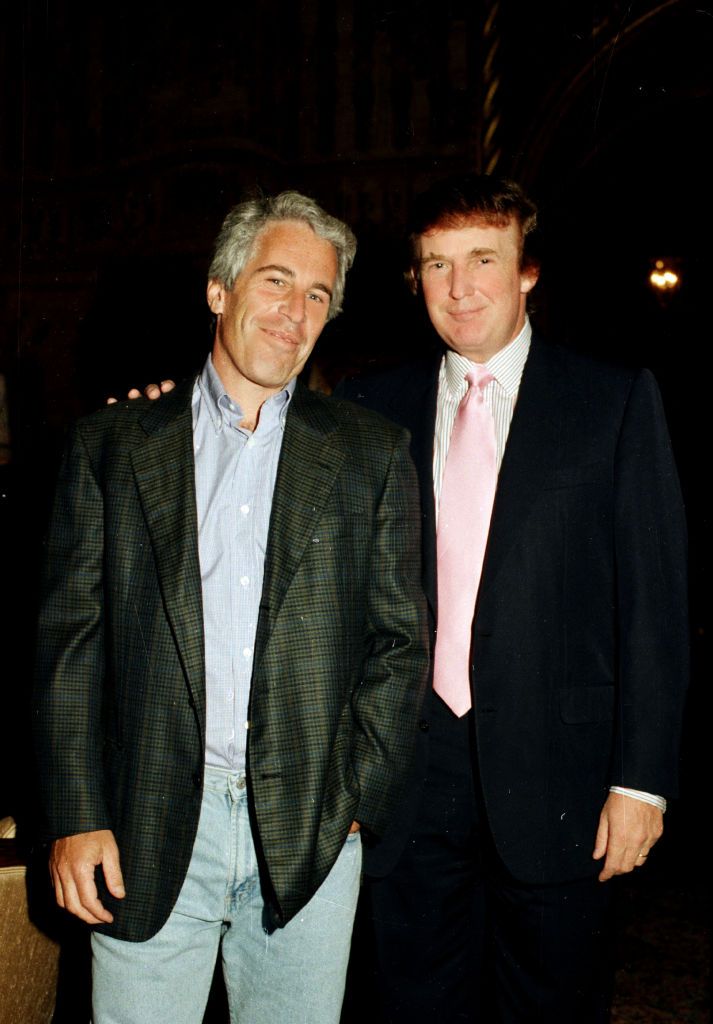 A prominent Epstein victim, Virginia Roberts Giuffre, says his ex-girlfriend and alleged "madam," Ghislaine Maxwell, recruited her into Epstein's sex trafficking operation when she worked as a locker room attendant at Mar-a-Lago in 1999, when she was 15.
Source:
https://www.businessinsider.com/jeffrey-epstein-and-trump-mar-a-lago-resort-connections
7 replies, 1094 views
Replies to this discussion thread
| | | | |
| --- | --- | --- | --- |
| 7 replies | Author | Time | Post |
| Why Trump wishes Ghislaine well. (Original post) | Kid Berwyn | Jul 2020 | OP |
| | Blue Owl | Jul 2020 | #1 |
| | Kid Berwyn | Jul 2020 | #2 |
| | Blue_true | Jul 2020 | #3 |
| | Kid Berwyn | Jul 2020 | #5 |
| | Blue_true | Jul 2020 | #6 |
| | smirkymonkey | Jul 2020 | #4 |
| | Kid Berwyn | Jul 2020 | #7 |
---
Response to Kid Berwyn (Original post)
Wed Jul 22, 2020, 05:45 PM
Blue Owl (39,851 posts)
1. Just a couple of sick fucks
---
Response to Blue Owl (Reply #1)
Wed Jul 22, 2020, 06:26 PM
Kid Berwyn (8,625 posts)
2. Just two from many.
John D ''Roy'' Atchison is a name to know.
This guy hinted there are much, much worse:
The late US Attorney John David R. Atchison, the GOP family values husband and father arrested in Michigan after showing up for sex with a minor. The official promised what he thought was the 5-year old girl's mother he wouldn't hurt the child -- stating he'd done it before. In reality, he was corresponding with an undercover sheriff's deputy in Michigan. Atchison showed up at the airport with a big smile and some toys.
Originally from Alabama, the guy was a riser in the Dixie GOP. Like so many of the evil ilk, after his arrest he tried suicide in jail, the second time successfully.
I was very surprised at the news of his death, considering how much the guy had revealed about online predators and so forth. A trial might've exposed more of this cabal. Later on, I wondered if he was friends with Bob Riley, Mark Fuller and the rest of the Alabama Old GOP Boys. What Metacrawler turned up:
The Strange Tale of a Pedophile in the U.S. Justice Department
Legal Schnauzer, WEDNESDAY, SEPTEMBER 29, 2010
The U.S. Department of Justice generated plenty of strange stories during the George W. Bush years. But one of the strangest involved John David "Roy" Atchison, an assistant U.S. attorney in Pensacola, Florida, who committed suicide after being caught in a pedophilia sting in Detroit.
Atchison's sad story has many connections to Birmingham and Alabama. And it raises this question: How did a guy with a shaky work record and a history of run-ins with the law get hired by the world's supposedly foremost crime-fighting organization? Did Atchison attain his lofty position because he had connections to powerful figures in the Alabama legal world?
Investigative journalist Margie Burns examines these questions, and much more, in a series of posts about the Atchison case at her blog, margieburns.com.
Burns begins with the actions that turned Atchison into a national figure in fall 2007:
This is not the story of a man who engaged in pedophilia for years or decades before being caught. It is the story of a man whipsawed by the strain of living up to a high-achieving family rooted in Birmingham, Ala., whose high-functioning connections assisted him for years in developing a career for which he turned out not to be suited. On Sept. 16, 2007, Assistant U.S. Attorney John David Roy Atchison, serving as a federal prosecutor in the Northern District of Florida, was arrested on credible charges of basically pedophilia. Atchison committed suicide in federal prison Oct. 5.
A dead pedophile might not sound like a tragedy. But Atchison was thought to be participating in a pedophile ring, and his death removed a useful informant from law enforcement resources. The question of how he was enabled to kill himself rather than being preserved for justice is one of the loose ends left hanging in his case.
CONTINUED 'though I wish it didn't...
http://legalschnauzer.blogspot.com/2010/09/strange-tale-of-pedophile-in-us-justice.html
Margie Burns detailed how the guy rose up through the GOP ranks, warts and all.
---
Response to Kid Berwyn (Original post)
Wed Jul 22, 2020, 07:14 PM
Blue_true (31,259 posts)
3. Who would hire a teenager girl to be a "locker room attendant" for a men's
locker room. I can see them over kid's or family locker rooms. I read once that Virginia's dad was ok with exposing her to such perversion.
---
Response to Blue_true (Reply #3)
Wed Jul 22, 2020, 09:01 PM
Kid Berwyn (8,625 posts)
5. No compunction against preying on an employee's family.
Ask Alan Dershowitz. From Politico 2019:
...The documents released Friday include Giuffre's employment records from Mar-a-Lago, showing she was paid $1866.50 by the resort in 2000. The court files also include a letter of recommendation Trump wrote for Giuffre's father, who worked in maintenance at the resort and helped her get a job there.
https://www.politico.com/story/2019/08/09/epstein-mar-a-lago-trump-1456221
---
Response to Kid Berwyn (Reply #5)
Wed Jul 22, 2020, 09:41 PM
Blue_true (31,259 posts)
6. She is and was very attractive. My bet, based upon what he is like, is that Trump personally
interviewed her. Why not give an underaged girl a job waiting tables or working as a dining room host? Given her looks, Trump likely thought "Men's locker room" right off the bat when he saw her, to hell with her being underaged for such a role. And then Maxwell got involved and offered a 15 or 16 year old girl a job providing massages to men.

I am glad that she is relentless pursuing Maxwell in Court. I hope that all adults that abused her or had a supporting role in that abuse face justice.
---
Response to Kid Berwyn (Original post)
Wed Jul 22, 2020, 07:24 PM
smirkymonkey (63,145 posts)
4. What a couple of sick, disgusting fucks!
The sight of them makes me physically ill. I'm just glad one of them is already dead, and I won't shed any tears when the other one bites it either.
---
Response to smirkymonkey (Reply #4)
Wed Jul 22, 2020, 10:59 PM
Kid Berwyn (8,625 posts)
7. Absolutely sick.
And one ranked below the other...
Jeffrey Epstein Accuser: When Donald Trump Eyed Me, Epstein Remarked 'She's Not for You'
by JERRY LAMBE
Law & Crime.org, Aug. 26th, 2019, 1:29 pm 305
In a harrowing report from the New York Times on Monday, sisters Maria Farmer and Annie Farmer divulged details of the earliest known reports to authorities of Jeffrey Epstein's illicit sexual contact with young women and young girls. They accused both Epstein and his alleged madam Ghislaine Maxwell of sexually assaulting them as early as 1996, a year before actress and model Alicia Arden filed a police report claiming that Epstein groped her.
Recounting one of her first memories of life in Epstein's orbit, Maria Farmer said she remembered one particular interaction between Epstein and President Donald Trump, during which Epstein appeared to shoot down the future president of the United States after he allegedly ogled the 25-year-old Farmer.
Farmer was an artist who moved to New York City in 1993 to pursue a career in the arts. She said she was introduced to Epstein and Maxwell after graduating from the New York Academy of Art, both of whom took an immediate interest in the young woman. Epstein quickly offered her a position acquisitioning art and managing his townhouse entrance, which meant she frequently found herself in the palatial estate.
Farmer was in Epstein's office when she first met Donald Trump. According to the report, Trump was "eyeing" Farmer when Epstein jumped in, telling Trump "she's not for you." The Times said Farmer's mother, Janice Swain, vouched for the account of the Trump-Epstein interaction, saying her daughter detailed it to her around the time it happened.
Continues...
https://lawandcrime.com/high-profile/jeffrey-epstein-accuser-when-donald-trump-eyed-me-epstein-remarked-shes-not-for-you/
Trump obeyed Epstein, which shows who was Boss.