Wed Sep 19, 2012, 12:04 PM
onehandle (51,122 posts)
Rising Tower Emerges as a Billionaires' Haven
One57, a 1,004-foot tower under construction in Midtown Manhattan, will soon hold the title of New York's tallest building with residences. But without fanfare from its ultraprivate future residents, it is cementing a new title: the global billionaires' club.
The buyers of the nine full-floor apartments near the top that have sold so far — among them two duplexes under contract for more than $90 million each — are all billionaires, Gary Barnett, the president of the Extell Development Company, the building's developer, said this week. The other seven apartments ranged in price from $45 million to $50 million.
The billionaires' club includes several Americans, at least two buyers from China, a Canadian, a Nigerian and a Briton, according to Mr. Barnett and brokers who have sold apartments in the building, at 157 West 57th Street. Mr. Barnett said that at least a few buyers were "significant Forbes billionaires."
Since late last year, the "trophy" end of New York's real estate market has been recording eye-popping sales that seem to have little basis in reality. The signed contract for the nearly-11,000-square-foot duplex on the 89th and 90th floors of One57 that sold for about $95 million topped the record sale in March of a penthouse at 15 Central Park West to a Russian billionaire's daughter for $88 million. In June, Steve Wynn, the Las Vegas casino magnate, paid $70 million for a duplex penthouse apartment above the Ritz-Carlton.
http://www.nytimes.com/2012/09/19/realestate/rising-tower-in-manhattan-takes-on-sheen-as-billionaires-haven.html
Good. Put them in one building. Handy when Madame Guillotine's time comes.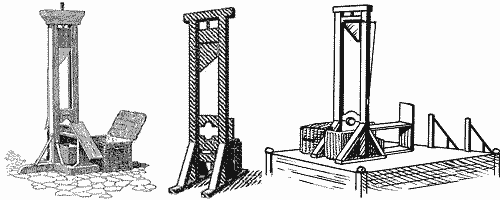 7 replies, 1249 views
Replies to this discussion thread
| | | | |
| --- | --- | --- | --- |
| 7 replies | Author | Time | Post |
| Rising Tower Emerges as a Billionaires' Haven (Original post) | onehandle | Sep 2012 | OP |
| | librechik | Sep 2012 | #1 |
| | orwell | Sep 2012 | #2 |
| | jpljr77 | Sep 2012 | #3 |
| | onehandle | Sep 2012 | #4 |
| | Electric Monk | Sep 2012 | #5 |
| | bahrbearian | Sep 2012 | #6 |
| | onethatcares | Sep 2012 | #7 |
---
Response to onehandle (Original post)
Wed Sep 19, 2012, 12:07 PM
librechik (28,764 posts)
1. If we had a John Bolton on our side, he'd be demanding someone
blow off the top 20 floors, like Bolton said he wanted to do with the UN building. Fortunately, we would never have such a person on our side.

Well, it can't end until it blows itself out.

Won't be long now until they can't blow bubbles anymore. Then they'll be no better than the rest of us, broiling and starving in the new 21st century climate. You're welcome.
---
Response to onehandle (Original post)
Wed Sep 19, 2012, 12:08 PM
orwell (6,031 posts)
2. I got an e-mail from that Nigerian guy...
...I thought he promised me the 90 mil if I would only give him my banking information.

Oh well...
---
Response to onehandle (Original post)
Wed Sep 19, 2012, 12:08 PM
jpljr77 (715 posts)
3. Yay! You made a joke about killing people. That's so cool. nm
---
Response to jpljr77 (Reply #3)
Wed Sep 19, 2012, 12:13 PM
onehandle (51,122 posts)
4. A bunch of ultra-rich people living together in the tallest residence in New York City.
They are definitely asking for something.


---
Response to onehandle (Reply #4)
Wed Sep 19, 2012, 12:22 PM
Electric Monk (13,869 posts)
5. Nobody could have imagined flying a....
Yeah, yeah...

Why the nets, I wonder?
---
Response to Electric Monk (Reply #5)
Wed Sep 19, 2012, 12:34 PM
bahrbearian (13,092 posts)
6. Too keep the riff raff out ?
---
Response to onehandle (Original post)
Wed Sep 19, 2012, 12:41 PM
onethatcares (9,891 posts)
7. meanwhile, tonight a homeless vet will
sleep in his clothes under a bridge somewhere.

$90,000,000.00 for an apartment, yeah, I know it's not much for a prime spot above

the masses but it's a hell of a lot of money when your yearly salary is 28K.