Sat Jul 18, 2020, 08:08 PM
Celerity (12,786 posts)
Shops Aren't for Shopping Anymore - How the Smartphone Changed the Purpose of Retail Shops
Retail stores used to be places to buy things. Smartphones changed that, and retailers are struggling to invent new reasons, and methods, for shopping.
https://www.theatlantic.com/technology/archive/2018/06/shops-arent-for-shopping-anymore/563054/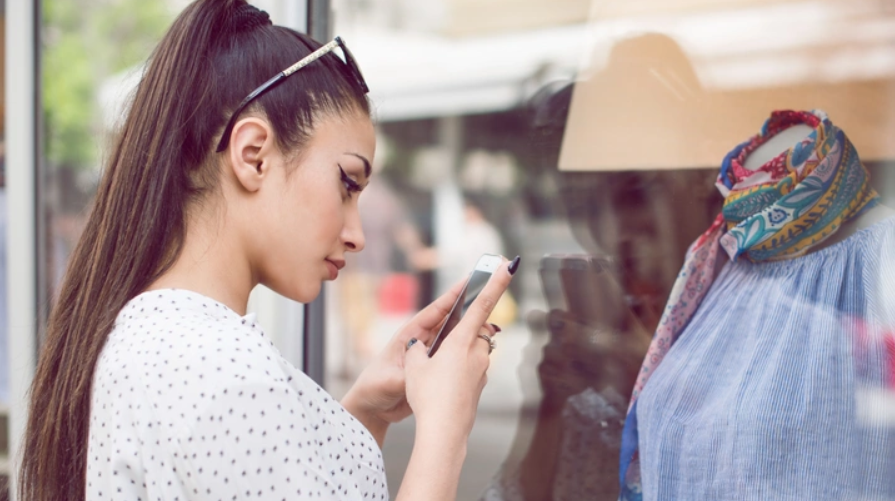 In the year 2000 at Easton Town Center in Columbus, Ohio, Abercrombie and Fitch opened the first location of its new shop, Hollister, and set Midwestern high schoolers like myself California dreaming. Designed with a "Dude" or a "Betty" in mind, Hollister had a West Coast–meets–That '70s Show vibe. There was a dimly lit "lounge" where you could sink into vintage velvet chairs with funky rope fringe and flip through the latest surfer or skateboard magazine. Or you could select the store soundtrack through a special touch screen, which offered a curated list of rad music. My favorite feature was a giant, wall-size screen that streamed a live feed of sunny Huntington Beach, California, into the mall on dreary Ohio afternoons. Even if I never purchased Hollister's clothing, I always stopped in the store to watch surfers in real time and transport myself into a new lifestyle. Sometimes—a decade before Instagram selfies—my friends and I would sneak photos of ourselves in front of the screen, as if we were on the beach. Years later, I found myself working as a store designer for Abercrombie and Fitch. I once helped facilitate the municipal approval of upgrades to the cameras on the Huntington Beach pier for Hollister's live-feed system, which now streamed California to suburbs all across the country. I knew then what I hadn't as a teenager in Ohio: Retail stores have become a host for experiences first, and buying things second—if at all.
In retail spaces, consumer attention has shifted away from goods on racks and shelves, and toward smartphones and apps instead. In response, retailers face a growing need for elevated in-store experiences that seamlessly mesh with online platforms and web stores. The resulting retail model looks a lot less like previous notions of conspicuous consumption and a lot more like visual culture. Customers no longer kick the tires or shop till they drop. Instead they cultivate virtual feeds and inspiration boards. Thanks to smartphones, apps, and social-media platforms like Instagram, a broader public has developed a visual vocabulary and aesthetic sensibility. Retailers, particularly in fashion, have overhauled marketing and branding strategies to promote their individual labels among broader audiences. But they also face a new challenge: how to adapt retail design to sell pictures on social-media profiles as much as, or more than, they sell garments for real bodies. To bridge the gap between virtual and physical retail operations, behind-the-scenes organizational shifts have occurred. The professionals who actually select the merchandise for sale in retail stores once had stiff, corporate job titles like global procurement manager or internal buyer. They have since transformed into tech-savvy art directors and independent-minded brand ambassadors. These individuals focus on marketing more than goods, telling customers which brands and products are worthy of hashtags, geotags, and reposts. Likewise, the antiquated roles of store clerk and retail customer have also evolved: Shopworkers now have titles like brand specialist, and buyers have given way to "
influencers
" who remix shopping into a new kind of job.
Two categories of retailers have emerged from this shift. The first consists of existing companies that have overhauled their retail stores to incorporate physical and technological experiences. Nordstrom is one such example, with their
Pop-In series
by Olivia Kim, the company's vice president of creative projects. The second includes web-based start-ups that are nimble with apps and social-media platforms, such as
Glossier
, a "people-powered beauty ecosystem" founded by Emily Weiss. Both types of retailers focus on building strong marketing narratives and immersive online experiences. Among those are "pop-up" stores, displays, or events—nomadic retail spaces that arrive and depart again within weeks or days. You may have experienced one of these
pop-ups
yourself, perhaps at a smaller scale while cutting through a department store to enter a mall. Comprised of only a few racks, the display is like a store within a store. Inside, a pulsing soundtrack might drown out the surrounding Muzak, while customized lighting illuminates the specialty mannequins and displays. At a larger scale, pop-ups can become huge undertakings. The
Nike+ Run Club pop-up events
allow you to test-run a 5K in their newest, knit shoes—while sipping pressed juice during a live DJ set before customizing your own pair on an iPad, next to an irresistibly Instagrammable neon-light Nike swoosh. In cases like this, retailers foreground experiences worthy of capturing on a smartphone, pressing customers to share them on social media. That sharing produces both immaterial value for the individual and brand exposure for the retailer.
But the best technological integrations into the retail environment are those that cannot be seen. To assist in the development of both physical and virtual retail spaces, retailers commission designers and architects. The Office for Metropolitan Architecture, a firm helmed by Rem Koolhaas and commonly referred to as OMA, did precisely this for their
series of Prada epicenter stores
nearly 20 years ago. In the
Prada SoHo epicenter
, OMA inserted plasma screens seamlessly into fitting-room mirrors so that customers trying on clothes were recorded from all angles for a visual playback. The glass containers of the fitting rooms were made from
Priva-Lite
, an electronically activated material that can be controlled by the customer to appear transparent or opaque, challenging notions of public and private space. OMA also programmed the store for various non-retail activities, like the hidden DJ booth in a large sloping ramp or stadium seating that captured the familiar feeling of the Spanish Steps in Rome. The whole affair was
meant to connect
the in-store retail experience to a global market in real and virtual time and space.
Now that the smartphone is over a decade old, retail has moved beyond OMA's 2001 vision. More importantly, consumer priorities have changed drastically in regards to material purchases. Buying things has become less important than pursuing experiences. That poses a problem for retailers, who are in the business of selling consumer goods. Brands like Warby Parker, a web-based eyewear retailer with stores in major U.S. cities, have redefined retail partly by changing the purpose of stores. By keeping only samples on their sales floor, Warby Parker reduced their back-of-house stockroom square footage while simultaneously grooming customers to prefer an online retail experience. Customers can bring a prescription to the store and play with the various glasses on display, or they can upload a head shot and try on glasses virtually. Browsing in person and ordering online later is nothing new, but Warby Parker deliberately decoupled the retail experience from purchase completely. That turns the retail showroom into a place to experience the products' style without guilt or pressure from salespeople.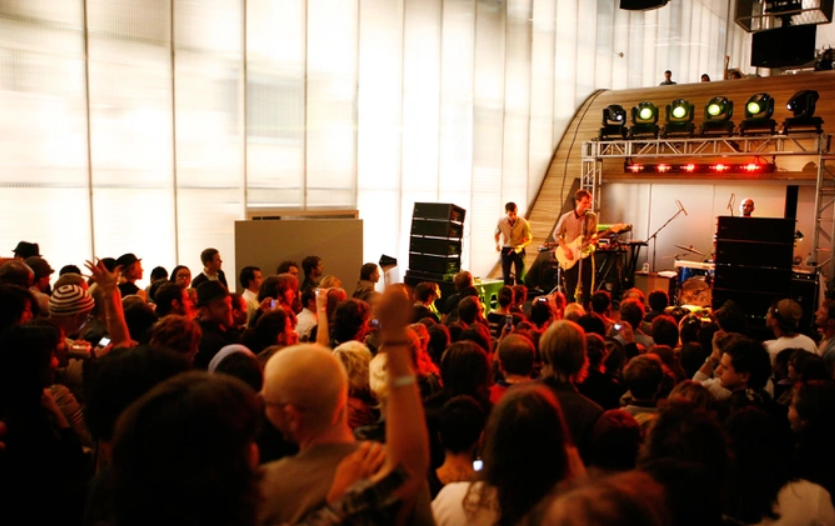 The band Rapture plays at an event at the Rem Koolhaas–designed Prada Soho store in 2009. (Amy Sussman / Getty)
snip
3 replies, 625 views
Replies to this discussion thread
| | | | |
| --- | --- | --- | --- |
| 3 replies | Author | Time | Post |
| Shops Aren't for Shopping Anymore - How the Smartphone Changed the Purpose of Retail Shops (Original post) | Celerity | Jul 18 | OP |
| | Sherman A1 | Jul 18 | #1 |
| | Celerity | Jul 18 | #3 |
| | Baclava | Jul 18 | #2 |
---
Response to Celerity (Original post)
Sat Jul 18, 2020, 08:25 PM
Sherman A1 (29,590 posts)
1. This article from 2018 hardly applies to the new reality
which is upon us and will continue to be during the current Covid crisis and after it is addressed. The Retail Sector was dealing with the shifting sands of overbuilt space, changing demographics, changing inventories, increased automation, increased outsourcing, the predatory capital buyouts of the last few decades and the Walmartization of both the workforce and the consumer expectations, underneath it's feet well before that arrival of the final straws of the internet, Amazon and cell phones.
---
Response to Sherman A1 (Reply #1)
Sat Jul 18, 2020, 08:52 PM
Celerity (12,786 posts)
3. It came up in my curated feed and I found it quite fascinating.
It is good to know how you got to a point in time in regards to multivariate arenas, and what the reality was right before the pandemic hit. The COVID-19 event has now started a massive inflection point that will impact every sphere of human endeavour.

If you find this to not be a fruitful approach nor an endeavour with any intrinsic value, then that is duly noted.
---
Response to Celerity (Original post)
Sat Jul 18, 2020, 08:34 PM
Baclava (8,802 posts)
2. And that is all kaput because more people will just shop Amazon, have it delivered to their door
Far away from crowds of all kinds

For the next two years, anyway