Sat Jul 11, 2020, 11:14 AM
babylonsister (165,288 posts)
IG report puts 'Sharpiegate' in a new, relevant, unflattering light
https://www.msnbc.com/rachel-maddow-show/ig-report-puts-sharpiegate-new-relevant-unflattering-light-n1233491
IG report puts 'Sharpiegate' in a new, relevant, unflattering light
New "Sharpiegate" evidence offers a case study in Team Trump prioritizing public-relations considerations over reality-based assessments from experts.
July 10, 2020, 4:09 PM EDT
By Steve Benen
snip//
An independent investigation conducted on the NOAA's behalf found that
its leaders "violated codes of the agency's scientific integrity policy," which was hardly a surprising conclusion.
The Commerce Department's inspector general went further and shined a light on the White House's direct involvement in the mess. From the Washington Post's report:
According to the inspector generalís report -- which does not include redactions, not even for presidential privilege -- then-acting White House chief of staff Mick Mulvaney instructed Commerce Secretary Wilbur Ross on Sept. 5 to have the public record corrected in favor of the president, and Mulvaney and Ross were involved in the statement approval process.
Outraged that the National Weather Service had told the public the truth, Mulvaney wrote on Sept. 5 to the cabinet secretary,
ďAs it currently stands, it appears as if the NWS intentionally contradicted the president. And we need to know why." Apparently in reference to the president, Mulvaney added, ďHe wants either a correction or an explanation or both."
snip//
But taking a step back,
"Sharpiegate" also offers a case study in the White House prioritizing public-relations considerations over reality-based assessments from experts and government scientists.

We couldn't have known it at the time, but it was a precursor to Team Trump's handling of the coronavirus crisis that unfolded soon after.
7 replies, 2752 views
Replies to this discussion thread
| | | | |
| --- | --- | --- | --- |
| 7 replies | Author | Time | Post |
| IG report puts 'Sharpiegate' in a new, relevant, unflattering light (Original post) | babylonsister | Jul 11 | OP |
| | tanyev | Jul 11 | #1 |
| | bluedye33139 | Jul 11 | #3 |
| | Chemisse | Jul 11 | #6 |
| | central scrutinizer | Jul 11 | #2 |
| | world wide wally | Jul 11 | #4 |
| | erronis | Jul 11 | #5 |
| | malaise | Jul 11 | #7 |
---
Response to babylonsister (Original post)
Sat Jul 11, 2020, 11:26 AM
tanyev (31,461 posts)
1. I want to call attention to this excellent theory proposed by a Talking Points Memo reader:
There is another possibly comical aspect to SharpieGate that I donít think has been commented on, even when the event was first being reported. Itís true that the line drawn on the map does include part of Alabama, but the actual area of Alabamaís coastline included in the circle is minuscule. To the untrained eye, it might appear that the longitudinal line that bisects Floridaís panhandle on the map is the Alabama border but, of course, that is not true. I always assumed that Trump mistook the portion of the Florida panhandle that lies to the west of the longitudinal line for the coastline of Alabama. In fact, Trumpís alteration seems designed to highlight only the Florida panhandle.
I think that it was Trumpís inability to correctly read a map that precipitated this entire mess. It would make perfect sense to believe that Alabama might be impacted by Dorian if you didnít actually know where Florida ends and Alabama begins.
https://talkingpointsmemo.com/edblog/sharpie-hurricane-trump-noaa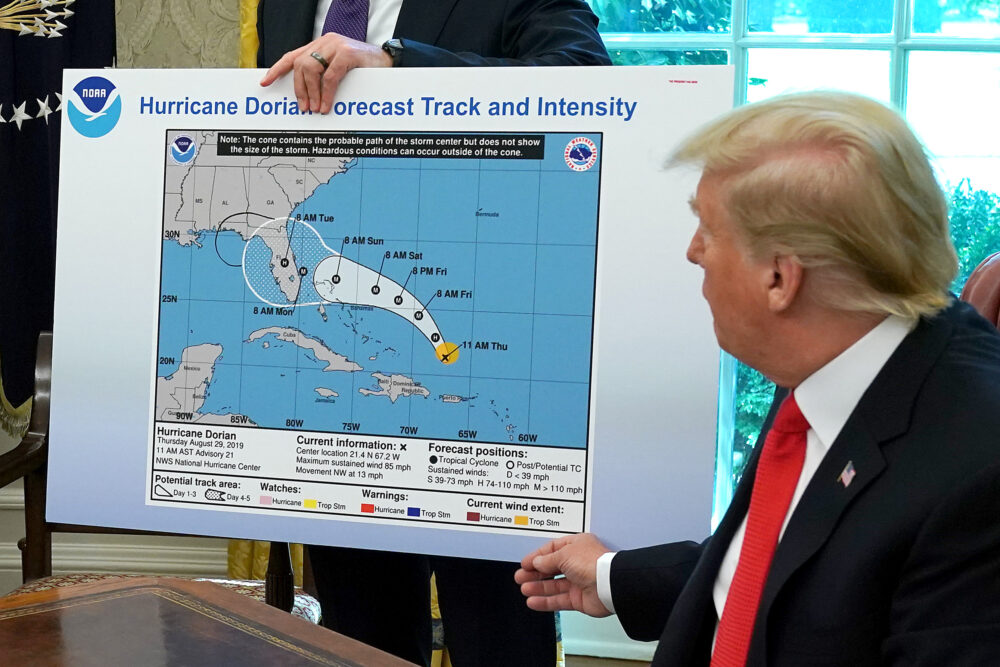 ---
Response to tanyev (Reply #1)
Sat Jul 11, 2020, 11:32 AM
bluedye33139 (1,356 posts)
3. You would think that people in Florida would know the shape of the state, but
When I lived in Miami-Dade, I literally never knew anyone who traveled past lake Okeechobee. People would fly to New York, Chicago, Atlanta, etc, but to actually drive north or travel through the panhandle of Florida is unheard of.

A Palm Beach millionaire like Trump would likely have no idea what the panhandle looks like.
---
Response to tanyev (Reply #1)
Sat Jul 11, 2020, 01:07 PM
Chemisse (29,259 posts)
6. Wow! That makes sense.
At least it makes sense if you have an imbecile for a president, which we in fact do. Amazing.
---
Response to babylonsister (Original post)
Sat Jul 11, 2020, 11:26 AM
central scrutinizer (8,805 posts)
2. Science denying
But this is the reverse of our current FUBAR. In Sharpiegate, BMI 45 said the hurricane would impact areas that the NWS said were okay. The only harm would be if Alabama residents believed him and stocked up on water and other essentials. Nobody would die. Now, if he had taken out an eraser and removed the NWS cones and drew one heading harmlessly out to sea. And people who believed him would take no precautions.
---
Response to babylonsister (Original post)
Sat Jul 11, 2020, 12:08 PM
world wide wally (18,162 posts)
4. I can't believe that anyone even considered that a child scribbling on a map would be taken seriusly
WTF?
---
Response to world wide wally (Reply #4)
Sat Jul 11, 2020, 01:00 PM
erronis (8,674 posts)
5. Agree. Just another slap in the US face delivered by putin's puppet. Intentionally.
And guaranteed to get those that care and those with an IQ above 90 incensed.

The others just get a big belly laugh at the trick played by their peeRes.

---
Response to babylonsister (Original post)
Sat Jul 11, 2020, 01:13 PM
malaise (212,700 posts)
7. Puerto Rico as well
The entire administration is all about PR not reality