Thu Jun 25, 2020, 04:04 PM
IronLionZion (30,558 posts)
The Coronavirus Pandemic Is Out of Control in the U.S.
https://www.vice.com/en_us/article/k7q7ww/the-coronavirus-pandemic-is-out-of-control-in-the-us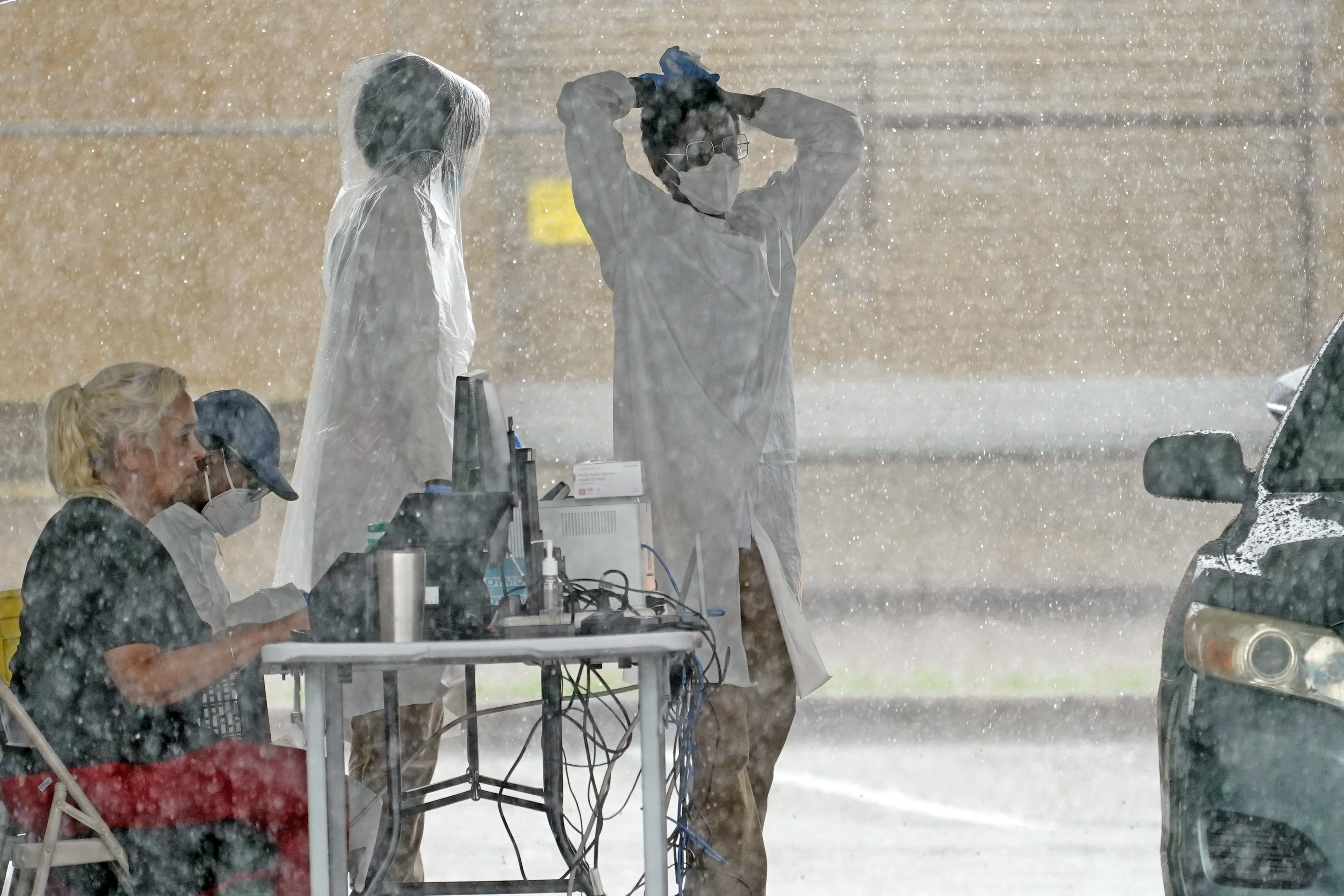 On April 24, the U.S. recorded its worst day of coronavirus infections yet.
Two months later, as most of the developed nations in Europe and Asia are reporting significant declines in case numbers, that record was broken, as the pandemic continues to rage out of control in the U.S., straining hospital resources, forcing states to enforce quarantines against visitors from other states, and making some lawmakers delay reopening their states.
Health officials on Wednesday reported 36,880 cases, beating the previous record of 36,739, set on April 24, while multiple states in the South and West of the country reported huge spikes in confirmed COVID-19 cases.
As of Wednesday, 2.3 million Americans have been infected with the coronavirus, and 121,979 of them have died, according to data collected by Johns Hopkins University.
Daily records were set Wednesday in the three most populous U.S. states — California, Texas, and Florida — with all three breaking records that had been set just days before.
Nationwide, cases are up 30% compared to the beginning of this month, while more than half of U.S. states have seen coronavirus caseloads increase over the past week, according to data gathered by Axios.
MAGA
They'll blame protesters, who were mostly masked and outdoors, instead of the MAGA COVIDiots refusing to social distance or wear masks.
4 replies, 789 views
Replies to this discussion thread
| | | | |
| --- | --- | --- | --- |
| 4 replies | Author | Time | Post |
| The Coronavirus Pandemic Is Out of Control in the U.S. (Original post) | IronLionZion | Jun 25 | OP |
| | Eliot Rosewater | Jun 25 | #1 |
| | brush | Jun 25 | #2 |
| | mike_c | Jun 25 | #3 |
| | IronLionZion | Jun 25 | #4 |
---
Response to IronLionZion (Original post)
Thu Jun 25, 2020, 04:11 PM
Eliot Rosewater (25,061 posts)
1. We dont have till Nov...it will be so far out of control at that point millions including myself
probably will die.

I dont know how else to say it.
---
Response to Eliot Rosewater (Reply #1)
Thu Jun 25, 2020, 04:18 PM
brush (29,509 posts)
2. Just stay in and take care of yourself. We can't let the virus and trump beat us.
---
Response to IronLionZion (Original post)
Thu Jun 25, 2020, 05:21 PM
mike_c (34,879 posts)
3. I read this morning that contact tracing has so far not shown any significant clusters...
...associated with outdoor protests, particularly because protesters tended to wear masks. Most of the current clusters follow indoor gatherings, and new cases are disproportionately among younger people who socialize in groups.
Here it is, on NPR:
"We did have a rally in Bellingham, which is our county seat, and there was also a protest, and we have not been able to connect a single case to that rally or to the protest, and what we're finding is in large part that's due to the use of masks," Erika Lautenbach, the director of the Whatcom County Health Department in Washington State, tells NPR's All Things Considered. "Almost everyone at the rally was wearing a mask, and it's really a testament to how effective masks are in preventing the spread of this disease."
...
That trend is mirrored in Florida, where the median age for COVID-19 patients dropped from 65 years old in March to 37 in late June. Dr. Cheryl Holder, an associate professor at Herbert Wertheim College of Medicine at Florida International University, says that's partly because young people are getting exposed more.
"It's really basically who gets exposed," Holder tells Morning Edition. "If you look who is staying in and following the guidelines, [it's] older people who are at risk. The older folks got [the message]; the young people, not so much."
More at:
https://www.npr.org/sections/coronavirus-live-updates/2020/06/24/883017035/what-contact-tracing-may-tell-about-cluster-spread-of-the-coronavirus
---
Response to mike_c (Reply #3)
Thu Jun 25, 2020, 06:38 PM
IronLionZion (30,558 posts)
4. Old people kept telling young people to get off their lawn
so young people went inside air conditioned spaces during these warmer months and spread it around.
I've avoided parties and any indoor groups as much as possible but I'm disappointed to see plenty of folks have ignored that guidance. Plenty of young folks also feel that they'll survive it so they don't mind the risk.