Mon Jun 8, 2020, 08:55 AM
IronLionZion (30,268 posts)
The Police Are Gaslighting Us
Reformers said body cameras and video evidence would stop police brutality. Instead, we're being told to not believe our own eyes.
https://www.vice.com/en_us/article/n7wnkz/the-police-are-gaslighting-us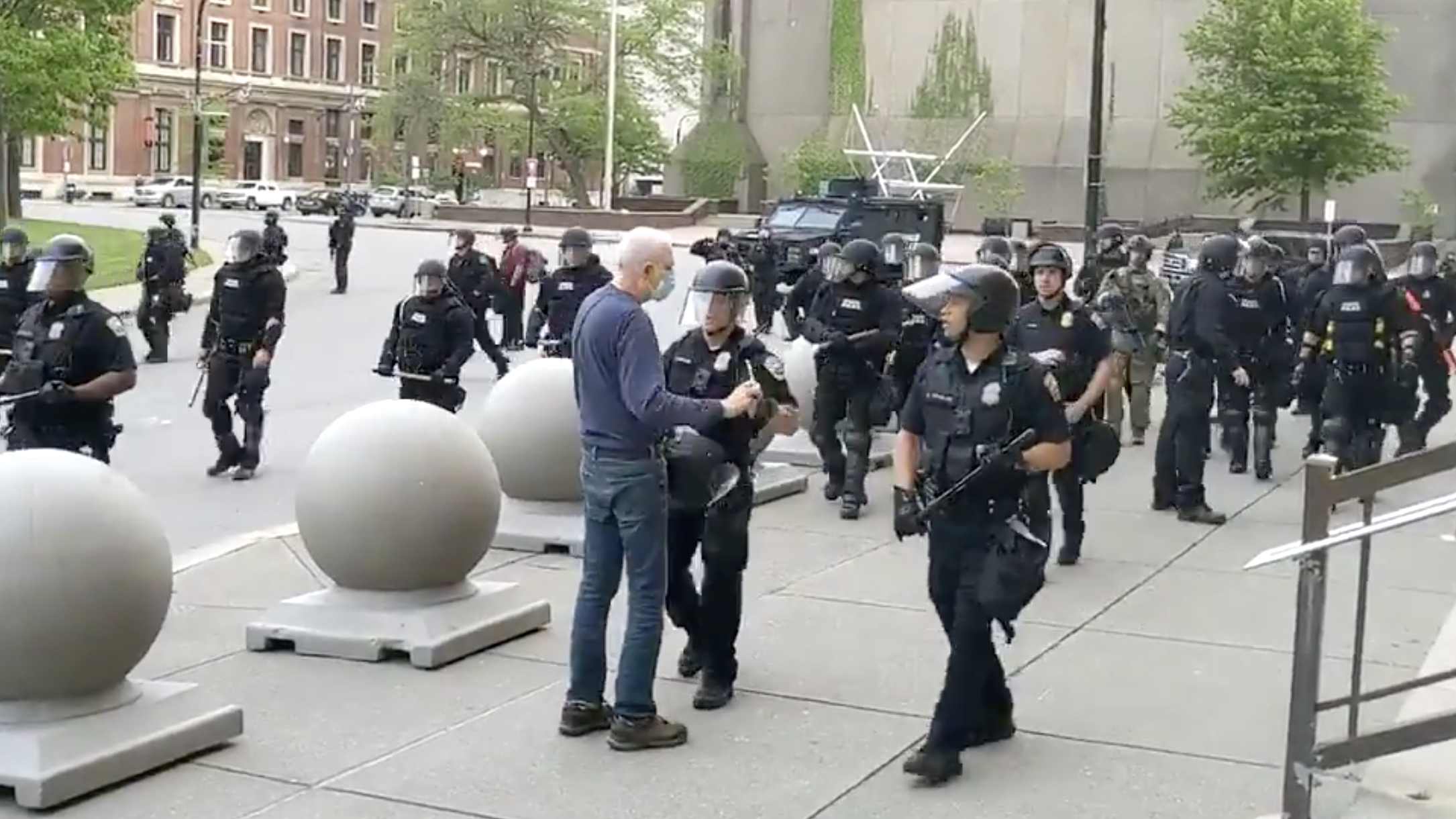 Night after night, Americans peacefully exercising their Constitutionally-protected rights are being brutalized by police in cities and towns across the country. Millions of people have watched phone-shot videos of cops pushing down protesters, shooting them with rubber bullets and pepper spray balls, and kicking them over. We see it happening with our own eyes, but police and elected leaders are telling us not to believe what we're seeing:
In Buffalo, police said a 75-year-old-man—who was walking alone doing nothing when he was pushed over by a cop, hit his head on cement, started bleeding from his ears, and was ignored by a group of a dozen officers—"tripped and fell."
In Manhattan, the New York Police Department said that an essential delivery worker who was arrested for the crime of doing his job after curfew could have been lying about his job.
In DC, Park Police said that an Australian media crew that was sitting down and filming a protest when they were bashed with riot shields "were not readily distinguishable from violent protesters."
In Erie, Pennsylvania, police pepper sprayed a woman who was sitting down. She covers her eyes with both of her arms. A cop then kicks her in the face.
In Los Angeles, the LAPD shot a homeless man in a wheelchair in the face with a rubber bullet. A photo of the man's bloodied face has gone viral; the LAPD has declined to comment.
These are just a few of the incidents I remember seeing off the top of my head, that have been seared into my brain as I and others have watched, horrified.
People who experienced domestic abuse know all about the old "tripped and fell" routine. And the old "lying about being an essential worker" as if anyone would get a fake Caviar delivery bag and program fake deliveries into the app just to commit crimes against the police. Antifa is sneaky like that.
And don't let the big video cameras and press passes fool you, journalists are dangerous criminals in need of brutal beating.
The US Park Police is especially disappointing. They had been under scrutiny before for executing an unarmed brown male in 2017 for no apparent reason in his car. They "feared for their lives".
1 replies, 798 views
Replies to this discussion thread
| | | | |
| --- | --- | --- | --- |
| 1 replies | Author | Time | Post |
| The Police Are Gaslighting Us (Original post) | IronLionZion | Jun 8 | OP |
| | hvn_nbr_2 | Jun 8 | #1 |
---
Response to IronLionZion (Original post)
Mon Jun 8, 2020, 11:55 AM
hvn_nbr_2 (5,911 posts)
1. Future juries
Millions of people who saw with their own eyes what police mean when they say, "He tripped and fell," are sometime going to be on juries in criminal cases where a cop will testify that "he tripped and fell." How many of those jurors are going to think something like, "Oh, 'he tripped and fell' in cop-speak means 'I knocked him down and smashed his head on the concrete.'" When they so blatantly lie even when they know the evidence clearly contradicts their lies, how much more do they lie when there's no video evidence?