Tue May 5, 2020, 12:44 PM
DanieRains (3,475 posts)
Make The 1% Pay For This Whole Nightmare Not Our Children It Is Their Fault Anyway
Who is going to pay for this nightmare? Trillions in new debt.
I say we let the people who profited by hollowing out every part of government in place to avoid a catastrophe like this. The billionaire oligarchs who have ran our country into the ground for decades. Ask Jimmy Carter about it. "An oligarchy with unlimited political bribery" was the words he used to describe our country. His words, not mine. What do the bribes buy? More money wealth and power for the oligarchs. Duh. They are cashing in like never before. Trillions in stock buy backs!!!!!
https://theintercept.com/2015/07/30/jimmy-carter-u-s-oligarchy-unlimited-political-bribery/
All the money the "government" "saved" when they de-funded the CDC? Where did it go? To tax cuts to pay for the stock buy backs. Who profited? The stockholders. The small percentage of Americans / Foreigners who own most / almost all of the stocks. Then it gets slightly more complicated. Where did the rest of money go? How did the 1% accumulate 50 Trillion in Wealth is a better question. They get a percentage of everything we touch, use, pay, take, or literally eat, drink, or breathe. A country of monopolies.
https://www.cnbc.com/2017/11/14/richest-1-percent-now-own-half-the-worlds-wealth.html
We are all being quarantined, and the economy is crashing, and 50 million have lost their jobs because some lying clown who only serves the 1% decided to leave our country un-defended from a pandemic attack. We will lose 10 trillion dollars or more when this is said and done so the people who have 50 Trillion RIGHT NOW could have a slightly better return for a couple years. Every part of our economy is in place to enrich the already rich further, while the rest of us get to work harder for less every single year. Productivity goes up, and wages don't. For 40 years. Yes there are some winners, and some losers but overall, well, it's CLASS GENOCIDE. We lost the class war. (Mike Papantonio)
It is time the 1% pays for the carnage they caused. I saw Cuomo going on, and on about how New York (and everyone else) needs money. He's right. Who has to pay for this. "The Government". I say no. I say let the 1% pay for it, since they run the government.
I keep waiting for someone on the MSM or a Politician to point this out. The 1% can pay for this while thing, and they will still be crazy rich beyond anything we can imagine.
No One Is Saying It.
Let the insanely rich do the trickle down thing NOW since it never happened.
N-O-W!!!!!
Please rec, or plan on having your kids pay for this. If they live....
4 replies, 657 views
Replies to this discussion thread
| | | | |
| --- | --- | --- | --- |
| 4 replies | Author | Time | Post |
| Make The 1% Pay For This Whole Nightmare Not Our Children It Is Their Fault Anyway (Original post) | DanieRains | May 2020 | OP |
| | DanieRains | May 2020 | #1 |
| | ProfessorGAC | May 2020 | #2 |
| | EX500rider | May 2020 | #3 |
| | DanieRains | May 2020 | #4 |
---
Response to DanieRains (Original post)
Tue May 5, 2020, 12:49 PM
DanieRains (3,475 posts)
1. 70% Of Americans Have Less Than $1,000 Saved
They have to go out and risk their lives to "survive" this pandemic. And they are dying, along with the folks in nursing homes. I count the meat packers in this group.
Personal savings in the U.S. The economy might be strong in the U.S., but nearly 70 percent of Americans have less than $1,000 stashed away, according to GOBankingRates' 2019 savings survey. The poll, released December 16, revealed 45 percent have nothing saved.
https://www.statista.com/chart/20323/americans-lack-savings/
Something has to give.
---
Response to DanieRains (Reply #1)
Tue May 5, 2020, 12:52 PM
ProfessorGAC (50,065 posts)
2. That's A Dreadful Stat
I think a piece is cheap money. People see no value in savings.
They think they don't make enough to invest in markets, are concerned about the risk given they're living $ to $.
And cheap money has savings accounts paying <0.1%.
There's no tangible benefit to saving for many people.
---
Response to DanieRains (Original post)
Tue May 5, 2020, 01:48 PM
EX500rider (7,221 posts)
3. "....when they de-funded the CDC"
Budget seems pretty stable in this graph: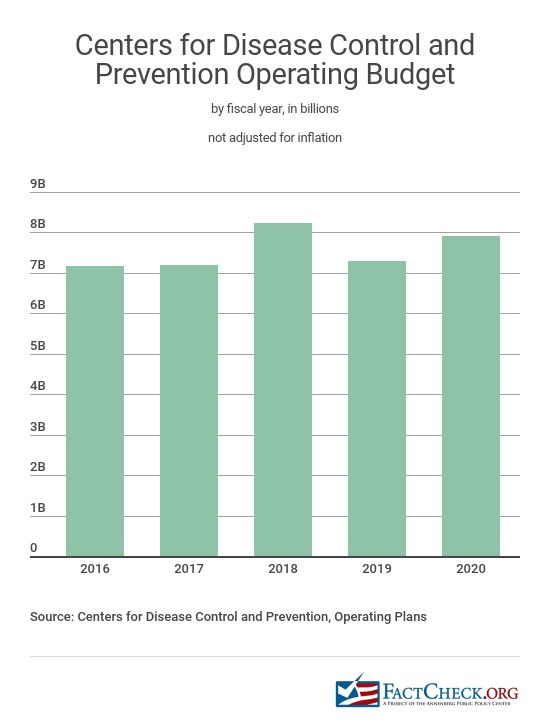 ---
Response to EX500rider (Reply #3)
Tue May 5, 2020, 02:42 PM
DanieRains (3,475 posts)
4. Defunded Not Correct Word Didn't Renew Funding On Pandemic Response Unit
Overall CDC funding close year over year. I was thinking about Trump's budget that the CDC cut was ignored.

I think maybe the military should get less and the cdc should get more overall. I am sure the families of 69,000 dead Americans would agree.

Have a great day.