Thu Feb 6, 2020, 05:30 PM
bobbieinok (12,858 posts)
AfD, Nazi party. candidate becomes Thuringa Germany leader
Thuringa gave Hitler stronghold in 30s

From long post at RawStory

He even had support from members of Merkle 's party
5 replies, 736 views
Replies to this discussion thread
| | | | |
| --- | --- | --- | --- |
| 5 replies | Author | Time | Post |
| AfD, Nazi party. candidate becomes Thuringa Germany leader (Original post) | bobbieinok | Feb 2020 | OP |
| | sl8 | Feb 2020 | #1 |
| | bobbieinok | Feb 2020 | #4 |
| | sl8 | Feb 2020 | #5 |
| | crickets | Feb 2020 | #2 |
| | Blue_Tires | Feb 2020 | #3 |
---
Response to bobbieinok (Original post)
Thu Feb 6, 2020, 05:42 PM
sl8 (8,239 posts)
1. Germany AfD: Thuringia PM quits amid fury over far right
From
https://www.bbc.com/news/world-europe-51399445
Germany AfD: Thuringia PM quits amid fury over far right
5 hours ago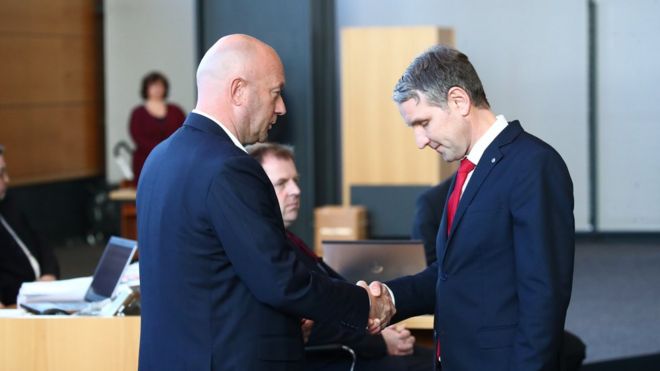 There was shock as the new state premier, Thomas Kemmerich (left), shook hands with local AfD leader Björn Höcke
A German state premier elected with the help of the far-right AfD says he is resigning to pave the way for fresh elections.
The election of liberal leader Thomas Kemmerich in the eastern state of Thuringia prompted national outrage.
"Resignation is unavoidable," he said. For years Germany's main parties have shunned Alternative for Germany (AfD).
Chancellor Angela Merkel - whose own party also backed Mr Kemmerich - called Wednesday's election "unforgivable".
[...]
---
Response to sl8 (Reply #1)
Thu Feb 6, 2020, 09:43 PM
bobbieinok (12,858 posts)
4. Is FDP really a liberal party??
In 60s and 70s when I was paying more attention to German politics, I believe they were considered slightly left of CDU (conservative Christian Democratic Union, Merkle's party)and much to right of SPD (Socialist)

As I recall, they have often been a needed part of a CDU ruling coalition

From way on the outside it seems possible AfD (Nazi ) may have been playing a 'let's freak everybody out and really play games with German politics and civil order' [IIRC, Putin backs all far-right European parties/movements]

Why would AfD support FDP candidate?
---
Response to bobbieinok (Reply #4)
Fri Feb 7, 2020, 07:31 AM
sl8 (8,239 posts)
5. Good questions. Where's DFW when you need him?
---
Response to bobbieinok (Original post)
Thu Feb 6, 2020, 06:09 PM
crickets (18,952 posts)
2. K&R for visibility.
---
Response to bobbieinok (Original post)
Thu Feb 6, 2020, 06:10 PM
Blue_Tires (55,432 posts)
3. Oh, for fuck's sake...