Sun Feb 2, 2020, 02:34 PM
Beringia (2,952 posts)
San Diego Zoo ranked 9th worst Zoo for Elephants by In Defense of Animals
https://www.idausa.org/campaign/elephants/10-worst-zoos-for-elephants-2019/
San Diego Zoo Global represents big business in the elephant captivity industry, which means severing bonds and treating elephants like expendable assets—particularly the males. This entity operates the San Diego Zoo and the San Diego Safari Park, and maintains ownership of a satellite herd at Reid Park Zoo in Tucson, AZ—a facility that has earned a place on our list of the 10 Worst Zoos for Elephants in North America multiple times.
In 2019, San Diego Zoo officials decided to break up a "brotherhood" of four males who were all born at the San Diego Zoo Safari Park. In April, nine-year-old male elephants Mac and Emanti were sent to the Caldwell Zoo in Texas. Then in June, 10-year-old Ingadze and nine-year-old Lutsandvo were sent to the Birmingham Zoo in Alabama
Zoos regularly attempt to justify moves like these by pointing out that wild male elephants leave their families at about age 13. However, in nature, young males separate gradually from their families—they are not suddenly ripped away from them to be transported across the country, or even across continents.
Mac and Emanti, Caldwell Zoo, Texas from San Diego Zoo Safari Park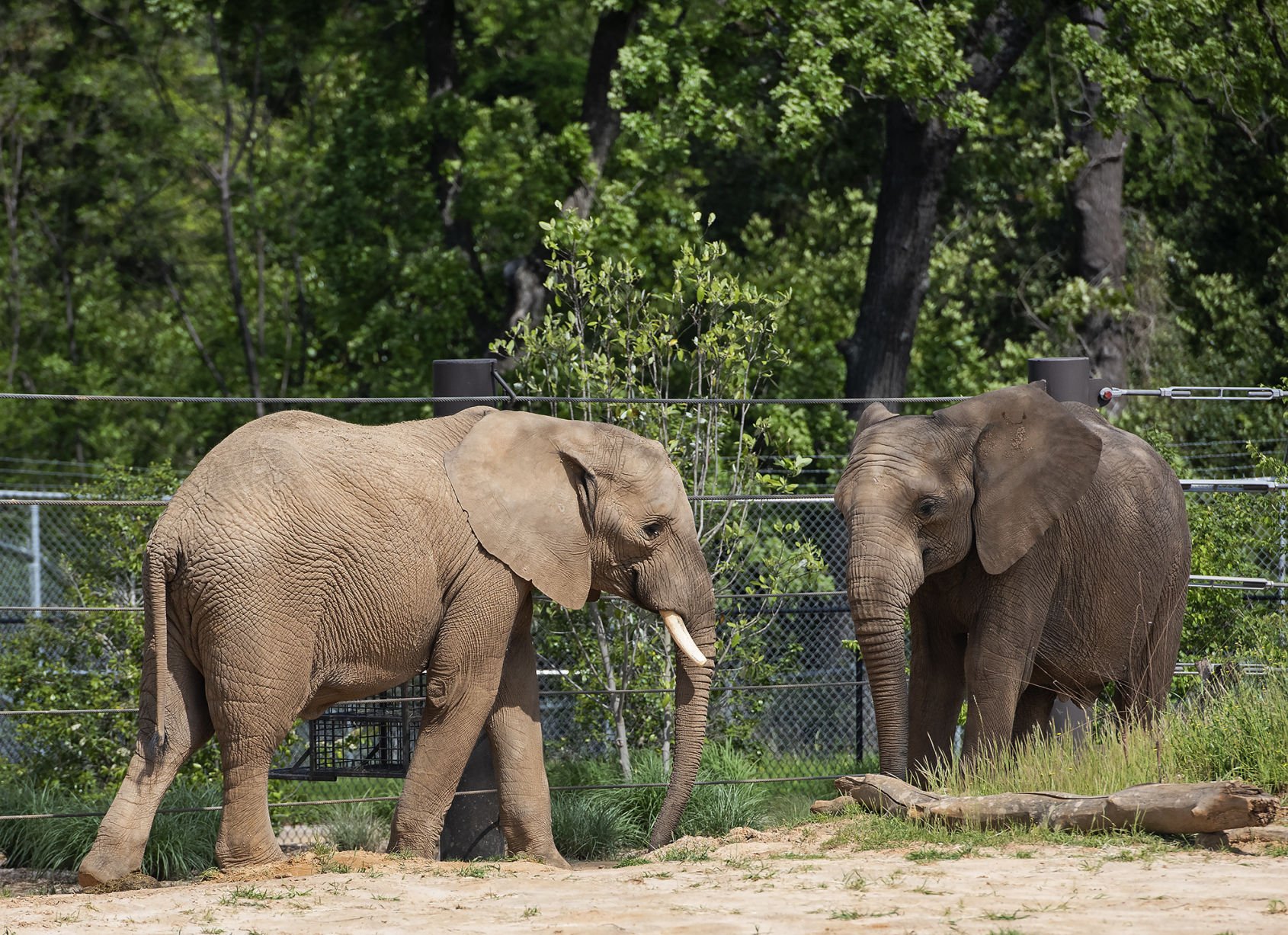 Ingadze and Lutsandvo, Birmingham Zoo, Alabama from San Diego Zoo Safari Park.
The Association of Zoos and Aquariums (AZA) this year finally instituted a bullhook ban, planning to phase out the weapon by 2023. This is a step in the right direction, but it remains unclear whether all facilities will end use of bullhooks entirely since certain AZA member zoos continually violate elephant welfare standards without losing accreditation.
Another encouraging development came with the Convention on International Trade in Endangered Species of Wild Fauna and Flora (CITES) ban on the live trade of wild African elephants–something that both the U.S. delegation and the AZA opposed. The decision–if adhered to–will effectively stop the capture and export to zoos in the U.S. and elsewhere.
No self-aware, intelligent, highly social and emotional individual desires a life of abject subjugation. It is time for zoos to stop pretending that elephants do not notice their constrained lives. It is time for the captive animal industry to stop breeding elephants, to phase out exhibits, and to send elephants to sanctuaries accredited by the Global Federation of Animal Sanctuaries, which are designed not as exhibits for people, but for the elephants themselves.
-------------------------
https://www.nytimes.com/2019/07/09/magazine/elephants-zoos-swazi-17.html
In 2004, the Detroit Zoo became the first major American zoo to shut down its elephant exhibit on ethical grounds. Two years later, the Bronx Zoo announced that it would close its exhibit once its three elephants died. The Seattle Times estimated in a 2012 investigation that since the early 1990s, more than 22 zoos had shut down their elephant exhibits or announced that they were phasing them out, including those in Seattle, San Francisco and Chicago. Economic considerations factored into many of these closures: In 2011, the Association of Zoos and Aquariums (A.Z.A.), the nonprofit organization that accredits and monitors zoos and aquariums in the United States and 10 other countries, in response to the growing awareness of the elephant's true nature, imposed new minimum requirements for acreage and the number of elephants on exhibit.
The problem they'll be facing, however — the very one that the zoos in Dallas, Wichita and Omaha had to overcome — is procuring new elephants at a time when both the wild and captive populations are in rapid decline. There are at present roughly 305 elephants at 62 A.Z.A.-accredited zoos in the United States. How many are in nonaccredited facilities, circuses and roadside zoos is less clear; PETA has estimated the number at around 70. What is clear is that the captive elephant population in the United States is dwindling at a rate in many ways eerily commensurate with that of their wild counterparts, like shadows fading with the dimming of their source. The 2012 Seattle Times investigation found that 390 elephants had died in accredited zoos in the previous 50 years, a majority of them from captivity-related injuries and diseases.
For millions of years before the emergence of humans, elephants — like their equally weighty, waterborne counterparts, whales — roamed and conversed along vast corridors of migration and mentation. Those have all been broken now. And yet given what we've come to discover about elephants along the way, the question about their continued confinement in zoos becomes: At what point does our wonder no longer warrant another being's wounding?
For the Detroit Zoo's executive director, Ron Kagan, that point has long since passed. He recently told me about the many years of improvements made at his facility, incremental expansions and programmatic changes that he and his fellow keepers finally decided in 2004 couldn't possibly "change the paradigm" enough to meet what the available science even then was revealing about an elephant's true nature and needs.
Elephant Cam San Diego Zoo
https://kids.sandiegozoo.org/videos/livecam/elephant-cam
6 replies, 312 views
Replies to this discussion thread
| | | | |
| --- | --- | --- | --- |
| 6 replies | Author | Time | Post |
| San Diego Zoo ranked 9th worst Zoo for Elephants by In Defense of Animals (Original post) | Beringia | Feb 2 | OP |
| | in2herbs | Feb 2 | #1 |
| | fleur-de-lisa | Feb 2 | #2 |
| | Beringia | Feb 2 | #3 |
| | fleur-de-lisa | Feb 2 | #5 |
| | Beringia | Feb 2 | #6 |
| | Raine | Feb 2 | #4 |
---
Response to Beringia (Original post)
Sun Feb 2, 2020, 03:07 PM
in2herbs (1,159 posts)
1. Elephants don't belong in cages. nt
---
Response to Beringia (Original post)
Sun Feb 2, 2020, 03:17 PM
fleur-de-lisa (8,571 posts)
2. I wish we could ban all 'zoos' and only allow facilities that
either rehabilitate injured animals or breed those that are threatened or endangered, with the understanding that all such animals would be released into their natural habitat, if possible.

About ten years ago I volunteered to work at my local zoo because I was on the fence about whether they should be allowed or not. I worked directly with one of the zoo keepers, on a team that handled tigers, lions, zebras, and rhinos.

This facility was accredited, met all AZA requirements, and did the best they could, but no one will ever convince me that allowing habitats of a few thousand square feet for big cats is humane.

The last straw for me was when a female rhino drowned in the little pond in her enclosure. The rhinos were in the same area as the zebras. A male zebra, out of sheer boredom, habitually harassed the female rhino, sneaking up on her and biting her tail. I saw this one day and alerted the zoo keeper. She said "he always does that."

The next day the rhino ran into the pond and couldn't get out, even though the slope on the floor of the pond was very gentle, designed so that animals could walk out if they entered the pond.

That made me so fucking mad that I quit.
---
Response to fleur-de-lisa (Reply #2)
Sun Feb 2, 2020, 03:41 PM
Beringia (2,952 posts)
3. Did they try to rescue the rhino?
---
Response to Beringia (Reply #3)
Sun Feb 2, 2020, 04:00 PM
fleur-de-lisa (8,571 posts)
5. Yes. A coworker of mine happened to be at the zoo that day with his family.
The rhino weighed a couple tons and the zoo keepers couldn't get her out.

The whole incident still baffles me. The slope on the floor of the pond, on the enclosure side, is like the slope on a handicapped ramp for humans. It should have been easy for her to walk out. She was an older rhino, but by no means elderly. And she was healthy. She should have been able to easily walk out.

I saw her one morning, afraid to leave her night enclosure because the male zebra was hanging around right outside the gate. She wouldn't leave her night time cage without the zoo keeper prodding her. Again, I alerted the zoo keeper to this behavior. She didn't do anything except to shoo the poor rhino out, where the male zebra could harass her.

I know it sounds ridiculous because I don't think most animals are capable of suicide, but that's the impression I'm left with.

The male zebra had been gored several times by the male rhinos. They wouldn't put up with his harassment. So the zoo keepers put the male zebra out with the female rhino.

What a pointless tragedy for both the rhino and the zebra. They shipped the male zebra to another zoo after he harassed the female rhino to death.
---
Response to fleur-de-lisa (Reply #5)
Sun Feb 2, 2020, 05:01 PM
Beringia (2,952 posts)
6. How terrible.
---
Response to Beringia (Original post)
Sun Feb 2, 2020, 03:59 PM
Raine (24,302 posts)
4. Good to know this