Mon Jan 13, 2020, 11:41 PM
LeftInTX (14,440 posts)
Joseph McCarthy Power Feeds Fear on PBS American Experience
Watch Online
https://www.pbs.org/wgbh/americanexperience/films/mccarthy/#part01
Aired January 6, 2020
McCarthy
Power Feeds on Fear
Film Description
McCarthy chronicles the rise and fall of Joseph McCarthy, the Wisconsin senator who came to power after a stunning victory in an election no one thought he could win. Once in office, he declared that there was a vast conspiracy threatening America — emanating not from a rival superpower, but from within. Free of restraint or oversight, he conducted a crusade against those he accused of being enemies of the state, a chilling campaign marked by groundless accusations, bullying intimidation, grandiose showmanship and cruel victimization. With lawyer Roy Cohn at his side, he belittled critics, spinning a web of lies and distortions while spreading fear and confusion. After years in the headlines, he was brought down by his own excesses and overreach. But his name lives on linked to the modern-day witch hunt we call "McCarthyism."
Cross post from Video and Multimedia. Doubt it will get much traction over there, since video won't embed.
5 replies, 750 views
Replies to this discussion thread
| | | | |
| --- | --- | --- | --- |
| 5 replies | Author | Time | Post |
| Joseph McCarthy Power Feeds Fear on PBS American Experience (Original post) | LeftInTX | Jan 2020 | OP |
| | BigmanPigman | Jan 2020 | #1 |
| | Archae | Jan 2020 | #2 |
| | yonder | Jan 2020 | #3 |
| | LeftInTX | Jan 2020 | #4 |
| | yonder | Jan 2020 | #5 |
---
Response to LeftInTX (Original post)
Tue Jan 14, 2020, 12:28 AM
BigmanPigman (40,360 posts)
1. Edward R Murrow said this on his show in 1954...
"His primary achievement has been in confusing the public mind, as between the internal and the external threats of Communism. We must not confuse dissent with disloyalty. We must remember always that accusation is not proof and that conviction depends upon evidence and due process of law. We will not walk in fear, one of another. We will not be driven by fear into an age of unreason, if we dig deep in our history and our doctrine, and remember that we are not descended from fearful men—not from men who feared to write, to speak, to associate and to defend causes that were, for the moment, unpopular."
"This is no time for men who oppose Senator McCarthy's methods to keep silent, or for those who approve. We can deny our heritage and our history, but we cannot escape responsibility for the result. There is no way for a citizen of a republic to abdicate his responsibilities. As a nation we have come into our full inheritance at a tender age. We proclaim ourselves, as indeed we are, the defenders of freedom, wherever it continues to exist in the world, but we cannot defend freedom abroad by deserting it at home."
"The actions of the junior Senator from Wisconsin have caused alarm and dismay amongst our allies abroad, and given considerable comfort to our enemies. And whose fault is that? Not really his. He didn't create this situation of fear; he merely exploited it—and rather successfully. Cassius was right: "The fault, dear Brutus, is not in our stars, but in ourselves."
https://en.m.wikipedia.org/wiki/Joseph_McCarthy
The GOP House and Senate need to read that many times until it finally sticks in their black hearts and pea brains.
---
Response to LeftInTX (Original post)
Tue Jan 14, 2020, 12:36 AM
Archae (42,383 posts)
2. The worst part about this show...
When McCarthy drank himself to death, he got a state funeral with flags at half-mast.

McCarthy only deserved for people to desecrate his grave.
---
Response to LeftInTX (Original post)
Tue Jan 14, 2020, 05:08 AM
yonder (5,902 posts)
3. I caught most of this last week.
As bad as McCarthy was, I thought the clips of Roy Cohn were far more chilling. He had such an evil, evil air about him. With both of them together, even more so. You could almost see the young tRump on Cohn's lap, soaking up every word.
---
Response to yonder (Reply #3)
Wed Jan 15, 2020, 12:20 AM
LeftInTX (14,440 posts)
4. I couldn't believe McCarthy stuck with him, when it was obvious he was gay
There were some rumors that McCarthy could have been gay, but I just don't see it. Cohn was obviously gay in his mannerisms and he had the BF in the military that he arranged favors for. And Cohn seemed to move physically close to McCarthy alot. But McCarthy didn't seemed phased by any of this. (I didn't get the vibe that McCarthy was sexually interested in Cohn, but I will watch again)
(OTOH I never thought Liberace or Paul Lynde as gay because I just never thought of it. I just thought they were silly. I was naive back then. Hubby never thought about Liberace or Paul Lynde being gay either. We were naive and times were simple..
)
Maybe McCarthy thought Cohn might be gay, but overlooked it because Cohn was outing gay men for McCarthy in the Lavender Scare?
Lots of this:
?w=300&h=263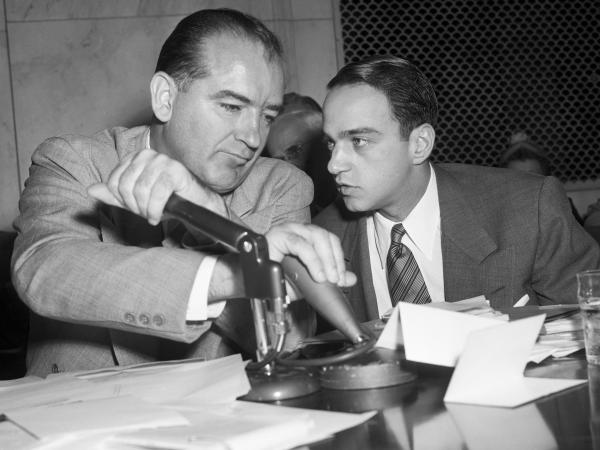 ---
Response to LeftInTX (Reply #4)
Wed Jan 15, 2020, 01:31 AM
yonder (5,902 posts)
5. Those photos just give me the creeps.
And same as you with respect to the Hollywood characters. As a kid, I just thought they were silly, never giving thought to anything else.

Until this program, I'd never seen many photos of Cohn, not to mention him in action and wrecking lives while tag teaming with McCarthy. Damn evil.

This is what they all do: Pushing their own misguided agenda(s) onto humanity.