Sun Dec 1, 2019, 06:04 AM
Soph0571 (7,904 posts)
Trump won't lose his job - but the impeachment inquiry is still essential
Assume that Trump is impeached on grounds that include a raft of federal crimes – bribery, treason, obstruction of justice, election fraud, money laundering, conspiracy to defraud the United States, making false statements to the federal government, serving as an agent of a foreign government without registering with the justice department, donating funds from foreign nationals, and so on.

Regardless of whether a sitting president can be indicted and convicted on such criminal charges, Trump will become liable to them at some point. But could he be pardoned, as Gerald Ford pardoned Richard Nixon 45 years ago?

Article II, section 2 of the constitution gives a president the power to pardon anyone who has been convicted of offenses against the United States, with one exception: "in Cases of Impeachment."

If Trump is impeached by the House, he can never be pardoned for these crimes. He cannot pardon himself (it's dubious that a president has this self-pardoning power in any event), and he cannot be pardoned by a future president.

Even if a subsequent president wanted to pardon Trump in the interest of, say, domestic tranquility, she could not.
[link:
https://www.theguardian.com/commentisfree/2019/nov/30/trump-impeachment-inquiry-removal
|]
Emphasis mine.
Now that is interesting... the whole article is worth a read on the link but this is the big point I took away from it. Even when the senate fails to do its job this is not over for Trump, there will be a reckoning that he cannot escape.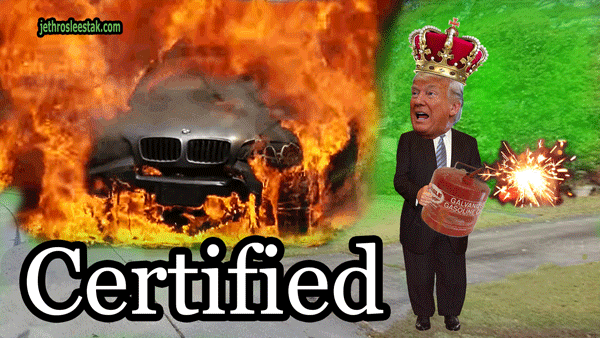 9 replies, 1627 views
Replies to this discussion thread
| | | | |
| --- | --- | --- | --- |
| 9 replies | Author | Time | Post |
| Trump won't lose his job - but the impeachment inquiry is still essential (Original post) | Soph0571 | Dec 2019 | OP |
| | stopdiggin | Dec 2019 | #1 |
| | Joe941 | Dec 2019 | #2 |
| | we can do it | Dec 2019 | #3 |
| | Vinca | Dec 2019 | #4 |
| | TheRickles | Dec 2019 | #5 |
| | madville | Dec 2019 | #6 |
| | Baitball Blogger | Dec 2019 | #7 |
| | Andy823 | Dec 2019 | #8 |
| | Igel | Dec 2019 | #9 |
---
Response to Soph0571 (Original post)
Sun Dec 1, 2019, 06:15 AM
stopdiggin (3,381 posts)
1. I don't think this is correct
if Trump is indited or charged (later) I believe those charges would be separate from the impeachment, and thus subject to pardon. It's my understanding that the only thing not subject to pardon .. is the impeachment action by congress itself.
---
Response to Soph0571 (Original post)
Sun Dec 1, 2019, 07:58 AM
Joe941 (2,848 posts)
2. Why is everyone giving up on impeaching trump?
We cant afford a whole year+ of the monster. He needs to be gone now!
---
Response to Joe941 (Reply #2)
Sun Dec 1, 2019, 08:57 AM
we can do it (8,830 posts)
3. Who's giving up? Please explain.
Senate would need to vote to remove.
---
Response to Soph0571 (Original post)
Sun Dec 1, 2019, 09:01 AM
Vinca (44,884 posts)
4. I don't really care. Being convicted on impeachment won't sent him to jail and
that's where I want his sorry, orange ass to end up. Once he's out of office he turns into "Individual One" again. Move over Michael Cohen. You've got a new roommate. (Democratic presidential candidates need to promise not to pardon Trump. No Jerry Ford routines.)
---
Response to Soph0571 (Original post)
Sun Dec 1, 2019, 09:03 AM
TheRickles (187 posts)
5. Impeached vs. convicted
My understanding is that if he is impeached (ie, indicted) by the House but not convicted by the Senate, then that impeachment is not pardonable by a future president. But if he's not convicted by the Senate, that means he was found innocent of the charges and wouldn't need to be pardoned. IANAL, and would like to hear from one.
---
Response to Soph0571 (Original post)
Sun Dec 1, 2019, 09:25 AM
madville (5,198 posts)
6. That's not how it works
He can't pardon anyone or himself from the action of impeachment.

I fully expect Trump to resign a few days before having to leave office in January 2021 so that a newly sworn in President Pence can pardon him for all possible federal crimes he might face indictment for. Trump will of course pardon everyone close to him right before resigning, then he will receive his blanket pardon.
---
Response to Soph0571 (Original post)
Sun Dec 1, 2019, 09:26 AM
Baitball Blogger (36,002 posts)
7. Oh course it's important.
History will continue to look into this matter as new facts are revealed and as we deal with the consequences of his bad decisions. Impeachment will show that the Democrats did their job and the Republicans were the big part of the problem.
---
Response to Baitball Blogger (Reply #7)
Sun Dec 1, 2019, 10:51 AM
Andy823 (11,024 posts)
8. Excellent!
Every republican in the senate will have to vote guilty or not guilty, and they will have to defend that vote in the elections next year. Now most of them will be safe in their red states, but others will be at risk of losing their job.
---
Response to Soph0571 (Original post)
Sun Dec 1, 2019, 10:55 AM
Igel (31,485 posts)
9. Others have said impeachment / conviction.
But it goes further than they've said and to the heart of what you wrote.

He can be impeached. That's like been charged.

He could be removed from office. That's like being convicted. But it's *not* the same thing as being convicted.

If he were convicted in *criminal* court there'd be a whole raft of protections deemed Constitutional barely available to Trump in the Congress. If Schiff had exculpatory evidence, would he be required to turn it over? If he were a prosecutor in a criminal case, absolutely--and to *not* turn it over would be a crime. The standards of evidence are higher, chain of custody, hearsay rules.

Most of what Schiff claims as evidence is, so far, good for political causes, esp. when they're made against a party's chief political foe during an election campaign. But as evidence in a court, not so much. He won't be liable for most of these. Even in Congress, it's a tough sell.