Wed Nov 20, 2019, 11:52 PM
rpannier (21,133 posts)
Winter War: The 1939 Soviet Invasion Of Finland (Many pics)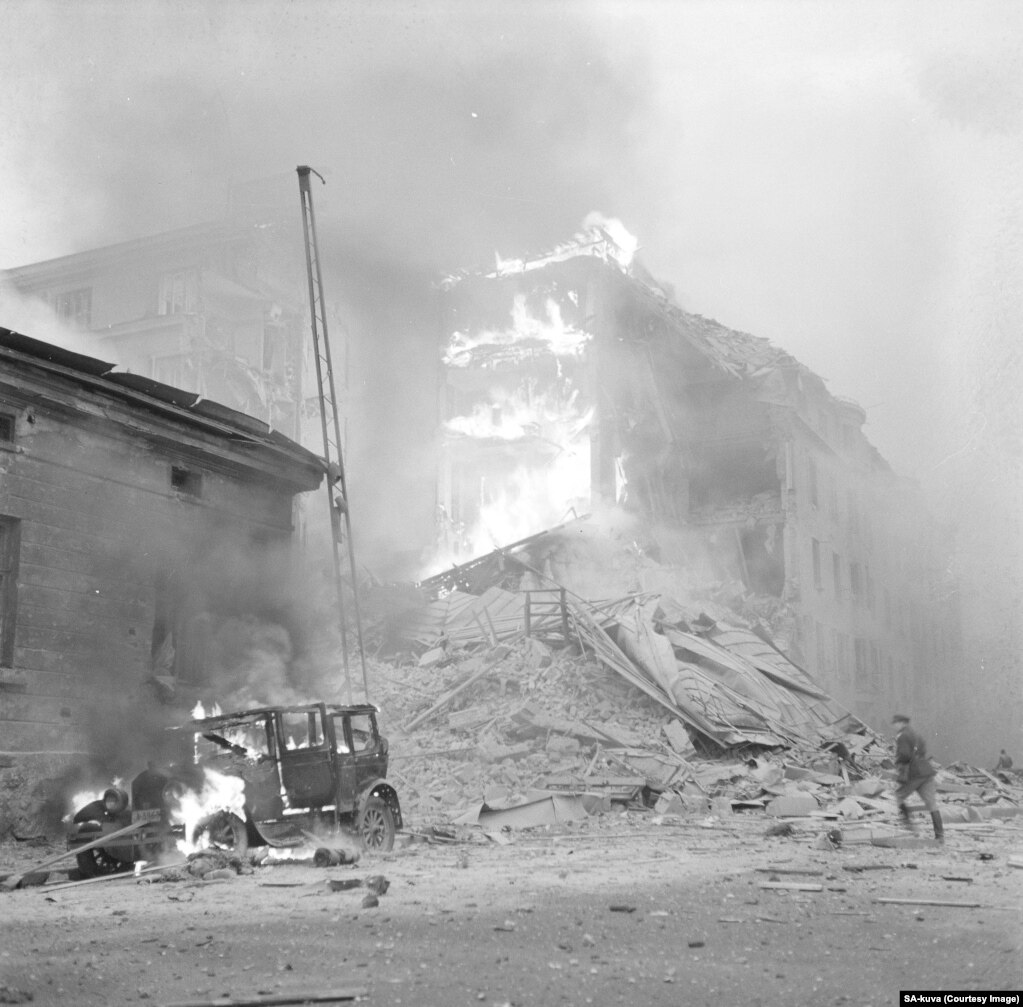 Shattered buildings and a car burn in Helsinki after an air raid on the opening day of the Winter War.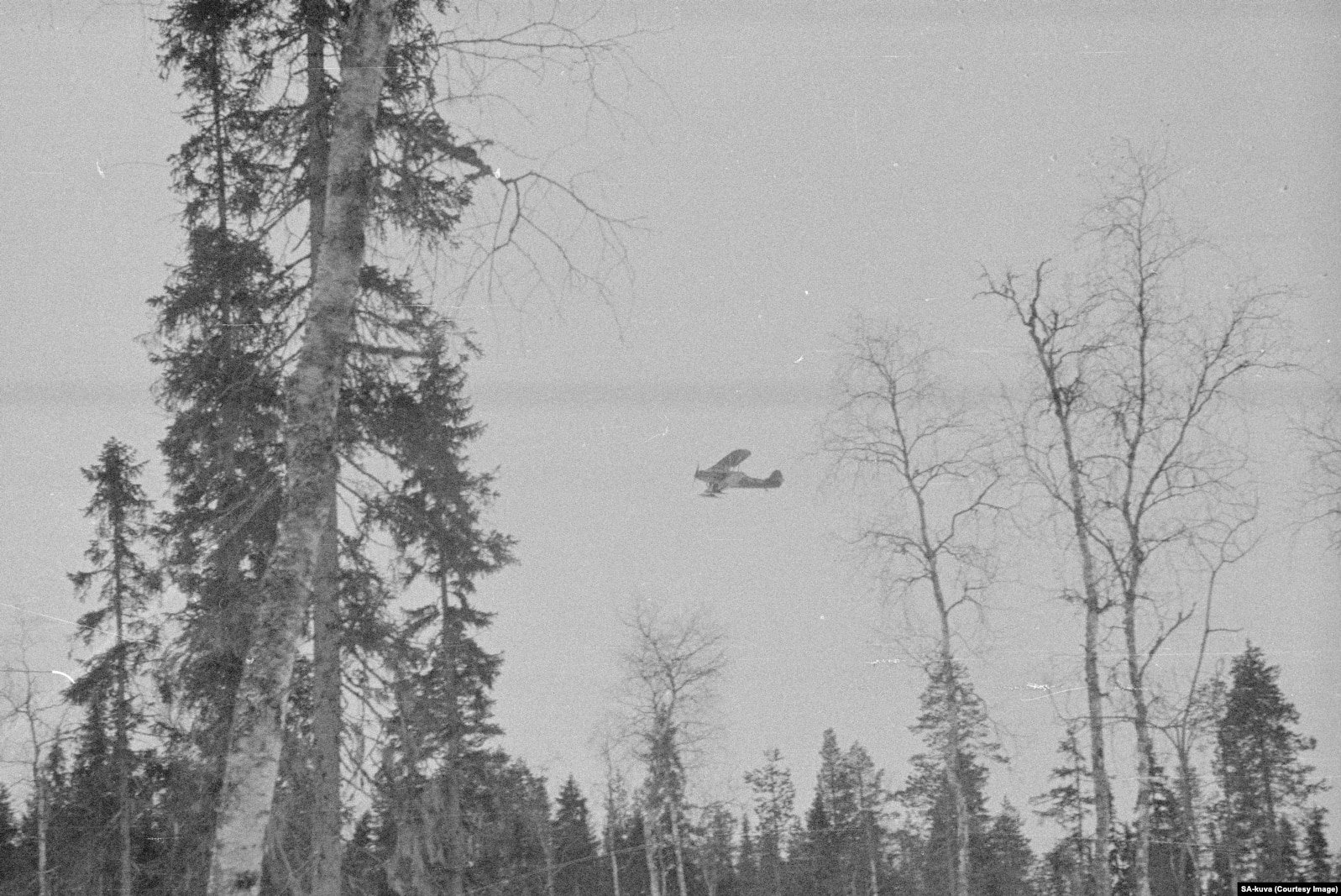 A Soviet plane on a bombing run.
Amid an international outcry over the unannounced attack on Finland, Soviet Foreign Minister Vyacheslav Molotov claimed on the radio that planes were dropping food supplies -- rather than bombs -- to hungry Finns.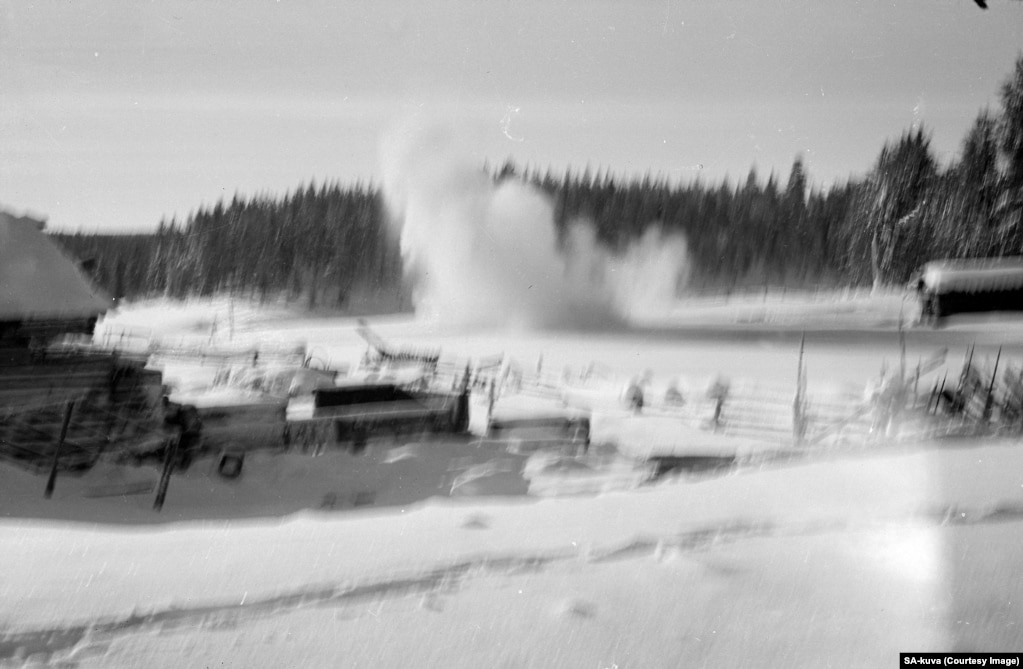 An artillery shell explodes near a farmstead during a Soviet advance.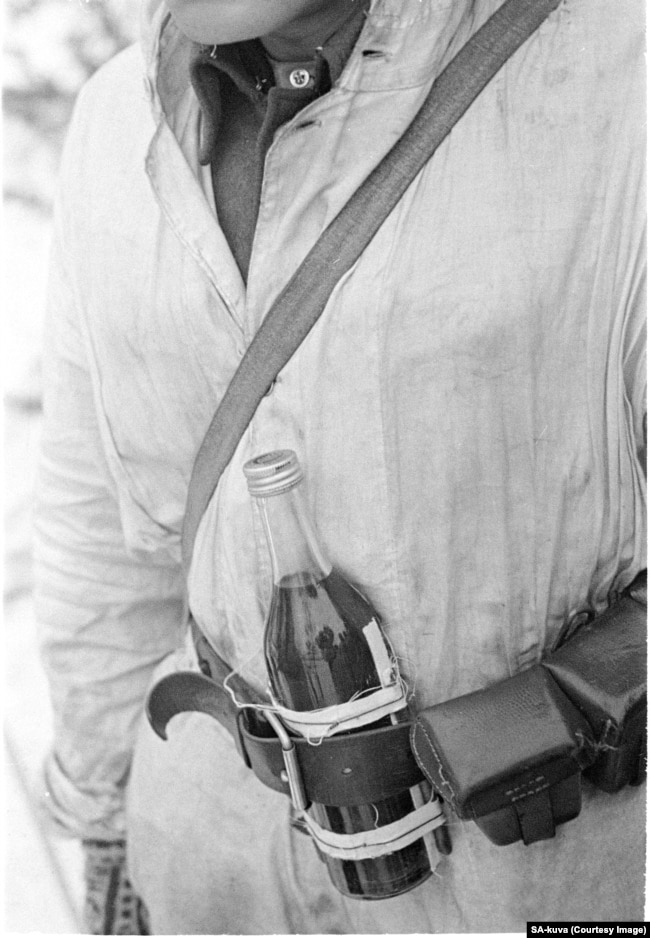 One cheap anti-tank weapon the Finns devised were Molotov cocktails (pictured) made of gasoline and tar.
Showing their dark sense of humor, the fighters named the firebombs after the Soviet foreign minister as a "drink to go with the food" that Molotov had claimed to be dropping on Finland. Thus giving birth to an oft-used weapon in conflicts through the decades since.
Dressed in white camouflage, the defenders were almost impossible to see among snow-dusted trees.
The invading Red Army troops initially wore dark uniforms, making them easy targets for Finnish sharpshooters.
****************************
Rest of pics and stories about the Winter War
https://www.rferl.org/a/finlands-winter-war-with-the-soviet-union/30280490.html
10 replies, 573 views
Replies to this discussion thread
| | | | |
| --- | --- | --- | --- |
| 10 replies | Author | Time | Post |
| Winter War: The 1939 Soviet Invasion Of Finland (Many pics) (Original post) | rpannier | Nov 20 | OP |
| | Sherman A1 | Nov 21 | #1 |
| | pecosbob | Nov 21 | #2 |
| | TheBlackAdder | Nov 21 | #4 |
| | moondust | Nov 21 | #5 |
| | pecosbob | Nov 21 | #6 |
| | uponit7771 | Nov 21 | #8 |
| | TheBlackAdder | Nov 21 | #3 |
| | bluedigger | Nov 21 | #7 |
| | Aristus | Nov 21 | #9 |
| | rpannier | Nov 21 | #10 |
---
Response to rpannier (Original post)
Thu Nov 21, 2019, 06:11 AM
Sherman A1 (26,716 posts)
1. K&R
I will have to pull out my 1970s copy of SPIs Winter War game and give it a play through.
---
Response to rpannier (Original post)
Thu Nov 21, 2019, 06:41 AM
pecosbob (4,096 posts)
2. The Soviets got their asses kicked in that war by a third rate military power.
They had no winter clothing and no training in adverse weather. Stalin had recently executed two thirds of the Red Army's commanders to ensure loyalty to himself alone. In 1939 the Red Army was a poorly trained and hollow force armed with obsolete equipment.

But the Finns didn't follow up as they knew the Russians would be back...and come back they did. The Finns had the opportunity to move into the Karelian Isthmus and aid the Germans in their siege of Leningrad, but were smart enough to realize that this would likely bring adverse repurcussions one day. In retrospect they were right...the Finns still live in Finland and didn't all die as result of population transfer as did the occupants of many Soviet border states.
---
Response to pecosbob (Reply #2)
Thu Nov 21, 2019, 07:25 AM
TheBlackAdder (14,103 posts)
4. Also see The Battle of Tsushima, where the Japanese Naval sunk almost the entire Russian Navy.
---
Response to pecosbob (Reply #2)
Thu Nov 21, 2019, 08:17 AM
moondust (14,958 posts)
5. Did the Red Army's 1939 failure in Finland
embolden Hitler to invade the Soviet Union in 1941?
---
Response to moondust (Reply #5)
Thu Nov 21, 2019, 09:08 AM
pecosbob (4,096 posts)
6. The general concensus is that it did so
Hitler was quoted to the effect that 'one had merely to kick in the door and the whole rotting structure would collapse.' Opinion in military circles around the globe at the time was that Stalin's forces were a paper tiger and Hitler proved this view correct. Once Germany had invaded and punched through the Ukraine, Western experts predicted the Soviet Union would fall within months. Everyone underestimated the Soviet Union's ability to manufacture war material and eventually that is what saved them from Hitler. That, and a lot of cannon fodder in the form of young Soviet men and women. They 'simply' moved all their factories eastward, out of the German's reach. I say 'simply', but it was a major feat to have accomplished.

A great resource, just to single one out that I've found of this period, is a documentary from 2009 called Russia's War - The Stalin Years. It's available on Youtube...pretty black stuff regarding Stalin's consolidation of power and the war years.
---
Response to pecosbob (Reply #6)
Thu Nov 21, 2019, 10:28 AM
uponit7771 (59,484 posts)
8. +1, If Hitler would've stayed focused on Moscow he might have won huge chunks of Russian
... land and kept it but his dumb ass split his forces multiple times going after symbolic shit.

Moscow first then the oil in the south and we might have been speaking German to some degree today.

Hitler reminds me of a smarter Red Don; Knows enough to be really dangerous but doesn't shit on himself
---
Response to rpannier (Original post)
Thu Nov 21, 2019, 07:23 AM
TheBlackAdder (14,103 posts)
3. So that's where Molotov cocktails came from? Thanks.
---
Response to rpannier (Original post)
Thu Nov 21, 2019, 10:17 AM
bluedigger (15,772 posts)
7. I'm currently reading a good history of the war.
A Frozen Hell: The Russo- Finnish Winter War of 1939-1940
, by William R. Trotter.
---
Response to rpannier (Original post)
Thu Nov 21, 2019, 10:35 AM
Aristus (48,253 posts)
9. Finland produced an excellent film in 1990 called "The Winter War".
It does a superb job of depicting small-unit fighting between Finnish reserve troops, and the Soviets. It only increases one's amazement and admiration for the Finns, as the film opens with Finnish Army reservists being called up pell-mell, and being issued poorly-fitting uniforms and clamoring for adequate ammunition.

Subtitles in English are available on the DVD, but the film gives one the chance to hear the intriguing and unusual Finnish language being spoken. Filmed before the staggering levels of graphic 'Saving Private Ryan'-style violence became common in movies, the film still offers an unflinching look at the effort it cost the gallant Finns to hold off the Soviet monster for an entire winter.
---
Response to Aristus (Reply #9)
Thu Nov 21, 2019, 06:37 PM
rpannier (21,133 posts)
10. Thanks
I will have to check that out