Mon Nov 11, 2019, 06:46 PM
demmiblue (23,652 posts)
Trump Is MAGA-fying the National Medal of Arts
Among the president's new picks: the actor Jon Voight—who's a fan of his—and the U.S. military bands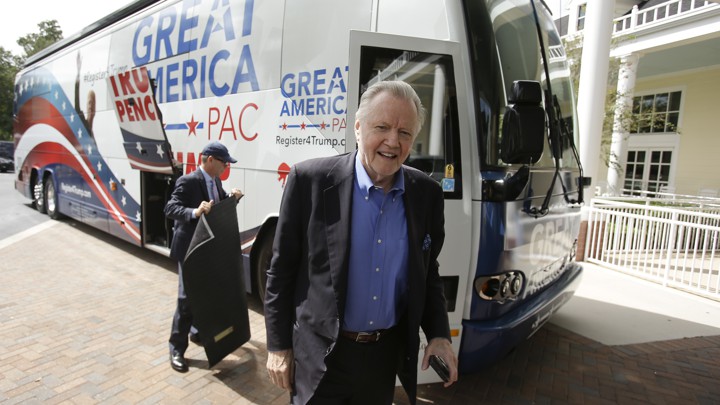 A president can abuse power by pressuring a foreign government to help his campaign. A president also can exploit power by making the cultural world a political prop. This is a story about the latter.
Until Donald Trump entered office, not much drama surrounded the prestigious National Medal of Arts. President Ronald Reagan signed legislation creating the award in 1984, and every president since has given it out, honoring the work of painters, writers, actors, architects, dancers, and musicians.
Under Trump, the awards stopped: He passed up chances to hand out the medals in 2017 and 2018—the longest drought in the past 35 years. But now, I'm told, he's poised to announce his first slate of winners later this month. It not only includes names that seem, in part, to be tailored to the president's personal preferences—namely, the actor and MAGA enthusiast Jon Voight and all five U.S. military bands. But in choosing the winners, Trump appears to have ignored input from the committee that typically recommends artistic luminaries as candidates for the award.
...
What troubles some council members—apart from Trump's unilateral decision making—is that the president has failed to honor people from a broad array of artistic backgrounds. "The traditional disciplines, such as dance, theater, or literature, weren't represented in whatever capacity," a second council member told me. "And it clearly seems to be a political agenda by the president." A third faulted Trump for failing to identify a person of color deserving of an individual award. The message is that "there's no person of color in the artistic ecosphere worthy of recognition by our nation," this council member said.
"We would rather not make an award than award someone of color
. That's deeply troubling and disturbing, especially given the current climate, when there are groups of people in this country who feel under duress."
...
One of the winners selected by Obama was the acclaimed novelist and short-story writer Tobias Wolff. When I first emailed Wolff to talk with him about Trump's picks, he replied, "What true artist would accept [the medal] from these hands?" When we spoke by phone later, he questioned whether Trump truly values the fields he's purportedly trying to celebrate. "It's kind of ridiculous for this particular president to be handing out awards for the arts," Wolff said, "especially when he himself is so sublimely uninterested in them."
https://www.theatlantic.com/politics/archive/2019/11/trumps-first-medal-arts-winners-include-jon-voight/601672/
This pisses me off to no end.
4 replies, 643 views
Replies to this discussion thread
| | | | |
| --- | --- | --- | --- |
| 4 replies | Author | Time | Post |
| Trump Is MAGA-fying the National Medal of Arts (Original post) | demmiblue | Nov 11 | OP |
| | struggle4progress | Nov 11 | #1 |
| | world wide wally | Nov 11 | #4 |
| | unitedwethrive | Nov 11 | #2 |
| | sinkingfeeling | Nov 11 | #3 |
---
Response to demmiblue (Original post)
Mon Nov 11, 2019, 06:54 PM
struggle4progress (105,305 posts)
1. .
---
Response to struggle4progress (Reply #1)
Mon Nov 11, 2019, 10:15 PM
world wide wally (17,165 posts)
4. How recent is that photograph of Trump?
---
Response to demmiblue (Original post)
Mon Nov 11, 2019, 06:59 PM
unitedwethrive (1,377 posts)
2. History is going to record every part of the trump presidency with an asterix.
It will scar all of his appointees and award recipients.
---
Response to demmiblue (Original post)
Mon Nov 11, 2019, 10:12 PM
sinkingfeeling (40,635 posts)
3. Everything he touches turns to sh*t.