Fri Nov 8, 2019, 10:34 AM
Tommy_Carcetti (37,402 posts)
BREAKING NEWS: White House to erect headstone at Arlington National Cemetery for Trump Foundation
President Trump announced this morning that he is instructing the Department of Defense to erect a grave marker in memory of the now defunct Donald J. Trump Charitable Foundation.
The marker will be identical to the simple white marble headstones erected at the graves of veterans buried in the cemetery and will be located in the famed Section 60, where many service personnel killed in action in recent wars have been laid to rest.
"The Trump Foundation paid the ultimate sacrifice in service to the country," Trump stated in prepared remarks delivered in the East Room of the White House. "Whether it was the use of thousands of dollars of donated funds that were used to purchase self-portraits of myself at auction to display at my properties, the use of its monies to settle lawsuits, or even the time I decided to pay Donald Jr.'s Boy Scout dues out of its coffers, my foundation brought much joy to my business ventures and my family in its three decades of existence. Tragically, the Trump Foundation was shot down and killed by forces within the Deep State and Fake News Media who wish to destroy the very fabric of American Life. By providing the Trump Foundation the proper respect given to other brave Americans who similarly were felled by enemy fire but never to be forgotten, its name will live forever in the hearts of each and every person living in this country."
Trump then announced he will be issuing an Executive Order lowering all flags for an entire month's period in honor of the defunct foundation, which recently was court-ordered to pay out over $2 million for improper bookkeeping practices.
Details at Eleven.
4 replies, 756 views
Replies to this discussion thread
| | | | |
| --- | --- | --- | --- |
| 4 replies | Author | Time | Post |
| BREAKING NEWS: White House to erect headstone at Arlington National Cemetery for Trump Foundation (Original post) | Tommy_Carcetti | Nov 8 | OP |
| | TheBlackAdder | Nov 8 | #1 |
| | mshasta | Nov 8 | #2 |
| | NCjack | Nov 8 | #3 |
| | gratuitous | Nov 8 | #4 |
---
Response to Tommy_Carcetti (Original post)
Fri Nov 8, 2019, 10:37 AM
TheBlackAdder (13,930 posts)
1. Here's the sample of it.
.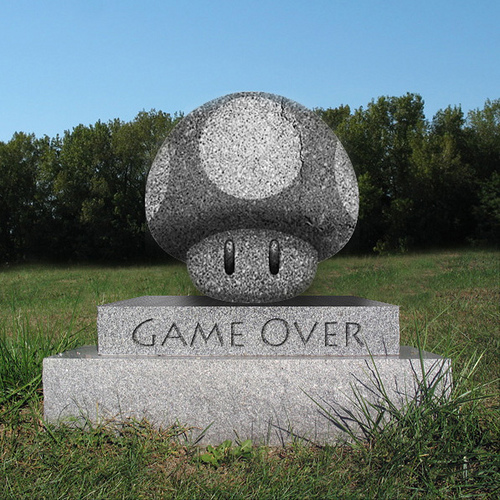 .
---
Response to TheBlackAdder (Reply #1)
Fri Nov 8, 2019, 10:39 AM
mshasta (1,712 posts)
2. lol
---
Response to TheBlackAdder (Reply #1)
Fri Nov 8, 2019, 10:52 AM
NCjack (5,185 posts)
3. Was expecting Trump-Jesus on a cross. nt
---
Response to Tommy_Carcetti (Original post)
Fri Nov 8, 2019, 11:05 AM
gratuitous (67,217 posts)
4. "Chump change"
You're almost certain to hear that in the wake of the President of the United States being ordered by a court to pay $2 million to various charities to settle his civil lawsuit. "Chump change. Trump's so wealthy he won't even notice it." People making that argument don't realize that it only makes what Trump did look worse. If $2 million is meaningless to Trump, then why did he rip off widows and orphans and veterans and disabled persons for that money to fund his campaign? If he could just write a check to his campaign for money he'd never miss, why did he have to filch it from people who needed it? People for whom it could have bought food or medicine or stave off homelessness, all have their needs unmet because Trump had to rip off a charity.