Wed Sep 25, 2019, 07:56 AM
sl8 (4,206 posts)
Woman discovers Renaissance masterpiece in kitchen
From
https://www.theguardian.com/world/2019/sep/24/woman-discovers-renaissance-masterpiece-in-her-kitchen
Angelique Chrisafis
in Paris
Tue 24 Sep 2019 03.30 EDT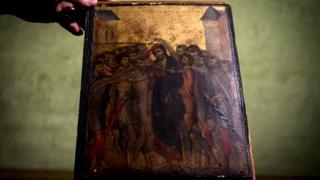 Christ Mocked is thought to be one of eight scenes depicting Christ's passion and crucifixion painted by Cimabue in 1280. Photograph: Philippe Lopez/AFP/Getty Images
An early Renaissance masterpiece by the Florentine painter Cimabue has been discovered in a kitchen on the outskirts of a town north of Paris, where it might have been binned during a house clearance if an auctioneer had not spotted it.
Christ Mocked, by the 13th-century artist who taught Giotto, is estimated to be worth €4m-€6m (£3.5m-£5.3m).
The work had for years gone unnoticed in the house of a woman in her 90s near the northern French town of Compiègne. It had been hanging between her open-plan kitchen and her living room, arousing little interest from the family, who assumed it was a standard religious icon. Although it was placed directly above a hotplate for cooking food, the picture was in good condition.
In June this year, when the woman decided to sell her house and move away, an expert at an auctioneers in Senlis was contacted to look at the contents, furniture and furnishings of the 1960s-built house in case some of it could be sold.
[...]
From
https://www.theguardian.com/artanddesign/2019/sep/24/jonathan-jones-the-cimabue-in-the-kitchen-is-the-miraculous-discovery-all-that-it-seems
The Cimabue in the kitchen: is the miraculous discovery all that it seems?

Jonathan Jones

We all love a good story of a long-lost masterpiece turning up in an unlikely place, but inconvenient questions about provenance need to be asked

Tue 24 Sep 2019 09.16 EDT Last modified on Tue 24 Sep 2019 09.47 EDT

Art expert Stephane Pinta displays a 13th-century painting by Italian master Cimabue in Paris. Photograph: Michel Euler/AP

It's amazing what you can find in an old French house! A painting attributed to Cimabue, the 13th-century genius who started the Renaissance, has turned up in Compiègne, where its elderly owner hung it for years above a hotplate between her kitchen and lounge.

This is the second such discovery of a lost masterpiece by a golden name of western art in France in the last few years. In 2014, a painting of Judith and Holofernes turned up in an attic in Toulouse and was sensationally attributed to Caravaggio. This summer it was sold in a private deal. And wait – the same expert who has authenticated this domestic discovery and is selling it together with Senlis auction house Acteon is also the man who defied doubters to successfully promote the Toulouse Caravaggio.

Clearly, Eric Turquin has got a very good eye for world-class treasures hidden in plain sight in sleepy French homes. Or has he got a breathless tendency to over-enthuse about "discoveries" that may be more complex than they seem?

This has all the hallmarks of the marketing campaign that made the "Caravaggio in the attic" such a hit. The magic of finding a masterpiece in (or close to) a kitchen is an irresistible story. So irresistible it makes sceptics sound like spoilsports. We do not need to question Turquin's good faith. But we do need to stand back and recognise the astonishing nature of the claim being made.

[...]


1 replies, 475 views
Replies to this discussion thread
| | | | |
| --- | --- | --- | --- |
| 1 replies | Author | Time | Post |
| Woman discovers Renaissance masterpiece in kitchen (Original post) | sl8 | Sep 25 | OP |
| | milestogo | Sep 25 | #1 |
---
Response to sl8 (Original post)
Wed Sep 25, 2019, 09:29 AM
milestogo (6,525 posts)
1. I thought this was going to be something that appeared on her toast.
Sad to think it treasured art was hanging over a hotplate.