Wed Sep 4, 2019, 04:36 PM
left-of-center2012 (18,139 posts)
Trump Defends His Golf Habit
President Donald Trump lashed out at London Mayor Sadiq Khan with a pair of Tuesday morning tweets defending his golf habit after the mayor criticized him for hitting the links as Hurricane Dorian headed for the U.S. Southeast coastline. Speaking to reporters, Khan noted sarcastically that Trump was "clearly busy dealing with a hurricane out on the golf course."
Trump on Friday suggested he would spend all of the next day monitoring the storm at Camp David. Instead, he spent hours playing golf at his private club in Virginia. He returned to the golf course on Monday for another game.
In his tweets, Trump misleadingly compared his golfing to the ways other politicians unwind, such as by exercise. Trump has already cost American taxpayers more than $110 million for golf getaways since his January 2017 inauguration, according to HuffPost's analysis. That's more than the travel expenses former President Barack Obama accrued over eight years, a conservative group estimated.
Trump had planned to join other world leaders in Poland over the weekend to commemorate the 80th anniversary of the start of World War II. He said Hurricane Dorian ― which has devastated the Bahamas ― prompted him to cancel (Trump just didn't want to spend time with those boring world leaders).
https://www.yahoo.com/news/trump-golf-sadiq-khan-dorian-162909279.html?.tsrc=jtc_news_index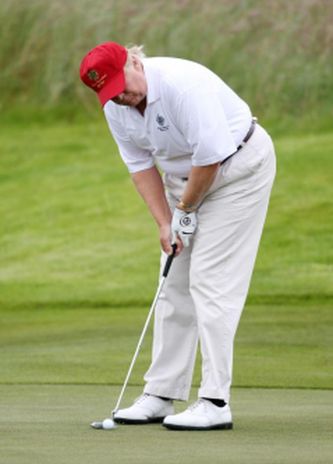 4 replies, 624 views
Replies to this discussion thread
| | | | |
| --- | --- | --- | --- |
| 4 replies | Author | Time | Post |
| Trump Defends His Golf Habit (Original post) | left-of-center2012 | Sep 4 | OP |
| | Eliot Rosewater | Sep 4 | #1 |
| | PJMcK | Sep 4 | #2 |
| | Firestorm49 | Sep 4 | #3 |
| | keithbvadu2 | Sep 4 | #4 |
---
Response to left-of-center2012 (Original post)
Wed Sep 4, 2019, 04:37 PM
Eliot Rosewater (22,203 posts)
1. Not fit to be asst mgr of a 7-11 store.
---
Response to left-of-center2012 (Original post)
Wed Sep 4, 2019, 04:47 PM
PJMcK (10,375 posts)
2. Yet more proof of Trump's stupidity on the golf course
Notice that he is wearing his glove on his left hand. Then take a look at almost every pro golfer: they remove the glove when putting.

There's an important reason for this. Simply, putting is the game within the game. Putting on the green has several different rules than at other points on the course. For example, a player is allowed to mark their ball (usually with a coin) and pick it up to clean and align for the putt; elsewhere on the course, one must almost never touch their ball.

To the point, putting is the scoring part of the game and the art of putting is not unlike the finesse one must have to be a good billiards player. It's a game of feeling and touch and a leather glove will interfere with that necessary sensitivity. Also, a pool table is perfectly flat while a putting green is usually exactly not that!

Of course, Trump cheats at golf and everything else so the rules don't apply to him.

He's such a slob.

He's also an idiot.
---
Response to left-of-center2012 (Original post)
Wed Sep 4, 2019, 04:49 PM
Firestorm49 (1,465 posts)
3. So sad that before he was put in office he ripped Obama a new one for taking time to golf.
---
Response to left-of-center2012 (Original post)
Wed Sep 4, 2019, 10:26 PM
keithbvadu2 (10,411 posts)
4. Fulfulling his campaign promises to vacation more and golf more than Obama.