Wed Aug 28, 2019, 09:36 AM
backtoblue (8,015 posts)
Russian Direct Investment Fund (Repost for info)
div class="excerpt"]The Russian Direct Investment Fund (RDIF) is Russia's sovereign wealth fund established in June 2011 by the Russian government to make equity investments in high-growth sectors of the Russian economy. RDIF's mandate is to co-invest alongside large and sophisticated global investors, thus acting as a catalyst for foreign direct investment in Russia.[1] The CEO of RDIF is Kirill Dmitriev.

History
Edit

RDIF was founded in June 2011 under the leadership of both President Dmitry Medvedev and Prime Minister Vladimir Putin as part of a broader initiative to improve the investment climate of Russia and establish Moscow as an international financial center. RDIF is managed by a team of private equity investors with broad international and Russian experience.



https://en.m.wikipedia.org/wiki/Russian_Direct_Investment_Fund


Stephen A. Schwarzman is on it's International Advisory Board. He's also a friend of trump's and is the Chair of his Strategic and Policy Forum.


Schwarzman's son, Teddy's law firm he worked at got fined for working with Manafort......!!!


2015 — Skadden becomes the first law firm to advise on more than $1 trillion worth of deals in a single year.[14]
2019 — Skadden pays $4.6 million settlement to the Department of Justice over Skadden's failure to register as a foreign agent under the Foreign Agent Registrations Act.[15] The $4.6 million represents Skadden's fees for up to 950 hours of work with Paul Manafort and the Ukrainian government in 2012, which Skadden had initially told the Department of Justice had been billed at 100 Ukrainian hryvnias ($13) per hour.[16] As of May 2019, Skadden, along with Mercury Public Affairs and the Podesta Group, have been under investigation by the Southern District of New York (SNDY) for possible lobbying violations regarding former Trump campaign chairman Paul Manafort.[17]





https://en.m.wikipedia.org/wiki/Skadden

I've don't remember any news about RDIF, so my research is kind of at a stand still. I'm tired of our corporate overlords!


Side note: Schwarzman is also co-founder of Blackstone Group along with Pete Peterson (Lehman Brothers).


Note: tried to kick some of these older posts back up, but they wouldn't show. Reposting for information

Adding DU links
https://www.democraticunderground.com/100212036488

https://www.democraticunderground.com/?com=view_post&forum=1002&pid=12415568

3 replies, 362 views
Replies to this discussion thread
| | | | |
| --- | --- | --- | --- |
| 3 replies | Author | Time | Post |
| Russian Direct Investment Fund (Repost for info) (Original post) | backtoblue | Aug 28 | OP |
| | Celerity | Aug 28 | #1 |
| | backtoblue | Aug 28 | #2 |
| | Celerity | Aug 28 | #3 |
---
Response to backtoblue (Original post)
Wed Aug 28, 2019, 10:11 AM
Celerity (5,074 posts)
1. Skadden did not 'make' a trillion USD in 2015, they were involved in one trillion USD worth of M&A's
This law firm made 1 Trillion dollars in 2015, becoming the first law firm to ever make that much in a year...
is vastly off, as in over 997 BILLION or so off
They had around
2.7 Billion USD
in gross revenue in 2018, that is not even their net profit
these are
the 10 largest
yearly earnings in history
only two times ever has a firm earned over 100 billion USD
Note that some record earning may be caused by nonrecurring revenue, like Vodafone in 2014 (disposal of its interest in Verizon Wireless) or Fannie Mae in 2013 (benefit for federal income taxes).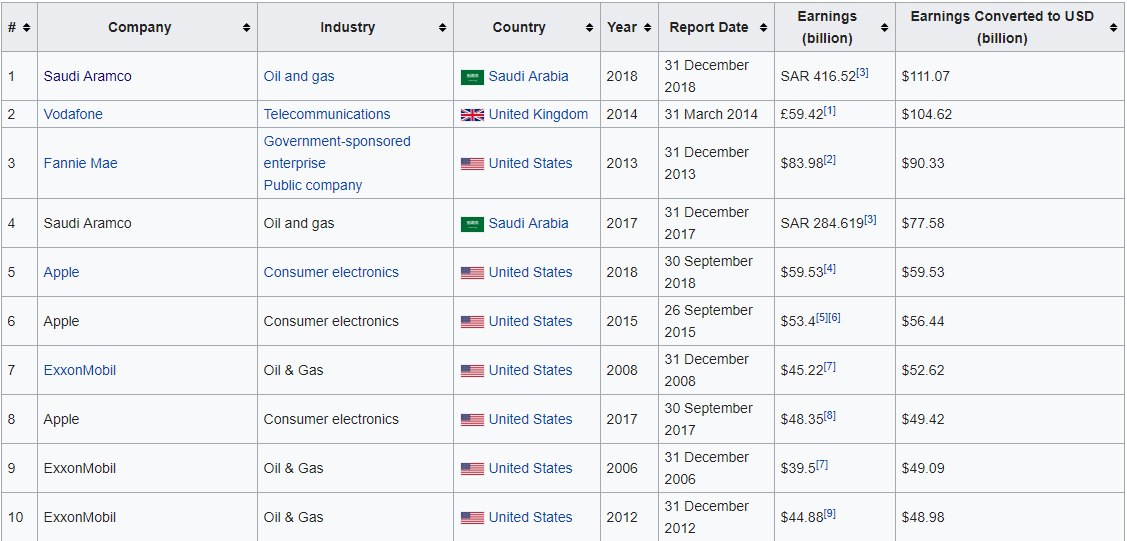 ---
Response to Celerity (Reply #1)
Wed Aug 28, 2019, 10:17 AM
backtoblue (8,015 posts)
2. Adding the info. Thanks!
In 2015, Skadden became the first law firm ever to handle more than $1 trillion in M&A deals in a single year[33][
---
Response to backtoblue (Reply #2)
Wed Aug 28, 2019, 10:18 AM
Celerity (5,074 posts)
3. yw! cheers!