Fri Aug 23, 2019, 06:47 PM
Zorro (9,634 posts)
Aides Struggle To Stop Kerosene-Soaked Republicans From Lighting Selves Ablaze Atop Koch's Body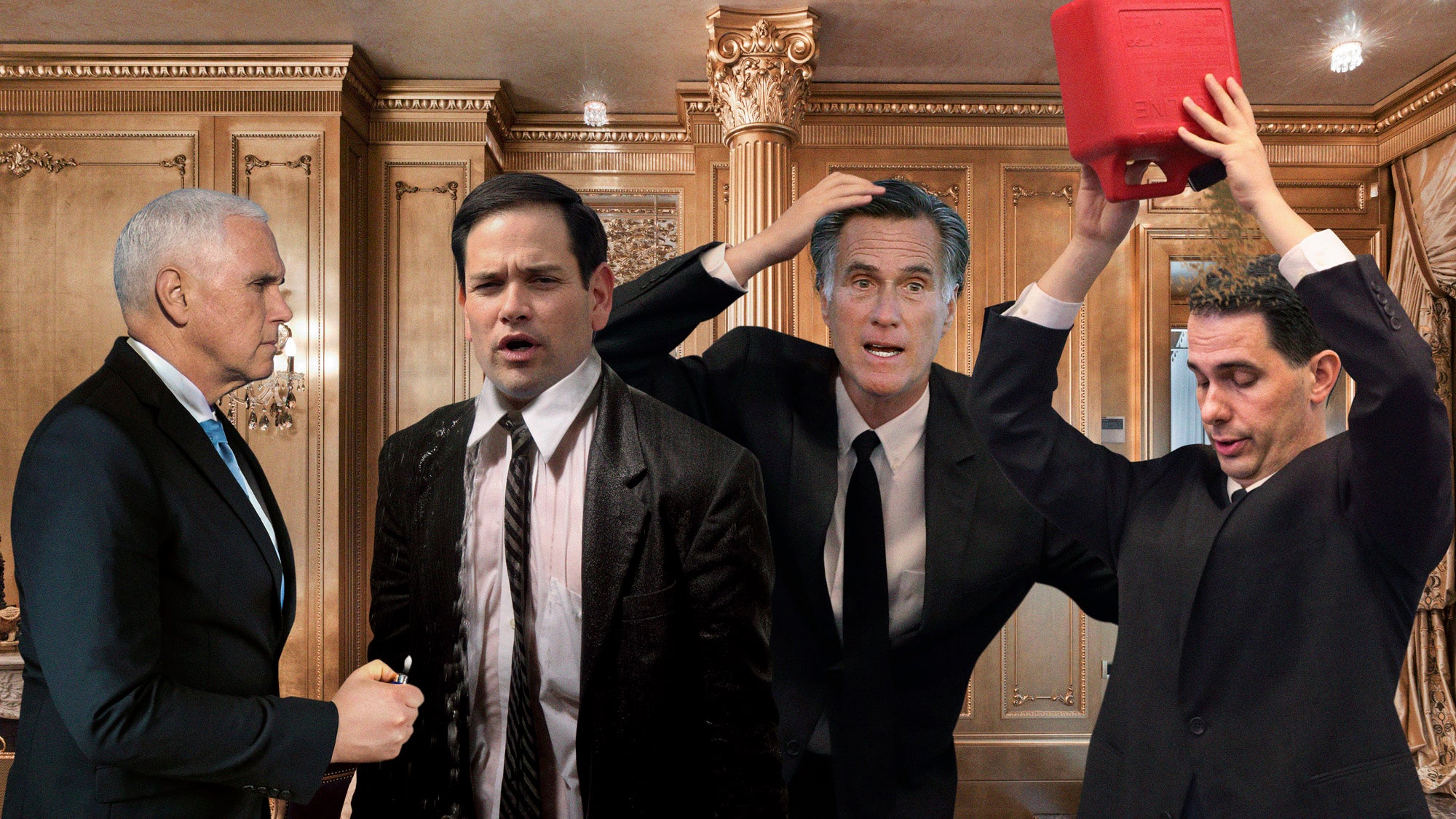 WICHITA, KS—Urging calm as the wailing conservative politicians jostled for a place at their deceased benefactor's side, aides reportedly struggled Friday to prevent dozens of kerosene-soaked Republicans from lighting themselves ablaze atop David Koch's body.
"I don't want to keep living in a world without David Koch," said former Wisconsin governor Scott Walker, one amongst a throng of weeping Republicans including Mike Pence, Ted Cruz, Rick Scott, and Mitt Romney who shoved past the other mourners for the privilege of setting fire to themselves and flinging their burning bodies onto the billionaire conservative activist's corpse.
"Get the hell out of my way, Rubio—you know he loved me best! I should be on top of the body. Jesus Christ, David! David! Don't go into the next life without me!"
At press time, attendants were forced to intervene with fire extinguishers after the entire Cato Institute board of directors piled onto the corpse at once and caused the blaze to rapidly spread across Koch's enormous estate.
https://politics.theonion.com/aides-struggle-to-stop-dozens-of-kerosene-soaked-republ-1837517131
6 replies, 1815 views
Replies to this discussion thread
| | | | |
| --- | --- | --- | --- |
| 6 replies | Author | Time | Post |
| Aides Struggle To Stop Kerosene-Soaked Republicans From Lighting Selves Ablaze Atop Koch's Body (Original post) | Zorro | Aug 23 | OP |
| | pbmus | Aug 23 | #1 |
| | malaise | Aug 23 | #2 |
| | erronis | Aug 23 | #3 |
| | malaise | Aug 23 | #4 |
| | thenelm1 | Aug 23 | #5 |
| | smirkymonkey | Aug 23 | #6 |
---
Response to Zorro (Original post)
Fri Aug 23, 2019, 06:50 PM
pbmus (9,251 posts)
1. Lol...only the onion
---
Response to Zorro (Original post)
Fri Aug 23, 2019, 06:54 PM
malaise (197,054 posts)
2. Which reminds me...and this is not the Onion
https://www.npr.org/sections/itsallpolitics/2011/02/23/133996140/wisconsins-gov-walker-takes-prank-call-from-fake-koch-brother
<snip>
Wisconsin Gov. Scott Walker fell prey to a prank phone call from a New York blogger impersonating David Koch, one of the two wealthy brothers who were big donors to his political campaign and GOP efforts generally.
The 20-minute conversation with the blogger from the Buffalo Beast, whose site is down, is available on the Mother Jones web site. The Milwaukee Journal Sentinel reports:
The editor of the website is Ian Murphy, who claims on the Beast's website to have made the call. Attempts to reach someone at the website have been unsuccessful.
(Updated at 2:54 pm: The Huffington Post has an interview with Murphy.)
Walker's office confirms it's the governor on the phone call in what has to be, if nothing else, an embarrassment for Walker and his top aides.
While Walker doesn't say anything that appears immediately career-ending, when the fake Koch suggests putting "troublemakers" in the crowd of protesters who've been at the Wisconsin state capitol for eight consecutive days, presumably to discredit them, Walker says: "We thought about that."
------------------
DU was a complete laugh fest for days
---
Response to malaise (Reply #2)
Fri Aug 23, 2019, 09:13 PM
erronis (6,883 posts)
3. That is so cool (cruel). Thanks for reminding me how stoopid these 'uglicans are.
Seems like a little stroking, virtual or real, promises of money or sex or power, and they'll piss all over themselves to get some.

Why are conservative/rwnjs so gullible when they try to paint themselves as stable geniuses?

Why do they always say the opposite of the truth?

Just rhetorically...

---
Response to erronis (Reply #3)
Fri Aug 23, 2019, 09:19 PM
malaise (197,054 posts)
4. It was hysterically funny
as in side splitting laughter funny - how he survived that I don't know. I guess he had enough Koch money.
---
Response to Zorro (Original post)
Fri Aug 23, 2019, 09:27 PM
thenelm1 (41 posts)
5. Hide the extinguishers!!
Hide the fire extinguishers!! We all need a good funeral pyre - with added toppings.
---
Response to Zorro (Original post)
Fri Aug 23, 2019, 09:36 PM
smirkymonkey (45,179 posts)
6. Oh! If only!
What a beautiful thing that would be.