Wed Jul 31, 2019, 11:59 PM
Quixote1818 (22,156 posts)
11 replies, 919 views
Replies to this discussion thread
| | | | |
| --- | --- | --- | --- |
| 11 replies | Author | Time | Post |
| Arctic Sea Ice Gone By September 2019? (Original post) | Quixote1818 | Jul 31 | OP |
| | JoeOtterbein | Aug 1 | #1 |
| | SamKnause | Aug 1 | #2 |
| | Quixote1818 | Aug 1 | #3 |
| | misanthrope | Aug 1 | #4 |
| | maryellen99 | Aug 1 | #7 |
| | hatrack | Aug 1 | #8 |
| | maryellen99 | Aug 1 | #9 |
| | hatrack | Aug 1 | #10 |
| | muriel_volestrangler | Aug 1 | #5 |
| | hatrack | Aug 1 | #6 |
| | former9thward | Aug 1 | #11 |
---
Response to Quixote1818 (Original post)
Thu Aug 1, 2019, 12:10 AM
JoeOtterbein (2,335 posts)
1. Ouch! (tears) nt
---
Response to Quixote1818 (Original post)
Thu Aug 1, 2019, 12:32 AM
SamKnause (10,284 posts)
2. Guy McPherson also thinks we are due for the blue ocean event.
He explains in horrifying detail what happens after.

There is no technology on a world scale that can stop what is coming.

If the technology were invented tomorrow, it is too late to stop what is coming.

Climate change is happening faster then scientist originally thought, or would admit to the public.

Much faster.
---
Response to SamKnause (Reply #2)
Thu Aug 1, 2019, 01:15 AM
Quixote1818 (22,156 posts)
3. I have heard all the fires up north are depositing black ash all over the ice too
when that happens it causes the snow to melt at unprecedented rates.
---
Response to SamKnause (Reply #2)
Thu Aug 1, 2019, 02:29 AM
misanthrope (5,100 posts)
4. More likely somewhere between "originally thought" and "would admit"
They likely only went with conservative estimates to err on the side of caution and responsibility. There were still a lot of unknowns regarding feedback loops.
---
Response to SamKnause (Reply #2)
Thu Aug 1, 2019, 10:07 AM
maryellen99 (2,966 posts)
7. What's the blue ocean event?
---
Response to maryellen99 (Reply #7)
Thu Aug 1, 2019, 10:09 AM
hatrack (47,698 posts)
8. When all the sea ice melts
Not permanently - a seasonal ice-free Arctic.
---
Response to hatrack (Reply #8)
Thu Aug 1, 2019, 05:11 PM
maryellen99 (2,966 posts)
9. What happens when this occurs? Nt
---
Response to maryellen99 (Reply #9)
Thu Aug 1, 2019, 06:21 PM
hatrack (47,698 posts)
10. It's likely that we'll see even more serious disruption in world weather when that happens
Think this spring in the Midwest, but much worse - more extreme floods, longer cold snaps, longer droughts and weather patterns getting stuck in place and driving events like these.
What powers the jet stream (and really world weather) is the temperature difference between the equator and the poles. The greater the difference in temperature, the greater the speed and force (and relative flatness) of the jet stream. When that temperature difference falls rapidly, like it's doing now, the jet stream wavers and wobbles and slows down. It stretches N-S in long loops, rather than moving in a relatively flat wave.
That means more moisture gets transported farther north to melt even more of the Arctic, with a fair amount of that moisture falling out on the way. It also means that fronts pass more slowly, since the jet stream is already moving up and down much more than it used to in the Northern Hemisphere.
This is all kind of an oversimplification, because it's a complex process, but we're seeing events like these now, with about 80% of the Arctic ice by volume already gone compared to the 1979 satellite data baseline. These videos provide additional information.
---
Response to Quixote1818 (Original post)
Thu Aug 1, 2019, 09:03 AM
muriel_volestrangler (91,577 posts)
5. pretending the current rate of loss will go on forever is pretty silly
As the graph shows, that has never happened before. Not surprising, because the sun is moving away from the Arctic.
The latest actual predictions, from groups that know what they're talking about, made between 3rd and 12th July, are here:
Thank you to the groups that contributed to this 2019 July Sea Ice Outlook (SIO) report. We received 39 contributions that include pan-Arctic predictions, which is tied with the record number of contributions received for the Sea Ice Outlook. Combined with the contributions to the 2019 June SIO report, we have received a total of 70 contributions this season. We also received two new Antarctic contributions, for a total of 8 for June and July, and 10 additional Alaska contributions in July for a total of 19 so far.
The projected median Arctic September extent from all contributions is 4.28 million square kilometers, with a quartile range of 4.0 to 4.6 million square kilometers. This is a slight drop from the June median Outlook of 4.4 million square kilometers, which is not surprising given the relatively rapid decline in ice extent during June. The change from June to July was almost exclusively due to a drop in the extent of the statistical contributions; the median of model and heuristic contributions changed very little. One contribution projects a new record low extent of 3.06 million square kilometers, while the highest projection is nearly six million square kilometers. The model contributions projected higher extent, on average, than the statistical and heuristic methods, which was also the case for June 2019 submissions and throughout the 2018 season. The range in the model projections is also larger than the other two methods
https://www.arcus.org/sipn/sea-ice-outlook/2019/july
6 million sq km is bound to be too high; we've already dropped from about 8.7 when the predictions were being made to 6.3. The record low in 2012 came after a particularly warm August, so it would need another of those to break that record - possible, but by no means certain. If the August/early Sept drop is similar to recent years, it will probably be a minimum of 4 million sq km or just under - 2nd lowest ever.
---
Response to Quixote1818 (Original post)
Thu Aug 1, 2019, 10:06 AM
hatrack (47,698 posts)
6. Doubtful, but a new record is quite possible - still a month and change to go before the turn
And in terms of practical impacts, a BOE wouldn't have to be 100% ice-free everywhere in the basin to really fuck up the jet stream, with all that entails.
Meanwhile: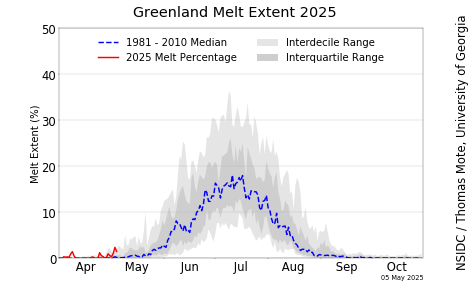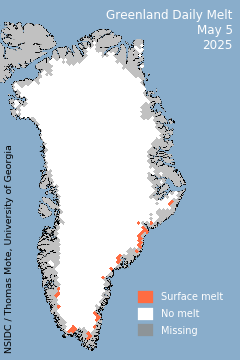 https://nsidc.org/greenland-today/
---
Response to Quixote1818 (Original post)
Thu Aug 1, 2019, 07:11 PM
former9thward (21,600 posts)
11. I predict we will we not hear from this individual on Sept. 17, 2019.