Wed Jul 17, 2019, 05:00 PM
Top 10 Idiots (185 posts)
Top 10 Conservative Idiots #7-6: Three Men & A Subpoena Edition


Hey everyone I'm baaaaaaaaaaaaaaaaaaaaaaaaaaaaaack! Of course you know we have to talk about the latest in our long line of departures from this revolving door administration. You know the president promised to "Drain The Swamp" but he lubricated that drain with a heaping helping of some fine greasy lubricants. Well yeah, you just know that the President is into that sort of thing! Nathaniel!!! Bring me the fine champagne! Yes, Nathaniel, my man assistant, has replaced my longtime assistant Charlie, though we won't get into the reasons why. But anyway the latest tribute to leave this administration's revolving door? Why it's Tribute Acosta, from the 5th district, who has been a long favored holdout to win the Trumper Games.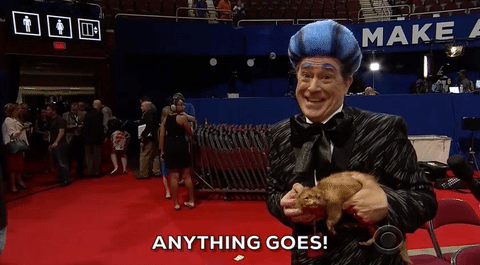 Yes, anything does in fact go here! So Tribute Acosta from the 7th District… you know for the last time don't ask me how the districts work because even I don't know! And I am the host of this thing for crying out loud! So please indulge my while I sip on this fine semi-imported bubbly and comment on the revolving door that is this administration. Because I am a pretentious asshole! My current assistant and my former assistant both know that! Back to business! Why did Sec. Acosta resign? Well it mainly has to do with his role in getting billionaire sex offender Jeffrey Epstein off the hook.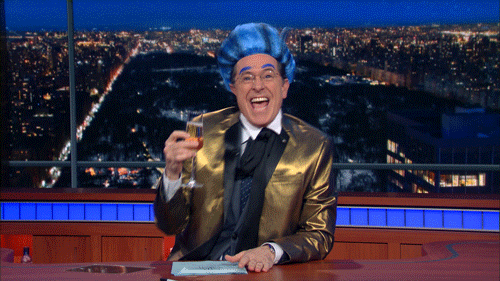 Mmmmmmmmmmmmmmmmmmmmm… oh that's good!!! I am so fierce right now. You know remember that movie 3 Men & A Baby? Well think of this as 3 Men & A Subpoena. Only difference is that the baby is more expensive! I mean is there really anyone in the Trump administration who is not facing an indictment or under scandal right now, anyone? Bueller? Well the Jeffrey Epstein case – which forced Tribute Acosta to resign - just gets weirder and creepier. For instance…





So prostitution, sex stings and a tribute who went rogue. These are the qualities of someone who should do just fine in the Trump administration. But there's plenty of tributes who have come and gone, will we be declaring a winner in the 2020 election by the time all this is said and done? Well, hopefully we will finally see the last standing tribute. And if Acosta and Epstein are considered friends of the President, wait until you see who else the President considers to be a friend. Yeah, bad timing to be dining with this guy! But for now, consider Tribute Acosta… ELIMINATED!!!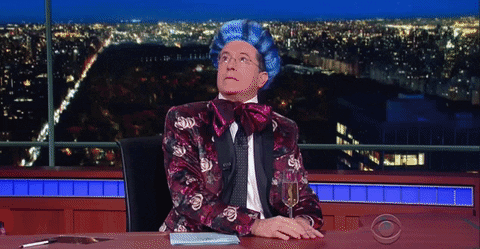 [div style="padding: 20px; background-color: #ffffff; border-radius: 10px; box-shadow: 0px 2px 4px 1px #aaa;"][div style="font-family: arial, helvetica; font-weight: bold; border-bottom: 1px dotted #999; padding-bottom: 8px;"]
[font size="8"]Seth Rich: Origins Of A Conspiracy Theory

[br] [/font] [br]

We're going to do something a bit different for this entry. It turns out that… conspiracy theories are bullshit! If you're shocked by this revelation, you're in the wrong place, people. Yeah I love that one guy in the back who yells out "WOOOOOOOOOO!!!". And one conspiracy theory that was being peddled by… *drum roll* Russian meme makers!!! Yes, Seth Rich was a Russian hit job! It was such pure, unbridled, unfiltered bullshit that even Fox News *AND* Alex Jones were forced to apologize for how much bullshit it was (see: Top 10 #3-8 ), and whew, it was quite the steaming pile. But you know what? It worked! It set out to do exactly what it was designed to do – turn the populace against the DNC. And the right wing media bought it hook, like and sinker.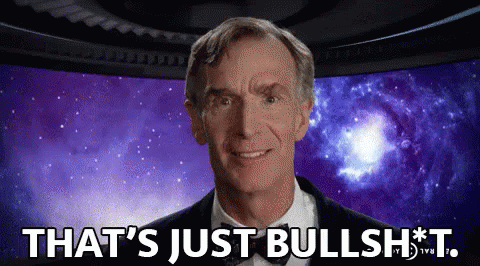 Damn right, Bill Nye!!! And it's a huge, steaming load of bullshit! And come on, we should know better that anything cooked up in the festering boil of the internet known as 4chan is going to be a huge, steaming load. So how did it go from the bottom of the barrel of the internet all the way to mass media and eventually the White House? Well let's follow the shit train shall we? Worst train ever, by the way.






Damn right! So this plot to frame the DNC for a crime it didn't commit started in the bottom of the barrel of the internet and made its' way all the way to the fucking CIA! Think of it like the guy who starts out bombing at the Chuckle Hut every night and then somehow makes his way to working full arenas despite saying only a few marginally funny observations. Oh wait, you don't have to, that guy is Sebastian Manascalo. You know, this guy. So think of Seth Rich as the Sebastian Manascalo of conspiracy theories.






That's about putting it mildly. There's a lot speculating that this theory of pre-meditated murder was the inspiration for tipping the election in favor of Donald Trump. But as we've seen, the bullshit meter is in fact a sliding scale. With one extreme end of the bullshit meter being Pizzagate, and the other extreme end being an actual pile of bullshit. Seth Rich is… somewhere in the middle.







[div style="padding: 20px; background-color: #ffffff; border-radius: 10px; box-shadow: 0px 2px 4px 1px #aaa;"][div style="font-family: arial, helvetica; font-weight: bold; border-bottom: 1px dotted #999; padding-bottom: 8px;"]
[font size="8"]Donald Trump

[br] [/font] [br]

Now Mr. President, time to get up in front of the class and explain what you did wrong. You knew inviting ultra far right wing personalities to the White House to complain about social media being big meanie heads would end very badly for you, didn't you? Yes, he invited members of the ultra far right wing media to the White House, because he's a dick. And it ended about as well as you could have expected, because, well, they're dicks. So who was involved in this shindig? And how well did it go and who was shouting at who? Well, these are the questions that we will be answering.






So if you haven't noticed our media is slowly being replaced with meme creators and Twitter posters… hey wait a minute, we've been doing that since before it was cool! Where's our invite? Oh yeah we do this thing at the Wednesday 2:00 crowd, you know – prime time audience! So stop me if you've heard this one before – a conspiracy theorist, a meme creator, and a noted Neo Nazi walk into a bar… Well you can come up with your own punchline but there's no denying Trump is trying to destroy the traditional media. So what did they cover? Well everything from Trump's hair to the horrors of Democratic socialism!






That is a good question! But Trump is a good speller, really? The guy who brought us hamburders and Covfefe is a good speller? Right, and I'm Elvis. And I don't think he knows that whatever brain fart he puts on social media, everyone can see, right? Well of course, actual journalists weren't invited and had to sit outside the doors.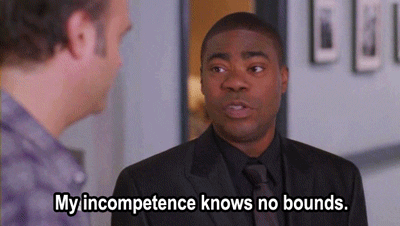 Oh and the after party was a bit of what one might call a "shit show". Yes, Trump held a press conference in which he gave one of his inane ramblings and it ended with the moron brigade shouting at actual journalists. So you could say… mission accomplished?






Yeah, get a bunch of Trump loving conspiracy theorists in a room with actual journalists and you're going to see a fight break out. It's inevitable, you know like getting food poisoning after eating a tuna salad sandwich at the gas station. You knew it was bad going in, and it's going to be a hell of a lot worse coming out. But you were so hungry that that was the only thing available! But guess what? They're taking the fight to Google, Facebook and Twitter themselves! You know, fool me once, shame on you, fool me a thousand times and you're a conspiracy theorist!







[div style="padding: 20px; background-color: #ffffff; border-radius: 10px; box-shadow: 0px 2px 4px 1px #aaa;"][div style="font-family: arial, helvetica; font-weight: bold; border-bottom: 1px dotted #999; padding-bottom: 8px;"]
[font size="8"]We're All Gonna Die

[br] [/font] [br]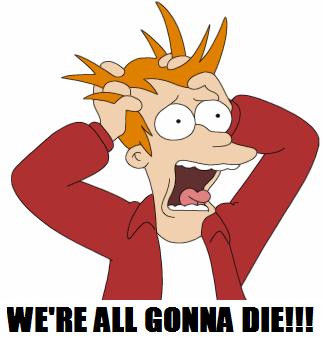 Hey everyone guess what? We're all gonna die!!!! Yeah, the sooner we face that reality, the better off we're going to be. But it's not going to be in a horrible terrorist attack. The real terror is coming from Mother Nature. Yeah, she can be quite the cruel mistress! As was demonstrated on the July 4th weekend, when my home state of California was ripped a new asshole by a pair of devastating earthquakes. And while there were no casualties (this time), we need to be prepared for the worst, and cue the horror music!






Oh come on, we've been through worse! A 6.4 is just a scratch! A 7.1 is a flesh wound. If you live in California, if you're not experiencing earthquakes, we've got fires, floods, mudslides, extreme heat, and the occasional police riot for your enjoyment. Wait did I say enjoyment? Nobody enjoys those things! Just how bad was the state rocked by these earthquakes? And plus not all droughts are bad, California was in an earthquake drought! But consider this the calm before the storm!






Oh calm down, we're not gonna die! And come on, if the earthquakes don't kill us, maybe our improper disposal of nuclear waste will! That's right, the earthquake ripple from the epicenter outside of Bakersfield was felt as far away as Las Vegas, where there's a landfill where we dispose of our nuclear waste. Which, you know, storing it there was relatively harmless. Until now!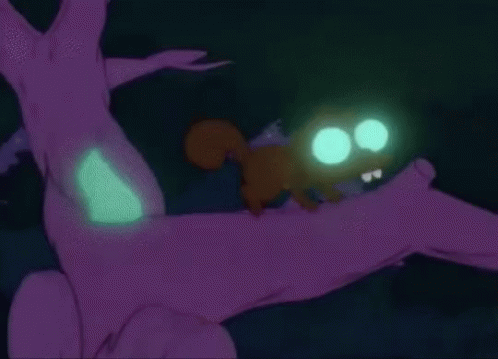 And hey, I, for one, welcome our new radioactive squirrel overlords! Because that's one of those things where you gotta ask "what could possibly go wrong?". Well a whole hell of a lot. But if you're concerned about earthquakes, maybe consider the currently safest place in California – Sacramento. Yes, Sacramento so far has been immune from even the biggest and most devastating earthquakes California has ever seen.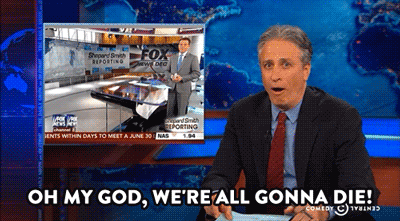 [div style="padding: 20px; background-color: #ffffff; border-radius: 10px; box-shadow: 0px 2px 4px 1px #aaa;"][div style="font-family: arial, helvetica; font-weight: bold; border-bottom: 1px dotted #999; padding-bottom: 8px;"]
[font size="8"]Top 10 Investigates: Student Loan Crisis

[br] [/font] [br]

It's time to investigate beyond the headlines! This is Top 10 Investigates!



Vermont Senator Bernie Sanders has made the student loan crisis the center of his 2020 campaign for president of the United States. Sanders and Warren have both made the loan crisis the underlying issue of their respective campaigns, but how do they plan to fix it? And just how broken is the system that puts new graduates under a gigantic mountain of absolutely crushing debt? Well, there's plenty of reasons how the system got this bad. If you look at right wing media, they're blaming everything from the parents to Obamacare, and in reality none of these things are fueling the crisis.






So really you can blame anything you want but in reality it's a combination of America's extremely loose business regulation laws, out of control loan interest rates, stagnant wages, and very slim chances of employment once you graduate. In fact if you want to see out of control debt at work, look no further than the state of Florida. Florida has a plan to do something about it, but then again this is Florida we are talking about here.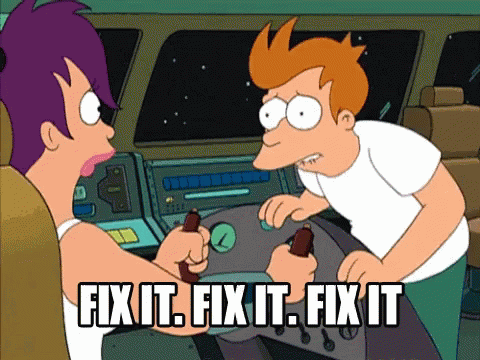 ?itemid=12738651

Yes, it needs to be fixed, but what can be done? Well, private corporations – many of which are blamed for causing this mess – are coming up with unique and innovative ways to fix it. One such solution is to stop risk free loans. And the risk part is what many are blaming for this crisis as it has created a scenario where interest rates are in the double digits meaning that there's a good possibility they will never be paid back. So let's cancel it entirely.






But again while we can play the blame game and blame literally everyone but the 800 pound gorilla in the room, the proposals by Bernie Sanders and Elizabeth Warren both highlight the real problem: our extremely loose corporate lax of corporate regulations that got us into this mess. Remember – capitalism is not the problem. It's the deregulation of capitalism that is the problem.







That's it this week for Top 10 Investigates. Good day.




[div style="padding: 20px; background-color: #ffffff; border-radius: 10px; box-shadow: 0px 2px 4px 1px #aaa;"][div style="font-family: arial, helvetica; font-weight: bold; border-bottom: 1px dotted #999; padding-bottom: 8px;"]
[font size="8"]Holy Shit

[br] [/font] [br]

Gather around my fair brothers and sisters of Austin! It's time to take a seat in the pew and pass the collection plate, for the Holy Church Of The Top 10 has convened and it's time to remind you that the holiest among us are the most full of:




My fair congregation!!! You know that our father GAWD is a very finicky being, and has an extremely volatile temper. But with disasters in California, Texas, and New Orleans, can we all agree that GAWD is not happy? Is he in his RIGHT to take his anger out on the populace??? Because apparently our GAWD loves him some fire and brimstone punishment. And it's not just your grandparents' fire and brimstone punishment, he's out to eviscerate Sodom & Gammorah. Again. Because his wrath and vengeance and fury shall not be challenged! For if you do challenge HIM, then you too shall not see the light of day, for it says so in our good book!!





Yes, dare I say that the good LAWRD is pissed? He is angry, my fair congregation. He is angry and willing to take his wrath out on the populace. But why? Did GAWD not get laid again? But GAWD doesn't just take his wrath out on the populace by any old means, he prefers him some quick and devastating destruction that gets results!






You do know that earthquake faultlines have been around since the dawn of time, right, Mark? They are not some secret underground military bases. I mean really, you have to be a special level of stupid to believe something that off the wall, batshit crazy! Can I get an amen??? And by the way, how great is our gospel choir? Let's give it up for them!! And if you think it doesn't get any weirder, oh no, my fair congregation you are wrong! And just why would the almighty GAWD be taking wrath out on one state for the actions of another?






That folks, is the wrath of the almighty GAWD at work! Mass has ended, may you go in peace… should you survive the wrath of the ALMIGHTY!!! That's it this week for:





[div style="padding: 20px; background-color: #ffffff; border-radius: 10px; box-shadow: 0px 2px 4px 1px #aaa;"][div style="font-family: arial, helvetica; font-weight: bold; border-bottom: 1px dotted #999; padding-bottom: 8px;"]
[font size="8"]Beating A Dead Horse: Taking Sides In A Boycott

[br] [/font] [br]




We may have officially beaten our own dead horse here. Now hear me out… we talk a lot about boycotts on both sides of the argument. We've even found the one company that has escaped many a boycott, and that's Starbucks. They are the one company that is seemingly immune to boycotts! But then Nike came along and said "hold my beer!". Now there's a third company that you can add to the list: Home Depot. Which recently found itself at the head of yet *ANOTEHR* boycott – this time from Trump haters who found out that their billionaire founder donated a metric fuck ton of money to Trump's campaign in 2016, and may do it again in 2020.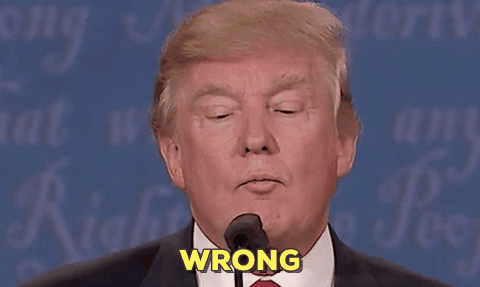 And hey since you know that it affects Trump directly, you just know he had to respond. Of course he sides with Home Depot and calls the people planning the boycott "unhinged and crazy". Yeah we're the unhinged and crazy ones? We're planning not to go to a store. You're the ones lighting your shoes on fire and throwing your Keurigs out the window. Who are the unhinged crazy ones again? Let's think about this Donny.





Hey Trump, in one post you LITERALLY called for people to boycott AT&T and now you're mad at people exercising their right to boycott? Wow, you're stupid. So if Trump does it, it's for the people, but if democrats do it, they're unhinged, deranged, and totally crazy. Shouldn't we be immune to Trump's childish bullying by now? No, well if you think Trump's explanation was terrible, wait until you see Home Depot's!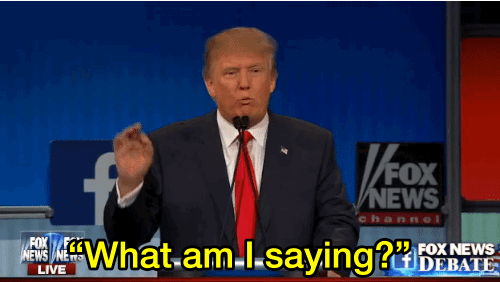 Plot twist!!!! Bet you thought that I was going to say that Bernie Marcus was going to say some batshit crazy thing about the left, weren't you? And you think you're so smart! Well, we are on a college tour so I would expect plenty of smart people in attendance! And here's why you shouldn't take sides in a boycott – which ever side Trump takes in said boycott, probably the wrong side.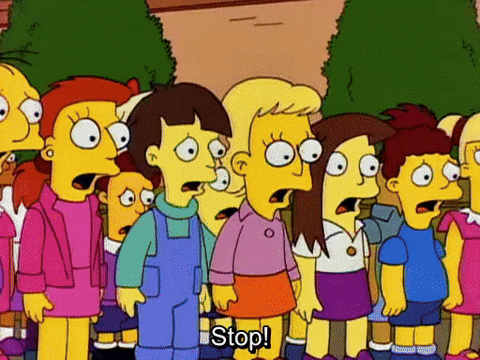 [div style="padding: 20px; background-color: #ffffff; border-radius: 10px; box-shadow: 0px 2px 4px 1px #aaa;"][div style="font-family: arial, helvetica; font-weight: bold; border-bottom: 1px dotted #999; padding-bottom: 8px;"]
[font size="8"]UFO Scouting: How Is This Still A Thing?

[br] [/font] [br]

It's time once again to ask:




This week – UFO scouting. How is this still a thing? Last week a group with about 500,000 subscribers on Facebook announced a plan to storm the top secret base outside of Las Vegas, Nevada known as Area 51 searching for signs of extra terrestrial life. Yes, this is still a thing. And yes, this is still a thing after the CIA famously declassified a number of documents back in 2013 showing a lot of the myths surrounding Area 51 were in fact, a steaming load of bullshit. But let's not forget that we are currently living in the post information age, where facts don't matter and only outrage does. So just how outraged are people about the possibility that extraterrestrial life exists in the base made famous by conspiracy theorists and tin foil hat enthusiasts?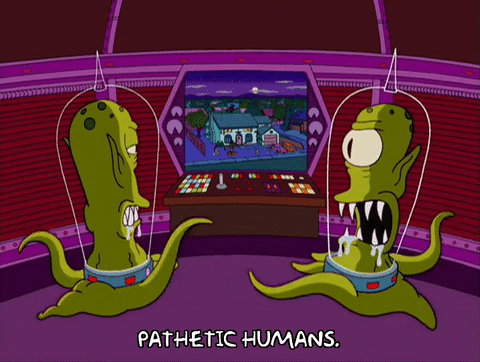 Yes, somewhere between 200,000 – 500,000 people are planning on storming Area 51 to look for signs of alien life. But their rationality surprisingly is not wrong – if 250,000 people show up, they can't all be arrested! It's true, we heard a guy on TV say that once. And by the way if you are one of those people who plan on storming Area 51, maybe don't announce your plans 2 months in advance, because it gives the military time to get ready.





Yeah maybe the message that they're sending is "don't fuck with the military". Do you hear that alien hunters? Do you? Well they didn't get that memo. They also didn't get the memo about how stupid their plan actually is and got mocked incessantly for it. So does the group still plan to go through this very poorly thought out plan? Probably.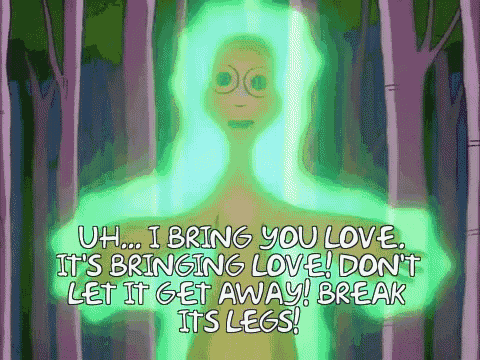 In fact this event was over a year in planning since Harvard researchers have spotted a comet hurling through space called "Oumuamua". That reunited interests in scouting for aliens and the planned raid on Area 51. But is it a dumb idea? Yes. Will the military be ready for them? Absolutely. Really people, it's just a comet. Not something that's definitive proof of aliens existing. This is 2019 though, facts don't matter, only outrage does.,






Except that it isn't. So mistaking a comet and carrying out a poorly planned raid a heavily guaraded US military base. That's enough to make you ask – UFO scouting:





[div style="padding: 20px; background-color: #ffffff; border-radius: 10px; box-shadow: 0px 2px 4px 1px #aaa;"][div style="font-family: arial, helvetica; font-weight: bold; border-bottom: 1px dotted #999; padding-bottom: 8px;"]
[font size="8"]People Are Dumb

[br] [/font] [br]

Oh come on, Athens, remember when conspiracy theories used to be about fun stuff like aliens and Bigfoot? Hey, we remember! And speaking of which - oh that's right - it's time for People Are Dumb!



Of course you know by now that people are people and people are dumb. And I always love these stories because they are batshit crazy and I feel like they could happen to anybody. Well, really, anybody plus a heavy dose of crystal meth. I want to start with this story out of Clay County, Missouri. So if you're a wanted criminal and you're trying to hide from the cops. Well, in what seems like an outrageously cartoonish way that he was discovered by the cops. That's right – he farted! And it was fart that seemed like it was something out of the movie Stepbrothers.





I love that even the cops were having some fun with this one. And speaking of dumb ways that people were found out by the cops, this next story is out of Guthrie, Oklahoma. And I have a lot of questions about this one. I get where they can get a rattlesnake and the Kentucky Deluxe… wait a minute, who the fuck drinks Kentucky Deluxe? I mean was Thunderbird too expensive? Anyway – where do you get uranium from? And what were they planning to do with it? Power the flux capacitor?





Yeah when you power this thing with ridiculously cheap Z-grade booze and enriched uranium, you're gonna see some serious shit! A lot of stupid people and cops this week. For our next story we go to the land down under – Australia for this one. Yes, stupid people are not just limited to Florida, they are all around us! Well, if you're just learning how to drive, maybe don't tell the cops that you're just blowing smoke – both literally and figuratively!






Next up, we go to of course the Sunshine State, which never fails to disappoint and they always bring the crazy extra hard. And this one started out as what should have been a good deed but has a really ugly side to it, and it could end disastrously. Honestly, I really hope that this waitress takes these two to court and scores big time. Maybe the restaurant too.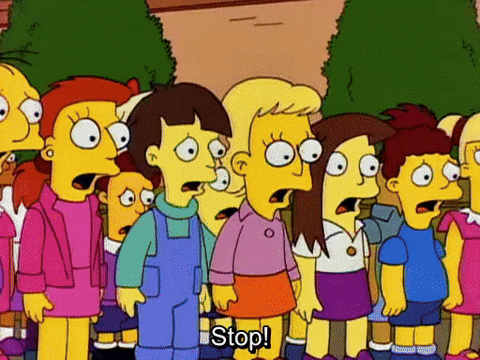 Hey I can't get a flight home so let's saddle him with some crippling debt! Really, this story can go straight to hell. Next up, dumb professors! Yes, that may be a first here for People Are Dumb. And this story takes place in Nova Scotia. Yes, that's in Canada don't you know? Well, this might be a very strange request and probably should get you fired for it.






Ha ha, I love Lego Batman. Finally this week for People Are Dumb – dumb superheroes! Yes, Captain America went full Thor on an unsuspecting victim and I can't imagine that ending well. At least the Hulk wasn't there or things might have got really ugly.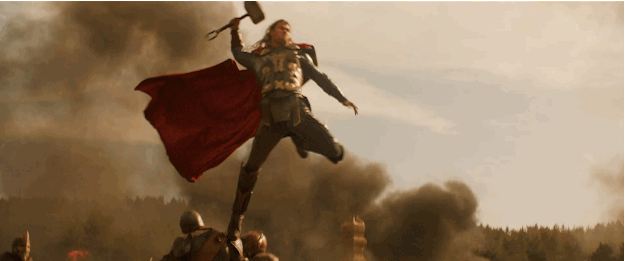 That's it this week for:




[div style="padding: 20px; background-color: #ffffff; border-radius: 10px; box-shadow: 0px 2px 4px 1px #aaa;"][div style="font-family: arial, helvetica; font-weight: bold; border-bottom: 1px dotted #999; padding-bottom: 8px;"]
[font size="8"]Keeping Up With The Candidates Episode 1: The Almost-Rans

[br] [/font] [br]



Hey everyone! This is our official Top 10 voters' guide for the 2020 MOTHER OF ELECTIONS TO END ALL ELECTIONS: THIS TIME IT'S PERSONAL!!! So what we decided to do for this segment is that there's a whopping 24 candidates running to hopefully unseat Donald Trump in the 2020 election. And we wanted to give you our perspective on all 24 of the candidates running. Plus a few others in other local and regional elections that you need to know about thrown in for good measure and all the ups and downs, the poll numbers, and of course the precious 270 votes needed to win the Electoral College. And by the way, we are going to try and make this as unbiased as possible. Since this is our first week we're going to tell you about the candidates that didn't quite make it. The drop outs. But there's already going to be a whole lot of candidates that are going to dropout before the election and things are already going to get ugly.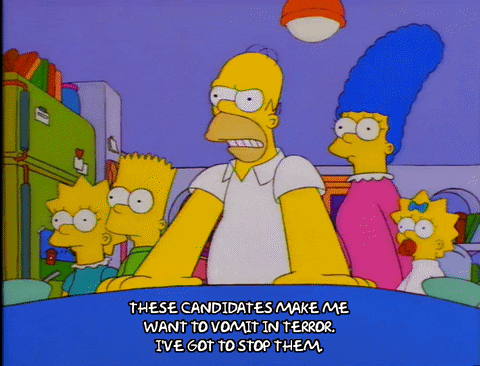 No no, no need to terror vomit just yet. Yes of course Eric Swalwell has said that he's thinking about dropping out of the election. But let's focus on why he's running for a bit. Swalwell was the absolute biggest longshot don't get us wrong but he definitely had good intentions of running for the highest office in the land.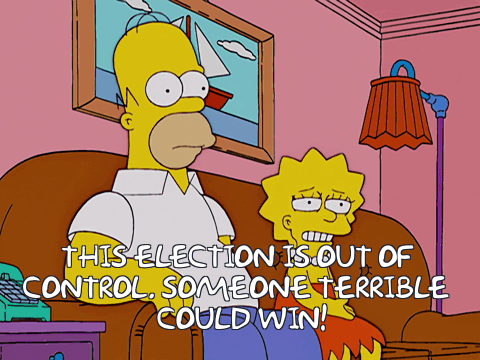 Well, hopefully not! I mean we are just barely beginning the primary season and you just know that someone is contemplating on forming an exploratory committee to join the fray. But what else do we have to look forward to in the election to come? It's going to be a category 5 shit storm and there will plenty of shit flying at you from every single angle. Especially when there's that one guy who's the odd man out.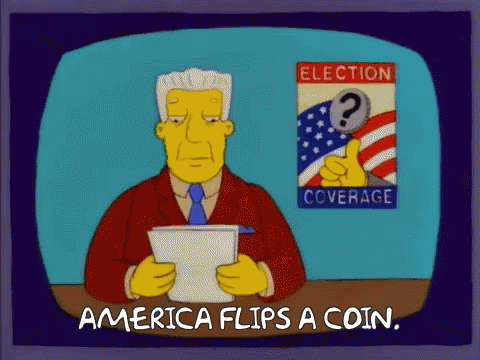 And hopefully this coin will land on the right side of history and leave the racists and sexists to the dust bin where they belong. So far even with the first casualty of the 2020 season, which by November 6th, 2020, is going to seem like a complete eternity away, is probably going to last an eternity. But some good news about our friend Eric Swalwell is that he is not backing down: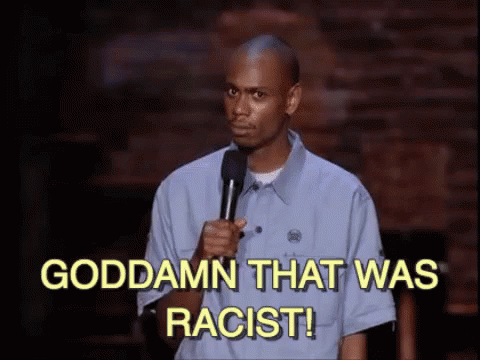 [font size="4"]Report Card:[/font]

Key Issues: Guns, Campaign Finance Reform
Target Demographic: Millenials
Probability Rating: 15:1
Likelihood Of Going Far In Election: Already Dropped Out

Overall Grade: B+

[font size="4"]Next Week:[/font]

Next week for Episode 2, we're going to check in with the Alabama Senate candidates, and whew, they have some batshit crazy ones running!


[font size="8"]And Now This:[/font]
[font size="8"]Bastille[/font]

Ladies and gentlemen, returning to the show, is the first band we ever featured on the Top 10. Their latest album is called "Doom Days", you can see them live on tour this September and October. Playing their song "Quarter Past Midnight", give it up for Bastille!!!





Thank you University Of Georgia! This was a great stop for our first stop of the tour. We're off to Gainsville and the University Of Florida next with the Wheel Of Corruption! See you next week!


Credits

Host: Initech
Top 10 Conservative Idiots Recorded In Front Of Live Audience At: University Of Georgia, Athens, GA
Holy Shit Gospel Choir: University Of Georgia Choir Club, Athens, GA
Images: All images copyright belongs to respective copyright holders.
Videos: All videos copyright belongs to respective copyright holders
Articles: All article content copyright belongs to respective copyright holders
Writing: Top 10 Writing Department
Graphics: Top 10 Graphics Department
Research: Top 10 Research Department
Lighting & Stage Props: Top 10 Lighting Department
Legal: Top 10 Legal Department
Advertising: Top 10 Advertising Department
HR: Top 10 Human Resources Department
Initech's Wardrobe Provided By: JAB Inc.
Wheel Of Corruption By: Studio 1 Stage Props, Burbank, CA
Bastille Appear Courtesy Of: Virgin Records EMI
Management: Initech Productions, CCC Management
Follow The Top 10 On Twitter at: @10Idiots
New! Follow The Holy Church Of The Top 10 On Twitter: @churchoftop10
Questions? Comments? Complaints? Hate mail? E-mail The Top 10 at: Top10ConIdiots@gmail.com



Initech Productions: Yes, We Got The Memo


0 replies, 362 views