Mon Jun 24, 2019, 09:17 PM
Demovictory9 (6,906 posts)
US Agency seeks homeowners that will allow dead whales to rot on their private beaches
US agency seeks 'hosts' for rotting whales amid die-off
PORTLAND, Ore. (AP) — So many gray whales are dying off the U.S. West Coast that scientists and volunteers dealing with the putrid carcasses have an urgent request for coastal residents: Lend us your private beaches so these ocean giants can rot in peace.
The number of dead whales washing ashore in Washington state alone — 29 as of this week — means almost every isolated public beach has been used. Authorities are now scrambling to find remote stretches of sand that are privately owned, with proprietors who don't mind hosting a rotting creature that's bigger than a school bus and has a stench to match its size.
"The preferred option is, at all times, that they just be allowed to decompose naturally," said John Calambokidis, a research biologist with the Olympia, Washington-based Cascadia Research. "But it gets harder and harder to find locations where they can rot without creating a problem. This is a new wrinkle."
At least 81 gray whale corpses have washed ashore in California, Oregon, Washington and Alaska since Jan. 1. If tallies from Mexico and Canada are added, the number of stranded gray whales reaches about 160 and counting,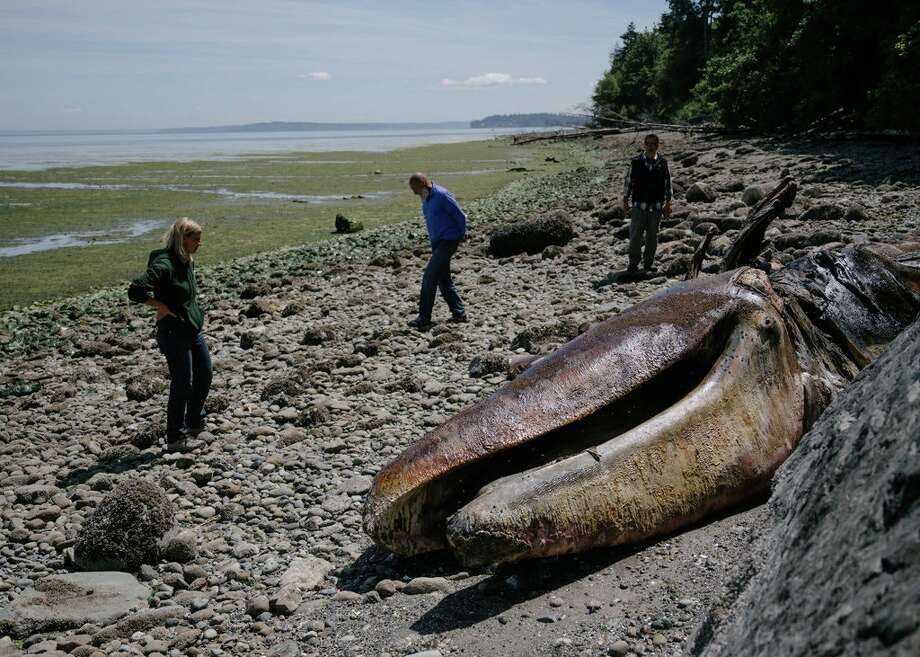 The first private-beach owners to respond, a Washington state couple, received their carcass earlier this month. Volunteers with the so-called "stranding network" — a coalition of nonprofits, research institutions and government agencies — attached a rope to the dead whale's tail and used a motorboat to tow it 3 miles (4.8 kilometers) along the coast to the couple's beach, where they anchored it to tree stumps.
Mario Rivera and his veterinarian wife, Stefanie Worwag, asked their neighbor's permission first and are using copious amounts of lime to speed decomposition and reduce the stench. They visit the carcass daily and consider it a scientific opportunity.
"It's decomposing nicely. There've been a couple of days this week when I was out there mowing and I was like, 'Oooph,'" Rivera said of smell from the 40-foot (12-meter) adult male whale sitting 150 yards (137 meters) from his house.
n this May 6, 2019 file photo, Duat Mai stands atop a dead whale at Ocean Beach in San Francisco. Federal officials are asking waterfront landowners in western Washington to volunteer their properties to be the final resting place for dead gray whales. The National Oceanic and Atmospheric Administration Fisheries says so many gray whale carcasses have washed up this year they've run out of locations where they can be left to decompose.
"But it's only temporary. It's only going to be smelling for about a month — and after that, the smell's gone."
https://www.sfgate.com/news/science/article/Rot-in-peace-Sites-lacking-for-whale-corpses-14027139.php#photo-17689045
8 replies, 409 views
Replies to this discussion thread
| | | | |
| --- | --- | --- | --- |
| 8 replies | Author | Time | Post |
| US Agency seeks homeowners that will allow dead whales to rot on their private beaches (Original post) | Demovictory9 | Jun 24 | OP |
| | captain queeg | Jun 24 | #1 |
| | herding cats | Jun 25 | #5 |
| | Demovictory9 | Jun 25 | #7 |
| | Retrograde | Jun 25 | #8 |
| | pansypoo53219 | Jun 24 | #2 |
| | Demovictory9 | Jun 25 | #3 |
| | Control-Z | Jun 25 | #4 |
| | ProudLib72 | Jun 25 | #6 |
---
Response to Demovictory9 (Original post)
Mon Jun 24, 2019, 10:06 PM
captain queeg (419 posts)
1. They could do like an Oregon community back in the 70s and dynamite it
I kid you not, don't remember the town, I think you can find it in YouTube or something. Some geniuses decided to blow up a rotting whale carcass. Results were what any person of reasonable intelligence would foresee. Rotten chunks of blubber spread for hundreds of yards. I suppose the remains afterwards would have decomposed faster, but what a mess.
---
Response to captain queeg (Reply #1)
Tue Jun 25, 2019, 12:31 AM
herding cats (13,933 posts)
5. Video of the event.
https://m.
In my best Red Foreman voice: Dumbasses!
🤣🤣
---
Response to herding cats (Reply #5)
Tue Jun 25, 2019, 12:40 AM
Demovictory9 (6,906 posts)
7. lol
---
Response to captain queeg (Reply #1)
Tue Jun 25, 2019, 01:31 AM
Retrograde (6,126 posts)
8. Florence, OR
I spent a night there. A rather nice little town when it's not raining whale. Good seafood and a good pub.
---
Response to Demovictory9 (Original post)
Mon Jun 24, 2019, 11:11 PM
pansypoo53219 (16,816 posts)
2. should tow it out to sea. BBC earh showed what happens to a dead whale in the ocean. feeds a lot of
---
Response to pansypoo53219 (Reply #2)
Tue Jun 25, 2019, 12:11 AM
Demovictory9 (6,906 posts)
3. agreed. dont know why the cant sink it way out to sea
---
Response to pansypoo53219 (Reply #2)
Tue Jun 25, 2019, 12:26 AM
Control-Z (14,701 posts)
4. My first thought.
The only reason I can think of for not dropping them out at sea is possibly the cost.
---
Response to Demovictory9 (Original post)
Tue Jun 25, 2019, 12:34 AM
ProudLib72 (17,271 posts)
6. I know it's a long way, but I suggest Mar-a-lago
Plenty of beach real estate there. Plus, there is already a rotting whale who visits when he can. A few hundred more isn't going to make the stench any worse.