Mon Jun 24, 2019, 08:20 AM
Dennis Donovan (10,046 posts)
71 years Ago Today; USSR closes all roads, rail lines into West Berlin-sparking the Berlin Airlift
https://en.wikipedia.org/wiki/Berlin_Blockade
Berliners watch a Douglas C-54 Skymaster land at Tempelhof Airport, 1948
The Berlin Blockade (24 June 1948 – 12 May 1949) was one of the first major international crises of the Cold War. During the multinational occupation of post–World War II Germany, the Soviet Union blocked the Western Allies' railway, road, and canal access to the sectors of Berlin under Western control. The Soviets offered to drop the blockade if the Western Allies withdrew the newly introduced Deutsche Mark from West Berlin.
The Western Allies organised the
Berlin airlift (26 June 1948–30 September 1949
) to carry supplies to the people of West Berlin, a difficult feat given the size of the city's population. Aircrews from the United States Air Force, the Royal Air Force, the French Air Force, the Royal Canadian Air Force, the Royal Australian Air Force, the Royal New Zealand Air Force, and the South African Air Force flew over 200,000 sorties in one year, providing to the West Berliners up to 12,941 tons of necessities in a day, such as fuel and food, with the original plan being to lift 3,475 tons of supplies. However, by the end of the airlift, that number was often met twofold. The Soviets did not disrupt the airlift for fear this might lead to open conflict, even though they far outnumbered the allies in Germany and especially Berlin.
The first blockade runners were RAF flights made in support of British military personal stationed in the city. The UK-US then began a joint operation in support of the entire city. By the spring of 1949, the airlift was clearly succeeding, and by April it was delivering more cargo than had previously been transported into the city by rail. On 12 May 1949, the USSR lifted the blockade of West Berlin, although for a time the U.S., U.K and France continued to supply the city by air anyway because they were worried that the Soviets were simply going to resume the blockade and were only trying to disrupt western supply lines. The Berlin Blockade served to highlight the competing ideological and economic visions for postwar Europe and was the first major multinational skirmish of the cold war.
Airlift begins
Loading milk on a West Berlin-bound aircraft
On 24 June 1948 LeMay appointed Brigadier General Joseph Smith, headquarters commandant for USAFE at Camp Lindsey, as the Provisional Task Force Commander of the airlift. Smith had been chief of staff in LeMay's B-29 command in India during World War II and had no airlift experience. On 25 June 1948 Clay gave the order to launch Operation Vittles. The next day 32 C-47s lifted off for Berlin hauling 80 tons of cargo, including milk, flour, and medicine. The first British aircraft flew on 28 June. At that time, the airlift was expected to last three weeks.
On 27 June, Clay cabled William Draper with an estimate of the current situation:
I have already arranged for our maximum airlift to start on Monday [June 28]. For a sustained effort, we can use seventy Dakotas [C-47s]. The number which the British can make available is not yet known, although General Robertson is somewhat doubtful of their ability to make this number available. Our two Berlin airports can handle in the neighborhood of fifty additional airplanes per day. These would have to be C-47s, C-54s or planes with similar landing characteristics, as our airports cannot take larger planes. LeMay is urging two C-54 groups. With this airlift, we should be able to bring in 600 or 700 tons a day. While 2,000 tons a day is required in normal foods, 600 tons a day (utilizing dried foods to the maximum extent) will substantially increase the morale of the German people and will unquestionably seriously disturb the Soviet blockade. To accomplish this, it is urgent that we be given approximately 50 additional transport planes to arrive in Germany at the earliest practicable date, and each day's delay will of course decrease our ability to sustain our position in Berlin. Crews would be needed to permit maximum operation of these planes.
— Lucius D. Clay, June 1948
By 1 July, the system was getting under way. C-54s were starting to arrive in quantity, and Rhein-Main Air Base became exclusively a C-54 hub, while Wiesbaden retained a mix of C-54s and C-47s. Aircraft flew northeast through the American air corridor into Tempelhof Airport, then returned due west flying out on through the British air corridor. After reaching the British Zone, they turned south to return to their bases.
Germans watching supply planes at Tempelhof
The British ran a similar system, flying southeast from several airports in the Hamburg area through their second corridor into RAF Gatow in the British Sector, and then also returning out on the center corridor, turning for home or landing at Hanover. However, unlike the Americans, the British also ran some round-trips, using their southeast corridor. To save time many flights didn't land in Berlin, instead air dropping material, such as coal, into the airfields. On 6 July the Yorks and Dakotas were joined by Short Sunderland flying boats. Flying from Finkenwerder on the Elbe near Hamburg to the Havel river next to Gatow, their corrosion-resistant hulls suited them to the particular task of delivering baking powder and other salt into the city.
Accommodating the large number of flights to Berlin of dissimilar aircraft with widely varying flight characteristics required close co-ordination. Smith and his staff developed a complex timetable for flights called the "block system": three eight-hour shifts of a C-54 section to Berlin followed by a C-47 section. Aircraft were scheduled to take off every four minutes, flying 1,000 feet higher than the flight in front. This pattern began at 5,000 feet and was repeated five times. (This system of stacked inbound serials was later dubbed "the ladder." )
During the first week the airlift averaged only ninety tons a day, but by the second week it reached 1,000 tons. This likely would have sufficed had the effort lasted only a few weeks, as originally believed. The Communist press in East Berlin ridiculed the project. It derisively referred to "the futile attempts of the Americans to save face and to maintain their untenable position in Berlin."
Despite the excitement engendered by glamorous publicity extolling the work (and over-work) of the crews and the daily increase of tonnage levels, the airlift was not close to being operated to its capability because USAFE was a tactical organisation without any airlift expertise. Maintenance was barely adequate, crews were not being efficiently used, transports stood idle and disused, necessary record-keeping was scant, and ad hoc flight crews of publicity-seeking desk personnel were disrupting a business-like atmosphere. This was recognised by the United States National Security Council at a meeting with Clay on 22 July 1948, when it became clear that a long-term airlift was necessary. Wedemeyer immediately recommended that the deputy commander for operations of the Military Air Transport Service (MATS), Maj. Gen. William H. Tunner, command the operation. When Wedemeyer had been the commander of US forces in China during World War II, Tunner, as commander of the India-China Division of the Air Transport Command, had reorganised the Hump airlift between India and China, doubling the tonnage and hours flown. USAF Chief of Staff Hoyt S. Vandenberg endorsed the recommendation.
Black Friday
On 28 July 1948, Tunner arrived in Wiesbaden to take over the operation. He revamped the entire airlift operation, reaching an agreement with LeMay to form the Combined Air Lift Task Force (CALTF) to control both the USAFE and RAF lift operations from a central location, which went into effect in mid-October 1948. MATS immediately deployed eight squadrons of C-54s—72 aircraft to Wiesbaden and Rhein-Main Air Base to reinforce the 54 already in operation, the first by 30 July and the remainder by mid-August, and two-thirds of all C-54 aircrew worldwide began transferring to Germany to allot three crews per aircraft.
A C-74 Globemaster plane at Gatow airfield on 19 August with more than 20 tons of flour from the United States
Two weeks after his arrival, on 13 August, Tunner decided to fly to Berlin to grant an award to Lt. Paul O. Lykins, an airlift pilot who had made the most flights into Berlin up to that time, a symbol of the entire effort to date. Cloud cover over Berlin dropped to the height of the buildings, and heavy rain showers made radar visibility poor. A C-54 crashed and burned at the end of the runway, and a second one landing behind it burst its tires while trying to avoid it. A third transport ground looped after mistakenly landing on a runway under construction. In accordance with the standard procedures then in effect, all incoming transports including Tunner's, arriving every three minutes, were stacked above Berlin by air traffic control from 3,000 feet (910 m) to 12,000 feet (3,700 m) in bad weather, creating an extreme risk of mid-air collision. Newly unloaded planes were denied permission to take off to avoid that possibility and created a backup on the ground. While no one was killed, Tunner was embarrassed that the control tower at Tempelhof had lost control of the situation while the commander of the airlift was circling overhead. Tunner radioed for all stacked aircraft except his to be sent home immediately. This became known as "Black Friday," and Tunner personally noted it was from that date that the success of the airlift stemmed.
As a result of Black Friday, Tunner instituted a number of new rules; instrument flight rules (IFR) would be in effect at all times, regardless of actual visibility, and each sortie would have only one chance to land in Berlin, returning to its air base if it missed its approach, where it was slotted back into the flow. Stacking was completely eliminated. With straight-in approaches, the planners found that in the time it had taken to unstack and land nine aircraft, 30 aircraft could be landed, bringing in 300 tons. Accident rates and delays dropped immediately. Tunner decided, as he had done during the Hump operation, to replace the C-47s in the airlift with C-54s or larger aircraft when it was realised that it took just as long to unload a 3.5-ton C-47 as a 10-ton C-54. One of the reasons for this was the sloping cargo floor of the "taildragger" C-47s, which made truck loading difficult. The tricycle geared C-54's cargo deck was level, so that a truck could back up to it and offload cargo quickly. The change went into full effect after 28 September 1948.
Having noticed on his first inspection trip to Berlin on 31 July that there were long delays as the flight crews returned to their aircraft after getting refreshments from the terminal, Tunner banned aircrew from leaving their aircraft for any reason while in Berlin. Instead, he equipped jeeps as mobile snack bars, handing out refreshments to the crews at their aircraft while it was being unloaded. Airlift pilot Gail Halvorsen later noted, "he put some beautiful German Fräuleins in that snack bar. They knew we couldn't date them, we had no time. So they were very friendly." Operations officers handed pilots their clearance slips and other information while they ate. With unloading beginning as soon as engines were shut down on the ramp, turnaround before takeoff back to Rhein-Main or Wiesbaden was reduced to thirty minutes.
An RAF Short Sunderland moored on the Havel near Berlin unloading salt during the airlift
To maximise the utilisation of a limited number of aircraft, Tunner altered the "ladder" to three minutes and 500 feet (150 m) of separation, stacked from 4,000 feet (1,200 m) to 6,000 feet (1,800 m). Maintenance, particularly adherence to 25-hour, 200-hour, and 1,000-hour inspections, became the highest priority and further maximised utilisation. Tunner also shortened block times to six hours to squeeze in another shift, making 1,440 (the number of minutes in a day) landings in Berlin a daily goal. His purpose, illustrating his basic philosophy of the airlift business, was to create a "conveyor belt" approach to scheduling that could be sped up or slowed down as situations might dictate. The most effective measure taken by Tunner, and the most initially resisted until it demonstrated its efficiency, was creation of a single control point in the CALTF for controlling all air movements into Berlin, rather than each air force doing its own.
The Berliners themselves solved the problem of the lack of manpower. Crews unloading and making airfield repairs at the Berlin airports were made up of almost entirely by local civilians, who were given additional rations in return. As the crews increased in experience, the times for unloading continued to fall, with a record set for the unloading of an entire 10-ton shipment of coal from a C-54 in ten minutes, later beaten when a twelve-man crew unloaded the same quantity in five minutes and 45 seconds.
C-54s stand out against the snow at Wiesbaden Air Base during the Berlin Airlift in the Winter of 1948–49
By the end of August 1948, after two months, the Airlift was succeeding; daily operations flew more than 1,500 flights a day and delivered more than 4,500 tons of cargo, enough to keep West Berlin supplied. From January 1949 onwards, 225 C-54s (40% of USAF and USN Skymasters worldwide) were devoted to the lift. Supplies improved to 5,000 tons a day.
"Operation Little Vittles"
US Air Force pilot Gail Halvorsen, who pioneered the idea of dropping candy bars and bubble gum with handmade miniature parachutes, which later became known as "Operation Little Vittles"
Gail Halvorsen
, one of the many Airlift pilots, decided to use his off-time to fly into Berlin and make movies with his hand-held camera. He arrived at Tempelhof on 17 July 1948 on one of the C-54s and walked over to a crowd of children who had gathered at the end of the runway to watch the aircraft. He introduced himself and they started to ask him questions about the aircraft and their flights. As a goodwill gesture, he handed out his only two sticks of Wrigley's Doublemint Gum. The children quickly divided up the pieces as best they could, even passing around the wrapper for others to smell. He was so impressed by their gratitude and that they didn't fight over them, that he promised the next time he returned he would drop off more. Before he left them, a child asked him how they would know it was him flying over. He replied, "I'll wiggle my wings."
A Douglas C-54 Skymaster dropping candy over Berlin, c. 1948/49
The next day on his approach to Berlin, he rocked the aircraft and dropped some chocolate bars attached to a handkerchief parachute to the children waiting below. Every day after that, the number of children increased and he made several more drops. Soon, there was a stack of mail in Base Ops addressed to "Uncle Wiggly Wings", "The Chocolate Uncle" and "The Chocolate Flier". His commanding officer was upset when the story appeared in the news, but when Tunner heard about it, he approved of the gesture and immediately expanded it into "Operation Little Vittles". Other pilots participated, and when news reached the US, children all over the country sent in their own candy to help out. Soon, major candy manufacturers joined in. In the end, over twenty three tons of candy were dropped on Berlin and the "operation" became a major propaganda success. German children christened the candy-dropping aircraft "raisin bombers".
End of the blockade
Berlin Airlift Monument in Berlin-Tempelhof with inscription "They gave their lives for the freedom of Berlin in service of the Berlin Airlift 1948/49"
On 15 April 1949, the Soviet news agency TASS reported a willingness by the Soviets to lift the blockade. The next day, the US State Department stated that the "way appears clear" for the blockade to end. Soon afterwards, the four powers began serious negotiations, and a settlement was reached on Western terms. On 4 May 1949, the Allies announced an agreement to end the blockade in eight days.
Berlin Airlift Monument in Berlin-Tempelhof, displaying the names of the 39 British and 31 American airmen who lost their lives during the operation. Similar monuments can be found at the military airfield of Wietzenbruch near the former RAF Celle and at Rhein-Main Air Base.
The Soviet blockade of Berlin was lifted at one minute after midnight on 12 May 1949. A British convoy immediately drove through to Berlin, and the first train from West Germany reached Berlin at 5:32 A.M. Later that day, an enormous crowd celebrated the end of the blockade. General Clay, whose retirement had been announced by US President Truman on 3 May 1949, was saluted by 11,000 US soldiers and dozens of aircraft. Once home, Clay received a ticker tape parade in New York City, was invited to address the US Congress, and was honoured with a medal from President Truman.
Nevertheless, supply flights to Berlin continued for some time to build up a comfortable surplus, though night flying and then weekend flights could be eliminated once the surplus was large enough. By 24 July 1949, three months' worth of supplies had been amassed, ensuring that there was ample time to restart the Airlift if needed.
On 18 August 1949, Flt Lt Roy Mather DFC AFC and his crew of Flt Lt Roy Lewis Stewart Hathaway AFC, Flt Lt Richardson and Royston William Marshall AFM of 206 squadron, flew back to Wunstorf for the 404th time during the blockade, the record number of flights for any pilot of any nationality, either civilian or military.
The Berlin Airlift officially ended on 30 September 1949, after fifteen months. In total, the USAF delivered 1,783,573 tons and the RAF 541,937 tons, totalling 2,326,406 tons, nearly two-thirds of which was coal, on 278,228 flights to Berlin. The Royal Australian Air Force delivered 7,968 tons of freight and 6,964 passengers during 2,062 sorties. The C-47s and C-54s together flew over 92 million miles in the process, almost the distance from Earth to the Sun. At the height of the Airlift, one plane reached West Berlin every thirty seconds.
Pilots came from the United States, United Kingdom, Australia, Canada, New Zealand, and South Africa.
A total of 101 fatalities were recorded as a result of the operation, including 40 Britons and 31 Americans, mostly due to non-flying accidents. One Royal Australian Air Force member was killed in an aircraft crash at Lubeck while attached to No. 27 Squadron RAF. Seventeen American and eight British aircraft crashed during the operation.
The cost of the Airlift was shared between the US, UK, and Germany. Estimated costs range from approximately US$224 million to over US$500 million (equivalent to approximately $2.36 billion to $5.27 billion now).
</snip>
Colonel Halvorsen is still with us, at 98!
https://abcnews.go.com/US/berlin-airlift-candy-bomber-dropping-sweets-sky-70/story?id=56823227
Berlin Airlift 'Candy Bomber' still dropping sweets from the sky after 70 years
A World War II veteran who has been delivering sweet surprises from the sky for 70 years continues to brings smiles to the faces of children as the "Candy Bomber."
"There's something magic[al] about a chocolate bar come floatin' out of the sky," Col. Gail "Hal" Halvorsen told ABC News. "[It's] tied on an actual parachute. Hopefully, some kids appreciate it."
Halvorsen, 97, started his candy drops when he was a U.S. pilot for the Allied forces during the Berlin Airlift. In 1948, the Russians cut off food and supplies to West Berlin, Germany. The United States and its allies started airdropping packages filled with flour, milk, meat and even coal to the starving city.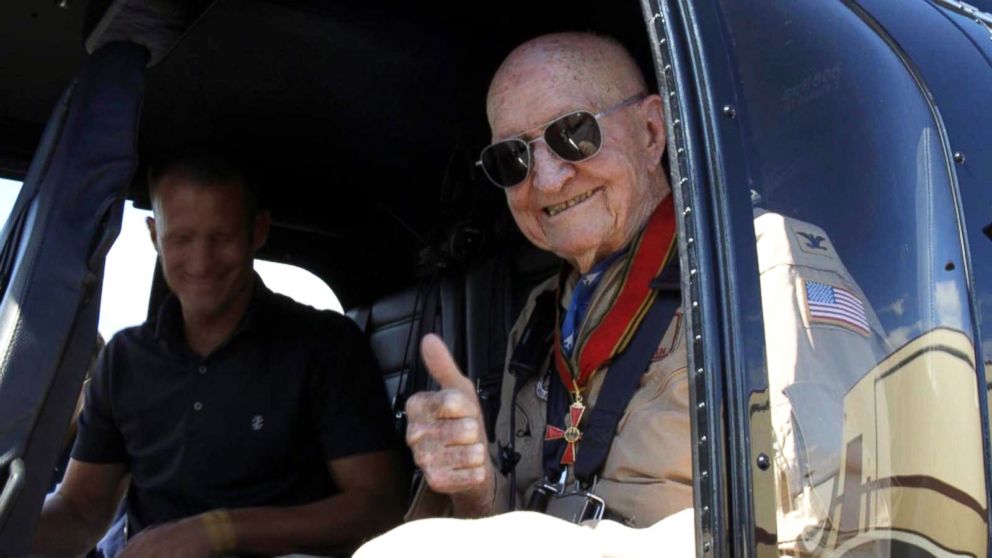 </snip>
9 replies, 494 views
Replies to this discussion thread
| | | | |
| --- | --- | --- | --- |
| 9 replies | Author | Time | Post |
| 71 years Ago Today; USSR closes all roads, rail lines into West Berlin-sparking the Berlin Airlift (Original post) | Dennis Donovan | Jun 24 | OP |
| | Sherman A1 | Jun 24 | #1 |
| | Dennis Donovan | Jun 24 | #3 |
| | MaryMagdaline | Jun 24 | #2 |
| | Dennis Donovan | Jun 24 | #4 |
| | Ilsa | Jun 24 | #5 |
| | Dennis Donovan | Jun 24 | #6 |
| | Ilsa | Jun 24 | #9 |
| | pecosbob | Jun 24 | #7 |
| | Chin music | Jun 24 | #8 |
---
Response to Dennis Donovan (Original post)
Mon Jun 24, 2019, 08:30 AM
Sherman A1 (25,884 posts)
1. A great story of brave folks operating under horrendous
conditions.
---
Response to Sherman A1 (Reply #1)
Mon Jun 24, 2019, 08:45 AM
Dennis Donovan (10,046 posts)
3. "This is who we WERE" - paraphrasing MSNBC's tagline.
---
Response to Dennis Donovan (Original post)
Mon Jun 24, 2019, 08:38 AM
MaryMagdaline (4,111 posts)
2. When the West stood together.
Kudos to the pilots and all the civilians who made it work.
---
Response to MaryMagdaline (Reply #2)
Mon Jun 24, 2019, 08:48 AM
Dennis Donovan (10,046 posts)
4. The stats of what all the aircraft carried is phenomenal!
"...up to 12,941 tons of necessities in a day, such as fuel and food, with the original plan being to lift 3,475 tons of supplies. However, by the end of the airlift, that number was often met twofold."
---
Response to Dennis Donovan (Original post)
Mon Jun 24, 2019, 08:49 AM
Ilsa (52,794 posts)
5. We need an airlift to provide for children in US concentration camps.
Pull-ups, diapers, soaps, toothpaste, toothbrushes, diapers, clean clothes, crayons and coloring books, etc.
---
Response to Ilsa (Reply #5)
Mon Jun 24, 2019, 08:51 AM
Dennis Donovan (10,046 posts)
6. Hmm... I wonder if the airspace over the camps is restricted?
...because that's not a half-bad idea!
---
Response to Dennis Donovan (Reply #6)
Mon Jun 24, 2019, 12:27 PM
Ilsa (52,794 posts)
9. Drones with little hygiene kits to parachute in. :-) nt
---
Response to Dennis Donovan (Original post)
Mon Jun 24, 2019, 09:17 AM
pecosbob (3,665 posts)
7. I always remember being proud of these people.
I hate to admit it, but I'm having trouble remembering the last time I felt proud about my country...
---