Wed May 29, 2019, 04:31 PM
ansible (745 posts)
French Senate Thwarts Macron, Mandates Notre Dame Be Rebuilt Just As It Was Before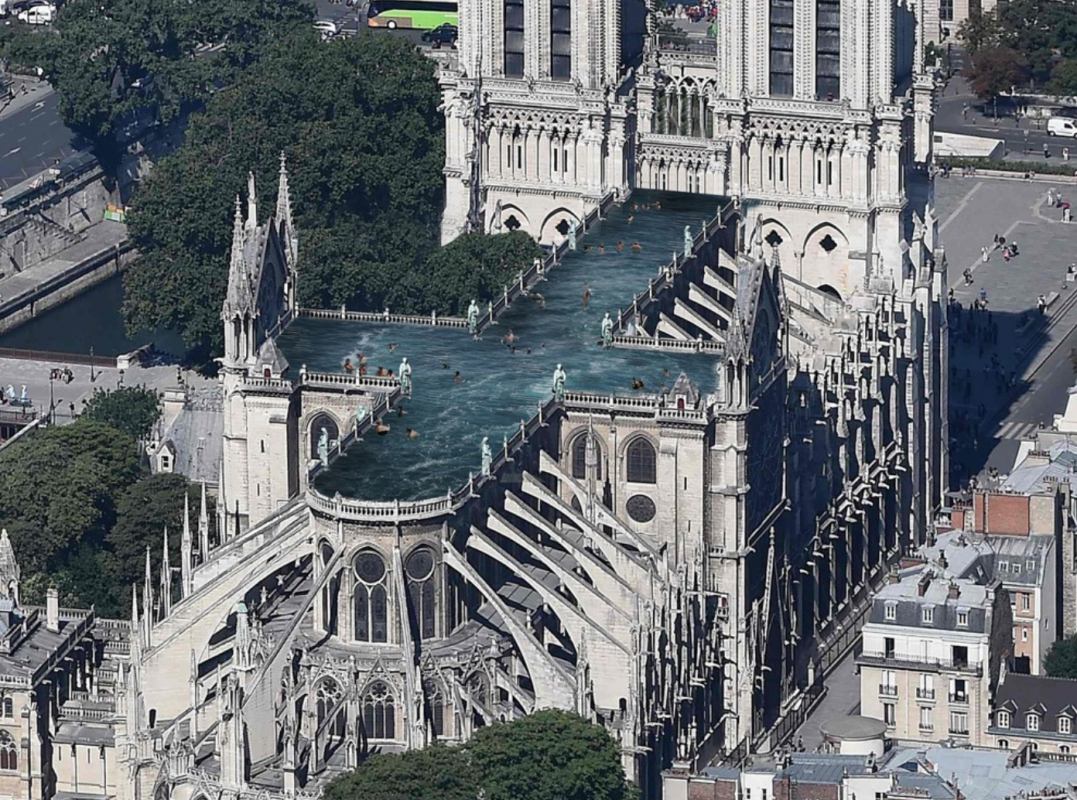 The French Senate issued a pretty decisive backhand to French President Emmanuel Macron over the weekend, squashing the progressive leader's proposal to rebuild the famous Notre Dame Cathedral in a newer, more modern light.
Rebuilding plans for the 800-year-old cathedral, large portions of which burned to the ground in a massive blaze back in April, were rumored to include a host of modern takes, including "a rooftop garden, an 'endless spire' of light and a swimming pool on top of the building," according to The Local. Other new-age designs included a massive glass ceiling and a public park.
While a design plan hadn't yet been selected, Macron had expressed public support for a more contemporary "inventive reconstruction" for the new structure, and had announced an international architectural competition soliciting designs for the massive building's renovation.
The French Senate, however, strongly disagreed – so much so that they passed a restoration bill this week mandating that the historic cathedral must be restored to its "last known visual state."
https://www.mrctv.org/blog/french-senate-thwarts-macron-mandates-notre-dame-be-rebuilt-just-it-was
4 replies, 524 views
Replies to this discussion thread
| | | | |
| --- | --- | --- | --- |
| 4 replies | Author | Time | Post |
| French Senate Thwarts Macron, Mandates Notre Dame Be Rebuilt Just As It Was Before (Original post) | ansible | May 29 | OP |
| | Retrograde | May 29 | #1 |
| | SarasotaDem | May 29 | #2 |
| | Mosby | May 29 | #4 |
| | DFW | May 29 | #3 |
---
Response to ansible (Original post)
Wed May 29, 2019, 04:54 PM
Retrograde (6,129 posts)
1. A swimming pool?
It's a good Photoshop, though. Rooftop gardens are currently big, but I wonder what they'll look like after 30-40 years.

IMHO, they should rebuild it as much as possible as the one that burned - minus the spire, which always looked out of place to me. BTW, Notre Dame had several beehives on one of the lower roofs - all of them seem to have survived the fire.
---
Response to ansible (Original post)
Wed May 29, 2019, 05:14 PM
SarasotaDem (150 posts)
2. Cant do it
Not enough timber that large anywhere
Was old growth timber .. Oak I think
---
Response to SarasotaDem (Reply #2)
Wed May 29, 2019, 05:59 PM
Mosby (10,103 posts)
4. the french planted some oak trees 200 years ago
Just for this reason.

Now the lead roof is something else, they would be crazy to use lead again, and given how it melted into the building, the whole structure has been contaminated. I wouldn't step foot in the place after the repairs.
---
Response to ansible (Original post)
Wed May 29, 2019, 05:57 PM
DFW (33,910 posts)
3. They should try their best, anyway
Here in Germany, of course, many towns and monuments were bombed into rubble during the war, including mine. The Germans tried their best from old photos to reconstruct their towns and monuments as close to their historic old appearance as possible. The old towns of Köln and Düsseldorf got a lot of help, and even my small town north of Düsseldorf (its name is Ratingen) got the same treatment. When the Soviet puppet regime collapsed in the East in 1989, Western funds started flowing toward reconstruction of some monuments there as well. When "Bomber Harris" left Dresden's Frauenkirche in ruins in 1945, the so-called "socialists" of the DDR were perfectly happy to leave them that way (conveniently cheap, too). But as soon as they were kicked out, plans for the reconstruction started in the early 1990s and were completed a little over ten years later.

Every effort was made to return the building to its pre-war appearance. If history doesn't allow people to see the original work, it should at least allow people to get an idea of some timeless relics of their culture. I suppose Macron would approve of Old Sturbridge Village being turned into condos and cafés, too (he would probably let the café waiters and waitresses wear colonial garb to keep the tourists happy). We need to leave some things from the past for our children and grandchildren to wonder at, and photos just are NOT enough.