Wed May 15, 2019, 11:09 AM
spanone (112,532 posts)
Trump Is Building Toward War While Alienating All Our Allies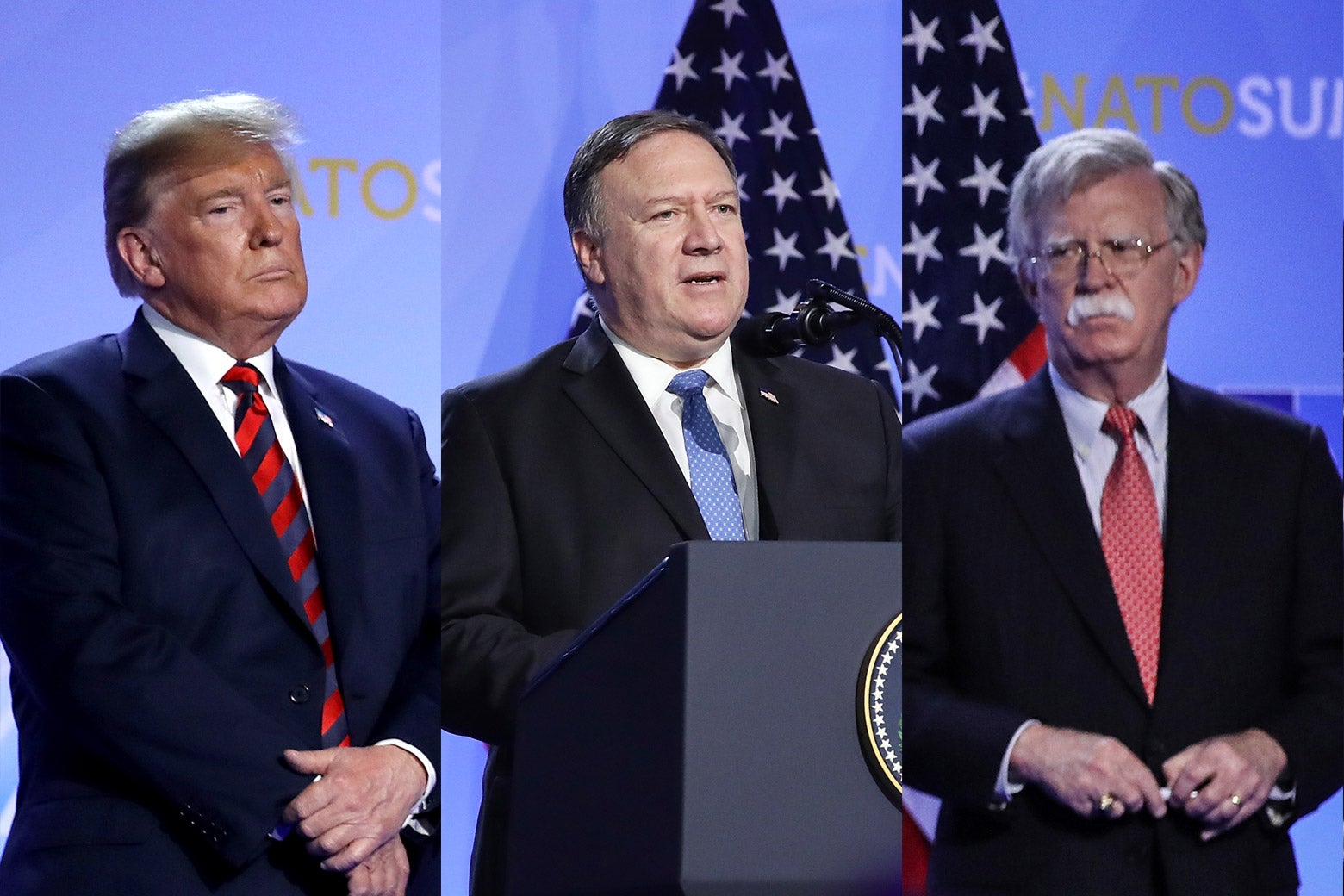 One week ago, National Security Adviser John Bolton seemed to be laying a trap for the leaders of Iran, squeezing them into a corner where they would have no choice but to lash out. Now he seems to be setting the stage to strike back—to topple the regime by force—if and when they take the bait.

The New York Times reported Monday that, at Bolton's request, acting Secretary of Defense Patrick Shanahan presented an updated military plan to send as many as 120,000 troops to the Middle East if Iran attacks U.S. forces or resumes work on the nuclear program that it halted and mostly dismantled four years ago, after signing an accord with the United States and five other nations.

President Donald Trump backed out of the Iran nuclear deal soon after taking office, then reimposed economic sanctions that had been lifted as part of the deal, and then, more recently, applied sanctions on all other nations that continued doing business with Iran—a move that is squeezing Iran's economy and decimating its oil exports.

Trump has also declared Iran's Revolutionary Guard Corps, an elite unit of its military, to be a "foreign terrorist organization," a move that also carries sanctions—the first time anyone has tagged the label onto a government entity. The State Department and the Pentagon had urged Trump not to take this step, fearing backlash against U.S. forces in the region. As if on cue, Iran declared Central Command, the dominant U.S. military force in the region, to be a terrorist organization. If Iran were to attack any of those forces, it would be a self-fulfilling prophecy—and a provocation, or excuse, for the U.S. to strike back.
https://slate.com/news-and-politics/2019/05/iran-trump-bolton-escalation.html
4 replies, 293 views
Replies to this discussion thread
| | | | |
| --- | --- | --- | --- |
| 4 replies | Author | Time | Post |
| Trump Is Building Toward War While Alienating All Our Allies (Original post) | spanone | Wednesday | OP |
| | kimbutgar | Wednesday | #1 |
| | librechik | Wednesday | #2 |
| | C_U_L8R | Wednesday | #3 |
| | comradebillyboy | Wednesday | #4 |
---
Response to spanone (Original post)
Wed May 15, 2019, 11:50 AM
kimbutgar (10,555 posts)
1. He is doing Putin's wishes to alienate us so Russia emerges as the ultimate power
---
Response to kimbutgar (Reply #1)
Wed May 15, 2019, 11:52 AM
librechik (29,357 posts)
2. exactly. All according to plan.
---
Response to spanone (Original post)
Wed May 15, 2019, 12:00 PM
C_U_L8R (30,764 posts)
3. That's a sure way to lose a war.
Trump botches everything he touches.
---
Response to spanone (Original post)
Wed May 15, 2019, 12:21 PM
comradebillyboy (5,282 posts)
4. Remember Pompeo wants to bring on the End Times
Bolton is a crazed warmonger and Trump is the evil dotard. Every thing they touch turns to shit.