Fri Apr 12, 2019, 01:08 PM
niyad (66,765 posts)
The Other Art History: The Forgotten Women of Bauhaus
The Other Art History: The Forgotten Women of Bauhaus
By Jillian Billard
July 13, 2018
The Other Art History: The Forgotten Women of Bauhaus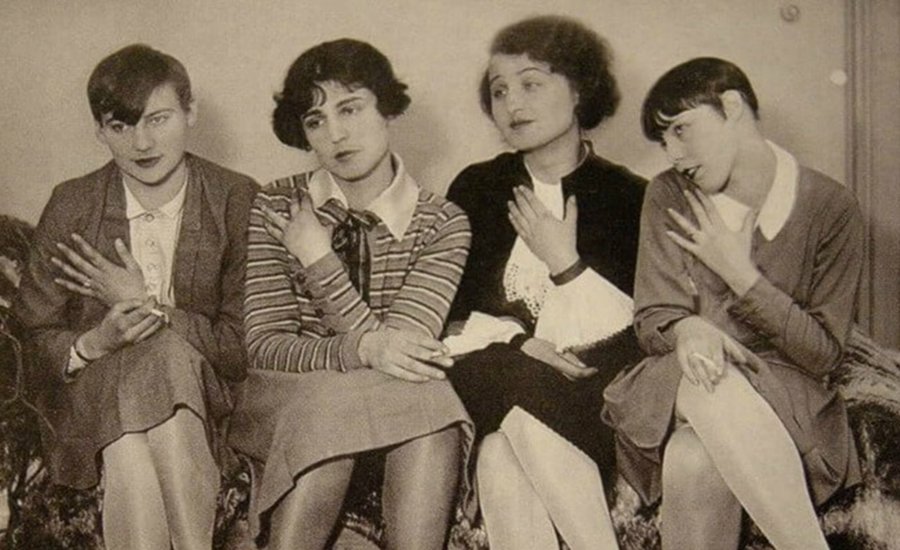 Bauhaus photographers Umbo and Paul Citroen captured the modern women of their day: Untitled (left to right: Alexa von Porewski, Lena Amsel, Rut Landshoff, unknown), before 1929. Berlinische Galerie, Photographic Collection.
When Walter Gropius founded the Bauhaus School of Design in Weimar, Germany in 1919, he stipulated that the school would be open to "any person of good repute, regardless of age or sex." He even went on to clarify that there were to be "no differences between the fairer sex and the stronger sex" (an eyebrow raising statement for sure––but it was 1919 so we'll let it slide). We'll assume that he meant this with good intentions, because to be fair, this was a time period when women couldn't receive a public education in many fields, the arts being one of them.
The central goal of the Bauhaus school was to create a nucleus of interdisciplinary innovation, which, put simply, combined craft and design. Rather than utilizing the traditional model of teacher-student relations, Bauhaus fostered community as the foundation of learning. Part of this idealogy was the integration of women artists in the community. So technically women were allowed to study at the school, however the scope of disciplines they were encouraged to partake in were limited. Gropius famously believed that men and women's brains operated differently––specifically, men had the capacity to think in three dimensions while women did not. Therefore many of the women artists of the Bauhaus movement stuck to practices commonly regarded as "women's work"––textiles and weaving. Men, on the other hand, were encouraged to be architects, sculptors, and painters.
So it's really no surprise that although the Bauhaus movement was largely populated by women, the seminal works that are remembered in art historical retellings are those of Josef Albers, Marcel Breuer, Wassily Kandinsky, and Paul Klee––basically: men. Now we're not discrediting the work of these aforementioned artists, however it's kind of a bummer that when we talk about this major movement in modern art, women are basically written out of the narrative (or if they are mentioned––they're written about as the wives or counterparts of great artists).
In the past decade, (only about 90 years later), it's come to light that these women were not just the plus-ones of great minds, but rather some of the formative artists of the Bauhaus movement themselves. In honor of these long-forgotten artists, we highlighted eight women of the Bauhaus movement whose influence has had lasting effects on contemporary art.
. . . . .
https://www.artspace.com/magazine/art_101/in_depth/the-other-art-history-the-forgotten-women-of-bauhaus-55526
1 replies, 209 views
Replies to this discussion thread
| | | | |
| --- | --- | --- | --- |
| 1 replies | Author | Time | Post |
| The Other Art History: The Forgotten Women of Bauhaus (Original post) | niyad | Friday | OP |
| | Mosby | Friday | #1 |
---
Response to niyad (Original post)
Fri Apr 12, 2019, 04:01 PM
Mosby (9,803 posts)
1. K and R
I think a lot of women artists have been under appreciated, just look at how Mary Cassatt is known (not) in France today. She moved there because she wasn't respected here.