Wed Apr 10, 2019, 05:00 PM
Top 10 Idiots (206 posts)
Top 10 Conservative Idiots #6-14: Collusion Delusion, What's Your Confusion? Edition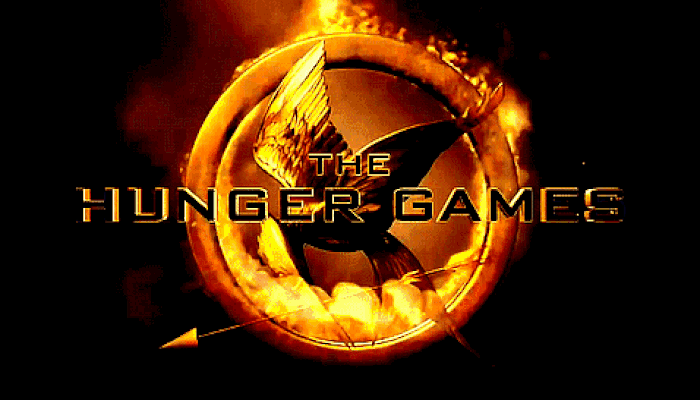 I'm baaaaaaaaaaaaaaaaaaaaaaaaaaaaaaaaaaaaaack!!!! Yes, my pretties! It has been way too long to remember the last time I was on! Happy Trumper Games! Mmm… yes!!! Damn it, Charlie!! How many times have I told you to bring me the good champagne? What? Management says that we can't afford any of it? How dare they! Oh, I'm sorry, I got carried away there. Oh Charlie, come back please! OK, so this week the President simply himself eliminated two important positions. Tribute Nielsen from the 9th District, and Tribute Alles from the 1st District! What? Don't ask me how the Districts work because even I don't know! So how did this all go down? Well, the President quite simply had an urge to fire somebody. And you know that never ends well!





So, let me get this straight. We went from… "Give me your tired, your poor, your huddled masses" to "Country is full! Moose out front should have told you!". So this may have something to do with border security. Or it may not, with the president's seemingly volatile temper, we never know which way this is going to go. But it's impossible to restrain the President!






And that is certainly true! But, the resignation (or firing depending on which way you look at it) of Tribute Nielsen wasn't the only significant elimination from the Trumper Games this week! No, the president has proven that he simply doesn't care about security, as he fired longtime Secret Service head Tribute Alles from the 1st District!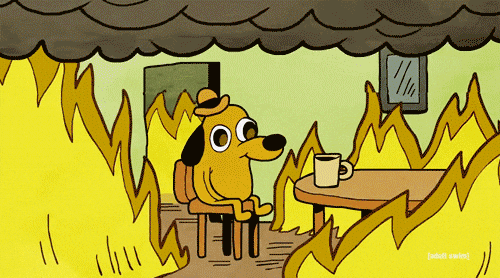 Mmmmmmmmmmmmm… yes. Mmmmmmmmmmmm, yes!!! So the President is proving himself to be above reproach! Yes, the Games have been going on for too long to the point where we can't tell fact from fiction! Depending on what media outlet you read, was Tribute Alles fired and eliminated or did he simply resign? We may never know but for now consider Tribute Alles and Tribute Nielsen… ELIMINATED!!!!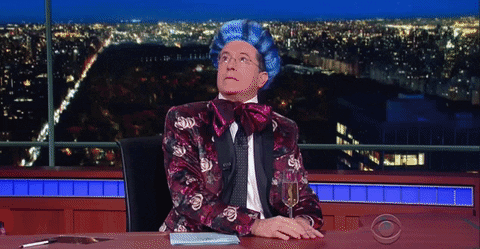 [div style="padding: 20px; background-color: #ffffff; border-radius: 10px; box-shadow: 0px 2px 4px 1px #aaa;"][div style="font-family: arial, helvetica; font-weight: bold; border-bottom: 1px dotted #999; padding-bottom: 8px;"]
[font size="8"]Donald Trump

[br] [/font] [br]

In the last week, Trump has really escalated his beef with wind power. I mean come on, what's he got against windmills anyway? Well if you listen to his nonsense, you would think that windmills are godless bird killing monster machines that give you cancer and drive your property values down 75%! Oh the horror!!! What will we ever do to rid ourselves of these nightmares? That's the question we should be asking ourselves! Instead we're asking what the fuck is up with Trump and wind power? Well it might have something to do with Trump International in Scotland, or it might not. And by the way, for the purpose of this piece, we're going to forgo our usual memes and clips and replace them with pictures of Trump's hair blowing in the wind, because we all know how much he hates that!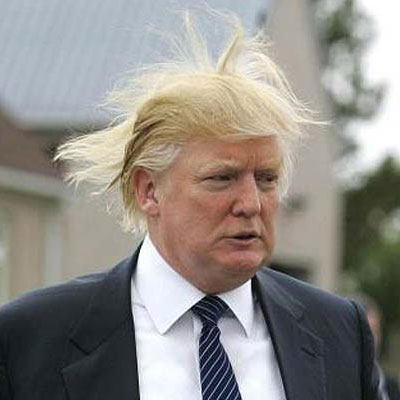 So before we go any further, we got to play the clip of this because it's pretty spectacular. I mean how stupid is he?



Whew. Yeah so if you listen to Trump, you would learn that windmills are godless bird killing machines, and what will we do to end the horror? Well you could go with clean coal. Yeah what a great idea – let's replace clean wind power with black lungs! And by the way with this ridiculous claim, he might have cost the clean energy industry a whole lot of jobs! What about the "JOBS! JOBS JOBS!" president? Well, he's nowhere to be found!






There are a lot of those pictures by the way! We will have no shortage of material for this piece. But for Trump to make a claim so dangerously dumb and absurd is well, laughable at best. But you know what, let's extrapolate his claims for a minute. I mean do windmills really cause cancer? The answer you know, is quite literally blowin' in the wind.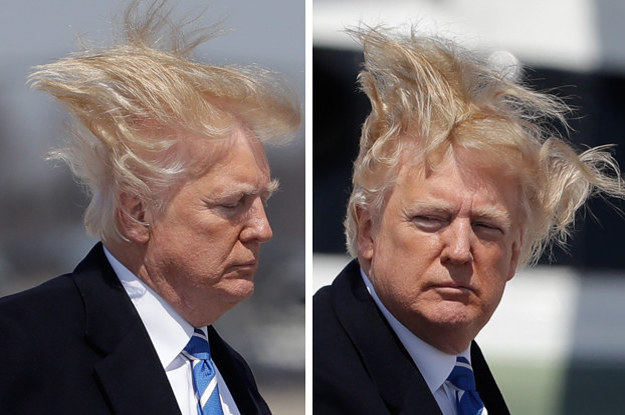 Hey two ugly Trump shots in one! And by the way as to his claim about whether or not windmills are godless bird killing machines? Even the birds don't like Trump! So if you listen to Trump's claims about windmills, you would know that they are flat out absurd. Why is he making these completely insane claims about wind? Well, it could have something to do with his golf course!







[div style="padding: 20px; background-color: #ffffff; border-radius: 10px; box-shadow: 0px 2px 4px 1px #aaa;"][div style="font-family: arial, helvetica; font-weight: bold; border-bottom: 1px dotted #999; padding-bottom: 8px;"]
[font size="8"]Donald Trump

[br] [/font] [br]

So this question remains in the Mueller probe – death or taxes? It's a question as old as time itself, and one that will ultimately plague Trump for the rest of his term. The Trump administration has boiled the Mueller Report down to two words – "Collusion Delusion". Funny, I don't remember that Schoolhouse Rock song! Collusion delusion, what's your confusion? Trying to take down a corrupt administration for treason! OK not as catchy as the original. How are we trying to take down the GOP this week? Well it's about as simple as Lucy pulling the football away from Charlie Brown. Only Lucy kicks Charlie Brown in the side and spits in his face.






Ah, where is Newman when you need him? NEWMAN!!! Well, if Mueller doesn't get Trump for Russian collusion, maybe he can get Trump for massive tax evasion! Yeah, while Trump is bragging about getting off the hook for collusion (or not), there's plenty of other crimes he still might be guilty of, well, this week, anyway!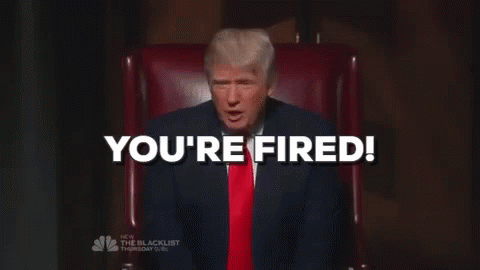 Yeah well you can't work for Trump without being afraid of being fired, I mean it just goes naturally! If you work for Trump, you're gonna get fired at some point. But taking down an entire political party is like getting something stuck in a vending machine. You're not going to get it on your first try, you have to rock it back and forth a few times, then it goes over!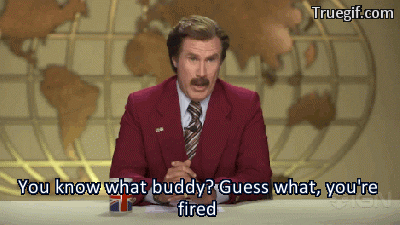 Oh so the democrats may have a plan, but there is one obstacle standing in the democrats' way – and that guy is White House Chief Of Staff and high school band leader who tells his students they're not playing fast enough, Mick Mulvaney. He's literally the heckler from Happy Gilmore! "You will not see these tax returns, jackass!!!!".






[div style="padding: 20px; background-color: #ffffff; border-radius: 10px; box-shadow: 0px 2px 4px 1px #aaa;"][div style="font-family: arial, helvetica; font-weight: bold; border-bottom: 1px dotted #999; padding-bottom: 8px;"]
[font size="8"]Being Racist In Public

[br] [/font] [br]

The Donald J. Trump administration has given rise to some… well for the sake of this piece, bad apples, and he definitely tends to attract a certain type of individual. Now let's talk about being openly racist in public. Remember last year when Los Angeles representative Maxine Waters called for both sides to be more civil to each other and it had the reverse effect and people actually started being meaner and nastier to each other? Yeah so did we! In fact since Trump took over the White House and took a wrecking ball to our nation's institutions, people have become meaner and nastier to each other, and they're doing it out in the open for everyone to see and capture on their cell phones. In fact let's go to my home town of Anaheim, California, to expand on this topic.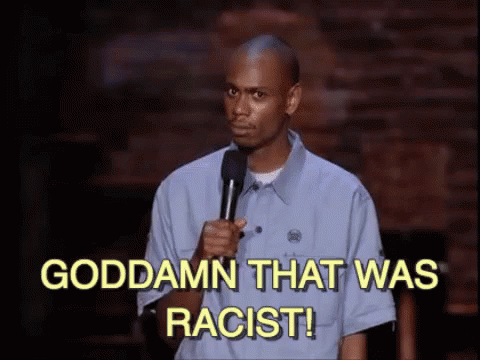 That's right! Let's dissect this incident for a bit. I really wonder if people like this ever realize what they're saying. No person who's smart enough would ever say something like "This is America, not Spanish". It's English that's our official language. But Trump and, arguably social media, has brought it out in people. It's not just our racist friend in Anaheim, either. Check out this incident from East Haven, Connecticut. It's almost identical to the one at Palapas Grill, identical!!! Why is my voice so high?






Yeah that's true. Well, not me, anyway. All are welcome here at the Top 10, we don't discriminate here, that's for sure! So going back to social media, what can be done about this obviously 2010s problem of people saying whatever racist shit comes to mind? Well, racism, just like other bad behaviors, starts at the top. And while we can't say Facebook is responsible for a lot of modern racism, but they're at least taking steps to rid the world of these horrid people.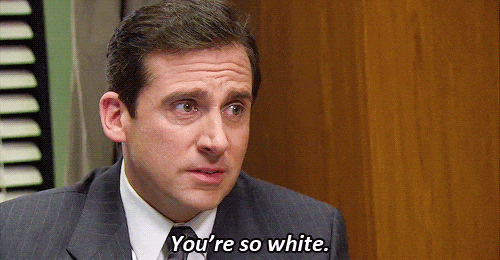 Of course! I'm a white guy from California, and I don't get outside much. I know. I'm usually cooped up in doors trying to figure out how to entertain you people! Thank you audience! But there are people who are acknowledging that this is a huge problem. But what can you do about it? You can ban people, you can chase them away, but we do have this thing called "freedom of speech", and we have as much of a right to tell Nazis to fuck off as much as they have a right to be a Nazi. It works both ways, don't you know?






Yeah probably! Now for the interest of social experiment, there's Bill Mitchell. So who's really being discriminated against here – black people or Trump supporters? Well, if you saw Bill Mitchell, he's claiming the latter. Oh woe is me, I can't wear my MAGA hat out in public! Well, this might be one of the dumbest things ever said by a Trump supporter, and that's saying a lot!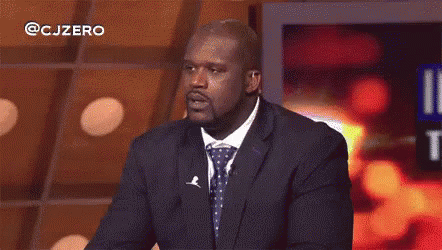 [div style="padding: 20px; background-color: #ffffff; border-radius: 10px; box-shadow: 0px 2px 4px 1px #aaa;"][div style="font-family: arial, helvetica; font-weight: bold; border-bottom: 1px dotted #999; padding-bottom: 8px;"]
[font size="8"]Top 10 Investigates: A Day At The Races

[br] [/font] [br]

It's time to investigate beyond the headlines! This is Top 10 Investigates!



Horse racing is a sport with a troubled past, and an equally troubled present. But one horse racing track is making headline after headline and it's not in a good way. The Kentucky Derby is just a mere 3 weeks away but this is a story that must be addressed before the horse racing industry's big event. However, the story that is concerning everyone is coming out of Arcadia, California. That city is home to the Santa Anita race track. And at Santa Anita, the abuse of horses is nothing to joke about.






We're pretty sure that's going to be the least of your problems there. So what would happen to the future of horse racing? You know it is going to be a very sad day in Arcadia when the headline is that you hold a race that is a Kentucky Derby qualifier and no horses die during the race. Except for the fact that this actually happened.






Actually that's more likely the owners and not the actual horses themselves. Yes, let's blame it on the owners for this atrocity. So how did things get this bad? And what can be done about it? It's not so much as putting out a product but maintaining the safety of that product for not only the lives affected but also the customers and fans of the sport.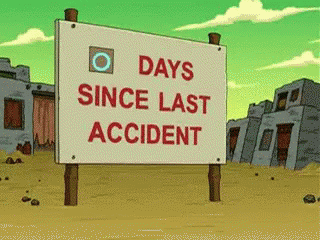 investigations might solve this thing, but then again they might not. The more that happens at Santa Anita, the more complicated the situation gets. Will it spell the end of horse racing in California? It might, but then again it might not. Santa Anita is just one of many race tracks in California which include Del Mar, Fresno, Los Alamitos, and Santa Anita. But how viable is the future of horse racing in general? It's a sport with big money and deep pockets. Santa Anita is home to the Breeders Cup, a gateway to the Kentucky Derby. But after this, it may no longer be.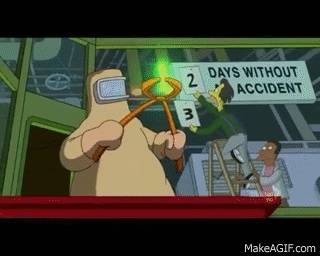 We will keep an eye on this story as it develops. This is it for Top 10 Investigates. Good day.




[div style="padding: 20px; background-color: #ffffff; border-radius: 10px; box-shadow: 0px 2px 4px 1px #aaa;"][div style="font-family: arial, helvetica; font-weight: bold; border-bottom: 1px dotted #999; padding-bottom: 8px;"]
[font size="8"]Holy Shit

[br] [/font] [br]

Gather around, my brothers and sisters of New York City! It's time to take a seat in the pew and pass the collection plate! For the Holy Church Of The Top 10 has convened and it's our weekly duty to remind you that the holiest among us are also the most full of: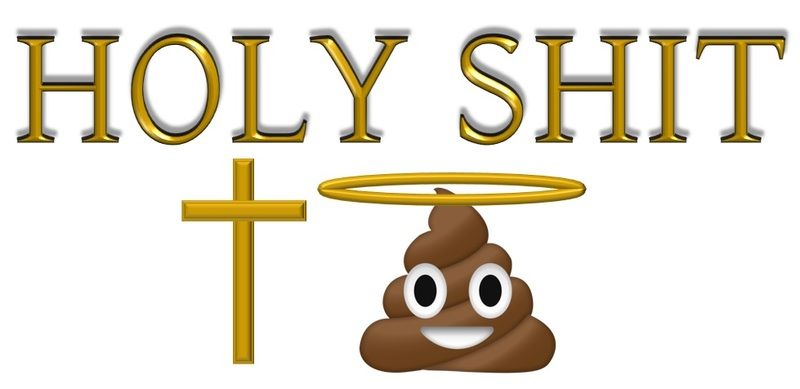 My fair congregation! You know, we live in exciting and troubling times. But that's neither here, nor is it there. Tonight is all about predicting the future! Yes, we are going to see through time and space itself to try and figure out what the good LAWRD JAYSUS has in store for us!!! Can I get an amen?? Now, there's many ways that one can try and predict the future! Now as a preacher myself, I can tell you that church attendance is in a decline. But I'm not going to bore you with statistics! I'm not that kind of preacher! Maybe we can win people back with this kind of in your face evangelism!






Yes, even the good LAWRD JAYSUS is utterly embarrassed at this one! I mean… whew. Where do we find these people? I mean is that religion? Is that what you want to go to every Sunday? I know that I don't, that's for sure! But…. My forces from HEAYVUN are telling us that there's some obstacles to a clean and prosperous future for the ALMIGHTY!!! What's holding us back? Well, it's our DAYMONS here on earth!






So it is the devil that could drive more people to us!!! Can I get an amen??? But as I have said, there's DAYMONIC forces at work here, folks! And all you can do is pray them away! It's that simple. Why yes, I do believe that the forces of SAYTAN can be ultimately prayed away with this. Apparently there's a satanic doomsday cult that's out to enslave all of us!






Now my fair congregation, even the good LAWRD JAYSUS thinks this is utterly ridiculous and appalling, and he facepalmeth, justly! For it says that in our Good Book, which I have right here. But, while we have discussed the future of religion here, there's one thing that can ultimately save religion and the future of humanity – sex! Lots and lots of sex!!!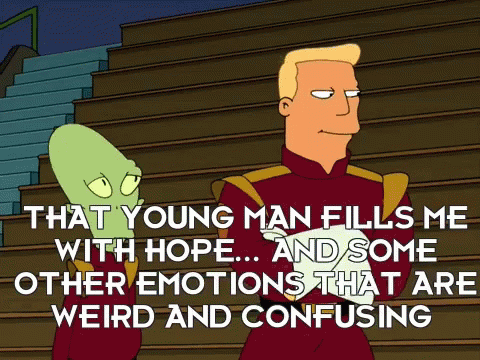 Well, you heard the man!!! Go!!! Go!!!! Go!!!!! Mass has ended, may you go in peace! That's it this week for: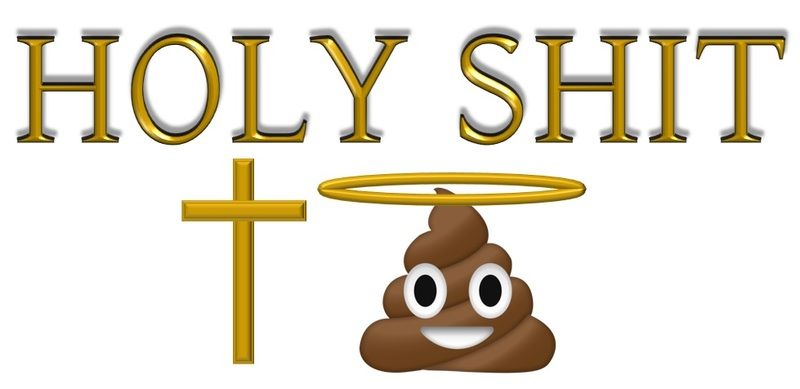 [div style="padding: 20px; background-color: #ffffff; border-radius: 10px; box-shadow: 0px 2px 4px 1px #aaa;"][div style="font-family: arial, helvetica; font-weight: bold; border-bottom: 1px dotted #999; padding-bottom: 8px;"]
[font size="8"]Beating A Dead Horse: Joe Biden Kissy Face

[br] [/font] [br]




Guys, let's talk for a minute. If the #MeToo movement has taught us anything, it's don't be a creeper, under any circumstances! There's no good way to talk yourself out of being a creeper if you get caught doing so. Just ask Al Franken. Touched a nerve there, didn't I? "Sorry, officer, but I didn't mean to touch that woman's breasts, I was reaching for a soda lid and my hand may have accidentally brushed up against her breasts.". NO!!! That never works! So it turns out that former vice president Joe Biden may be a little bit of a creeper. But really, on the creep scale, he's about a 1 out of 10. To put things in perspective, Trump is a 9 out of 10. Al Franken is about a 2 out of 10. Chicago Blackhawks star Patrick Kane is about a 5 out of 10. Bill O'Reilly is about a 7 out of 10. Who's a full blown 10 you might ask? Bill Cosby, Michael Jackson, R. Kelly. So don't be a creeper no matter what the level. How did this all go down you might ask? Here's how.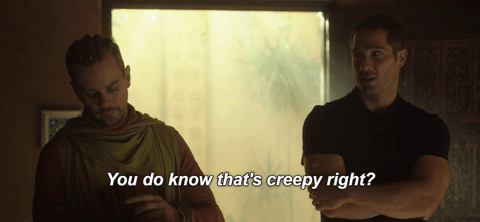 Yeah here's the thing guys – if you don't want to get pegged as a creeper, maybe, I don't know, don't do creepy things. See, I talk to women in the workplace like I'm in a sexual harassment training seminar video. "Oh I had a very nice encounter in the break room, Sara, I hope that you will report this to HR as such, and let's do this again some time!". Notice how unintimidating that was? It sounds a hell of a lot better than "Hey Christina, want to hear a good rape joke?". That would earn you a one way ticket to a meeting with HR. But this wasn't just a single encounter with the former VP, it's painting a disturbing pattern of creepy old guy behavior.






Excuse me a minute… but see? Nobody is excused from creeping no matter what your race, gender, creed, social, or economic status. If you're a creeper, you're a creeper. I mean Trump bragged about grabbing women by the pussy and walked in on underage girls getting dressed in a locker room. And you know what? We made that guy president! So there is hope for Joe Biden after all! I'm an optimist. But leave it to this guy to turn a creepy situation even creepier! I'm of course talking about Trump and what he did regarding Joe Biden.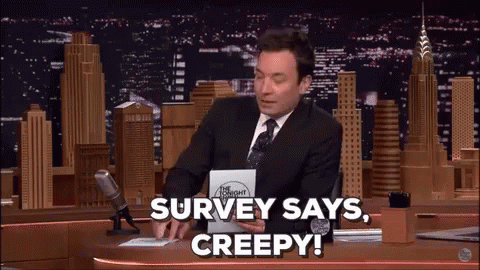 You know what? We got to show that tweet, because it's a whole new level of ick factor, and I say this as a male myself. Let's show that:


Link to tweet



Ewwwwwwwwwwwww… Ew, ew, ew, ew, ew. Wait… ew. You know here's where I could point out all the people who've come to the former VP's defense. But we don't have that kind of time, there's still 3 entries left this week! Plus we got Simple Creatures waiting to perform! So instead I'm going to tell you why women need an extra layer of defense against creepers – the creepiest news host of all time, Tucker Carlson. Who last week said something so jaw dropping unbelievably creepy that you can't help but wonder what he does when the cameras aren't looking.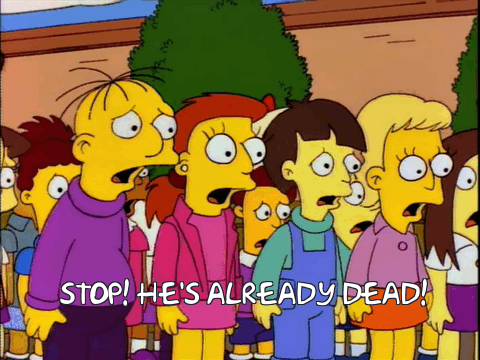 [div style="padding: 20px; background-color: #ffffff; border-radius: 10px; box-shadow: 0px 2px 4px 1px #aaa;"][div style="font-family: arial, helvetica; font-weight: bold; border-bottom: 1px dotted #999; padding-bottom: 8px;"]
[font size="8"]This Fucking Guy

[br] [/font] [br]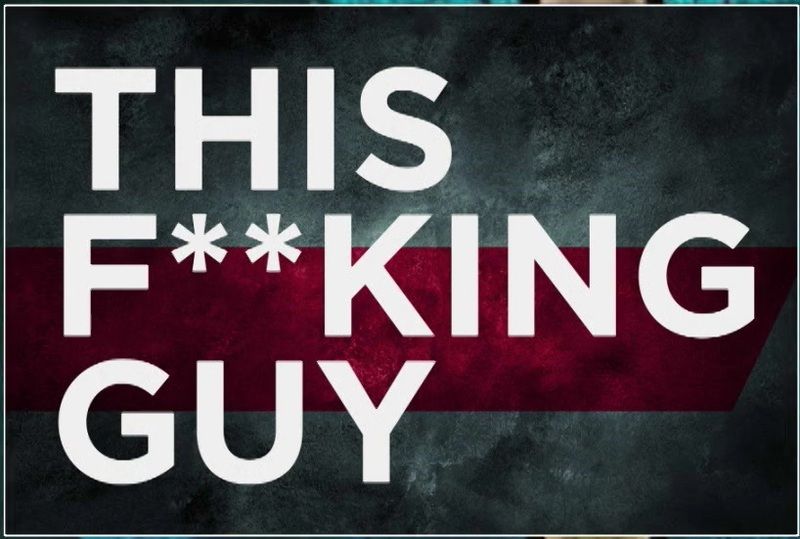 Hey, I've got a great idea! Let's return America to the good old days of the Gold Standard! Said nobody ever. Except for the guy who we currently call president, Donald J. Trump. He thinks it's a great idea! Because he knows more about economics than anybody. It's gonna be huge, believe me, folks! Even actual economists say this idea is completely fucking insane. But in this administration, who needs "facts" and "experts"? Which is why Trump wants to take control of the Fed and put this fucking guy in charge of it. Herman Cain. Yeah you don't put a guy like Herman Cain in charge of the Fed, a government agency that can topple whole economies with a two word tweet! Why put a guy like Herman Cain in charge of the Fed? Because he's Trump, and he doesn't give a fuck, that's why!






That's just how volatile the nation's central bank is. And what makes Herman Cain qualified to run the nation's central bank? He could barely run a pizza parlor chain! And in case you're wondering what some of Cain's greatest hits are, well, here's a couple of them!





Yeah so a guy who spends money on insanely creepy campaign ads, can't remember how to properly pronounce "Uzbekistan", and came up with an insane economic theory is somehow qualified to run the most powerful bank in the world. But he's a friend of Trump! And Trump loves him some loyalty! Maybe that's the art of the deal?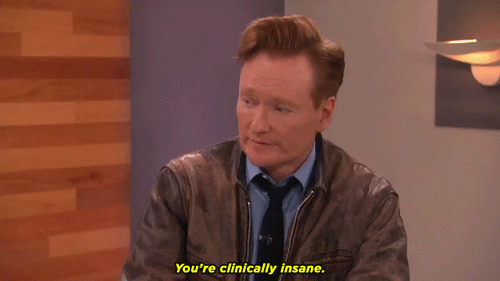 And Trump is trusting this guy with the Fed? I wouldn't trust him with $5! So what's he going to do, exactly if he's put in charge of the Fed? Put ads curing your erectile dysfunction on ATM machines across the nation? Yeah that's the last place I want to see an ad for boner pills is when I'm at the ATM getting some cash. Really, this fucking guy.






I'm pretty sure that's future footage of Trump there! And by the way, speaking of Trump, you know he sure can pick 'em folks! And you know what they always say about judging the kind of person you are by the company you keep. If Trump is a serial sexual predator, guess what? Herman Cain is a guy who has had multiple affairs!






Hey Gloria, let me fill you in on a little secret about the modern GOP: They have absolutely no respect for women! Other than the cute, 125lb blond women who populate Fox News reports every night, they can stay, the rest, they don't really care for! So that out of the way, once again Trump nominates someone who could quite possibly be the least qualified person for the job! Because, reasons.






Ew. Ew. Ew. Ew. Ew. Wait a minute, ew. That right there is a total creep face, and pretty much everyone in the Trump administration has one. That's Herman Cain, this week's This Fucking Guy!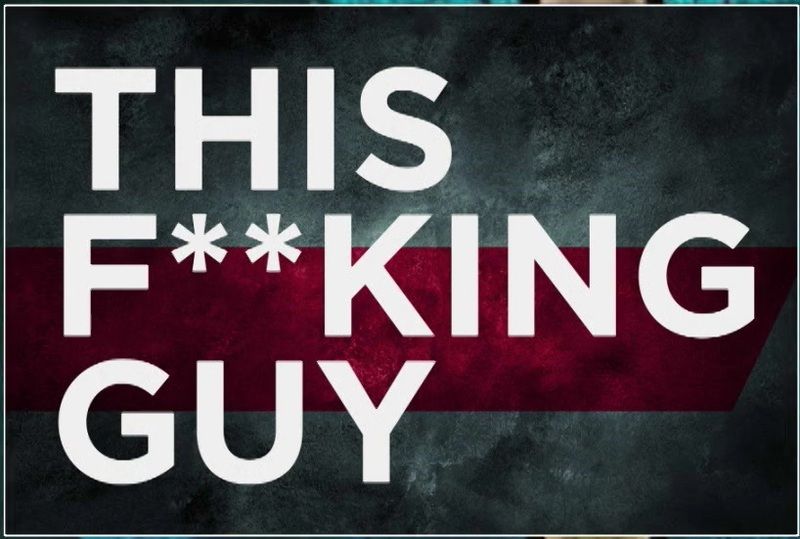 [div style="padding: 20px; background-color: #ffffff; border-radius: 10px; box-shadow: 0px 2px 4px 1px #aaa;"][div style="font-family: arial, helvetica; font-weight: bold; border-bottom: 1px dotted #999; padding-bottom: 8px;"]
[font size="8"]People Are Dumb

[br] [/font] [br]

Hit it!



Of course you know by now people are people, and people are dumb. I want to start with this bizarre story out of Rogers, Arkansas. You know, you might think you know what true boredom is, but until you see this story, these guys take it to a whole new level! But as we've seen countless times on this program, don't be surprised at all when you give an idiot a gun and they do something stupid with it, and there's lots of these stories out there. But this one might be one of my favorites so far, just because it's so jaw-droppingly stupid that you can't help but wonder how they manage to even get dressed in the morning. Enough of my rambling, Let's get to it.






Yeah so that happened! Next up, what would a People Are Dumb segment be without a visit from our good friend Florida Man? Look, I get it, you don't want to go to work, you'd literally rather be just about anywhere but sitting in front of a desk staring at a computer screen all day. Well, don't do what Florida Man did. Hell, that should be a meme right there. Just don't do this!





Of course these days, George would probably be taken out by a SWAT team and there would be at least a few hour standoff. Jerry might be taken into custody too. Next up – of course we got to stick to Florida because they crazy. Remember that movie Spaceballs? Remember the late great John Candy's character where he was a half man – half dog? Well here's one Florida Man who is his own best friend.





Ah, I love that movie, I have seen it a hundred times, I could see it 100 more. Next up – dumb police officers! Yes, even the Po-Pos aren't immune from stupidity. We go to the great city of Detroit for this story. Look, if you're being trained to analyze the blood alcohol of a person, maybe I don't know, don't show up to the training seminar drunk! It's that simple!





There's a Simpsons clip for everything! Next up, we have to go back to the Sunshine State for this one, and maybe this is one way to unclog a toilet without having to call Roto Rooter? But once again, if you give an idiot with a gun, don't be surprised when they do something stupid with it!





Ah, gotta love Cousin Eddie! Finally this week remember the movie Fight Club? When Edward Norton and Brad Pitt started fighting with each other but then it turned out… oh come on, do I really have to do a spoiler for this one??? Yeah, it turns out that Edward Norton was really fighting himself the entire time because, multiple personalities. Well, this guy may be a member of Project Mayhem because this happened.





That's it this week for:




[div style="padding: 20px; background-color: #ffffff; border-radius: 10px; box-shadow: 0px 2px 4px 1px #aaa;"][div style="font-family: arial, helvetica; font-weight: bold; border-bottom: 1px dotted #999; padding-bottom: 8px;"]
[font size="8"]Stupidest State Contest: Selection Sunday

[br] [/font] [br]

16 states will enter and only one state will be crowned the new Top 10 Conservative Idiots Stupidest State!




Last week we wrapped up Round 1 coverage and it was quite exciting! Georgia knocked off last year's champion Texas with a 3 pointer buzzer beater in double overtime with one of the highest scores of the tournament. Meanwhile, Alabama wasted no time showing Oklahoma who owns the Family Values conference and routed Oklahoma by a whopping score difference of 15! This week, we begin the expanded Round 2 coverage. The Elite 8 has been set. Now who will advance to the Final Four? We shall see. This week it's a Gun Nut Duel To The Death as Florida takes on red hot Oregon to advance to the Final Four. But who will come out on top? Let's find out!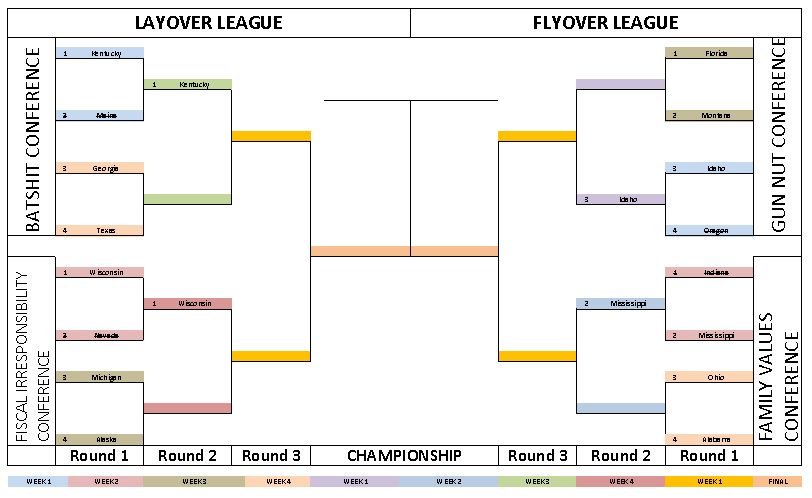 :

[font size="4"]Florida Vs Oregon[/font]

[font size="4"]Florida[/font]



The last time we checked in with Florida, they're still dealing with the horrifying tragedy from Marjorie Stoneman Douglas High in Parkland. But you know what? Florida isn't doing jack shit about it, as you might have guessed and instead are taking their frustrations out on – wait for it – immigrants. But has Florida learned anything? Have they really? Well guess what? While we're all (rightfully) paying attention to the aftermath of the Parkland tragedy still unfolding, House Republicans in the Sunshine State have something extremely horrifying being planned!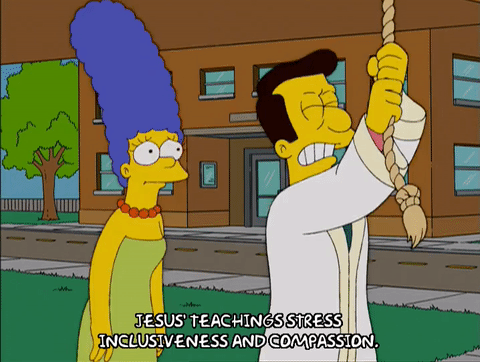 That they may, but I don't think that they mention anything about packing heat and shooting first and asking questions later! Where's our house pastor at? Oh he's gone for the week? Damn it! At least this bill failed. But you know what didn't? A bill that would give teachers – wait for it – guns! Yes, they are going to arm teachers. It's bad enough bullets are flying in one direction!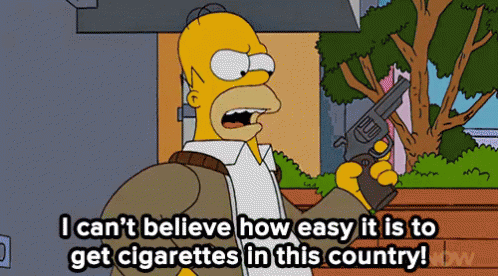 OK Homer might have a point here. And by the way guns are such a hot topic in Florida that this whole issue of arming teachers might have ruffled a few feathers. But that's putting it lightly. People are pissed and rightfully so. That money should definitely be going elsewhere.






[font size="4"]Oregon[/font]



You might be thinking "Hey! Oregon is a blue state! What the hell???". And you might be right. But they do have the city of Portland which is home to two classes of individuals – hipsters and white supremacist right wing militia types! And these two groups do not get along, in case you were wondering. In fact Portland is the home of a group that you might have heard of, that is always looking to stir shit up. They're called "Patriot Prayer", and they're the uber-religious counterparts to Gavin McInnes' Proud Boys. Yes, we try to keep track of all of the hate groups because, Trump. So why does the city of Portland tend to attract these types?



.

Now here's the thing – we're not saying all gun nuts are white supremacists. But all white supremacists are gun nuts! Now you might be thinking – what does the shooting in Christchurch shooting have to do with Oregon white supremacists? Well a whole hell of a lot, actually!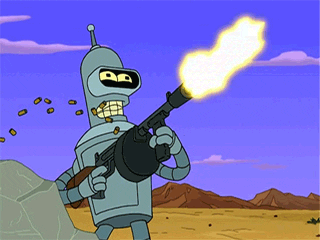 So, Oregon has a massive white supremacy problem. What are they going to do about it? Well, remember that Patriot Prayer rally from last year? It turns out that Oregon's police might have been in on it. In fact, they may have been protecting the fascists from the protestors! It's going to take a hell of a lot to sort this mess out.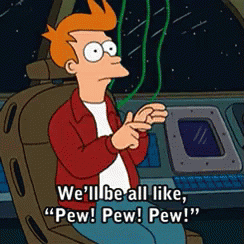 [font size="4"]And The Winner Is…[/font]

Oh my god… Florida has utterly routed Oregon by a score of 25! I don't know what they are giving Florida Man but if they keep it up they will be repeating as our Stupidest State this year! Sorry Oregon, you may be the king of the West Coast racists, but Florida owns this dance! They advance to the Final Four easily.

[font size="4"]Next Week:[/font]

Next week, we are taking a much needed break. And that was omitted on the original schedule, for which the people responsible have been sacked. But when we come back on 4/24, we are going to continue Round 2 coverage with the Family Values Conference Championship. And what is more fitting than that for a Bible Belt showdown between Mississippi and Alabama? We'll be live at the home of the Sacramento Kings, the fabulous Golden 1 Center in Sacramento, for all the action! Stay tuned!


[font size="8"]And Now This:[/font]
[font size="8"]Simple Creatures[/font]

Ladies and gentlemen, my next guest is a brand new band and the coming together of the bands Blink 182 and All Time Low! Their debut EP called "Strange Love" is out now! Playing their song "Drug" from that EP, give it up for Simple Creatures!





Thank You New York City! We are taking a short break next week and we will be running a Best Of, we'll be back on 4/24 with a brand new edition live from Denver with the Wheel Of Corruption and Stupidest State Round 2 Week 3! See you in two weeks!


Credits

Host: Initech
Top 10 Conservative Idiots Recorded In Front Of Live Audience At: Grammercy Theater, New York City, NY
Special Thanks To: Grammercy Theater Management
Holy Shit Gospel Choir: 5th Avenue Church Band, New York City
Images: All images copyright belongs to respective copyright holders.
Videos: All videos copyright belongs to respective copyright holders
Articles: All article content copyright belongs to respective copyright holders
Writing: Top 10 Writing Department
Graphics: Top 10 Graphics Department
Research: Top 10 Research Department
Lighting & Stage Props: Top 10 Lighting Department
Legal: Top 10 Legal Department
Advertising: Top 10 Advertising Department
HR: Top 10 Human Resources Department
Initech's Wardrobe Provided By: JAB Inc.
Wheel Of Corruption By: Studio 1 Stage Props, Burbank, CA
Simple Creatures Appear Courtesy Of: BMG Rights Management
Management: Initech Productions, CCC Management
Follow The Top 10 On Twitter at: @10Idiots
Questions? Comments? Complaints? Hate mail? E-mail The Top 10 at: Top10ConIdiots@gmail.com



Initech Productions: Yes, We Got The Memo


0 replies, 989 views