Sat Apr 6, 2019, 09:39 PM
JohnnyRingo (13,254 posts)
The time I mansplained sexual harassment to a co-worker
It was years ago before I retired that a woman in the shipping floor office filed a sexual harassment complaint against a co-worker with HR. My work friend at the time said he didn't understand - that he'd like it if women sexually harassed him. Sure, he had his tongue partly in his cheek, but it was clear he didn't get it. Here is an updated version of what I told him.

I said that his first mistake is assuming that it would be Jennifer Aniston who would be throwing herself at you. That's not assault, it's a dream, and you'll soon wake up. To understand what women go through he'd have to imagine he was given a ticket to a big deal DC area charity fundraiser. The event will be rich with celebs and Washington insiders so you'd buy a new suit, shoes, and a cool hat to hopefully make some connections and maybe land a good job. You never know what comes of a first impression.

While hanging out at the event bar with some buddies, you scan the room to see who's there when you suddenly lock eyes across the room with Sarah Huckabee. Actually, she may not be looking at you because one eye is on the salad bar, but your worse fears are realized when her slack jaw open mouth turns into a perverse crooked smile. She reaches up and tweaks a nipple.

Not wanting to give encouragement, you politely return the smile and turn back to your pals and see they're now engaged in a spirited dialogue with the cast of Friends... great. As you sip your drink waiting to get in on the conversation you turn about a bit to see if Sarah is still undressing you. From the corner of your eye you see that she's gone. Relaxed somewhat, you turn around the rest of the way and... Jesus Christ! She's standing right next to you, now with a few undone buttons on her blouse.

You have no where to go now and force a smile as she shuffles closer to rest a lopsided boob on your arm. As she pulls out some cheap lines about how nice you look you notice she smells like cheese and sausage. As she sprays beer in your face you can hear you buddies snickering from behind at your situation. Sarah orders up a drink for you and mentions how she has a whole box of wine back at her hotel room.

Thinking fast, you excuse yourself to go to the bathroom. You take your drink with you because you can't trust Sarah and you don't plan to be back soon. Once in the bathroom you finish up and look into the mirror, wondering how you attract all the weird ones. Always married at that.

Finally after self reflection and a decent amount of passing time, you assume Sarah must have found a new victim and walk out the door. Right away you realize your path down the hallway is blocked by a blonde waiting the use the ladies room. She turns fully toward you, flashes a toothy smile and says "well hello handsome". Trapped again, you look down at your shoes and reply: "Hello Kellyanne".

What to do?

You could make a loud scene and let others judge you on the spot against well known public figures.

You could call the media with your experience and await the opening of your life like a book as people read from the worst chapters.

You could just suck it up, keep it to yourself and vow to get even with your buddies someday.

Perhaps in the future there may be a news article about how those women were accused of molesting men at alcohol saturated fundraisers and say "Hey! That happened to Me Too". Expect to be called a liar because you waited so long.






4 replies, 1020 views
Replies to this discussion thread
| | | | |
| --- | --- | --- | --- |
| 4 replies | Author | Time | Post |
| The time I mansplained sexual harassment to a co-worker (Original post) | JohnnyRingo | Apr 6 | OP |
| | Bob Loblaw | Apr 6 | #1 |
| | CentralMass | Apr 6 | #2 |
| | keithbvadu2 | Apr 7 | #3 |
| | procon | Apr 7 | #4 |
---
Response to JohnnyRingo (Original post)
Sat Apr 6, 2019, 10:08 PM
Bob Loblaw (1,426 posts)
1. You had me at
lopsided boob.
---
Response to JohnnyRingo (Original post)
Sat Apr 6, 2019, 10:38 PM
CentralMass (6,554 posts)
2. ...
v
---
Response to JohnnyRingo (Original post)
Sun Apr 7, 2019, 12:07 AM
keithbvadu2 (8,424 posts)
3. Would Sarah Huck sue Donald for sexual non-harassment?
Would Sarah Huck sue Donald for sexual non-harassment?
.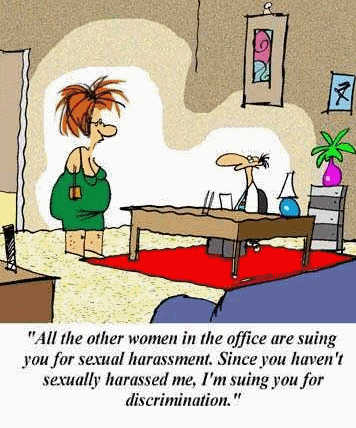 ---
Response to JohnnyRingo (Original post)
Sun Apr 7, 2019, 03:19 AM
procon (12,546 posts)
4. This reads like a humorous male fantasy fiction.
But it totally misses the mark about how real women perceive acts of sexual harassment. What you missed is the SOP we see from many men who routinely use sexual aggression (implied or inferred) as a means to assert their power and control over women. Understand the seriousness of male aggression towards women is wrapped in fear. Sex is only the secondary weapon, but submission and control is always the primary goal.

The aggressor only has to imply a subtle (often coded) suggestion, an off color remark, an inappropriate touch, or a risque joke, expecting full well that his target will infer his real intent as a powerful person who has the right to weild authority over her and make demands. And we get the message! As most women who survived her high school years, we know these men and their routine well from our previous experiences.

When it's peer to peer pressure, and the harassing man is on equal footing, some assertive women might be strong enough to stop it early on. All too often there is little to no help in HR or through company complaint processes. For good or ill, most women remain eternally compliant, resigned to coping with acts of sexual harassment with what dignity they can muster, on an almost daily basis.

However, when it's your boss who is the aggressor, someone in a position of authority, or a person that could end your job and quite possibly your career, who is using sexual harassment to intimidate and subjugate, then many women see no other option but to bunker down into survivor mode.