Sun Feb 10, 2019, 08:47 AM
DetlefK (13,958 posts)
One example of what is feasible with AOC's Green New Deal:
Her Green New Deal includes an overhaul of the railway-system to the point where it becomes more practical to use train than to use airplanes (which would massively reduce the amount of air-pollution).
Here's an example of what is possible if you invest in railway: Germany's Inter-City Express
I will use a certain route as an example:
* city to city 383 km =
238 miles
* in
3-3.5 hours
(only stops at other cities)
* for about €85 =
$96
(25% rebate for regular travellers already included)
* top-speed 124 mph, average speed 93 mph
* ticket bought online and it's a QR-code on your Smartphone
* The comfort is somewhere between economy-class and business-class, except...
* Except that you can get up, walk and stretch your legs. And as all the waggons are interconnected, you can walk from one end of the train to the other.
* And except that the toilets are plentiful and spacious.
* And one of the waggons has a tiny shop where you can buy sandwiches, snacks, coffee and softdrinks.
* And in each waggon there are at least 4 arrangements where a group of 4 seats is facing each other over a small table, which comes in especially handy if travelling in groups or with kids.
* And there's free Wi-Fi.
* And as long as you keep the noise down, don't spill and don't make a mess, it's perfectly okay to break out the beer. (This is Germany, after all.)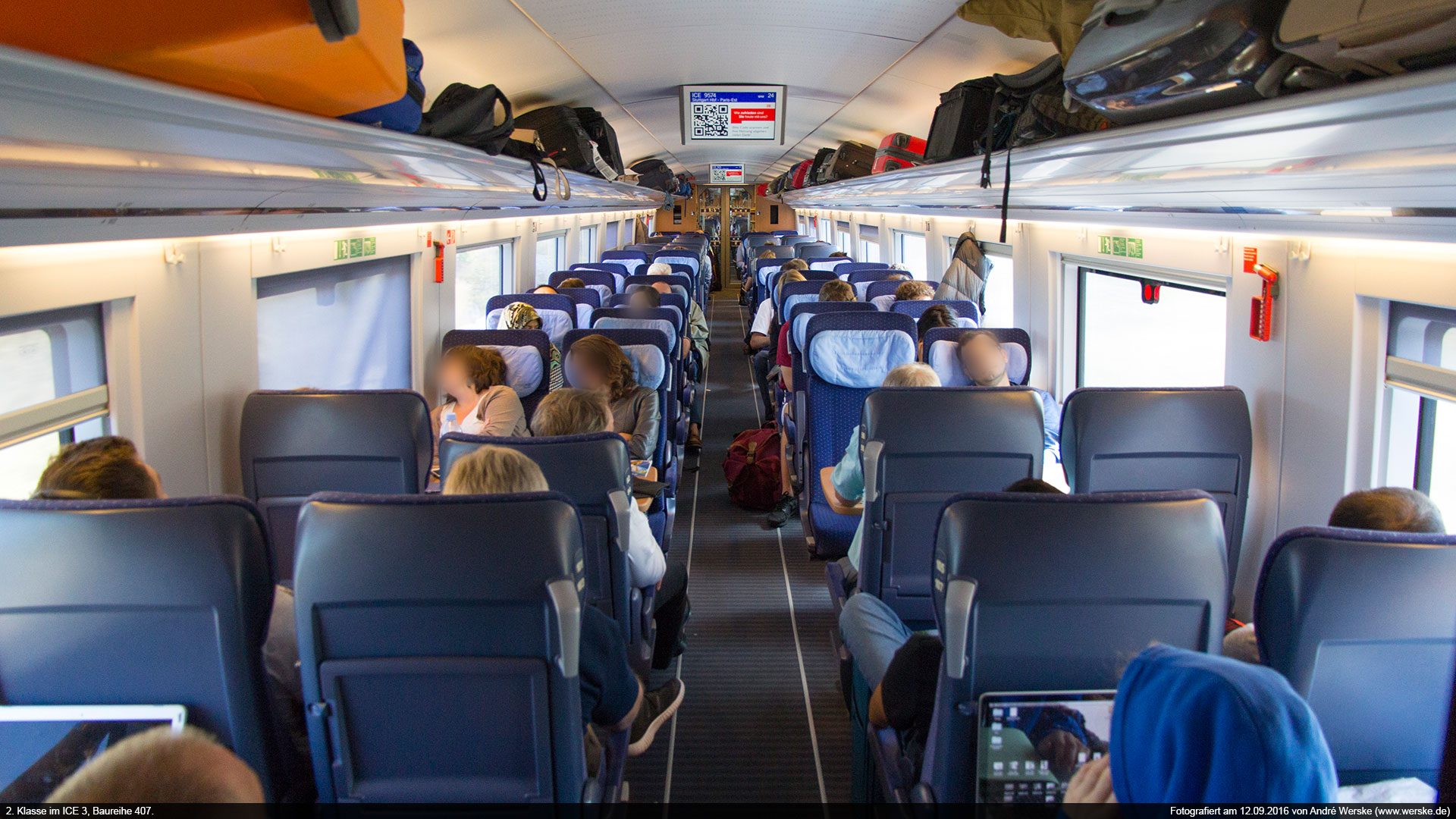 A flight from LA to Las Vegas or from NY to Washington DC is about the same distance and the same price.
+ faster (1-1.5 hours)
- less comfort
- You have to get to the airport, you have to arrive early for security, checking your baggage and boarding and when you arrive you still have to get your baggage and you still have to get away from the airport.
5 replies, 444 views
Replies to this discussion thread
| | | | |
| --- | --- | --- | --- |
| 5 replies | Author | Time | Post |
| One example of what is feasible with AOC's Green New Deal: (Original post) | DetlefK | Feb 10 | OP |
| | Voltaire2 | Feb 10 | #1 |
| | onethatcares | Feb 10 | #3 |
| | TreasonousBastard | Feb 10 | #2 |
| | kennetha | Feb 10 | #4 |
| | beachbum bob | Feb 10 | #5 |
---
Response to DetlefK (Original post)
Sun Feb 10, 2019, 08:53 AM
Voltaire2 (4,872 posts)
1. When you visit other modern countries
you quickly realize our infrastructure is a decayed obsolete mess.
---
Response to Voltaire2 (Reply #1)
Sun Feb 10, 2019, 09:10 AM
onethatcares (11,118 posts)
3. yes, but
we have those neat diesel powered monster trucks that we can run over things with while on the way to the office. Top that world......
---
Response to DetlefK (Original post)
Sun Feb 10, 2019, 09:10 AM
TreasonousBastard (31,211 posts)
2. Amtrak Acela has captured a huge amount of the traffic between Boston and DC...
Some estimates are up to 75% of air and auto traffic.

And with the fastest scheduled time between NYC and DC of 2 hours and 45 minutes at an average speed of 82.2 mph (132 km/h). It's slower than the German train because it uses old freight and commuter track over many sections.

Those sections have been upgraded, but not rebuilt to the highest standards. And in some cases freight or commuters have priority.

Acela, however, is unique among American trains. Other areas have seen strong resistance to new trains. Costs have been a factor.

And that's just one German train. I've spent a lot of time on German trains leisurely rolling through the mountains. Longest ride was 14 hours Frankfurt to Prague. (But there was a lot of good beer)
---
Response to DetlefK (Original post)
Sun Feb 10, 2019, 09:30 AM
kennetha (3,346 posts)
4. High speed rail in California
Is beset by nimbyism and huge cost overruns. Wanting it to be so unfortunately does not make it so.
---
Response to DetlefK (Original post)
Sun Feb 10, 2019, 10:05 AM
beachbum bob (9,360 posts)
5. again without democratic control in senate and whitehouse, nothing will come out from this
Mcconnel will not allow a vote and trump would be sure to veto if did pass the senate. Symbolic stuff sure, can't waste the precious time as 2020 elections will soon be here