Fri Jan 11, 2019, 06:03 PM
TrollBuster9090 (4,757 posts)
LOL @ Fox "New's" Non-coverage Of The Oleg Deripaska Scandal Yesterday...
Last edited Fri Jan 11, 2019, 07:49 PM - Edit history (5)
I watch Fox "News" so you don't have to.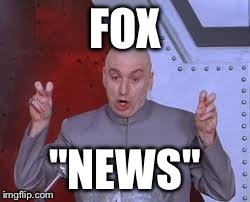 During the Bush Administration, Fox News put an amazing amount of skill and energy into trying to put lipstick on every pig that came out of W's White House.
My favorite example:
"An Iraqi reporter threw a shoe at the President. But did you see how fast he DUCKED!? That shoe never even got CLOSE to his head. President Bush is probably the most athletic man to occupy the White House in history. If he hadn't gone into politics, he could have played professional baseball. Next to President Bush, President Reagan was probably the strongest man to occupy the Oval Office, having survived an assassination attempt. We now take you to Britt Hume in Washington, to give us a list of the most athletic politicians in Washington..."
Seriously, that's what the asshats did with
that
story.
I'm not joking.
An Iraqi reporter threw both shoes at the President, because he was so upset with the way the US occupation of Iraq had gone.
Fox News LITERALLY finished that story with an interview with Laura Bush talking about how George was a 'natural athlete,'
and that's why the shoe never bounced off his thick head.
However, during the Trump Administration, even SPIN DOCTORING is impossible! Even with an unlimited supply of perfume, you can't make a rancid turd like Trump smell like a daisy.
So, they just have to IGNORE the biggest scandals, present their viewers with a shiny object from the 'culture wars,' and hope like hell that they never look at news from another network
(which they don't). When they have to resort to 'ignore and distract,' you know they're REALLY in bad shape.
Well, yesterday, they had to pull another 'ignore and distract' stunt.
Russia helped Trump win the election. In return, he was supposed to lift sanctions on Russia for the invasion of Crimea.
Quid pro quo. He tried to do that, but Flynn got caught with his pants down. So, he turned to plan B, which was
to unilaterally lift sanctions against Putin's biggest crime buddy, Oleg Deripaska.
Well, that didn't work either.
Democrats took back control of the House before the sanctions were due to be lifted, and called Steven "Fishface" Mnuchin before a House committee to explain why the Trump Administration wanted to lift sanctions against the biggest crime syndicate in Europe.
Mnuchin had no answer for them...and it's a HUGE scandal that all of the REAL news networks covered.
What did Fox spend the day covering instead? (Wait for it) JEFF BEZOS'S DIVORCE.
It was the front page story on the Fux News website for most of the day.
It's official. Fox News is the new NATIONAL ENQUIRER. I'm just waiting for the alien abductions and Elvis Presley sightings. Their goal is to keep Republican voters DISTRACTED, and President Trump in his HAPPY PLACE. If you can send a little schadenfreude Donald's way by pointing out that Jeff Bazos's marriage is in trouble...go for it.
Don't worry, Donnie! Bezos still has TWO MORE WIVES, and about 700 more mistresses to go through before he rises to YOUR level of relationship failure.
6 replies, 563 views
Replies to this discussion thread
| | | | |
| --- | --- | --- | --- |
| 6 replies | Author | Time | Post |
| LOL @ Fox "New's" Non-coverage Of The Oleg Deripaska Scandal Yesterday... (Original post) | TrollBuster9090 | Jan 11 | OP |
| | Achilleaze | Jan 11 | #1 |
| | marble falls | Jan 11 | #2 |
| | NastyRiffraff | Jan 11 | #3 |
| | FakeNoose | Jan 11 | #4 |
| | procon | Jan 11 | #5 |
| | TrollBuster9090 | Jan 11 | #6 |
---
Response to TrollBuster9090 (Original post)
Fri Jan 11, 2019, 06:07 PM
Achilleaze (12,995 posts)
1. Fox, Inc. (KGOP) pisses on the truth
All the time. Disgraceful.
---
Response to TrollBuster9090 (Original post)
Fri Jan 11, 2019, 06:19 PM
marble falls (19,940 posts)
2. Jeff Bezo's not much more compelling than the Trump family and son-in-law.
---
Response to TrollBuster9090 (Original post)
Fri Jan 11, 2019, 06:21 PM
NastyRiffraff (11,508 posts)
3. "I want to hear about Jeff Bizos' divorce"
---
Response to TrollBuster9090 (Original post)
Fri Jan 11, 2019, 06:33 PM
FakeNoose (8,776 posts)
4. I don't like Bezos either, but at least he's a REAL billionaire
Jeff Bezos earned his money honestly, not like Cheeto who got handed checks drawn from Daddy's bank account. I really don't care about wives or mistresses, and it's not our business to know the details of someone's private divorce.
It IS our business to know if our *pResident has colluded with a hostile foreign power, and whether he has made quid pro quo concessions to same. Faux News is apparently not up to the task of real news, so why do they even have a broadcasting license?
---
Response to TrollBuster9090 (Original post)
Fri Jan 11, 2019, 07:22 PM
procon (11,897 posts)
5. My brother, a brainwashed Fox viewer, knows
nothing about the latest news. Fox is on a 24/7 loop harping about walls and fear mongering immigrants. He hasn't heard anything about Mantafort or Cohen or hearings or Trump's 17 lawyers.

Fox TV personalities tell him to be afraid and angry, and he is because he has been conned and believes millions of Mexicans are overruning the country and he'll be forced to speak Spanish and give them free everything until he's bankrupt.

Anything that mentions Mueller or Russia is a leftwing conspiracy, a hoax according to Fox. He scoffs at the possibility that Trump is a Russian tool, a traitor who sold out his country for money.
---
Response to procon (Reply #5)
Fri Jan 11, 2019, 08:04 PM
TrollBuster9090 (4,757 posts)
6. It's pretty amazing, isn't it? But I take hope from the fact that Rachel Maddow is now starting to
...get higher ratings than Hannity, because Hannity's show never actually gives any INFORMATION. Never mind spinning the facts in their favor. That's what they've always done. But, for the last six months, Hannity hasn't even done THAT. He just ignores whatever scandal is going on, completely. And then barfs out the same litany of anti-Hillary Clinton talking points.

-URANIUM ONE!
-Benghazi!
-(Loretta Lynch) TARMAC!
-BLUMENTHAL!
-Mom and pop email server in a bathroom closet!!!

Even the brain-damaged viewers that watch that show must get bored of hearing the same old crap over and over again, and start channel surfing.