Fri Dec 7, 2018, 10:18 AM
bigtree (72,535 posts)
Trump's AG Barr argued for presidential pardons of executive criminals in Iran-Contra
Last edited Fri Dec 7, 2018, 11:00 AM - Edit history (1)
Alyssa Milano
@Alyssa_Milano 4m4 minutes ago
Trump's AG Barr argued for presidential pardons of executive criminals in Iran-Contra
http://movies2.nytimes.com/books/97/06/29
Barr in 2001 said he'd urged Bush to pardon a number of key figures involved in the Iran-Contra scandal, including former Defense Secretary Caspar W. Weinberger. The scandal involved the illegal sale of arms to Iran and anti-government guerrillas in Nicaragua. Bush's decision to pardon Weinberger and others is often listed among the most controversial examples of the president exercising pardon power in US history.
BI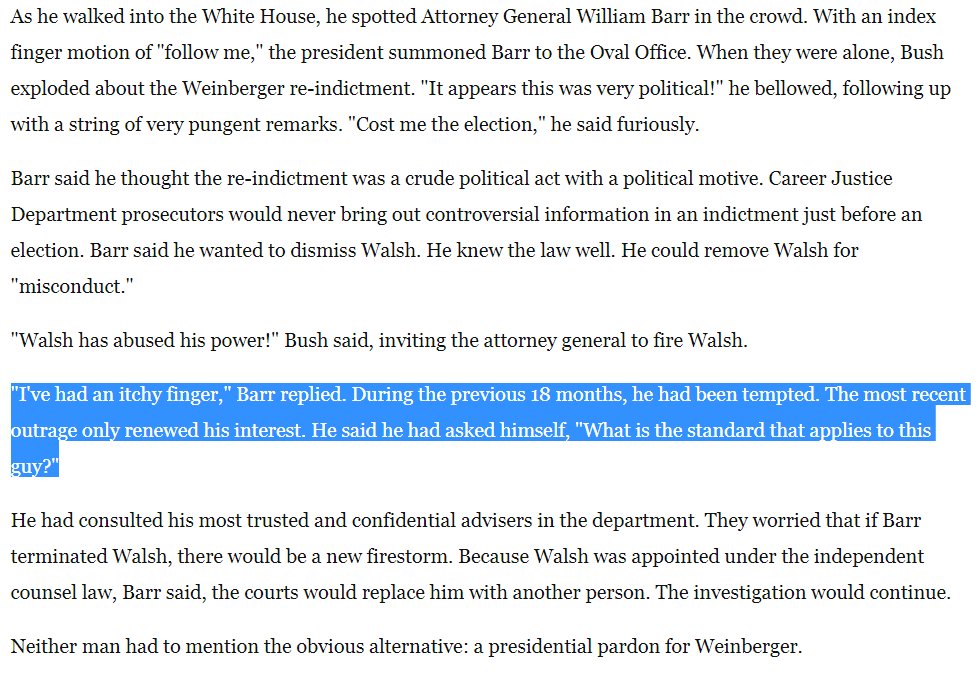 twitter.com/AaronBlake/status/1071063143592484865
https://www.washingtonpost.com/archive/lifestyle/magazine/1999/06/20/hammered/a8b73f6e-f7e8-4f41-ad2d-d5f4f319e88d/?utm_term=.0456db4ccf98
Austin Evers
@AREvers
Alert: Barr was AG when George H.W. Bush pardoned Iran-Contra figures, taking the legs out of the special counsel prosecuting them. Barr was directly involved. Bush consulted with him on whether to issue the pardons:
https://archive.nytimes.com/www.nytimes.com/learning/general/onthisday/big/1224.html
…
Alyssa Milano
@Alyssa_Milano 12m12 minutes ago
Newly appointed Trump AG Bill Barr believes Roe v Wade was wrongly decided.
http://articles.latimes.com/1991-11-14/news/mn-1917_1_wade-decision
… #GOPWarOnWomen
Barr is a staunch conservative (wants Roe v. Wade overturned, for example), and as deputy attorney general, successfully challenged a proposed rule by the Department of Health and Human Services to allow people with HIV/AIDS into the United States. He also advocated the use of Guantanamo Bay to prevent Haitian refugees and HIV infected peoples from claiming asylum in the United States.
wiki
3 replies, 404 views
Replies to this discussion thread
| | | | |
| --- | --- | --- | --- |
| 3 replies | Author | Time | Post |
| Trump's AG Barr argued for presidential pardons of executive criminals in Iran-Contra (Original post) | bigtree | Friday | OP |
| | bigtree | Friday | #1 |
| | Wellstone ruled | Friday | #2 |
| | bigtree | Friday | #3 |
---
Response to bigtree (Original post)
Fri Dec 7, 2018, 11:17 AM
bigtree (72,535 posts)
1. things Barr has said
---
Response to bigtree (Original post)
Fri Dec 7, 2018, 01:06 PM
Wellstone ruled (21,244 posts)
2. One mega bad choice.
Watch for things to go South in one big hurry.
---
Response to Wellstone ruled (Reply #2)
Fri Dec 7, 2018, 01:15 PM
bigtree (72,535 posts)
3. first reaction was optimism it was an establishment figure
...then I realized who they were talking about.

Barr's actually already put into practice many of the dirty tricks Trump has in mind for Mueller.