Wed Nov 28, 2018, 10:24 AM
demmiblue (22,650 posts)
Stunning! In the face of rising global obesity, photographer @GreggSegal traveled around the world..
Stunning! In the face of rising global obesity, photographer @GreggSegal traveled around the world to ask kids what they eat in one week and then photographed them alongside the food. Winner #FoodMediaAwards. Stream the #BCFNForum live now:
https://www.barillacfn.com/en/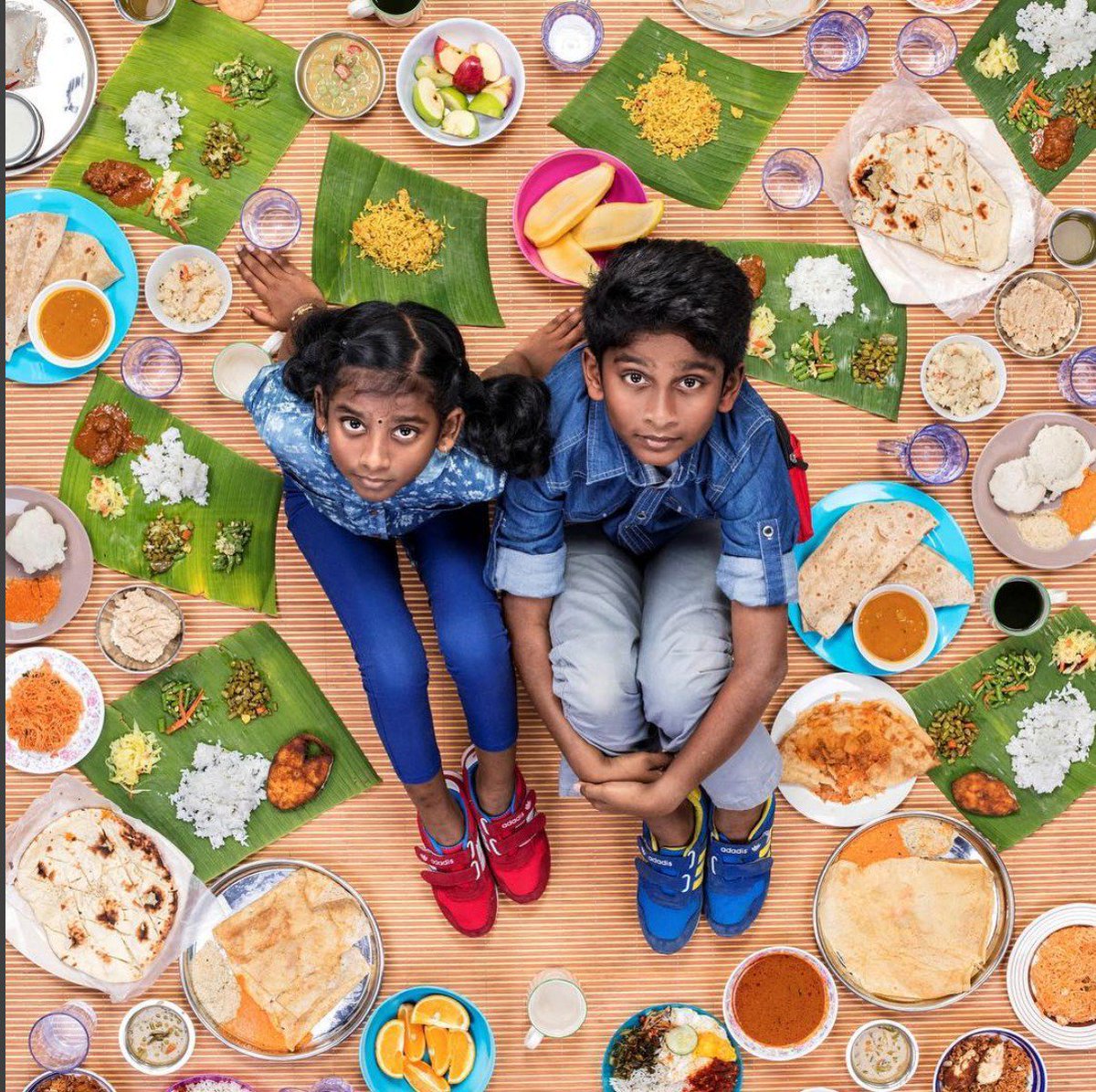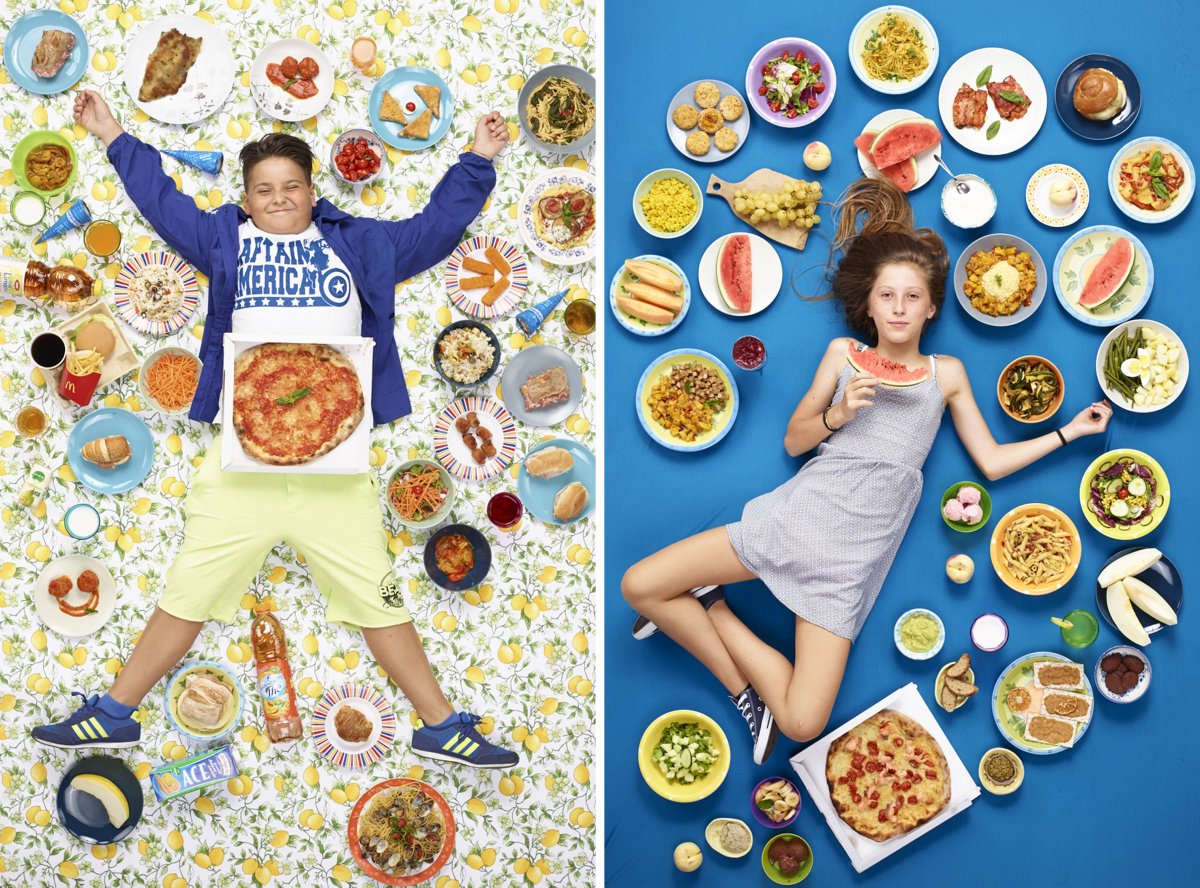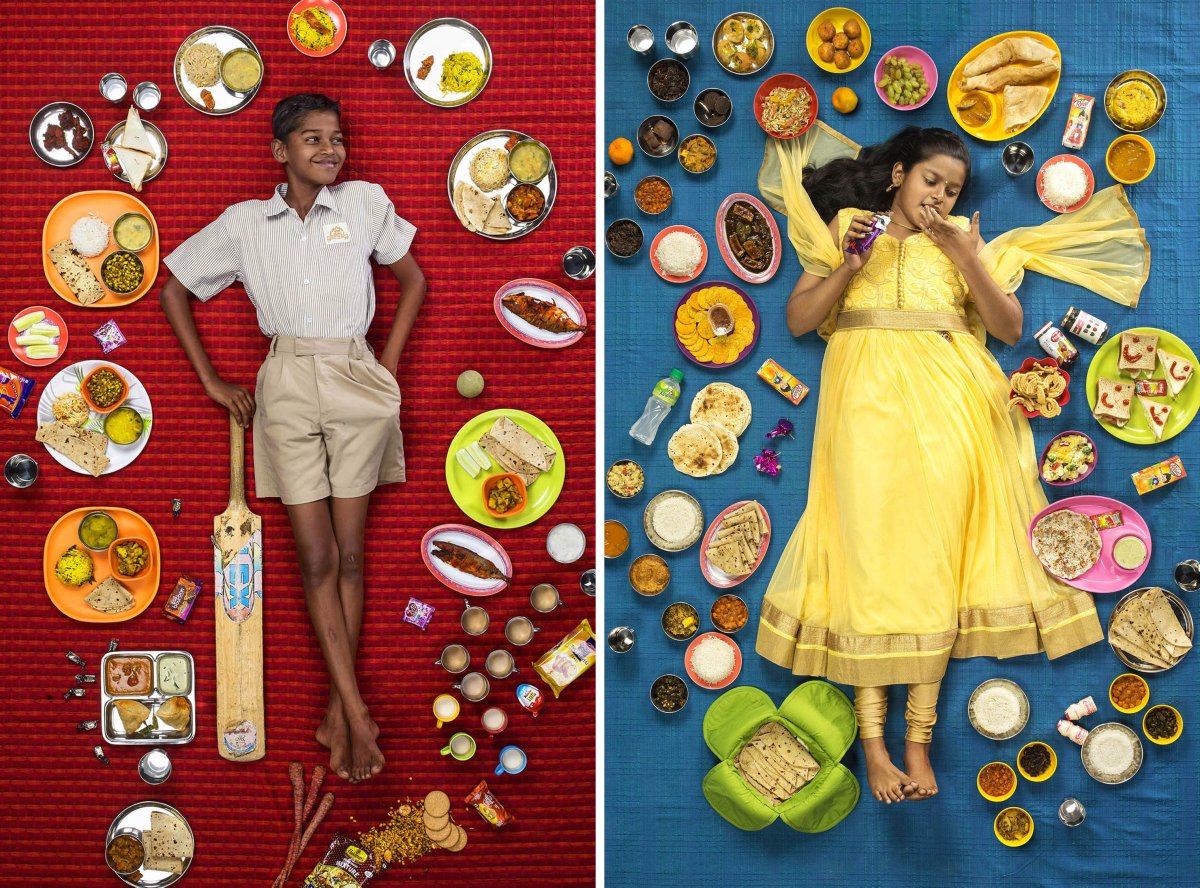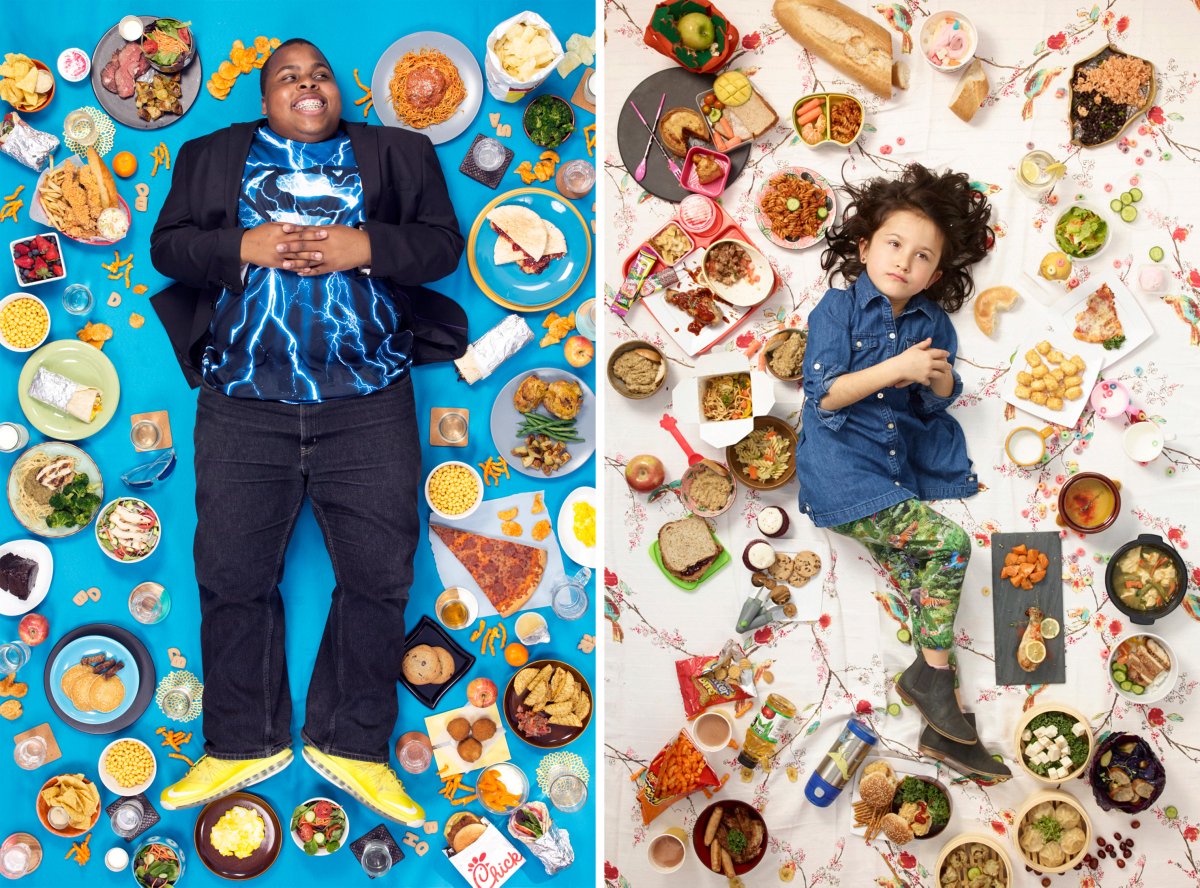 Link to tweet
What Kids Eat Around the World
In an 8×8 aluminum hut on a construction site outside Mumbai, Anchal Sahni sits down to dinner with her family: homemade aloo bhindo (okra and potatoes simmered in curry) and chapati (flatbread) with a side of lentils. Anchal has a healthier diet than many middle-class kids in India, who can afford to eat out. In Mumbai, a medium Domino's pizza runs 13 bucks—about three times what Anchal's father earns in a day.
Sensing a sea change in Western attitudes about diet and the effects of junk food, fast food companies have begun investing heavily in foreign markets where public awareness isn't as keen—and where Big Macs aren't junk, they're a status symbol.
In 2015, Cambridge University conducted an exhaustive study, identifying countries with the healthiest diets in the world. Nine of the top 10 countries are in Africa, where vegetables, fruit, nuts, legumes, grains are staples and meals are homemade, a stark contrast to the U.S., where nearly 60% of the calories we consume come from ultra-processed foods and only 1% come from vegetables.
For the past two years, I've been making my way around the world, asking kids to keep a journal of everything they eat in a week. Once the week is up, I make a portrait of the child with the food arranged around them. I'm focusing on kids because eating habits, which form when we're young, last a lifetime and often pave the way to chronic health problems like diabetes, heart disease and colon cancer.
http://time.com/what-kids-eat-around-the-world-in-one-week/
5 replies, 828 views
Replies to this discussion thread
| | | | |
| --- | --- | --- | --- |
| 5 replies | Author | Time | Post |
| Stunning! In the face of rising global obesity, photographer @GreggSegal traveled around the world.. (Original post) | demmiblue | Nov 2018 | OP |
| | Hortensis | Nov 2018 | #1 |
| | dalton99a | Nov 2018 | #2 |
| | MagickMuffin | Nov 2018 | #3 |
| | WeekiWater | Nov 2018 | #4 |
| | WhiskeyGrinder | Nov 2018 | #5 |
---
Response to demmiblue (Original post)
Wed Nov 28, 2018, 10:37 AM
Hortensis (33,828 posts)
1. Huh! Africa has 9 out of 10 nations with healthiest diets.
I've read that the explosion of planetary production, and therefore wealth, has caused extreme poverty to plummet (though much of that still in some areas of African nations) and that some even describe us as fast becoming mostly a "middle class" planet. Let's hope that doesn't mean an ancillary explosion in ultra-processed foods follows on abundance of healthy food.
Btw, this essay from a Ugandan poster to Quora gives an interesting viewpoint on what constitutes poverty and does not. The different, but overlapping worlds he and his grandfather inhabit at the same time are amazing to think about. Also his grandfather's recent upgrading from kerosene to solar energy, a little next-step revolution in a life that mostly is little different from those of his ancestors hundreds, and even thousands, of years before, at least in the better times.
Question: What is something most people don't know about Africa?
Innocent Masengo:
That most Africans are poor, not because they really are poor, but because someone decides to describe them as such. My grandfather is 'poor'. He certainly lives on "less than a dollar a day". He is now 95 years old. In his nine and a half decades on earth, he has never lacked, and he has never begged. He only attended one year at a mission school in the 1930s and learnt how to read and write. This is how he pulls it off:
When he wants food, he goes to the banana plantation, looks at tens of bunches of matooke (banana) and decides which to harvest for the day's dinner. Adjacent to the plantation is a sweet potato garden, cassava garden, yams and finger millet. To the south of the banana plantation are beans, cow peas or peanuts gardens. Down the valley is grazing land with tens of cross-breed cattle. They provide him with milk daily, 365 days a year.
He also has about 20 goats. In Uganda, goat milk was generally not considered palatable, possibly due to the abundance of cow milk, so we never milked goats. He would sell a couple of them to supplement income from other produce to send his children to school. He also reared a couple of chickens, more as a hobby. The farm produces more than he can consume. He sells the surplus to afford such essential services as kerosene (recently upgraded to solar), soap, sugar.
Scattered across the farm are sugarcane (for eating, not for making sugar) and fruit trees (guava, mango, pawpaw, avocado, orange, passion fruit, pineapple). He drinks fresh juice from mangoes and passion fruit. As is evident, everything here is on a subsistence basis, but very organic. He has done this for the past 75 years. He had eleven children, my mother being his first born. He sent all of them to school, saw eight of them through college. He sold at least two cows, some goats and some produce each school term to send his children to school. I went to live at grandfather's place when I was 5 years old. I left when I was 14 (my family lived in an urban area). I learnt how to farm, milk cows, tether goats, harvest fruits and harvesting honey.
Why the long story? My grandfather, just like millions of other Africans that live like him, is considered poor. He rarely holds money, and he rarely needs it. He produces most of what he needs. But using the standard World Bank/IMF description of 'poor', my grandfather is poor. I live in the city and earn about USD 12,000 a year after tax, which in Uganda is a decent salary. But I can hardly match my grandfather in terms of providing for my family with fresh milk, fresh food and fresh fruits.
https://www.hjenglish.com/new/p1229133/
---
Response to demmiblue (Original post)
Wed Nov 28, 2018, 10:42 AM
dalton99a (41,652 posts)
2. A must see.
---
Response to demmiblue (Original post)
Wed Nov 28, 2018, 11:10 AM
MagickMuffin (9,435 posts)
3. Let's hope for the sake of the world, that junk food remains to expensive to buy

Hey BigMacs are a status symbol. Who knew???

However, it's still junk food


---
Response to demmiblue (Original post)
Wed Nov 28, 2018, 11:24 AM
WeekiWater (3,259 posts)
4. I'm teaching my child to eat healthy and responsible.
I hope it sticks because other options are readily available and most of his friends eat differently.
---
Response to demmiblue (Original post)
Wed Nov 28, 2018, 11:30 AM
WhiskeyGrinder (6,547 posts)
5. This is a shitty project.