Thu Aug 16, 2012, 12:29 PM
bigtree (68,822 posts)
President Barack Obama's deferred action immigration policy begins making 'dreams' come true
If the turnout at yesterday's Dream Relief Day workshops around the country were any indication, President Obama's plan to give undocumented immigrants the chance to get a two-year reprieve from deportation is a huge hit.
By the thousands, people flocked to locations in places like Chicago and Los Angeles to fill out paperwork to begin the process of applying for legal protection to stay in the U.S. for two more years. The organizers of the events weren't even prepared for the size of the crowds.
While critics of the president's plan will paint it as back-door amnesty or a cynical political ploy to solidify Latino votes, the people who showed up for the workshops clearly saw it as something else: a lifesaver. And the numbers once again demonstrated that though the nation has been experiencing some hard time of late, there are still many people who are drawn by the opportunities and the hope of America . . .
"The people who say undocumented immigrants don't really want to be part of this country will have to rethink that when they see hundreds of thousands or maybe a million young people come forward to sign-up in the coming weeks and months," said a statement by Illinois Rep. Luis Gutierrez, Chairman of the Immigration Task Force of the Congressional Hispanic Caucus. "This is going to help break through the political obstacles blocking broader, permanent immigration reform because this demonstrates that when people are given a chance to get in the system and on the books, they will take it. We need to find a way for the parents and neighbors of these young people to come forward too and to establish a legal immigration system that will restore dignity, legality, and humanity to our immigration system."
read:
http://atlantablackstar.com/2012/08/16/thousands-of-immigrants-line-up-to-apply-for-dream-act-protected-status/
Jorge Acu–a is an undocumented immigrant who is applying for citizenship through the Dream Act which allows certain children of undocumented immigrants the possibility of citizenship. Acu–a is from Germantown, Md. (Joanne Ciccarello / Staff)
For DREAMers, Wednesday was a long time coming.
It is the first day that the federal government is accepting applications for President Obama's miniature DREAM Act program, formally known as Deferred Action for Childhood Arrivals (DACA). Young undocumented immigrants eligible for the program — those who are pursuing an education or are serving in the military — are a jumble of emotions: excited about the opportunity but also anxious about whether the government will keep its word and whether their applications will pass muster.
"For so long, we have been attacked. There has been nothing but anti-immigrant bills, and now we have something like this," says Daniel Rodriguez, an undocumented immigrant from Mexico who is pursuing a law degree at Arizona State University. "It's the first time that I've been in this movement in Arizona that we've had a win, something to celebrate."
Some compared the feeling Wednesday to the moment two months ago when Mr. Obama announced DACA.
"It's like another June 15," says Jorge Acuña, an undocumented immigrant who lives in Germantown, Md., as DREAMers shared their joy via social media and in text messages and phone calls to one another.
read:
http://www.minnpost.com/christian-science-monitor/2012/08/young-illegal-immigrants-day-hugs-smiles-joy-and-qualms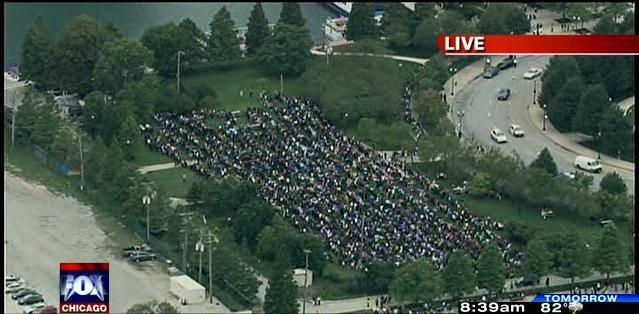 Thousands of Chicago's immigrant youth lined up at Navy Pier Wednesday to be the first to get temporary relief from law enforcement pressure.
LONG lines of illegal immigrants hoping for the opportunity to stay in the US without fear of being deported stretched for blocks in cities around the country as they sought to apply for a new federal initiative that allows young immigrants to defer deportation.
The turnout surprised both federal officials and immigrant advocates, who had expected an enthusiastic response to the Obama administration's deferral program but were unprepared for the size and intensity of it. At Navy Pier in Chicago, young people began lining up on Tuesday evening for a counselling session about the program that was organised by an immigrants' rights group.
Event organisers said 11,500 people had attended briefings, and more than 2000 people had been turned away because there was not enough time or staff to deal with them . . .
Thousands of immigrants also waited in lines outside the offices of immigrants' groups and flooded churches and law offices in Los Angeles, Miami, New York, Boston and Houston.Many of the young immigrants waiting at Navy Pier were wary - the program does not provide any legal immigration status such as a green card, and some would-be applicants worried that there was a risk in coming forward so publicly - but they said any progress towards a legal foothold in the US would be worth it.
read:
http://www.smh.com.au/world/illegal-immigrants-out-in-force-to-secure-their-place-in-america-20120816-24ba3.html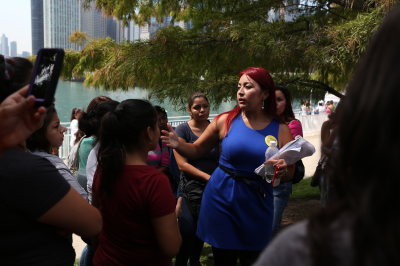 Dagmara Lopez, center, with the Illinois Coalition for Immigrant and Refugee Rights, talks with undocumented youth that were turned away while waiting to apply for deferred action that would grant them temporary relief for the opportunity to live in the U.S. at Navy Pier in Chicago, Illinois, Wednesday August 15, 2012. (Photo by Abel Uribe/Chicago Tribune/MCT)
The hosts of Dream Relief Day at Navy Pier on Wednesday expected a big turnout of people looking to take advantage of a new federal reprieve for students and young adults in the country illegally.
But they were overwhelmed by the size of the crowd that showed up.
Thousands of people filled the pier's boardwalk and stretched out in a line along Illinois Street that turned onto the lakefront bike path and continued all the way to Wacker Drive. Some were dressed in ties and business attire for the big day. They came from far-flung suburbs, with some traveling from Wisconsin . . .
It was among the largest of several Dream Relief Day events around the country . . .
"This is what history looks like!"
U.S. Sen. Dick Durbin, D-Ill., told the cheering crowd. He was one of several politicians who attended.
As the crowd kept growing — the immigrant advocacy group put the final estimate at 13,000 — organizers began turning people away, explaining they were only able to help about 7,500 people and process no more than 1,500 applications.
read:
http://www.morrisdailyherald.com/2012/08/16/young-immigrants-pack-navy-pier-to-seek-protected-status/axv2dko/?page=1
Over 1000 people gather at San Jose Parish to learn about deferred action.
Wonkbook: For 2 million illegal immigrants, change has come
Not too long ago, I sat down with a senior member of President Obama's political team. Talk turned, as it often does, to the election, and the official said something that surprised me:
If the president wins, this official thought that we would look back after the election and pinpoint the day the administration announced their new policy on deportations as the day the election was won . . .
Estimates are that this will apply to almost two million illegal immigrants. And unlike most of what happens in an election year, this policy is actually changing their lives. It's headline news in the Hispanic press. Advocacy organizations are holding workshops across the country. For the people this policy will help, the world before this program and the world after it will be genuinely different. And for the people this policy won't affect, it is, if nothing else, a signal that the Obama administration actually is interested in figuring out solutions for them.
These immigrants, of course, can't vote. But they have friends, family, and are part of communities that can. And those communities, when faced with the choice between the presidential administration that did this, and the Republican Party that they've seen in recent years, might come to decide that this is a rather consequential election.
I didn't think much of the Obama official's comment at the time. But reading over some of the coverage of this policy change in local press, and looking at photos like this one, I'm starting to take it more seriously.
Changing people's lives is always more effective than another campaign ad. And this policy is looking like it's going to change a lot of lives.
read:
http://www.washingtonpost.com/blogs/ezra-klein/wp/2012/08/16/wonkbook-for-2-million-illegal-immigrants-change-has-come/
related:
Arizona's Gov. Brewer bars public benefits for illegal immigrantsArizona's Gov. Brewer bars public benefits for illegal immigrants
http://www.contracostatimes.com/california/ci_21326755/arizonas-gov-brewer-bars-public-benefits-illegal-immigrants
7 replies, 3540 views
Replies to this discussion thread
| | | | |
| --- | --- | --- | --- |
| 7 replies | Author | Time | Post |
| President Barack Obama's deferred action immigration policy begins making 'dreams' come true (Original post) | bigtree | Aug 2012 | OP |
| | jpbollma | Aug 2012 | #1 |
| | bigtree | Aug 2012 | #2 |
| | AtomicKitten | Aug 2012 | #3 |
| | bigtree | Aug 2012 | #4 |
| | bigtree | Aug 2012 | #5 |
| | Lone_Star_Dem | Aug 2012 | #6 |
| | bigtree | Aug 2012 | #7 |
---
Response to bigtree (Original post)
Thu Aug 16, 2012, 12:47 PM
jpbollma (552 posts)
1. I am very happy to see this
and I am glad this action by Catholic churches is progressive, helping with this. With that said, I am sure many local priests and nuns are great people who really care, but the only reason all these right-wing Bishops are so enthusiastic is because most of these people are Catholics. It will increase the population of Catholics in the USA. You sure don't see them moving heaven and earth to help the impoverished Roma or Arabic immigrants in Europe. I know I am being cynical but that is the way I see their involvement here.
---
Response to jpbollma (Reply #1)
Thu Aug 16, 2012, 12:56 PM
bigtree (68,822 posts)
2. I did read where there are many other immigrants from other countries who will benefit
Some of the churches are serving as way stations for anyone who benefits from the law. It's just a consequence of geography which has so many Catholic-dominated countries represented among our nation's immigrant population. ALL immigrants who qualify can seek help through these church-based organizations, but, there are many, many other avenues to obtaining assistance and advice.
---
Response to bigtree (Original post)
Thu Aug 16, 2012, 01:03 PM
AtomicKitten (46,429 posts)
3. These kids have come out of the shadows and it is a beautiful thing.
The week before Pres O issued this order, there was a big write-up on this issue in my son's school (SFSU) newspaper. The stories were heart-wrenching. As these dreamers prepare to start a new semester later this month, their collective sigh of relief is practically audible.
Pres O did an excellent thing.
Thanks for posting these photos. Does a heart good.
---
Response to AtomicKitten (Reply #3)
Thu Aug 16, 2012, 01:21 PM
bigtree (68,822 posts)
4. you can never go wrong advocating for and uplifting our youth
Their stories are, indeed, heart wrenching, AtomicKitten. Thank you so much for your interest and support.
---
Response to bigtree (Original post)
Thu Aug 16, 2012, 02:16 PM
bigtree (68,822 posts)
5. .
---
Response to bigtree (Original post)
Thu Aug 16, 2012, 02:18 PM
Lone_Star_Dem (28,158 posts)
6. This has been a thing of beauty to witness.
It warms my heart to see all the bright, young potential we're gaining as a nation.
---
Response to Lone_Star_Dem (Reply #6)
Thu Aug 16, 2012, 07:51 PM
bigtree (68,822 posts)
7. someone said
. . . it's always uglier underneath, but, it is a beautiful thing to see these hope emerge from our nation's artificial shadows. We'll need to, of course, make certain they don't wither in this sunlight. It's more than a worry to know that this is a narrow path that's been laid for them, with an uncertain end. Good to see, though, that there is this initial, trusting, response by these thousands who showed up seeking guidance.