Sun Oct 7, 2018, 11:00 AM
IluvPitties (3,181 posts)
I did not know how damaged American masculinity is.
Coming from Latin America, I always thought we had the real issues with sexism, and that the US was miles ahead in terms of gender and domestic relationships. Although my father himself has verbally and emotionally abused my mother for decades, I never saw the things that seem to be so common in teenage culture over here. For example, we never had bullying issues to the point of driving people to commit suicide. We never had this ridiculous praise for the athletic, all mighty jocks like people do here. We did not have kids bringing guns to school wanting to shoot anyone. Don't get me wrong, we did have issues of all sorts, but there seems to be an element of abuse and violence here that was truly missing from most interactions with other people, including girls.

When I moved here, I asked people about their views about gender relations, and I heard all sorts of BS about American men being so responsible, family loving and respectful of women in comparison to Latinos, and I assumed it was true. I felt like I came from a flawed culture that abused women (my father) to a culture in which violence against women was, luckily, a rarity. When I started teaching, I would have (and still do) conversations wirh students about their perceptions of gender relations in America, and even now, most, both men and women, seem unable to recognize the deep issues existing in this country about the topic until we start analyzing what happens in different Latin American nations in regards to that... It is then they start recognizing "that happens here too" and seem to wake up to the obvious fact that it is as prevalent here, or even worse.

I guess the point I want to make is that the issues with American masculinity are so deep and engrained in the minds of people here that they are part of the coming of age culture of people. High school and college culture seem to celebrate and normalize all of this to the point that people don't realize they are participating, either as perpetrators or as victims, of abuse.


5 replies, 1228 views
Replies to this discussion thread
| | | | |
| --- | --- | --- | --- |
| 5 replies | Author | Time | Post |
| I did not know how damaged American masculinity is. (Original post) | IluvPitties | Oct 2018 | OP |
| | dawg day | Oct 2018 | #1 |
| | delisen | Oct 2018 | #2 |
| | Snake Plissken | Oct 2018 | #3 |
| | IluvPitties | Oct 2018 | #4 |
| | leftstreet | Oct 2018 | #5 |
---
Response to IluvPitties (Original post)
Sun Oct 7, 2018, 11:11 AM
dawg day (7,947 posts)
1. One problem is that it doesn't seem like "damage"
That is, it's clear how WOMEN are damaged by the culture that allows the constant minor and major assaults and then denies them.

But for men-- do they think of it as damage to THEM? Of course, they know that they are hurt when their loved ones are hurt.

But culturally? Well, few would admit it, but they might even benefit when women are worried about their safety and avoid risks like working late or going to happy hour with the co-workers. The women get the rep for being snobby or something, and that leaves more room for men to be 'one of us' when it comes to promotion time.

And it's easy then to blame women, when there's a refusal to understand why, for example, a woman brushes off a friendly hand on her shoulder, or objects to an "innocent" compliment.

It's hard to get people riled up about something that they sense subliminally benefits them.
---
Response to IluvPitties (Original post)
Sun Oct 7, 2018, 11:12 AM
delisen (5,831 posts)
2. Yes male bonding here has depended upon denigrating and abusing women
It was in the military-and when we had the universal military draft of males, our culture was badly affected. It goes on in male sports, country clubs and so on.

Identity of most men was and is based in whole or part upon being "not a woman."

It is the reason men of good will cannot overcome the the evil and vicious men unless they bond with women as equals.

To save democracy we need to move toward the identity of personhood with all genders clearly seen as subsets.

This part of this century is likely to be our best opportunity.


---
Response to IluvPitties (Original post)
Sun Oct 7, 2018, 11:17 AM
Snake Plissken (4,103 posts)
3. I think you're confusing masculinity with this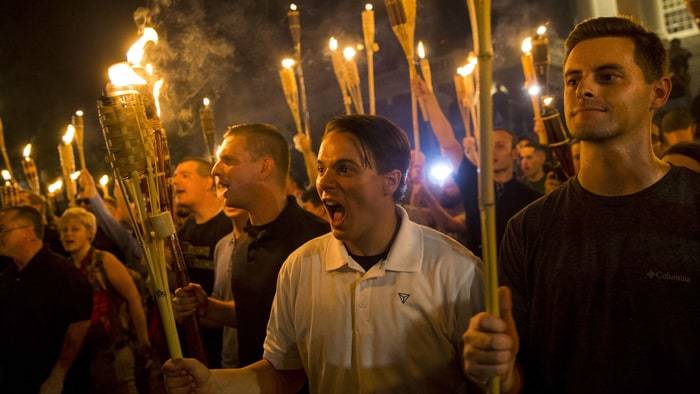 ?ops=scalefit_720_noupscale
This is not masculinity, this is it's being frustrated because you're still living in your mother's basement and you lack any masculinity
Real men to not need a daddy figure con man like Trump to lead them, nor do they have any respect for a lowlife puddle of human sewage like Kavanaugh
---
Response to Snake Plissken (Reply #3)
Sun Oct 7, 2018, 11:31 AM
IluvPitties (3,181 posts)
4. I am talking about the Kavanaughs, the O'Reillys, the Trumps
the Cosbys, the Weinsteins of the world...
---
Response to IluvPitties (Reply #4)
Sun Oct 7, 2018, 11:40 AM
leftstreet (34,928 posts)
5. Then you're leaving out a discussion of class
Money, power, privilege, entitlement