Mon Sep 10, 2018, 12:18 AM
Demovictory9 (5,686 posts)
O'Rourke campaign: "Impostor" responsible for texts about helping undocumented immigrants vote
O'Rourke campaign: "Impostor" responsible for texts about helping undocumented immigrants vote
https://www.texastribune.org/2018/09/06/orourke-texts-immigrants/
https://thumbnails.texastribune.org/yI1MzA5YDghPhlRsQjfZf_PmzXk=/850x570/smart/filters:quality
(80)/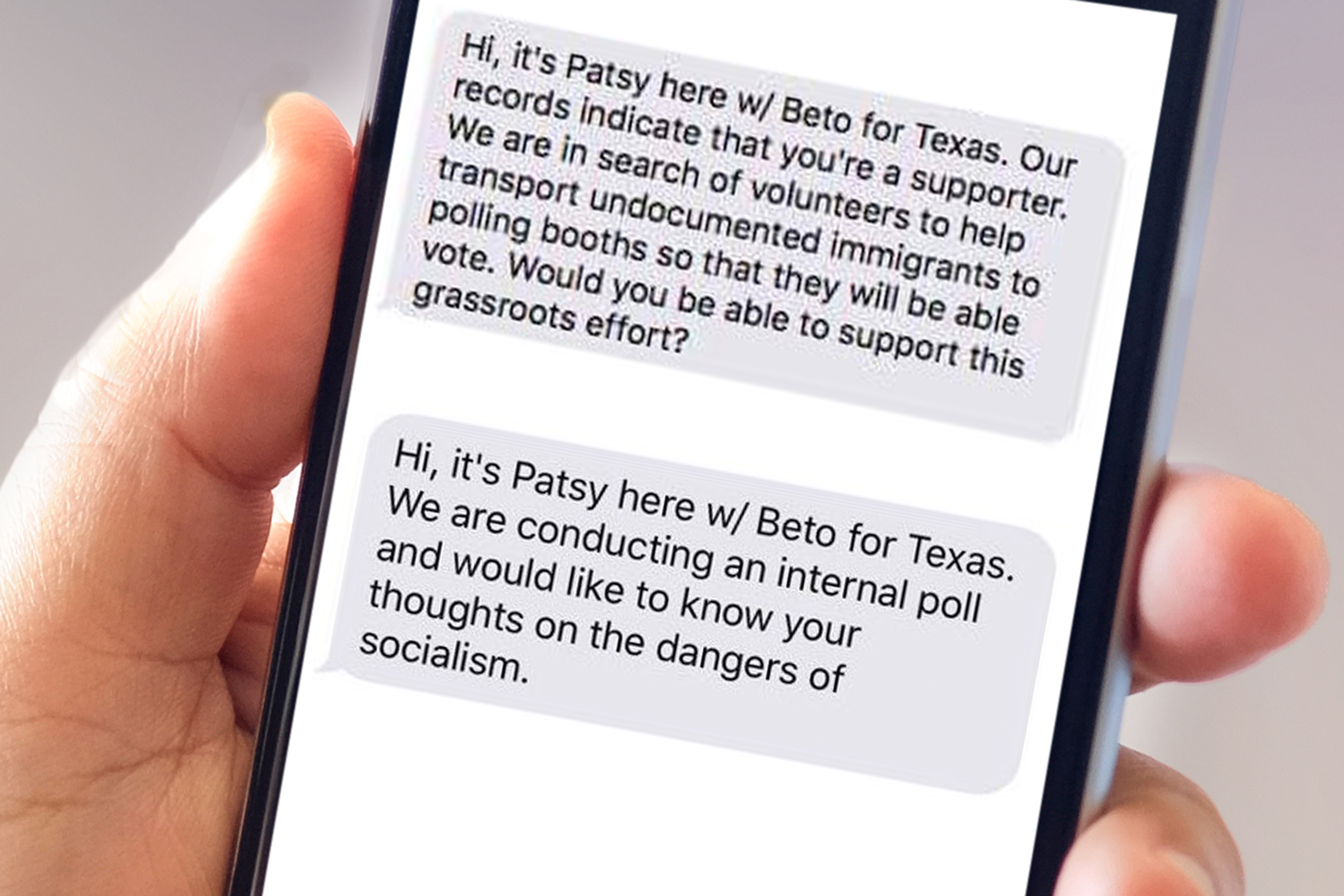 The campaign of Beto O'Rourke, the Democratic nominee for U.S. Senate, says an "impostor" was behind a text message that surfaced Wednesday asking voters to help people who are in the country illegally cast ballots.
"Hi, it's Patsy here w/ Beto for Texas," reads the text, which was circulating on social media. "Our records indicate that you're a supporter. We are in search of volunteers to help transport undocumented immigrants to polling booths so that they will be able vote. Would you be able to support this grassroots effort?"
"That was not an approved message by the campaign," said Chris Evans, O'Rourke's communications director. "It was sent by an impostor. But we're continuing to look into what happened."
Another apparently unauthorized text shared with the Tribune also said it was from "Patsy" and told readers that the campaign is "conducting an internal poll and would like to know your thoughts on the dangers of socialism." It was not immediately clear how many unapproved texts went out and how many voters they reached.
The campaign of O'Rourke's opponent, Republican U.S. Sen. Ted Cruz, said it had nothing to do with the texts.
"Our campaign had no involvement in the alleged abuse of the O'Rourke campaign's texting platform," Cruz spokeswoman Catherine Frazier said in a statement. "We don't condone anyone who would engage in such action."
10 replies, 1254 views
Replies to this discussion thread
| | | | |
| --- | --- | --- | --- |
| 10 replies | Author | Time | Post |
| O'Rourke campaign: "Impostor" responsible for texts about helping undocumented immigrants vote (Original post) | Demovictory9 | Sep 2018 | OP |
| | lunasun | Sep 2018 | #1 |
| | Achilleaze | Sep 2018 | #9 |
| | rusty quoin | Sep 2018 | #2 |
| | catbyte | Sep 2018 | #3 |
| | dalton99a | Sep 2018 | #4 |
| | KY_EnviroGuy | Sep 2018 | #5 |
| | DFW | Sep 2018 | #6 |
| | grantcart | Sep 2018 | #7 |
| | dembotoz | Sep 2018 | #8 |
| | Liberal In Texas | Sep 2018 | #10 |
---
Response to Demovictory9 (Original post)
Mon Sep 10, 2018, 12:22 AM
lunasun (15,964 posts)
1. Nasty. Didn't trump say he would help Cruz get elected ? That's down in the dirt repug nasty imo
---
Response to lunasun (Reply #1)
Mon Sep 10, 2018, 06:59 AM
Achilleaze (13,881 posts)
9. maybe Cruz has the russian troll mob helping out, too?
since the russians are obviously intent* on weakening America by backing repubes?

* according to all 17 US Intelligence Agencies, and the US Senate Intelligence Committee
---
Response to Demovictory9 (Original post)
Mon Sep 10, 2018, 01:28 AM
rusty quoin (5,072 posts)
2. Republicans cannot win without cheating. That's a fact.
---
Response to Demovictory9 (Original post)
Mon Sep 10, 2018, 01:46 AM
catbyte (13,147 posts)
3. Looks like Traitor Tot called his Russian bot factory for a little help.
---
Response to Demovictory9 (Original post)
Mon Sep 10, 2018, 02:00 AM
dalton99a (34,844 posts)
4. Ted Cruz and the Art of the Dirty Trick (2016)
https://www.newyorker.com/news/amy-davidson/ted-cruz-and-the-art-of-the-dirty-trick
Ted Cruz and the Art of the Dirty Trick
By Amy Davidson Sorkin
February 4, 2016
"There has never been a more tainted victory in the Iowa caucuses," a spokesman for Ben Carson's campaign said on Tuesday. He was referring to what he called Ted Cruz's "abject lies" and, particularly, to what appears to have been a concerted effort on the part of the Cruz campaign to persuade voters at caucuses that Carson had dropped out. Carson himself told Fox News that his wife had had to personally refute that rumor at one caucus site—and once she had, he said, he won there. "Isn't this the exact kind of thing that the American people are tired of? Why would we want to continue that kind of, you know, shenanigans?" Donald Trump put the charge in his own terms in a tweet: "Ted Cruz didn't win Iowa, he stole it. That is why all of the polls were so wrong and why he got far more votes than anticipated. Bad!"
That was only part of what Trump had to say. He threatened to sue Cruz; he made himself the champion of the honor of Ben Carson, a man who Trump has suggested is "pathological." He tweeted that "the State of Iowa should disqualify Ted Cruz from the most recent election on the basis that he cheated—a total fraud!" Cruz had also sent out a mailer marked "Voter Violation," which purported to contain information about voters and their neighbors, and was printed on yellow paper to look like a real ticket—which, as Ryan Lizza noted, was just the beginning of its problems. It was a "disgrace," Trump said, adding what was, for a New York real-estate developer, the ultimate insult: "It looks right out of municipal government." Cruz tried to dismiss it all as a "Trumpertantrum." The problem was that, in the whirlwind of Trump's rage, there were some hard objects swirling around and banging into Cruz's story. ...
Then, on Monday evening, as the caucuses were assembling, Chris Moody, a CNN reporter, sent out three tweets in the space of two minutes. The first referred to a flight that Carson would be catching that night; the second said that "Carson won't go to NH/SC, but instead will head home to Florida for some R&R. He'll be in DC Thursday for the National Prayer Breakfast." The third, seconds later, noted that "Ben Carson's campaign tells me he plans to stay in the race beyond Iowa no matter what the results are tonight." CNN's on-air report also made it clear that the Florida trip was just a detour. Nevertheless, the Cruz campaign sprung into action and retailed the second tweet, out of context, as news of the suspension of Carson's campaign. The Cruz camp's emphasis on quick, sophisticated communications meant that it could send a directive to spread the story to campaign workers in every Iowa precinct, but it also left behind a digital trail of tweets and e-mail alerts. One of the tweets, from Representative Steve King, the campaign's national co-chair, said, "Carson looks like he is out. Iowans need to know before they vote. Most will go to Cruz, I hope"—and it was sent after the Carson campaign had issued clarifications.
But Carson's precinct captains, in turn, texted in reports of what they were hearing: dirty tricks are easier to disseminate and to document when everyone has a smartphone. At first, Cruz's campaign said that Carson's complaints were "absurd." Then Cruz apologized to Carson for "a mistake" on the part of some of his staff members, but added that the campaign's real error was to trust CNN's report that Carson was "not carrying on" without following up on it. He loved Carson, Cruz said, at a news conference on Wednesday—"I will praise his character"—and everything else was just the media stirring up trouble. "Is it a dirty trick to pass on your news stories? You're in the business!" Cruz said. With a glint, as if struck by the aptness of his own retort, he added, "Would you think it was a dirty trick if I was forwarding an ABC story? Or is it just a dirty trick to pass on a CNN story?"
....
---
Response to Demovictory9 (Original post)
Mon Sep 10, 2018, 02:34 AM
KY_EnviroGuy (4,893 posts)
5. IMO, our national security apparatus should support the campaigns...
and investigate the source of these malicious texts, then expose those behind it. There's any number of sinister anti-democracy actors around the globe that can do this that benefit from demeaning Beto's campaign.

Just as with Nixon's lying phone calls in the '40s, these devious attacks can effect voters thinking and should not be allowed to continue unchecked.

---
Response to Demovictory9 (Original post)
Mon Sep 10, 2018, 02:53 AM
DFW (32,552 posts)
6. This won't sway one Texas Democrat
It is aimed at Texas Republicans, many of whom at this point are tired of Cruz, his lies and his antics.

It is a sign of desperation in the Republican camp. Cruz is not a seat they were counting on losing.

They are realizing far too late that Beto is smarter, more likeable, more honest, and BETTER FOR TEXAS! So, of course, what do Republicans do when they realize their man is in peril? Resort to dirty tricks, of course. What else?
---
Response to Demovictory9 (Original post)
Mon Sep 10, 2018, 03:05 AM
grantcart (47,813 posts)
7. FBI
---
Response to Demovictory9 (Original post)
Mon Sep 10, 2018, 06:26 AM
dembotoz (15,073 posts)
8. With our modern computer technology this will be hard to trace
Progress has some down sides
---
Response to Demovictory9 (Original post)
Mon Sep 10, 2018, 07:21 AM
Liberal In Texas (8,779 posts)
10. Assholes! The ends always justify the means to them. n/t